Small Wonders
With the need for homeless housing solutions greater than ever, an aspirational new architecture competition is yielding innovative ways to approach domestic design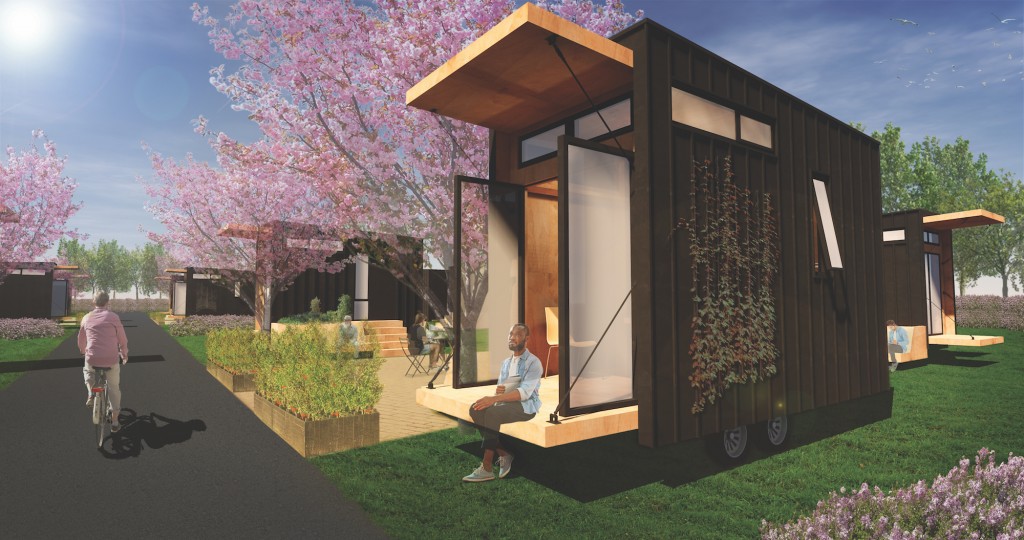 What makes a house a home? That's essentially the question local nonprofit E49 Foundation and the Central Valley chapter of the American Institute of Architects (AIACV) asked recently, via a jointly sponsored design competition that invited local architects and students to dream up the ultimate tiny home to house the homeless.
Since 2017, E49 has been quietly expanding its small neighborhood of tiny houses called Compassion Village, which resides on a church-owned property in Del Paso Heights. In addition to housing, the community also offers life coaching, career training and other services needed to give residents a leg up. But one thing there's always room for in a tiny house is improvement. Inspired by a similar effort in Austin, E49 CEO Tamera Vallejo engaged our region's AIA chapter to issue a clarion call for creativity.
"Our members are always talking about the homelessness issue," says Kevin Young, AIACV's associate director, so he knew his organization would want to help—and he was right. This past March, dozens of interested parties, from student teams to established firms, toured Compassion Village, looking and listening. They learned, for instance, that as much as villagers love their cozy abodes, they would also love a built-in bathroom for when nature calls at 3 a.m. (currently there's a communal restroom on-site) and perhaps a wee kitchen to prep their own meals. Oh, and those space-saving loft beds that are in most tiny homes and require a ladder to access? Turns out that "climbing" into bed is less than ideal, to say the least, for the elderly or disabled.
In the end, 14 proposals were submitted for a new generation of tiny homes each clocking in at only 140 square feet or less. Among our favorites is the Unity Home (pictured above), architecture firm LPA's entry, which demonstrates just how many big ideas can fit into an 8-by-16-foot space—for a mere $8,500 in materials (E49 enlists volunteers for the labor). One such idea was an ingenious solution to the loft bed problem: In the group's submission, the kitchen and bath area is slightly elevated (an eco-optimized composting toilet hides in a cabinet), so that a bed—hidden underneath the kitchen floor—can be pulled out into the living space at night, as shown in the diagram below.
In addition to the obvious accessibility benefits, another bonus of eliminating the loft nook, according to LPA's Amanda Menschel, "is that it brings so much light into the space" since there's no longer an upper floor blocking the sun from flooding in through the planned clerestory windows. The design also includes a sloped ceiling that rises up to 10 feet high to compensate for the cozy quarters. "We wanted to give it that feeling of being open and bright, of being more spacious," Menschel explains.
Another innovative amenity: One entire wall of the Unity Home unfolds to create a makeshift porch, allowing residents to soak in one of the best features of life in any village—sitting on the stoop watching the world go by. "We're trying to give the users privacy, but also create this opportunity to blur the lines between outdoor and indoor [living]," says Menschel.
Awards for the competition will be presented on Oct. 5, and the E49 Foundation plans to debut prototypes based on the winning designs this fall. If all goes well and enough funds are raised, the nonprofit hopes to launch one new community dotted with such dwellings every year over the next 15 years, offering not-so-small comfort to those who need it most.