Small Wonders
Big cities are fun, but small towns have big advantages, too. Think beach picnics with freshly shucked oysters and crisp regional wines; corn buttermilk pancakes in a mountain cottage; or waking up to the sound of seagulls. Let's get small!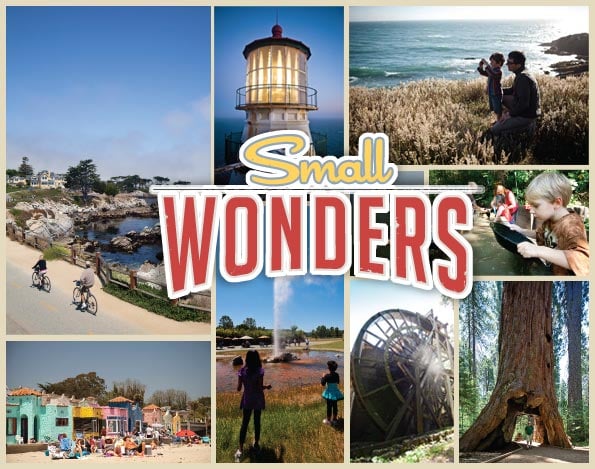 WHAT TO DOPoint Reyes Station
Forage Like a Local
Point Reyes Farmers' Market, held every Saturday from 9 a.m. to 1 p.m. at Toby's Feed Barn (11250 Hwy. 1, 415-663-9667, tobysfeedbarn.com), is an all-organic produce market and a one-stop opportunity to sample the local cornucopia of seasonal produce and artisan products. Plus it's not the average market that once drew Prince Charles and where you can catch cooking demonstrations and appearances by leading chefs and food writers. Cattle aren't the only grazers around Point Reyes, not with such spots as tiny Bovine Bakery (11315 Hwy. 1, 415-663-9420). The big question here is savory or sweet, thanks to such temptations as ham-and-cheese croissants so buttery they dissolve. And poppy seed-filled bear claws helped turn the bakery into a reward for Bay Area cyclists, who fuel up along the benches out front. Inside Toma-les Bay Foods, Cowgirl Creamery  (80 Fourth St., 415-663-9335, cowgirlcreamery.com) is ideal for picnic prep. Build around Cowgirl's triple cream organic cheeses, such as the Mt. Tam or Red Hawk, or just choose from a changing selection of ready-to-go sandwiches. A window also lets you peek in at the cheese-making process and don't be shy about samples. Inspired? Then take that first step toward your brilliant new career and make reservations for Cowgirl's Cheese 101 classes (Wednesdays and Fridays; $5), which include demonstrations and tastings. Another way inside the food scene is on the free tours given by Marin Agricultural Land Trust (415-663-1158; malt.org). Outings change monthly and can feature visits to such local producers as Hog Island Oyster Co. on Tomales Bay and the organic Straus Creamery.
Shuck and Awe
Drakes Bay Family Farms (17171 Sir Francis Drake Blvd., Inverness, 415-669-1149, drakesbayoyster.com), located about 10 miles from Point Reyes Station, is California's last oyster cannery and dates back 80 years. Call ahead for free tours and learn how the farm raises nearly 20 million oysters and why the bay's tidal action is so ideally suited to production. With its salt- and wind-weathered shacks and workers sorting oysters by size along an outdoor conveyor, it definitely gives a sense of the hard work that goes into food production around Point Reyes. All that only adds to your appreciation as you sample oysters on the half shell or shuck your own from a picnic table overlooking the bay.
Point of Views
If you get a clear day at Point Reyes National Seashore (415-464-5100, nps.gov/pore), then hike Tomales Point Trail. A 16-mile drive from town leads through dairy farms along Pierce Point Road. The trail starts from historic Pierce Ranch and heads out on the finger-like peninsula with commanding views from hundreds of feet above both Tomales Bay and the Pacific. And along the way, you're likely to see herds of tule elk grazing on the slopes. The full hike is nine miles but even if you go halfway, it's worth the trip. For a different world's end view, head over to the 1870 Point Reyes Lighthouse and descend 308 steps to see its rare Fresnel lens. Rangers are on hand (from 2:30-4 p.m. Thurs.-Mon. through December) and special free sunset tours are offered (first and third Saturday of the month through December; call 415-669-1534 for reservations).
 WHERE TO EAT
Osteria Stellina
Having cooked at New York's James Beard House, Christian Caiazzo's renown has truly gone bicoastal. But Osteria Stellina (11285 Hwy. 1, 415-663-9988, osteriastellina.com) remains focused on Point Reyes: oysters from Drakes and Tomales bays, lamb and sausage from Barinaga Ranch, and organic chard from County Line Harvest. Caiazzo calls it "Point Reyes Italian," and inventive combinations and variations on classics (the falling-off-the-bone osso buco uses pork instead of veal) have made the restaurant a foodie mecca. Fussy it's not: With bare wood tables, it's relaxed enough for live music on locals' nights and occasional $20 prix fixe pasta dinners.
Station House Cafe
The cafe (11180 Hwy. 1, 415-663-1515, stationhousecafe.com) emphasizes local ingredients to invigorate a menu of comfort foods. You'll find plenty of oysters here: barbecued, deep-fried, on the half shell, or inside a creamy stew, which takes full advantage of meaty oysters from Drakes Bay. Point Reyes Farmstead bleu cheese pops up atop burgers, in Cobb salads and on a remarkably moist herb-roasted chicken. The interior, with its high ceiling and bistro chairs, is casual and open, but you really want to be out on the rose-filled patio, which is perfect for warm nights. And the cafe's flaky dinner popovers are a Point Reyes institution.
WHERE TO STAY
Black Heron Inn
You get the bed and breakfast with no B&B fuss at this cozy three-room inn ($155-$195; 51 Cypress Rd., 415-663-8846, blackheroninn.com) overlooking Tomales Bay. The rooms come stocked with fixings like homemade banana bread, but you're largely left alone (housekeeping is by request only). The redwood deck has ample space to take in the landscape, and the Grandview Suite—with its soaring ceiling and sleeping loft—is especially appealing. Drink in views of grazing cattle (and occasional coyotes) on hilly pastures as fog rolls in and out over the bay. The wake-up call is a pre-dawn jam of birds, with occa-sional solos by Anna's hummingbirds and spotted towhees. Here's a place that finds a balance between creatures and creature comforts.
Point Reyes Schoolhouse Compound
Owner Karen Gray authored The Family Guide to Point Reyes and has created an escape that's true to the town's spirit. Embracing the garden setting, Jasmine Cottage is bright and airy while the Barn Loft has a rustic feel that connects it to local farming traditions. With four distinct units, this is not a single-building B&B ($185-$385; 11559 Hwy. 1, 415-663-1166, pointreyesschoolhouse.com). The huge Schoolhouse Rental has four bedrooms and even a baby grand piano, and Gray's Retreat even offers a covered wagon that sleeps three. Leave the car, walk five minutes to the main drag, and hang out over coffee amid the hay bales at Toby's Feed Barn. And bring back some goodies from Bovine Bakery for anyone who slept in. —M.J.
Murphys
A short hop from Angels Camp, the setting made famous in Mark Twain's The Celebrated Jumping Frog of Calaveras County, sits Murphys, a Gold Rush relic that glitters with unpretentious sophistication. Settled in 1848 by a pair of punctuation-challenged brothers who couldn't agree on who should get credit for founding the place (hence no apostrophe in its name), this charming hamlet was once a boomtown filled with gamblers, prostitutes and outlaws. Since then, it's lost most of its rough edges (it's still a rest stop for the Harley crowd) but not its ambition. With its proximity to soaring forests and grape-friendly foothills–and a Main Street that buzzes with low-key energy from its shops, restaurants and free (yes, free) wine tasting rooms–Murphys has become an off-the-beaten-path discovery for day trippers, outdoor lovers and oenophiles alike.
WHAT TO DO
Wine Tasting
Responsible grape-guzzlers, rejoice; no Napa roulette here. Just park and amble around Main Street, where 22 area wineries have tasting rooms, many featuring the Spanish and Rhône varietals that thrive in this region. Be sure to visit Lavender Ridge (425 A Main St., 209-728-2441, lavenderridgevineyard.com) for a tasting that pairs international cheeses and chocolates with its wines (the organic, sulfite-free "Estate Côtes du Calaveras" is a must experience). Those with designated drivers should head to Laraine Winery (3675 Six Mile Rd., 209-736-4766, larainewinery.com), once owned by late Hollywood producer David Gerber (whose credits include Police Woman) for a pour of its playfully layered petite sirah.
Hiking, Spelunking and Splashing
Walk among giants on the mellow 1.5-mile North Grove loop at Calaveras Big Trees State Park ($8 for a day pass; parks.ca.gov), 15 miles outside of Murphys. Stop at marker 11 for a reclining bench that tilts the neck back at just the right angle to enjoy the towering sequoias.  If temperatures soar, descend 16 stories into the damp cool of Mercer Caverns (1665 Sheep Ranch Rd., 209-728-2101, mercercaverns.com) to check out "cave coral" and other stunning limestone formations (but only if you can manage the steep stair climb back out). Or ask locals for park-and-walk directions to Candy Rock, a popular swimming hole on the nearby North Fork of the Stanislaus River, and shoot some YouTube footage of yourself jumping off the smoothed-stone walls into the current's gushing spray (you won't be the first).
Ironstone Amphitheatre
For live entertainment, Ironstone's outdoor amphitheater (1894 Six Mile Dr., 209-728-1251, ironstoneamphitheatre.net), which runs through fall, is one of Murphys' top draws. Throw back some vino and settle into the four-tier, horseshoe shaped venue to watch acts like Alan Jackson (Aug. 26), Sammy Hagar and the Wabos (Sept. 9) and Don Henley (Oct. 1). If you want to save a few bucks, bring a beach chair, set up on the grassy General Admission area and enjoy the show with the aid of giant video screens for only about $40. After the show, relax and enjoy some more wine; it can take almost an hour to get out of the crowded parking lot and back to town.
 WHERE TO EAT
Mineral
This inspired vegetarian restaurant (419 Main St., 209-728-9743, mineralrestaurant.com) could hold its own in San Francisco, let alone a small mountain town. Colorful fare can initially seem esoteric—chilled watermelon basil soup, tofu negra with galangal mung beans—but dishes are both tasty and accessible (they also offer a delectable mac and cheese and meatless burger). Plates arrive with exquisite presentation from owner Maya Radisich. Don't skip the champagne cocktails, especially the frothy hibiscus flower "Aphrodisiac," beautifully garnished with floating flower petals.
Firewood
A modern loft-like space with concrete floors and a roll-up garage door, Firewood (420 Main St., 209-728-3248, firewoodeats.com) hits the trifecta of casual favorites, offering wood-fired pizzas, well-portioned burgers and fries, and authentic Mexican street food. The crisp-edged pizzas are simple yet satisfying, as are the salty sweet potato fries, which get raves from locals. And don't miss the perfectly executed fish tacos; each crunchy bite is accented by feathery cabbage, cool cilantro, velvety crema and smoky ancho chile salsa.
WHERE TO STAY
Querencia
For a truly unique experience in cozy luxury, head to Querencia ($275-$400; 4383 Sheep Ranch Rd., 209-728-9520, querencia.ws). Perched on a hill offering panoramic views, this curving, earthen-colored establishment also inspires awe—think Antoni Gaudi meets Bilbo Baggins. Inside is just as spectacular—a two-story stone waterfall in the great room, a hidden wine cellar behind a bookcase, cylindrical showers with tiled mosaics in each of the four suites. Breakfast starts with coffee and freshly baked scones, segues into an elaborate fruit plate and crescendos with corn buttermilk pancakes or egg dishes made to order. —T.S.
Capitola
Think of Capitola as a cioppino of a place—a tasty mélange of California surf town and Monterey Bay fishing village, with a generous dollop of Mediterranean romance tossed in, too. Capitola is California's oldest beach resort and was even once dubbed the "Waikiki of the West." But Soquel Creek connects the town to nearby redwood forests and gives sections of Capitola the feel of a river city as well. Victorian homes crown heights of Monterey pines, while Capitola's most photographed landmark is a pastel-hued 1920s Venetian-style beachfront complex. It's a perfect blend, one whose diverse ingredients come together to create a beach town like no other.
WHAT TO DO
On the Waterfront
Capitola City Beach is packed with a classic mix of surfers, families, strutting dudes and preening babes. It is a scene. And don't expect to park anywhere close (remote lots with shuttles service the beach). Tucked inside the top of Monterey Bay, the beach's modest waves are ideal for surfing newbies. Take private or group lessons and rent boards from Capitola Beach Co. (131 Monterey Ave., 831- 462-5222, capitolabeachcompany.com) or walk along The Esplanade to see the historic architecture in the hotel and vacation rental warren of the Venetian Court. Then head out onto the wood-planked Capitola Wharf and fish alongside the old salts for halibut (no license required) with gear from Capitola Boat and Bait (1400 Wharf Rd., 831-462-2208, capitolaboatandbait.com). A more natural—and less frenetic—experience awaits two miles from the village at New Brighton State Beach (831-464-6330, parks.ca.gov). From New Brighton's half-mile stretch of sand you can walk beneath low bluffs topped with Monterey Pines on a tranquil three-mile round-trip walk that leads to Seacliff State Beach and the remains of a most improbable ship: the Palo Alto, a freighter built of concrete.
Up on Soquel Creek
Sure, you came to Capitola for the beach. But one of Capitola's most distinguishing features is Soquel Creek, which runs through town. A historic railroad trestle bridges the gap and towers over cottages that may just reorient your waterfront real estate dreams from the ocean to this creek. Pick up a walking tour guide ($1.50) to over 30 local landmarks from the Capitola Historical Museum (410 Capitola Ave., 831-464-0322, capitolamuseum.org), and then follow Riverview Pathway past such classics as the 1926 Windmill House. Soquel Creek's most famous destination is Shadowbrook Restaurant (dinner nightly; 1750 Wharf Rd., 831-475-1511, shadowbrook-capitola.com). It's set within terraced gardens overlooking the water. For the full experience, take the "hillevator," an inclined cable car that leads to the restaurant. Shadowbrook balances a selection of steaks with vegan and seafood entrées, but the setting is definitely more formal than beachy. For a more casual experience, enjoy drinks alongside a trickling waterfall in its Rock Room Lounge and Bar. Soquel Creek briefly steals the beach's thunder during Labor Day Weekend's Capitola Begonia Festival (831-476-3566, begoniafestival.com). The event celebrates Capitola's begonia production tradition with a nautical parade featuring begonia-bedecked barges that depict pirate ships, dragons and other whimsical themes.
Soul Surfer
Surfer magazine named wetsuit pioneer Jack O'Neill one of the "25 Most Influential Surfers of the Century." His headquarters straddles the border with unincorporated Pleasure Point. Check out the gear and scene at Capitola's O'Neill Surf Shop (1115 41st Ave., 831-475-4151, oneill.com). There's a wetsuit outlet next door and the shop itself draws plenty of serious Santa Cruz-area surfers, so as you browse the aisles you definitely get a feel for the local vibe. The vintage surfboard display includes a hardwood olo board crafted from ancient Hawaiian designs by big wave legend Greg Noll. And a hoodie adorned with an old-school O'Neill logo will give you beach cred back home.
WHERE TO EAT
Bella Roma Ristorante
Michelangelo's David greets you at Bella Roma (316 Capitola Ave., 831-464-2608, bellaromacapitola.com) where mismatched drapes, a bust of Caesar, and bas-reliefs of chariots manage to transcend kitsch and take on a stagy romance. The restaurant certainly taps into Capitola's Mediterranean undercurrents but it's mostly because of chef-owner and Naples native Gaetano Balsamo. For all the faux décor, his food is plenty authentic, from dipping bowls of olive oil infused with fresh garlic cloves to a pappardelle lamb ragu, thick with braised cuts of meat.
Café Cruz
Located opposite an archipelago of big box stores, Café Cruz (2621 41st Ave., Soquel, 831-476-3801, cafecruz.com) creates its own atmosphere. A mural depicting the coastal hills and a harvest scene celebrates Santa Cruz County. You can settle in on the covered patio or the courtyard next to a stone fireplace for fresh breezes and dishes that take advantage of the area's bounty. Breads come from Capitola's beloved Gayle's Bakery, an irresistible (and rich) flat-iron steak marsala is topped with local white mushrooms, and the wine list offers Santa Cruz County varietals.
 WHERE TO STAY
Inn at Depot Hill
As if Capitola weren't escape enough, the AAA four-diamond Inn at Depot Hill ($259-$379; 250 Monterey Ave., 800-572-2632, innatdepothill.com) lets you be just about anywhere. Kyoto? Costa del Sol? Its 12 rooms bring alive international destinations thanks to design elements that are evocative and never themey. Reminiscent of a Dutch coastal home, the Delft room features blue-and-white tile. The Paris is sleek and sophisticated with a two-sided fireplace, vintage street scenes and a black-and-white color scheme. The inn is a few minutes' walk from Capitola's waterfront but well-removed from the busy scene.
The Jewel Box Bed and Breakfast
Blending Craftsman and Japanese design in an intimate bungalow, The Jewel Box's two suites ($149-$199; 4630 Capitola Rd., 831-295-9035, jewelboxbnb.com) let you sample Capitola cottage living. Fountains and rustic furniture on the porch create a tranquil space for morning coffee. The Jade Suite has a private living room, while the Opal Suite is smaller but connects to a spacious common area. Either way, you'll feel like you're staying at a friend's place, especially in the morning when you can head into the kitchen, toast up some rustic bread or graze your way through scones, bowls of fresh blueberries and blackberries, and granola and yogurt. If you're traveling with another couple, the Jewel Box becomes even more of an oasis because you can take over both suites and enjoy the entire house to yourselves. —M.J.
Placerville
Placerville knows a little something about re-branding. The rowdy mining camp known as "Hangtown" shrugged off its gallows-inspired sobriquet back in 1854 in hopes of drawing a more stable and law-abiding population. These days the Sierra foothill town is in the midst of another metamorphosis, attempting to ditch its reputation as a quick stop on the way to Tahoe to become a vacation destination unto itself. It's a goal that's within reach, helped in no small part by the area's sublime natural beauty, as well as the surprising array of casually confident eateries, wineries, shops and inns that have popped up in recent years. While it may be hard to convince Sacramentans of Placerville's overnight worthiness—even though it's the perfect hub for some of the best hiking, biking, rafting and sightseeing that historic Gold Country has to offer—open-mindedness will be rewarded. Just as people change, so do small towns, and few pleasures can outweigh the thrill of discovering new riches in what was thought to be an old claim.
WHAT TO DO
Hiking and Biking
With the South Fork of the American River cutting through rolling hills dotted with scrub oaks, pines and manzanitas, the area surrounding Placerville is heaven for hiking and mountain biking. Cronan Ranch Regional Trails Park (near Pilot, off Hwy. 49, coloma.com), a tract of 1,400 acres opened to the public only a few years ago, is the perfect spot to find some solitude. Hikers can pass a leisurely afternoon by packing a basket from Placerville's Dedrick's Cheese and hiking almost a mile up the East Ridge Trail to a lone picnic table shaded by an oak grove. Bikers should check out the Down and Up Trail, which, true to its name, climbs up to peaceful hilltop vistas before dropping down a mile-long slope. For a less-strenuous adventure, head to David Moore Nature Area (two miles west of Marshall Gold Discovery State Park in Coloma, on Highway 49), where you'll find an easy one-mile loop that meanders by the azure rushing river.
Sightseeing
Gold Bug Park & Mine (one mile north of Highway 50 on Bedford Ave., 530-642-5207, goldbugpark.org) gives visitors a chance to don a hard hat and go inside a 352-foot drift that drips with history (and water, so wear walking shoes that you can dirty up). Check out the nearby stamp mill where excavated rock was crushed by 1,000-pound cylinders (run off a Cadillac engine for a number of years) to extract the gold dust via mercury. Ask the docent to fire up the working miniaturized model for a sense of the merciless beat of the machinery that ran 24 hours a day well into the 20th century.
Rafting
Want to get on the river without spending your entire vacation wearing a helmet? Try a half-day trip with Whitewater Excitement (6580 California 49, Coloma, 800-750-2386, whitewaterexcitement.com). The South Fork's 11-mile "Gorge Run" lets you get out of the boat and float through some gentle whitewater. Or you can get your heart racing on the "Chili Bar Run" that starts with six miles of bouncy, rolling rapids.
Shopping
Downtown offers a number of unique shops, many stocked with locally made products. Start out at Winterhill (321 Main St., 530-626-6369, winterhillfarms.com), where delicious artisanal olive oils are pressed with jalapeno, Meyer lemon or blood orange. Purchase some in a bottle whose labels were created by developmentally challenged women, one of whom works at Sacramento's Southside Arts Center and part of your purchase price will be donated to that organization. Up the street, check out Tony Matthews (447 Main St., 530-626-9161, tonymatthewsstore.com), an elegant home store with high-end items for cooking and entertaining. Then head across the street to Metal Dragonfly (352 Main St., 530- 626-6952, metaldragonflydesigns.com), where you'll find both locally and internationally made crafts, including rough-hewn wood lanterns, giant glass-and-metal garden ants and soy-based candles.
WHERE TO EAT
Heyday Café
What Placerville lacks in fine dining, it makes up for in simple yet satisfying fare that won't break the bank. For example, try the reasonably priced Heyday Café (325 Main St., 530-626-9700, heydaycafe.com). With its dark wood tables, extensive by-the-glass wine list and a convivial atmosphere, it's one of the most popular (and thus consistently crowded) places in town. And with good reason. Substantial salads made muscular with strong-flavored cheeses, nuts and fruit and thin-crust pizzas highlight an ever-changing menu that includes items such as a Dungeness crab pizza with a garlic cream sauce. Daily soups like the rich lobster bisque are worth the order as well.
Z Pie
Tucked down a side street, Z Pie (3182 Center St., 530-621-2626, z-pie.com) has made a name for itself by doing one thing really well: flakey-crusted pot pies with hearty-yet-inventive fillings. Inspired by the savory pasties served all over Australia and New Zealand, Z Pie has certainly upped the ante, offering much more than just beef, peas and potatoes. Try the Southwest chicken, rich with shredded meat, black beans, red pepper, corn and cream or the Thai chicken with silky coconut milk, red curry paste, lemongrass and makrut lime. Both pair nicely with their playful yet precise salads, including the California, with butter leaf lettuce, avocado, cherry tomatoes, cucumbers, bean sprouts and pumpkin seeds in a Japanese miso dressing. Intrigued but too full for pie at this particular moment? No worries. You can always pick up a few frozen ones to heat up at home once your appetite returns—they make perfect traveling companions.
Dedrick's Cheese & Zia's Gelateria
Looking for a picnic to take on your hike?  There's no better place to pack a basket than Dedrick's Cheese (312 Main St. #105, 530-344-8282, dedrickscheese.com). Set inside a walk street off Main, this gem is a gourmand's delight, with Salumi artisan-cured salamis (made by Mario Batali's dad Armandino), cheeses like Big John's Cajun Rub Cheddar (coated with cayenne, celery salt and garlic) and fresh breads and tarts. For the truly adventurous epicurian, step across the walk to Zia's Gelateria (312 Main St. #101, 530-642-9427, ziasgelato.com) and try the Winterhill olive oil gelato. It's a savory sweet mind bender that somehow tastes exactly like it's dominant ingredient yet nothing like it. But trust us, it's phenomenal.
 WHERE TO STAY
Eden Vale Inn
How can a converted 1919 barn provide such an unforgettable experience of rustic refinement? It's a question to ask Eden Vale Inn ($149-$349; 1780 Springvale Rd.; 530-621-0901, edenvaleinn.com) owners Mark and Gayle Hamlin, who purchased the 10-acre property just west of Placerville in 1985 and opened the seven-room B&B two years ago. Since then, the two have been making careful additions (stone patios, vine-covered footbridges, hidden gardens) and it's hard not to notice the loving attention to detail in this well-appointed establishment. Sip freshly brewed Temple Coffee in the inviting living room with its soaring timbered ceilings, or take the rowboat out for a leisurely pull around the swimming pond. Stay in one of the two of the newly completed rooms—Madrone or Gray Pine—each with a private outdoor patio and two-person Japanese soaking tub (stocked with complimentary Gilchrist & Soames fig and lemon bath salts). Once inside, towel off with thick, white Turkish cotton towels. A press of the wall button labeled "Romance" will ignite the fireplace and dim the lights recessed into the room's cathedral ceiling. The rest is up to you. —T.S.
Pacific Grove
The hippest thing about Pacific Grove is just how traditional it is. A whiff of New England infuses the Monterey Bay air in this town where narrow lanes lined by sensible Victorian homes lead down to a rocky shore reminiscent of Maine. Along the shore, a coastal path connects residents to the bay—a world that is California through and through. Sea otters crack open shells, harbor seals balance on rocks and brown pelicans glide through the mists just above the waves. Pacific Grove is graceful but not stuffy, timeless but no museum piece. And yes, definitely not trendy. But in an era when authenticity is so rare, there's something pretty hip about a town that stays true to itself.
WHAT TO DO
Monterey Bay Coastal
Recreation Trail
If you're driving around Pacific Grove, think again—it's a perfect walking town. The coastal trail (seemonterey.com/recreation-trail) is both a graceful promenade and community gathering place as it threads together parks along Pacific Grove's four-mile-long shoreline. As the fog ebbs and flows, the ocean panoramas are ever-changing. Look for harbor seals on the beach at Hopkins Marine Station on the short walk to the Monterey Bay Aquarium and Cannery Row. In the other direction, head past the granite headlands of Lovers Point and continue around the top of Monterey Peninsula to Asilomar State Beach and Conference Grounds (831-372-8016; visitasilomar.com). You can take self-guided or ranger-led tours of 13 landmark buildings designed by Hearst Castle architect Julia Morgan.
Monterey Bay Aquarium
The country's most renowned aquarium (866 Cannery Row, 831-648-4800, montereybayaquarium.org) sits just beyond town limits and is your best introduction to Monterey Bay ecology. The Open Sea Exhibit, with its hammerhead sharks and green sea turtles, has just reopened after a $19 million renovation. Be sure to catch the otherworldly leafy sea dragons in The Secret Lives of Seahorses exhibit. And for Pacific Grove history, check out the display on pioneering ecologist and one-time town resident Ed Ricketts, a close friend of John Steinbeck and inspiration for Doc in the novel Cannery Row.
WHERE TO EAT
Passionfish
Pacific Grove's most celebrated restaurant, Passionfish, embraces a sustainable approach to seafood. If you're going to have one special-occasion meal here, this is the place. The décor breaks from Pacific Grove's traditionalism and is coolly contemporary with black-and-white underwater photography. Standout entrées include the lusted-for sea scallops in tomato-truffle butter and the lightly smoked rainbow trout. Bonus: Passionfish keeps its wine list, which spotlights many sustainably produced selections, at retail prices (dinner nightly; 701 Lighthouse Ave., 831-655-3311, passionfish.net).
Red House Cafe
Whether you eat by the brick fireplace or out on the porch, the cafe's homey atmosphere and unfussy New American cuisine makes the almost obligatory wait well worth it (662 Lighthouse Ave., 831-643-1060, redhousecafe.com). Locals swear by the weekend breakfasts, and both the cinnamon raisin brioche French toast and the Red House Frittata (spinach, artichoke hearts, red bell peppers and two cheeses) have their devotees. You won't go wrong with lunch either, including a pork tenderloin sandwich on rosemary focaccia.
 WHERE TO STAY
Green Gables Inn
When you're here, you want two things: history and Monterey Bay. And the Green Gables Inn ($135-$305; 301 Ocean View Blvd., 800-722-1774, greengablesinnpg.com) delivers both. Located close enough to the shoreline to hear the waves, the 1888 Queen Anne Victorian is unabashedly traditional. Expect all of the attendant indulgences: fresh-baked cookies, afternoon wine with hors d'oeuvres, and breakfast including baked French toast with house-made syrups (and if you don't like morning schmoozing, it's worth the $10 room delivery fee). And even if B&Bs aren't your thing, if you're ever going to stay in one, then let it be here. —M.J.
TIBURON
Tiburon is the Spanish word meaning "shark." But typically the biggest bite you'll encounter while visiting this charming bayside town is in your pocketbook. That is to say, it's easy to find ways to part with your hard-earned money here. Just across the Bay from San Francisco, this tiny town packs in stunning vistas, a beguiling mix of shops, galleries and attractions, and a few great watering holes that bring people in by the boatfuls. The town's artistic culture is center stage during the fifth annual Tiburon Art Festival, August 27-28 (tiburon-artfestival.com). The outdoor festival along Ark Row features original art, jazz music, kid-friendly activities and plenty of adult beverages. Tiburon is the former southern terminus for the Northwestern Pacific Railroad, so there's also a good bit of history anchoring all the fun. One way or another, a history-making weekend awaits.
 WHAT TO DO
Tiburon Railroad & Ferry Depot Museum
Dating to 1885, the Tiburon Railroad & Ferry Depot Museum (1920 Paradise Dr., 415-435-1853, landmarks-society.org) is on the National Register of Historic Places, and is the last dual-use railroad terminal west of the Hudson River, a remnant of a time when everything came west by trains. You needn't be a railroad nerd to appreciate the collection of model trains running through a 1:87-scale version of Tiburon (circa 1910), including buildings and ferry boats.
Angel Island State Park
Tiburon is the closest mainland point to Angel Island (415-435-3544, angelisland.com) the green gem in San Francisco Bay. Frequent 10-minute ferry rides mean easy access. Angel Island boasts a maze of trails, a picnic area and a small beach. A short hike from the ferry landing and you'll find commanding views of San Francisco. If you'd rather not walk, you can rent a bike or a Segway and take a self-guided tour, or hop aboard a guided tram. Fresh-shucked oysters and cold beer are the standard order at the new Cove Cantina Oyster Bar.
 WHERE TO EAT
Sam's Anchor Cafe
For many, Sam's Anchor Cafe (27 Main St., 415-435-4527, samscafe.com) is synonymous with Tiburon. Sam's has an old-world feel inside, with wooden tables and a long bar flanked by local fishermen. But the deck out back enjoys its own microclimate—drenched in sun and protected from wind. Folks pour off ferries or hop off bikes to grab a seat outside, whiling away the day with a Bloody Mary or a signature Sam's spiked pink lemonade. The food includes the popular cioppino and buttery fish and chips. Weekend brunches are wildly popular—expect to wait—and once you're seated, you may never leave.
Guaymas
This waterfront spot sets a standard in the North Bay for gourmet Mexican fare, with local ingredients and made-from-scratch sauces (5 Main St., 415-435-6300, guaymasrestaurant.com). The carnitas made from beer-braised pork shoulder are especially delicious. And don't miss the margaritas. Ordered by the glass or pitcher, they set the tone for an afternoon on the deck or an evening in the dining room (each with sweeping S.F. and Bay views) where the fiesta never stops.
Where to Stay
The Lodge at Tiburon
Owing to its postage-stamp size, Tiburon does not offer many lodging options. Luckily, the Lodge at Tiburon ($143-$299; 1651 Tiburon Blvd., 415-435-3133, larkspurhotels.com) is both affordable and luxurious enough to please most travelers. The location is remote enough to provide nighttime quiet, but a short hop to the action on Main Street. Each of the 102 guestrooms boasts cushy feather-top beds. The on-site restaurant, Tiburon Grill, has a great patio for sipping wine while watching the ferries come and go. —R.F.
Calistoga
Wine may be the trendy tipple in the Napa region, but Calistoga owes its name to whiskey. After buying up 2,000 acres in the area in the mid-1800s, Sam Brannan (first millionaire of the Gold Rush and the preeminent Sutter's Fort merchant) accidentally named the town while under the influence of a bit of grain-mash hooch, garbling "the Saratoga of California" into the "Calistoga of Sarafornia." Brannan wanted to transform the lush countryside with its natural hot springs into a resort like the famous New York town he tried to reference. While the name stuck, it wasn't until chiropractor John "Doc" Wilkinson moved in 1946 and invented the modern spa industry that the mud baths really got pumping. Calistoga fell out of favor as neighboring towns like St. Helena developed into chic, high-end hamlets, but recent improvements including earning its own American Viticultural Area (AVA) designation in 2009 (which allows it to label locally-produced bottles as being from "Calistoga") and gaining a Michelin-starred restaurant have given in-the-know travelers a new reason to look at this quaint old community. Calistoga is the perfect blend of down-to-earth attitude and sophisticated luxury, just right for the traveler who wants to experience the best of Napa Valley without the Beverly Hills-in-the-fields-feel of more developed destinations.
 WHAT TO DO
Wine Tasting
Chateau Montelena (1429 Tubbs Ln., 707-942-5105, montelena.com) a vine-covered stone winery set on a hill, is credited with putting Napa on the map as a world-class wine region for winning the Judgment of Paris tasting in 1976 with its 1973 chardonnay (check out the movie Bottle Shock for the full story). Stop by its upstairs tasting room, and then take a walk around the lake and Chinese garden, with its shady weeping willows. Head across the hill to Castello di Amorosa winery (4045 N. St. Helena Hwy., 707-967-6272, castellodiamorosa.com) for the architecture as well as the wine. This reproduction of a 13th century Tuscan castle is filled with medieval kitsch that makes it feel like a set for HBO's sword-and-gore epic Game of Thrones.
Spa Treatments
Skip the tub of hot mud and head to The Bathhouse at Spa Solage (755 Silverado Trail, 707-226-0820, solagecalistoga.com) instead to try the three-part signature Mudslide treatment. The experience begins when you pick custom essential oils to add to a blend of local volcanic ash, South American clay and a special anti-oxidant serum that make up the Mudslide mix. Step into a dry-sauna treatment room (for singles, couples or groups up to five) and cover yourself in the concoction, then let yourself relax as it bakes dry. After showering (your choice of indoor or outdoor facilities), you'll slide in an oversized tub of local geothermal mineral-rich water. Finish it off with a rest in a "relaxation chair" that runs musical waves through your body. Then hang out, order a cocktail and take a dip in one of two co-ed pools or indulge in the heated, clothing-optional men's and women's pools.
Hiking
Down scenic Highway 29 towards St. Helena, you'll spy a small sign for Bale Grist Mill (3369 Saint Helena Hwy. N, (707-942-4575, parks.ca.gov). Take the narrow paved road up to the parking lot of this California State Park and you'll be rewarded with the site of a beautifully restored mill originally built in 1846, complete with a working 36-foot water wheel. This was once the social hub for area farmers who hung around to chat while their goods were ground. Inside, the rangers will fire it up on weekends and let you mash grains (you can even buy a bag of recently-ground polenta, rye or wheat to show off back home). Then hike the two-mile roundtrip path to Bothe-Napa Valley State Park, called "the history trail" for the pioneer cemetery along its way. The scenic and easy walk takes you through groves of redwoods, oaks, manzanitas and madrones and passes seasonal creeks and wildflowers. Take a picnic basket for an afternoon adventure.
Sightseeing
Unless you're a science buff, it might take some education and imagination to get the most out of a visit to the Old Faithful Geyser (1299 Tubbs Ln., 707-942-6463, oldfaithfulgeyser.com). First, you need to know that this is one of only three geysers in the world that has rights to the "old faithful" designation, meaning it goes off regularly (about every 30 minutes in this case). Then you have to imagine an underground river flowing over hot magma, turning it to steam that shoots up through the earth at temperatures that can reach 350 degrees. With that in mind, the rush of water spouting up 60 to100 feet through a small lake will seem almost as impressive as that of its more famous Yellowstone cousin (whose eruptions average about 130 feet) and is definitely worth an hour of your time. And while you're waiting for Mother Nature to do her trick, you can pet the Tennessee Fainting goats and other free-wandering critters.
 WHERE TO EAT
JoLe
Owned by a husband-wife team Matt and Sonjia Spector (the chef and pastry chef respectively), JoLe (1457 Lincoln Ave., 707-942-5938, jolerestaurant.com) has carved out a reputation for itself in the highly competitive Napa restaurant scene—no easy task for an unpretentious little spot in the Mount View Hotel on Calistoga's main street. The menu focuses on a farm-to-table ethos in a clean, modern atmosphere with dark wood tables and silver lighting. Using organic and locally sourced ingredients, the kitchen turns out an ever-changing lineup of top-notch small plates (on a recent menu were scallops with octopus, quinoa, harissa and olives; bacon and chorizo stuffed dates with roasted cauliflower; and a mascarpone cheesecake with stewed huckleberries for dessert). With so many delicious and innovative options, the tasting menu (with four, five or six courses) with wine pairings is really the best way to go.
Buster's Southern BBQ & Bakery
There aren't many places in the Napa Valley where ten bucks will get you lunch, much less a good one, but Buster's (1207 Foothill Blvd., 707-942-5605, busterssouthernbbq.com) is the exception. Just past the main turnoff for Calistoga from Highway 128, this wood-sided shack is a favorite with locals and passing bikers (there's just as many hogs in the parking lot as there are on the grill). You won't get any frills—just rich, smoky, sizzling meat coming off the outdoor wood grill, plastic silverware and paper plates, and picnic tables to enjoy your messy meal. While the tri-tip sandwich served with garlic bread is a favorite, few proteins have been spared from the savory BBQ sauce—you'll find ribs, chicken and more. Sides such as macaroni salad and a tangy-sweet cole slaw make it the perfect place to grab something to go before heading out to the Bale Grist Mill for a picnic.
 WHERE TO STAY
Solage Calistoga Resort
Opulent minimalism? Eco-chic indulgence? Give it any tag you want, but Solage Calistoga Resort ($350-$700; 755 Silverado Trail, 866-942-7442, solagecalistoga.com), which opened in 2007, is the ideal spot for a quietly lavish escape. Each cottage has a pair of Electra cruiser bikes resting out front, perfect for making your way to the 20,000 square-foot spa (named the No. 1 spa in America by Condé Nast), visiting the geothermal pools or taking the short ride into town. But if pedaling is just too much, grab the Mercedes convertible (free for four hours) and hit the Silverado Trail. And be sure to try the on-site restaurant, SolBar, which was recently awarded a Michelin star. With indoor-outdoor seating and friendly service, it belies its haute-cuisine credentials with a laid-back vibe that makes it just as comfortable to have sliders and beer on the patio as a fine dining experience in the modern interior. Chef Brandon Sharp (a former sous chef at San Francisco's Gary Danko) uses fresh, local ingredients to create a satisfying menu divided into "light" and "hearty" plates. Or stop by for a terrific breakfast like the Mount Washington eggs—two poached eggs on a split buttermilk biscuit with hollandaise sauce, smoked ham and braised greens. —T.S.
Gualala
It's pronounced wa-LA-la, and like that lyrical name, this coastal village a little over three hours northwest of Sacramento is all about softening hard edges and opening up to beauty. Logging built Gualala but art has kept it on the map thanks to a surprising gallery collection and a remarkable community arts center. Whether your focus is on art or nature, inspiration is everywhere, from an untamed coast of coves and sea stacks to meditative redwood groves. The serpentine Highway 1 keeps the outside world at a distance, so Gualala isn't easy to get to. Nor is it easy to leave. As Rosemary Campiformio, executive chef at St. Orres for 36 years declares, "There are places with things to do. Gualala is a place to be."
 WHAT TO DO
Art in the Redwoods
Talk to Gualala Arts Center's executive director David Susalla and he'll rhapsodize about the area's creative magic. That magic finds expression in everything from the center's surprising exhibits (a recent display on automotive art featured a modified 1932 Ford pickup that dominated the lobby) to chamber music and jazz concerts in its theater and an outdoor amphitheater beneath the trees. Built of reclaimed redwood to resemble an old logging mill, the 15,000-square-foot center is set on 11 forested acres (46501 Gualala Rd., 707-884-1138, gualalaarts.org). Trails lead to such environmental installations as area artist Ursula Jones' "Fog Catcher" (strands of beads suspended from trees depict the forest's life-giving fog drip) and a traditional Japanese torii gate created by architect and craftsman Michael Anderson. The center celebrates its 50th anniversary from August 18-21 during the Art in the Redwoods Festival with special exhibits featuring a variety of media, from large-scale photographs to 10-foot bronze sculptures and wool and linen tapestries, musical performers like bagpipers and the Ernest Bloch Bell Ringers, and food prepared by the Gualala Arts Culinary Group.
Gallery Hopping
Featured in Dwell magazine for their pioneering design and retail work, Maynard Hale Lyndon and his wife Lu Wendel Lyndon opened Placewares & LyndonDesign in 2005 (39114 Ocean Dr., 707-884-1184, placewares.com) in Gualala's Cypress Village Gallery District (Hwy. 1 and Ocean Dr.). It carries Heath Ceramics and artwork including Maynard's irresistible and affordable ($75) shadowbox-like "looking boxes"—three-dimensional pieces with doors and windows that open to such surreal juxtapositions as an oceanscape glimpsed within a modern Parisian house. Pick up that original silver gelatin Ansel Adams print you've always craved at Alinder Gallery (39140 S. Hwy. 1, 707-884-4884, alindergallery.com), which is curated by Adams biographer Mary Street Alinder and her husband James. On a ridge above town, Stewart-Kummer Gallery (Sat.-Mon. 11 a.m.-5:30 p.m. and by appointment; 35290 Old Stage Rd., 707-884-3581) displays works by leading Northern California artists and craftsmen in a cottage-like gallery. "Part of my objective has been to display art as people might be able to imagine it in their own home rather than a white cube gallery," says owner  and director Don Endemann.
Wild Gualala
Gualala comes from a Pomo Indian word that means "water go-down place." And the Gualala River goes down to the coast at Gualala Point Regional Park (707-785-2377, sonoma-county.org/parks), where you can explore the estuary's sandspit or hike south above rugged coves and crashing waves to neighboring Sea Ranch. Paddle down the river on a canoe or kayak trip with Adventure Rents (888-881-4386, adventurerents.com). You'll get shuttled to a launch location and then work your way back through redwood forests and sandbars. Take your time and look for wildlife: You might spot river otters or a mother merganser leading her line of ducklings downstream.
WHERE TO EAT
St. Orres Restaurant
Long before local foods moved into the mainstream, Rosemary Campiformio lived the life in Gualala. At St. Orres (dinner nightly and weekend brunch; about two miles north of town on Hwy. 1; 707-884-3335, saintorres.com) she still forages from Gualala's bounty for such ingredients as black chanterelles (delicious in a garlic flan appetizer) and huckleberries, which make cameos in everything from rack of venison to a bread pudding with house-made cinnamon ice cream that seamlessly blends its textures and flavors. Combine her North Coast cuisine with the Ahwahnee-esque dining room and you have a classic destination restaurant.
Trinks Cafe
Out on the road, nothing beats a place like Trinks (39140 S. Hwy. 1; 707-884-1713, trinkscafe.com). Quick, casual and tasty, it's definitely of Gualala, thanks to an emphasis on the seasonal and homemade in its salads and sandwiches (the cranberry sauce on the turkey sandwich is from a family recipe and the ham is house-roasted), plus coastal views that don't usually come with a cup of coffee. Save room for handcrafted gelatos and sorbets from Gualala's Gelati Pazzo Marco. And check out Trinks' blog for thrice-weekly special dinners, which sometimes feature wild local king salmon.
 WHERE TO STAY
Breakers Inn
With rooms and decks overlooking the ocean and Gualala River, Breakers Inn ($125-$265; 39300 S. Hwy. 1; 707-884-3200, breakersinn.com) delivers on its name. Panoramas take in seabirds winging by at window level and yes, breakers, rolling onto the beach. Each room is individually decorated with a geographic theme that incorporates such elements as a traditional quilt in the Pennsylvania Room, and screens and wood cabinets in the Japan Room. This summer or fall, the inn plans to open the seafood-focused Shoreline Restaurant, a dramatic modern space with a wall of windows and a dining deck to take in the view.
St. Orres
St. Orres has origins in the halcyon era when Mendocino County drew seekers looking for an unspoiled, natural frontier on the California coast. Woodworker and designer Eric Black continues work on his vision for the 53-acre property ($95-$350; about two miles north of town on Hwy. 1, 707-884-3303, saintorres.com), and with a lodge and cabins built in the Russian style of nearby Fort Ross and secluded in meadows and along a creek, St. Orres lets you experience that Gualala dream of days and nights spent close to nature. Accommodations range from rustic cabins to cottages that are as notable for their construction (Sequoia Cottage was built entirely without nails) as natural settings that look out on the ocean and put you close to wildlife, including grazing coast black-tailed deer. —M.J.