Spanning the Future
A new $160 million bridge is planned for the Sacramento River, but the design process is deeply flawed. Here's why we may need to burn a few bridges in order to build a truly great one.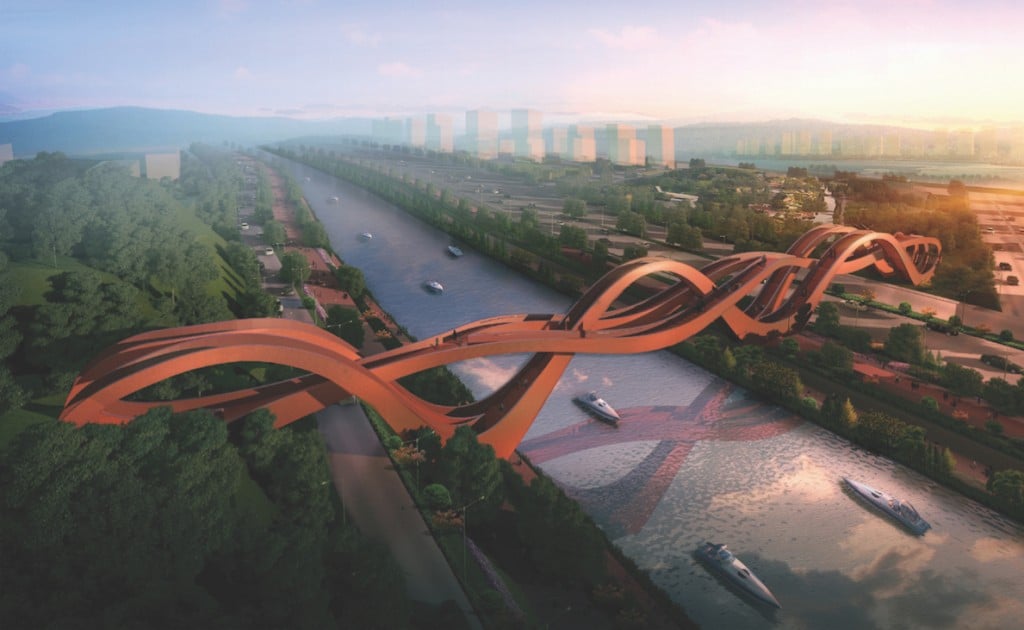 In 1935, the opening of the new Tower Bridge over the Sacramento River revealed a sense of optimism about our city during a difficult time.
The United States was still deep in the Great Depression, and architect Alfred Eichler (no relation to the celebrated residential developer Joseph Eichler) crafted a design for the new bridge in a style known as Streamline Moderne—a spin-off of Art Deco that "symbolized progress, modernization, speed, efficiency and technology."
With its original polished silver color, 160-foot towers and 738-foot span, the structure was described at the time as "inextricably linked with symbolism of the future."
Sadly, when it comes to Sacramento bridge design in the 21st century, we're in danger of being inextricably linked with the symbolism of the past.
For several years, the city has been planning a replacement for the historic I Street Bridge, a handsome steel truss structure that dates to 1911, but no longer meets modern design and safety standards for automobile traffic. Happily, that bridge isn't going anywhere. It will continue its role as the river crossing of choice for Amtrak and other heavy railcars traveling to and from the railyards, and there are even grand visions of a landscaped pedestrian walkway—a la New York's High Line—on the upper deck where vehicles now roam.
That's the good news.
The unfortunate news is that three years ago, in lieu of holding a competition to pursue an iconic design for the first major bridge on our riverfront in over a half-century, the city, via the transportation planning firm Mark Thomas, quietly selected an architect for said replacement. It appears that the designer for this $160 million civic project was chosen not on the strength of his ideas for the new span, but rather his past experience.
The architect is Donald MacDonald of San Francisco, best known for his design of the recently completed eastern span of the Bay Bridge. And while that project and others in his portfolio are certainly applicable from an "experience" standpoint, I fear the city and its consultants have their priorities entirely backwards.
Done right, bridges have the power to shape the identity of the cities they inhabit. For evidence, look no further than the Golden Gate in San Francisco or the Brooklyn Bridge in New York. Their extraordinary beauty and presence say something about the places in which they reside.
In Redding, the Sundial Bridge—also over the Sacramento River—was designed by the celebrated Spanish architect Santiago Calatrava, and single-handedly elevated that town of 91,000 into a destination city.
So, whether we're building a narrow pedestrian bridge or a multilane crossing for cars, bikes and people, every new bridge represents an opportunity to make a powerful visual statement about Sacramento. And as with any city, the chance to make this type of transformative architectural statement is exceedingly rare. In the past 106 years, for example, the capital of California has had only three opportunities to construct spans across the mighty Sacramento River.
And bridges aside, $160 million public building projects of any kind are few and far between. So it's even more critical that we get this one right.
Here's why we got off to a bad start.
If, for example, you're looking for someone to paint your house, you need a painter with the requisite skill set to do the job. They need to know how to prepare the surface and apply the paint with care. If, however, you're looking for someone to paint a mural on the side of a public building that will last for decades, then you're far more concerned with finding someone with an aesthetic eye that matches the style you're hoping to achieve.
In other words, when the canvas is our city, choosing the right artist is absolutely critical. That's not to say MacDonald isn't an artist. But is he the right artist for our city? Does he have the vision to identify our architectural strengths and weaknesses and fill in the missing piece?
Based on his concept renderings—perhaps heavily influenced by the city or its consultants—the early answer is a resounding no.
I say this because MacDonald's handful of concept renderings achieve the polar opposite of what Alfred Eichler strived for in his design of the Tower Bridge—reflecting the time he lived in while also looking toward the future.
A November 2016 report prepared by the consultants at Mark Thomas suggested the new span "should represent a current modern 21st-century design that relates to the rich local bridge history. … The use of exposed trusses as the main structural feature of both the lift bridge and the lift towers connects this new landmark with the existing I Street Bridge and the Tower Bridge just downstream to visually create a family of bridges."
In other words, make a modern bridge that looks like two really old ones.
To that end, MacDonald's concept drawings emphasize our bridges built in 1911 and 1935. Each of the architect's designs represents a Frankensteined mash-up of recycled visual references, such as exposed steel trusses (overtly referencing the I Street Bridge) and/or twin towers (echoing the Tower Bridge).
Ironically, the concept described by Mark Thomas in its report as "ultra modern" (pictured at middle left) is a near carbon copy of the Tower Bridge's familiar profile.
In fairness, co-opting visual elements from surrounding structures to make new projects fit their environment is a common architectural gimmick. On its surface, there's nothing wrong with it—if it's done in a subtle way. There is nothing, however, remotely subtle about MacDonald's references to the past.
But perhaps the most egregious mistake the city and its consultants made was thinking too small for a project of this size and with this much potential impact. To wit, the city has characterized the structure as a "neighborhood-friendly bridge" that is to be "architecturally pleasing and contextually appropriate for adjacent neighborhoods."
OK, stop right there.
Perhaps a small wooden walkway over a koi pond in William Land Park should be "pleasing" and "neighborhood friendly."
But a $160 million state and federally funded transportation project is a potential civic game-changer for Sacramento, with the ability to help draw locals and visitors alike to the waterfront on both sides of the river. It can also help shape perception of the city as a forward-thinking metropolis to all those who pass the bridge on Interstate 5.
Such is the power of great architecture.
Instead of establishing a visual narrative based on being "pleasing" and "neighborhood friendly," we need to reframe the aesthetic parameters using words like "iconic" and "innovative."
When MacDonald's replacement for the eastern stretch of the Bay Bridge opened in September 2013, San Francisco Chronicle architecture critic John King couldn't stifle his disappointment. "The span that opened this month is an engineered act of architecture that wants to be iconic, and it doesn't measure up to the task," he wrote. He went on to call it "a carefully designed, well-crafted span that's an attractive presence."
And it is attractive. But that's far too close to "pleasing" for my taste.
Yes, the city and its consultants plan to open the process for public comment this fall. And yes, they say they remain open to the idea of a modern structure, even though that's clearly not the direction they've been headed in. But frankly, public comment and a willingness to not look backwards is not good enough. It does the public no good to influence a certain direction if there's only one person—one who brings with him his own distinctive style—hired to execute it.
You wouldn't, after all, ask Frank Gehry to design an aggressively horizontal concrete house any more than you'd ask Frank Lloyd Wright to craft a soaring, metallic, curvilinear museum. In other words, the design needs to come first, not the designer. Ultimately, the vision must rely on the strength of ideas, not just experience.
Before that happens, though, we have to determine what we want and need as a city.
I believe that what Sacramento needs right now, from an architectural standpoint, isn't more references to the past. We have those in spades and they're wonderful. Rather, what Sacramento really needs, what it's lacking as a city still struggling to define its national identity, is to be bold. Yes, it's critical to preserve and protect our heritage, but it's equally important that we continue to look ahead, just like Alfred Eichler did.
In fact, that is exactly what the new Golden 1 Center has achieved. Its façade may reference our status as the City of Trees with tiny leaf imprints on its massive, undulating steel panels that mimic the nearby Sierras, but its form is unabashedly forward-looking, both in materials and design.
So where do we go from here?
Simply stated, we have to undo this mistake before it's too late. There's too much at stake here. Egos may be bruised and some honest work undone, but that's a tiny price to pay to avoid a century or more of "pleasing" architecture.
What we need to do instead is take a cue from dozens of other cities around the world and initiate a design competition for our new bridge. We need to join the ranks of London, Warsaw, Tulsa, Miami, Los Angeles, Helsinki, Rome and others that are creating their bridges by tapping into the global architectural community for big ideas.
In Providence, R.I., for example, a new $17 million pedestrian bridge is opening next year as a result of a contest that drew 47 entries. "We received incredible designs from all over the world," said Providence Mayor David Cicilline at the time of the selection.
Last year, an awe-inspiring, ribbon-like 600-foot river crossing nicknamed The Lucky Knot was completed in Changsha, China, as the result of another global contest. "The Lucky Knot is more than a bridge and a connection between two river banks," architect Jiang Xiaofei of Amsterdam and Beijing-based firm Next told ArchDaily. "Its success lays in bringing cultures together, and in the fusion of history, technology, art, innovation, architecture and spectacle."
And just this past March, Ipswich, England, finished its own competition for a series of three new bridges, and the winner was no less than Foster & Partners, the firm led by Sir Norman Foster, widely heralded as one of the world's greatest living architects. Similarly, Taipei's recent bridge contest landed a striking design by fellow starchitect Zaha Hadid in 2015, less than a year before she died.
Leaders in each of these cities understand that public projects like bridges are invaluable civic branding tools, and they're engaging the widest possible spectrum of creative minds to find the right fit. A single competition can yield dozens of thought-provoking designs from the most innovative architects in the world. Right now, we're setting ourselves up to rely on just one.
And yes, we should absolutely invite MacDonald to participate. After all, he's extremely well-versed in the process, having entered many bridge design competitions himself. Yes, they're that common, and with good reason.
Regardless, only when we cast a wider net for this once-in-a-lifetime opportunity will we be leading with ideas for the future, not drowning in a river of distant memories.