Spring Forward
Physical distancing takes on a whole new meaning with this update of our 2014 guide to 10 great bike trails around the region. Whether you're looking for a two-wheeled version of a lazy stroll or the pedaling equivalent of climbing Everest, we've got your sweet spring ride mapped out, from an 8-mile sunset trek along the Sacramento River to an 11-mile roller-coaster adventure in Auburn and a 26-mile pastoral journey through Yolo farmland. So go ahead, turn the page, and take yourself out for a spin.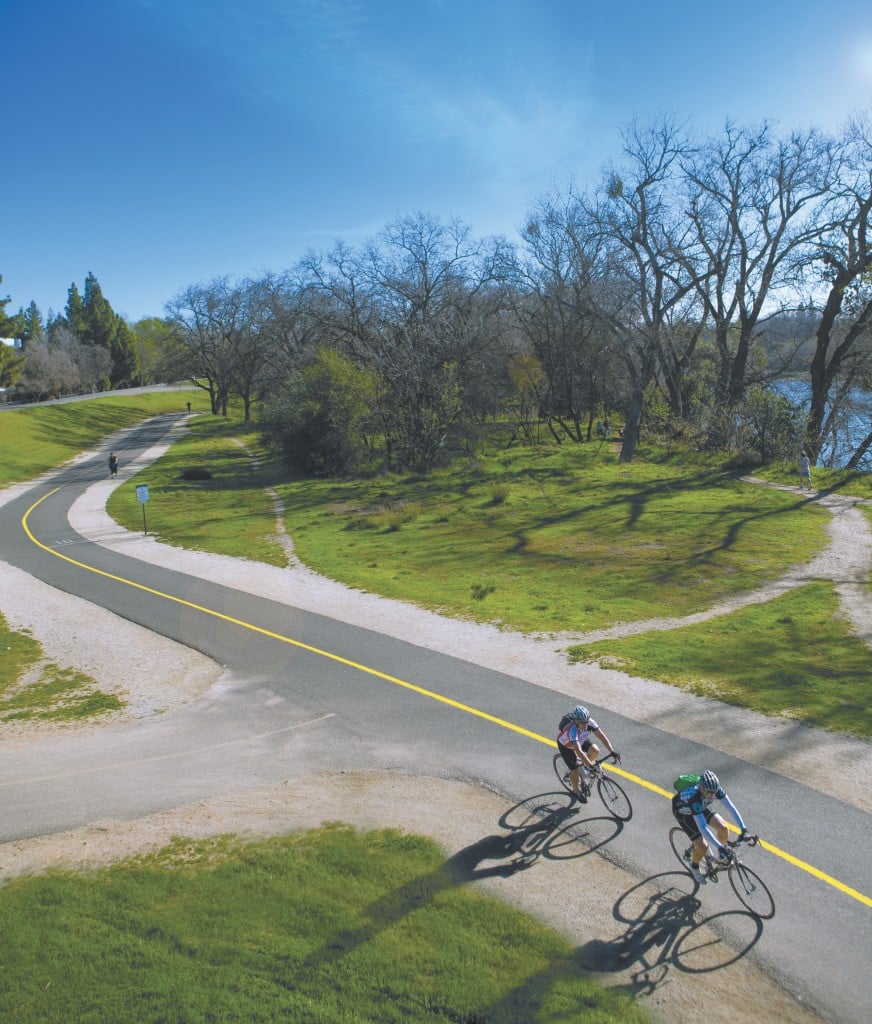 Guy West Bridge to
Harold Richey Memorial
Bicycle Bridge
American River Parkway  
Directions: From Highway 50 east, exit at Howe Avenue and turn left onto Howe. Continue north for 1.5 miles and turn left on University Avenue. Follow University three-quarters of a mile to street parking around the entrance to the Guy West Bridge.
Length: 12 miles round trip
Time: 1 hour
Difficulty: Easy
Elevation Change: 30 feet
The west end of the Guy West Bridge (named after the first president of Sacramento State University) marks what used to be the agricultural community of Brighton, where hops, sugar beets, distilleries and other rural enterprises thrived in the late 19th century. It was from here that in 1896, the Capital City Wheelmen—Sacramento's first cycling club—worked to establish a bike trail from downtown to Folsom. Nearly 125 years later, cyclists, joggers and hikers alike share this juncture at mile 7.8 of the beloved American River Bike Trail. Follow the sycamores east toward Watt Avenue, with the levee to your left and the broad expanses of oak, walnut and elderberry trees flanking the river to your right. As you gain elevation and the levee tapers away, so, too, do the freeway thrum and other signs of urban life. An oak grove at mile 11 gives way to a vast, sweeping inlet that is home to ducks, herons, geese, beavers, otters, turtles and other river critters—as well as a restful overlook from which to observe them. The Harrington Recreation Area (near mile 12.5) presents another stirring view, with softly rushing water announcing the entrance to William B. Pond Recreation Area and the Harold Richey Memorial Bicycle Bridge—the capstone of a bridge-to-bridge ride where you can head east across the river for a picnic at River Bend Park, or loop back around to the city left behind. arpf.org —Stu VanAirsdale
10 Great Spring Bike Rides
Lake Natoma Loop
American River Parkway & East Lake Natoma Trail 
Directions: From Highway 50 east, exit at Hazel Avenue. Turn left and continue over the highway to Nimbus Flat Recreation Area. Turn right, proceed to the guard kiosk (entry costs $10) and park in the lot across from the trailhead. *Update: Due to COVID-19, the Lake Natoma Loop is inaccessible to vehicular traffic until further notice. The trailhead is accessible by walking or biking only. 
Length: 11 miles
Time: 70 minutes
Difficulty: Moderate
Elevation Change: 120 feet
Winding 5 miles along the south shore of its namesake, the Lake Natoma Trail is often grouped in among the countless branches and spurs of the American River Parkway. But it stands apart both in name and geography, with pine-shrouded peaks of river rock standing sentinel along the trailside and a few steep, winding climbs possibly challenging novice riders. (Numerous dirt trails off the paved route will entice more experienced mountain bikers.) Ride east from the trailhead to initiate a counterclockwise loop, trundling over bridges with broad views to the north or stopping for lunch at one of the quiet tables tucked away on the lakeside. Once you reach the Lake Natoma Crossing, cut north on the bridge before connecting to the greener, more densely wooded American River Bike Trail. After another steady climb just before mile 27 on the trail, you'll come breezing out along the north shore of glassy Lake Natoma—a breathtaking vista that feels like the reward for the entire journey. Ride beneath the cliffs and into the gorgeous inlets and islands with Nimbus Dam in the distance. All that's left is to make another gradual climb to the Hazel Avenue bridge, atop which you can take a well-earned breather and admire glimmering westward views of the river flowing over the horizon. parks.ca.gov —Stu VanAirsdale
10 Great Spring Bike Rides
Pioneer Trail
Tahoe National Forest  
Directions: Take Interstate 80 east toward Auburn. From Auburn, head north on Highway 49 and continue about 23 miles onto Highway 20. Continue about 9 miles and turn left at Harmony Ridge Market, just past Scotts Flat Road. Park in the available lots surrounding
the market.
Length: 13 to 50 miles round trip
Time: 2 to 14 hours
Difficulty: Moderate to hard, depending on segments
Elevation Change: 2,000 feet
If there's any place nearby where mountain bikers can channel their inner explorers, it's up in Gold Country, where bold emigrants made their way over the Sierra Nevada mountain range on horseback, wagons and foot, hoping to strike it rich in the river valleys. Follow their tracks on the Pioneer Trail, which runs along Highway 20 for a total of 25 miles and where deeply rutted wagon roads are still apparent in some parts. An experienced mountain biker can earn the ultimate bragging rights for completing the full round-trip trek, but rookies will still have a ball touring the lower segments, which dip and wind through thick groves of towering pines, once in a while opening up along canyons where you'll catch glimpses of the majestic mountainside blanketed in rolling evergreen. Begin at the trailhead at Harmony Ridge Market and ride the first 6.5 miles to White Cloud Campground. Know your limits before venturing past White Cloud, as the trail kicks it up a notch on both the technical riding and natural beauty scales. Only the most determined riders will continue past the Omega Rest Area en route to Fuller Lake, a popular picnic and fishing site. Your lungs may burn as you climb (the highest elevation peak along the Pioneer Trail is 5,500 feet), but the way back affords a wind-in-your-hair descent through the fragrant conifers, bringing that sense of relief and joy the pioneers must have felt as they entered Gold Country. fs.usda.gov  —Tori Masucci Cummins
10 Great Spring Bike Rides
Russell Boulevard Bike Path to downtown Winters
Yolo and Solano Counties  
Directions: Take Interstate 80 west to Davis and exit north on Highway 113 to Russell Boulevard. Turn left at the exit. At the fork in the road about a half-mile in, bear left to remain on Russell Boulevard. Turn right onto Lake Boulevard, where ample street parking is available. Join the Russell Boulevard Bike Path at the junction of Lake and Russell.
Length: About 26 miles round trip
Time: 2 hours
Difficulty: Moderate because of distance
Elevation Change: 70 feet
One could easily imagine Wayne Thiebaud or Gregory Kondos painting a lush valley landscape along this route through the rich farmland between Davis and Winters. The ride begins at the western edge of Davis on the Russell Boulevard Bike Path, which meanders beside small farms and horse pastures for about 3 miles before dead-ending into a tree-shrouded junction with County Road 95A. Turn left to head south on this largely traffic-free two-lane road, which soon crosses over Putah Creek at the 97-year-old Stevenson Bridge (also called the Graffiti Bridge for its blanket of colorful markings). A half-mile later, head west at Putah Creek Road. From here on out, it's bucolic perfection: Nut tree orchards sprawl against the backdrop of the coastal mountains; after roughly 4 miles, look for gleaming white egrets along the waterside as the road rejoins Putah Creek. Follow the shady waterway for several more miles before crossing it again, this time at the Winters Putah Creek Bridge, which leads into downtown Winters. You'll find plenty of outdoor spots where you can recharge (grab a cup of joe to go from Steady Eddy's coffee shop to sip at downtown's Rotary Park) before reversing course for the return ride to Davis. If cycling another 13 miles sounds intimidating, don't fret: A respite in Winters makes this trek doable for most recreational bikers, and cruising the picture-perfect scenery is worth the exertion.
traillink.com  —Stephanie Towne Benoit
10 Great Spring Bike Rides
Foresthill Divide Loop
Auburn State Recreation Area  
Directions: Take Interstate 80 east to Auburn. Exit at Foresthill/Auburn Ravine Road, turn right and drive 4.6 miles on Foresthill Road. The trailhead parking area will be on the right side of the road. (Entry to the trail costs $10.) *Update: Due to COVID-19, parking access to this trailhead is closed. 
Length: 11 miles
Time: 2 hours
Difficulty: Moderate
Elevation Change: 1,500 feet
Climb, descend, climb, descend—that's the rhythm of the Foresthill Divide Loop
in Auburn. While it sounds grueling, the climbs are never too long, and the twisty, fun descents give mountain bike riders ample incentive to push themselves whenever the trail points up. From the parking area on Foresthill Road, pass through the green gate and head left, gently climbing through an open grassland before reaching a trail intersection near a majestic oak tree. You've now arrived at the loop, where turning right will send you counterclockwise. Immediately, you'll drop into a rollicking downhill before all-too-quickly finding yourself grunting once more up a rocky climb. Stop and catch your breath while enjoying the dramatic views of the middle fork of the American River canyon, then resume following the well-marked route through several intersections toward Foresthill Road near Drivers Flat. Carefully cross the road and turn right to commence the second half of the trail. While the ride so far was a nice mix of open grasslands and trees, here you dive into a refreshing tunnel of oak and manzanita with an occasional glimpse of Lake Clementine below. The shade is a welcome break from the sun, and the undulations gradually relax as you reach an unsigned trail intersection. Hang a left, and within minutes you'll be crossing Foresthill Road again—right back where your wild ride started.
parks.ca.gov—Max Whittaker
10 Great Spring Bike Rides
Sacramento River Parkway Trail
Sacramento River Parkway  
Directions: From Interstate 5, exit at J Street and stay right. Turn right at Third Street and proceed for 500 feet before turning right on Capitol Mall. Turn right at Neasham Circle for parking at the Tower Bridge Garage.
Length: 8 miles round trip
Time: 48 minutes
Difficulty: Easy
Elevation Change: 252 feet
Although you can ride the Sacramento River Parkway Trail from its northern terminus in Tiscornia Park, the more scenic (and safer) segment of the route commences at the eastern base of the Tower Bridge. Start 90 minutes before dusk on the Riverfront Promenade, beside the giant gray anchor that marks the city's Merchant Marine Memorial. (Note as well the bell next to it honoring the USS Sacramento, aka "The Galloping Ghost of the China Coast"—the erstwhile Navy gunboat that was commissioned in 1914.) Ride along the river's edge for a third of a mile until the promenade joins a two-lane trail parallel to railroad tracks housing a pair of idle, hulking locomotives. Turn left (east) on Broadway and cross the tracks on the way to Front Street, where you'll turn right (south). Slow down for a peek at the horses in the Sacramento Police Department's mounted unit that reside at the barn just before the soft climb up to the marina at Miller Park. Follow the tree-shrouded road at the top of the hill for another quarter-mile before briefly swooping down through the marina parking lot and back up to where the trail resumes for a flat, clean 2 miles. What you don't get in quiet with the adjacent I-5, you'll receive in placid river views and—on your evening return—the trail's true payoff: blazing sunsets over the even more expansive, open river vistas and the twinkling Sacramento skyline to the north.
traillink.com —Stu VanAirsdale
10 Great Spring Bike Rides
Beeks Bight Trail
Folsom Lake SRA
Directions: Take Interstate 80 east and exit on Douglas Boulevard. Stay on Douglas until it turns left into Park Road. Proceed to the guard kiosk (entry costs $12) and park at the Granite Beach parking lot. Enter the Granite Bay Multiuse Trailhead on the northern edge of the lot. *Update: Due to COVID-19, vehicular access is restricted. The trailhead is accessible via walking of biking. 
Length: 6 miles
Time: 1.5 hours
Difficulty: Moderate
Elevation Change: 408 feet
If the Folsom Lake State Recreation Area is like Disneyland for outdoor enthusiasts, with 95 miles of trails for everyone from the beginning road cyclist to the veteran mountain biker, then Beeks Bight, with its gentle rolling slopes, lung-pumping inclines and rocky downhill patches, would be the park's Big Thunder Mountain Railroad. The mountain bike trail begins along sweeping riverbed grasslands and proceeds quickly into the biggest climb of the trip, winding through shady blue oak woods to a lake overlook perfect for that first water break. From there, the descent takes you over bumpy roots and giant gray boulders nudged into the hillside. Make your way across the Beeks Bight parking lot and continue 1 mile beside the beach to Dotons Point for a sweeping sight of the lake's indigo water and a whiff of the California buckeye's sweet-smelling blooms. The trail saves the best part for last—a segment one biker on the popular cycling app Strava calls the "roller coaster section": Here, the path leaving Dotons smooths out and the thick foliage in your peripheral view becomes a green blur as you accelerate for several thrilling minutes around tight twists and turns—just like an amusement park, minus the crowds.
parks.ca.gov —Tori Masucci Cummins
10 Great Spring Bike Rides
Davis Bike Loop
The City of Davis  
Directions: From Interstate 80 west, exit onto Richards Boulevard in Davis. Turn left onto First Street, followed by another left onto D Street, and park in the large two-hour lot behind the Davis Commons retail center. Entrance to the Davis Bike Loop is accessible at the back of the parking lot.
Length: 12 miles
Time: 70 minutes
Difficulty: Easy
Elevation Change: 28 feet
If you are a casual biker who's ever sensed the "no amateurs allowed" attitude when sharing a road with territorial cyclists, then relax with a ride on the Davis Bike Loop, a novice-friendly trek that meanders through the parks and greenbelts in the amiable college town, aka the Bicycle Capital of America. The route (which is marked with green bike-shaped emblems on the pavement) is easily accessible from downtown Davis and briefly runs parallel to the UC Davis Arboretum: take advantage of the proximity to the 100-acre garden and amble along its scenic 3.5-mile-long trail before joining the Davis Bike Loop and heading west into the main university campus. Keep an eye out for Aggie landmarks like Robert Arneson's whimsical Egghead sculptures and the dome-shaped abodes of the Baggins End cooperative housing area. Upon leaving campus and crossing Highway 113, the loop joins the Russell Boulevard Bike Path and takes you into Village Homes, an eco-friendly neighborhood speckled with orchards, grapevines and chicken coops in a network of shared garden plots. From there, you'll roll east across town, scale and descend the tall Dave Pelz Bike Overpass (the loop's only truly sweat-inducing section), and you'll soon find yourself on the Putah Creek Parkway in south Davis. Soak in this final stretch of the ride as it winds alongside gnarly oaks and picturesque farms bordering the old north fork of Putah Creek. localwiki.org/davis —Stephanie Towne Benoit
10 Great Spring Bike Rides
Cronan Ranch Loop
Cronan Ranch Trails Park  
Directions: Take Highway 50 to Placerville. Turn left onto Highway 49. After passing through Coloma, turn left onto Pedro Hill Road and take a slight left into the gravel parking lot. *Update: Due to COVID-19, Cronan Ranch Loop is closed until further notice. 
Length: 7.5 miles
Time: 1.5 hours
Difficulty: Moderate
Elevation Change: 576 feet
Call it the Swiss Army knife of biking trails. Cronan Ranch, 12 miles of paths that border the south fork of the American River, has something for nearly every level of mountain biker—even the cross cyclist who isn't afraid of a few elevation gains and bumpy, enamel-chipping descents. If you're mounting this trail in the spring or summer, though, be sure to top off your CamelBak: Temperatures can become nuclear and shade sporadic, especially in the east end of the park. The best way to experience this place is to jump right in: Head up the West Ridge Trail at the edge of the parking lot, where you're in for about 10 minutes of switchbacks that will wring out your lungs (less technical riders might have to carry their bikes). But your work will be rewarded with a jackrabbit run along the trail's undulating spine—and views of the sky-blue American River to your left—followed by an adrenaline-pumping plunge down the grass-lined single track. At the bottom, keep left until you see the dilapidated buildings from an old movie set. Head east and look for signs for the less technical Down and Up Trail, which lives up to its name, and loop back on the East Ridge Trail until you're back at the movie set. From there, you can cool down on the pleasant Long Valley Trail, a single track flanking an underground aquifer that sprouts springtime wildflowers amid savanna grass. coloma.com —Anita Chabria
10 Great Spring Bike Rides
Jenkinson Lake Trail Loop
Sly Park Recreation Area  
Directions: Take Highway 50 east to Sly Park Road. Exit and turn right. After about
4.5 miles, turn left onto Mormon Emigrant Trail. Drive 1 mile and turn left into the Bumpy Meadows trailhead parking lot. (Entry to the trail costs $5 for pedestrians and $15
for drivers.) *Update: Due to COVID-19, Sly Park Recreation Area remains closed until the Department of California State Parks resumes operations. 
Length: 8.5 miles
Time: 2 hours
Difficulty: Moderate because of technical elements
Total Elevation Gain: 831 feet
The hardest part about riding around Jenkinson Lake near Pollock Pines is all the breaks you'll want to take along the way, longing to absorb the crystal-blue waterfront backed by toothpick forests of ponderosa pines and the stunning views of snow-capped Sierra peaks in the distance. Thankfully, the mountain bike trail sticks close to the shore most of the way and affords plenty of opportunities to pause for sightseeing. Journey counterclockwise around the lake, beginning on the southwestern edge where the bike trail dips on tight curves and climbs again, making for a challenging course without extreme elevation changes. About 3 miles in, you'll find Park Creek Bridge over rushing water and a nearby bench perfect for breathing in the fresh mountain scent of Douglas fir and incense cedar. A bit ahead, you'll come across a nature area with a boardwalk that goes out to the edge of the lake. Look for an eagle nest in the trees above, and take a moment to listen for the screech of a distant hawk or the throaty trill of ducks scattered across the water. On the eastern edge of the lake, you'll make your way swiftly past thick groves of manzanita shrubs and spot a stone chimney that still stands from the remains of a house built by an early settler before dams were erected to fill the lake in 1955. Crossing those dams gives you one last glorious look at the postcard-perfect scene before heading back to the car. eid.org  —Tori Masucci Cummins
10 Great Spring Bike Rides