Sticky Gator opens in midtown with spotlight on soul food and barbecue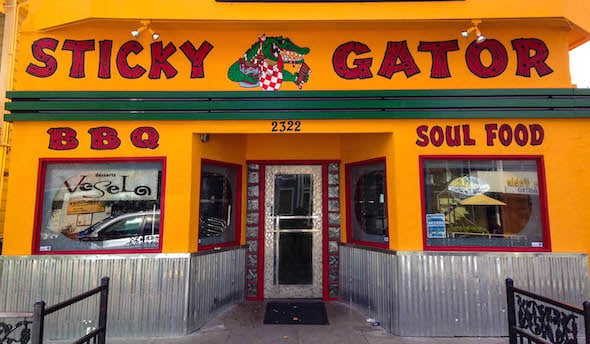 The Bayou arrived in midtown this past weekend as the brand-new Sticky Gator Barbecue and Soul Food eatery opened on K Street.
Founded by Lisa and Rodney Nannini of T&R Taste of Texas Barbeque in Oak Park, the quirkily named, sunnily colored restaurant takes over the space near 24th and K streets vacated over the summer by Rick's Dessert Diner. The menu—crafted by chef Rodney Ray and presented on a giant chalkboard near the entrance—specializes in Southern signature dishes from buttermilk fried chicken to fried catfish and more than a dozen finger-licking sides like sweet baked beans, candied yams and black-eyed peas.
"I went to Louisiana and just fell in love with soul food," says Lisa Nannini. "We definitely incorporate that in our side dishes and flavors."
The bright red and yellow interior and gator-trimmed leather booths reinforce the Southern aesthetic, while the Nanninis say customers can expect a rotation of menu specials like pork chop gumbo, pot roast, and mac and cheese decked out with a béchamel sauce. Traditional baked items from the region (like cornbread, pecan pie and sweet potato pie) will share a sizable dessert menu with items like chocolate bundt cake, pumpkin cheesecake and oatmeal walnut cookies whipped up by pastry chefs Vesela Peneva (of Desserts by Vesela) and the Nanninis' daughter Delanie.
Sticky Gator is open daily from 11 a.m.- 8 p.m. 2232 K Street. 382-9178.
Related Links
First look at Iron Horse Tavern, the next big eatery on the R Street corridor
Ice cream cookie sandwich hot spot CREAM of Elk Grove opens Nov. 15
New farm-to-fork charcuterie opens in Placerville