Super Bowls
Kru chef-owner Billy Ngo goes underground to serve up hearty heaps of authentic ramen at his new downtown basement restaurant Kodaiko.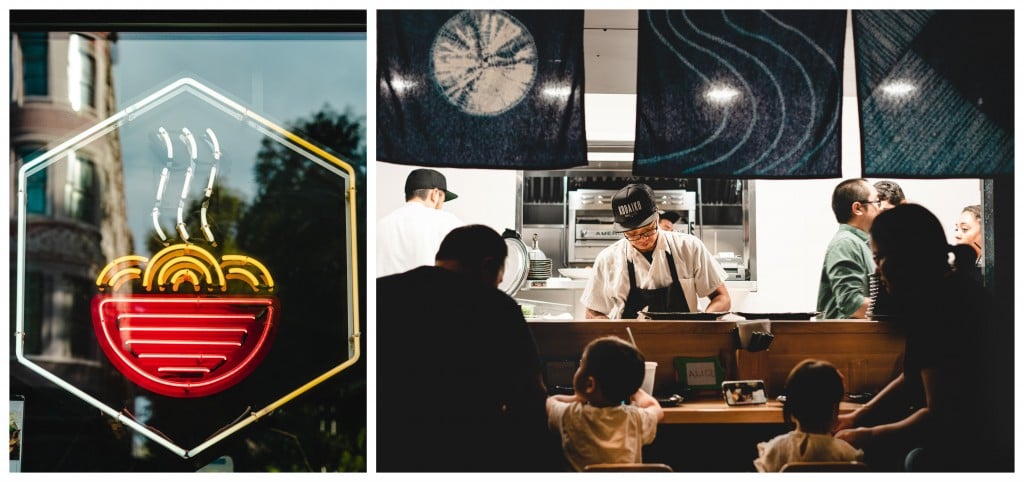 WWhen chef Billy Ngo said that he wanted Kodaiko, his long-awaited ramen shop on K Street near Golden 1 Center, to honor the classic Japanese ramen-ya, he probably meant that he wanted the cozy, 3,300-square-foot basement joint to underscore the informality of the humble noodle soup—in fact, slurping while standing at the bar is encouraged at the restaurant, in the tradition of scurrying Japanese commuters looking for a quick bite. But in the new tradition of the modern ramen-ya, a slower-paced, more ritualistic dining experience seems more appropriate, if only to revere the intent and authenticity behind the chefly versions of this historically working-class dish.
At Kodaiko Ramen & Bar, the deep level of craft displayed in each bowl is informed by at least a century and a half of ramen history in Japan and more than a dozen years of cumulative R&D by Ngo, the 38-year-old owner of Kru and Fish Face Poke Bar, and Kru alum Takumi Abe, Kodaiko's executive chef and co-owner. (Other business partners in Kodaiko include Curt Pow, owner of the downtown bar Elixir, and Peter Kwong, an investor in Kru and Fish Face.) For the rest of us, the gateway to "this veritable culinary religion of fresh noodles swirled in rich, densely layered broth," as New Yorker food correspondent Helen Rosner calls it, was probably instant ramen, a late 1950s stroke of genius by Japanese inventor Momofuku Ando.
"One thing I love about ramen is its diversity," says Abe, 37, a Palo Alto native who once shadowed high-profile Tokyo-based ramen bloggers Brian MacDuckston of Ramen Adventures and Keizo Shimamoto of Go Ramen to bring as much authenticity and craft as he could to the original Kodaiko ("little drum" in Japanese), his circa-2012 Bay Area ramen pop-up. That first incarnation specialized in house-made, artisan-batch everything, from broth to noodles to bonito. In much the same way, the new Kodaiko was crowd-tested in the months prior to its mid-August opening with pop-ups at Elixir and the bar's izakaya neighbor down the street, Binchoyaki. "Ramen can be a fast meal or it can be a two-hour wait in the rain for something completely from scratch," says Abe. "These are both authentic Japanese eating experiences."
There are only two main types of ramen on Kodaiko's menu, both made with creamy paitan (white soup) broth. The tonkotsu-gyokai is a bold, smoky mixture of not-necessarily-equal-parts fish broth (made from dried golden snapper, sea bream and halibut bones collected from Kru) and a long-simmered pork broth (made from every pig bone in the house). Abe fell in love with this style of ramen during his Tokyo expedition. "I hadn't had it before that trip," says the chef, who is half Japanese. "But the flavors felt very familiar." The other noodle offering, the vegan paitan—created using an original recipe by Abe, who was inspired by a mushroom-forward broth he had at the wildly popular Bassanova ramen-ya—gets its earthiness from oven-dried button mushrooms, sautéed shimeji mushrooms and dehydrated shiitake, and its richness comes from house-made cashew cream.
Kodaiko's ramen is served in a semi-minimalist fashion—broth, noodles and a small assortment of veggies including green onions, roasted mushrooms, marinated burdock and chives. Even omnipresent nori isn't part of the basic composition, at least not in its traditional dried form. "Nori sheets turn slimy in broth and stick to your teeth. I personally hate that," says Ngo. Instead, the seaweed is part of Kodaiko's house-made "trinity oil," steeped with burnt garlic and burnt nori, which adds a charred character to the paitan.
The stripped-down approach to ramen was influenced by Ichiran, the celebrated Fukuoka chain with solo-dining booths—Ngo visited its Brooklyn outpost last fall, documenting the event on Instagram with a photo of the booths and the caption, "When you like ramen, but you don't like people." Like Ichiran, Kodaiko charges extra for additional toppings such as a 64-degree Jidori egg ($1.50) and pork chashu ($4), the enhancement of choice for carnivores, who have been adding the slow-roasted pork collar to their vegan bowl as a meat hack.
"We serve the ramen with just the basics to make a point," says Ngo. "It's really good, with or without everything else." Rosner, in the same New Yorker article, notes that such quintessence is also characteristic of traditional ramen-yas, "to which any culinary flourishes are anathema."
But what of design flourishes? Says Whitney Johnson, Ngo's longtime friend and go-to interior designer, "I used to think Japanese design was simple, but that's not the case. It can be layered and complex, but always focused." Riffing off the inherent darkness of the subterranean location, Johnson—who worked together with her colleague Leslie Hoffeditz at MTA Hospitality—came up with a scene reminiscent of "midnight in a Pacific Northwest forest, where light rarely touches the ground." Local decorative painter Karen Medaris created a starry night in the dining room with indigo walls and metallic confetti, which she mixed into a clear glaze for easy application. Disrupting the galaxy are bolts of gold paint inspired by Japanese kintsugi, an ancient craft in which broken ceramics are repaired with glue and gold dust, elevating imperfections to high art. Also in this forest lives a fox, which is Kodaiko's mascot, since the basement could be considered the architectural equivalent of a den. Ngo's tattoo artist, Corey Bernhardt, painted a fox mural in the bar area. "In Japanese folklore, they are intelligent, mischievous creatures," says Ngo. "It kind of fits what we're doing."
As such, while the ramen is, at least in spirit, a relatively purist endeavor, the rest of Kodaiko's menu is a smartly curated lineup of imaginative spins on traditional izakaya snacks, best complemented by the bar's fun and refreshing offerings, which include shochu highballs and single-serve sakes, or, as Ngo calls them, "Capri Suns for adults." The golden-fried "takoyaki" only looks like the famous Japanese fried octopus balls, but is actually vegetarian and made with creamy milled potato and pieces of stewed konbu seaweed and shiitake, the umami-packed flotsam from the vegan ramen broth. The karaage chicken nuggets—brightened by lemon zest and served with scratch-made Japanese mayonnaise—are infinitely poppable.
On the lighter side, the hiyayakko dish showcases seasonal produce strewn upon a dense, almost cheese-like block of locally made fresh tofu; the fall version features a peppery vegetarian chili with kabocha squash and miso, in honor of Ngo and Abe's love of chili dogs. Abe, fascinated by the history of fermentation as a way to preserve fresh food, makes the
salt-cured kohlrabi, traditional Napa cabbage kimchi and other rotating side dishes for the plate of pickles. The kimchi idea is based on his childhood memories of visits to a Mountain View ramen house called Ryowa, which offers self-serve jars of the spicy, garlicky Korean delicacy. "It's nice to have something cold and crunchy with your hot ramen," he says.
In its honorable quest to be a genuine stateside representation of a Japanese noodle shop, the Kodaiko chefs got more than they bargained for during the restaurant's early August soft opening. The shiny new range hood was malfunctioning, and the steam coming off the noodle boiler, the heat from the fryer where golden takoyaki orbs were bobbing away, and the feverish temps radiating from an oven that was gently roasting chashu pork to peak succulence, collectively caused a moderate swelter in the dining room. The mercury in the kitchen climbed to 130 degrees shortly into service.
And yet the chefs, all dewy and draped in cooling towels, seemed quite inspired to cook in these temporary conditions (the mechanical issue was quickly repaired, delaying the restaurant's official launch by just a few days). The one-off experience may have forged bonds with their chef counterparts in Japan, whose under-the-radar ramen shops are recognizable by the steam escaping their noren curtains.
From K Street, the only "steam" visible from the space is in the neon sign of a ramen bowl that glows when the restaurant is open and goes dark when it's not. The emblem is at once an auspicious omen and a call to action: Slurp this way.
"Kodaiko reminds me so much of the old Kru," says Ngo, wistfully, of the small midtown sushi bar he opened in 2005, now a much larger destination restaurant in East Sacramento. "I remember the first summer on J Street, we had to bring in fans and swamp coolers. The circuit breaker kept going out because too many things were plugged in. To me, these little mechanical difficulties are like a sign—Kodaiko is going to be awesome."
Kodaiko Ramen & Bar. 718 K St. 916-426-8863. kodaikoramen.com