Sweet Rides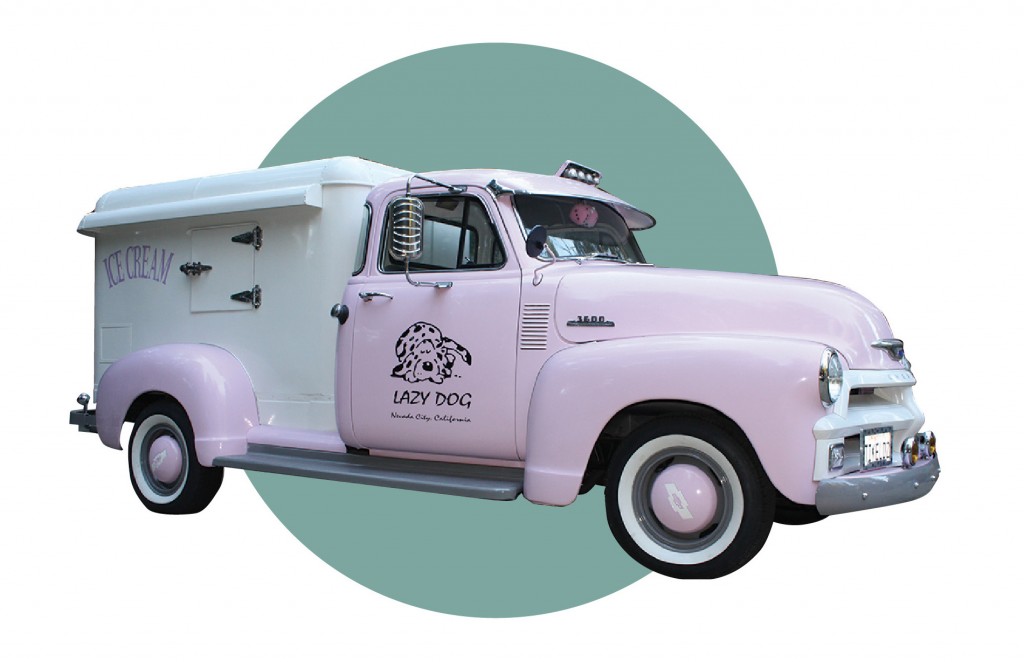 They are the original food trucks. Long before we could order Peruvian fries with a red wine soy reduction from a man in a van, the only fare we could choose from a menu on the side of a vehicle was frozen and sugary and delicious. Whether you're craving a classic Creamsicle, a dark-chocolate-covered Bailey's Irish Cream bar, or bubble gum gelato, we've got the scoop on five regional ice cream trucks worth chasing down the street this summer.
Lazy Dog
Bob and Debbe Peterson have been driving their 1954 and 1956 pink Chevys in and around Nevada City for almost 30 years, doling out their insanely good house-made ice cream bars coated in milk or dark chocolate (other sweets include Italian ices and frozen cheesecakes). Look for them at events like the Nevada County Fair in Grass Valley (Aug. 9-13) to try one of Lazy Dog's 40 bar flavors, such as Bailey's Irish Cream, maple bacon or peanut butter (our favorite). 530-265-0774.
Luciano's Scoop
Huy Phan rolled out Luciano's Scoop in 2013, carving a niche with his handmade gelato in flavors ranging from Oreo to bubble gum and even beer, made with Guinness. (Phan learned the craft from renowned gelato chef Luciano Ferrari, who—along with Phan's son, Lucian—was the inspiration behind the truck's name.) You can catch the mobile parlor—Phan recommends the nutty pistachio (we also love the caramel sea salt)—most days around the Capitol. 335-5024. lucianosscoop.com
The Sweet Spot Baking Co.
The brainchild of Robert and Lorene Fuhs, who rescued their truck from its former life as a Frito-Lay van, the Sweet Spot was born in 2014. The desserterie—which will be at the Barn in West Sacramento on Saturday nights this summer—serves everything from s'mores sundaes (Gunther's ice cream, graham cracker pan cookie, marshmallow cream, chocolate sauce and graham cracker crumbs) to a rotating menu of baked goods like peanut butter brownies and lemon bars. 709-4790. thesweetspotbakingco.com
OMG! Treats
Nicole Felix opened this mobile offshoot of her Rocklin-based OMG! frozen yogurt shop in 2013, and dishes out heaping swirls of the cold confection, as well as Hawaiian shaved ice and Dole pineapple whips at school events (hence the yellow school bus look) and food truck festivals. Felix recommends the Fro-yo Nachos, made with frozen yogurt, house-made waffle cone chips, chocolate and caramel sauces, and three of OMG's 16 toppings, ranging from cookie dough to mochi to Cap'n Crunch. omgrocklin.com
The Meltdown
Two years ago, after then-7-year-old Emily Bradley experienced one too many "meltdowns" over the uncatchable ice cream truck that would whiz past her East Sacramento home, her parents Mike and Yolanda took matters into their own hands. Last April, The Meltdown started cruising surrounding areas (pro tip: call in or text a request for the truck to hit your hood), blaring vintage tunes and serving classics like It's-It ice cream sandwiches and orange Creamsicles. 426-6358. themeltdownicecreamtruck.com