Tailor Made
California cool meets British haberdashery at chef Oliver Ridgeway's new brasserie, Camden Spit & Larder.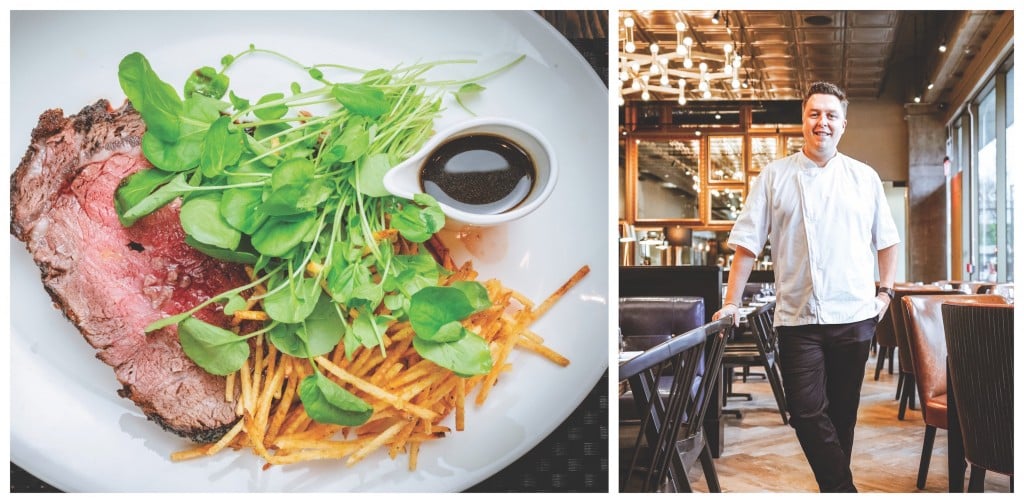 Camden Spit & Larder
555 Capitol Mall
916-619-8897
camdenspitandlarder.com
R
OOne hundred thirty-seven steps. That is the approximate distance, measured in the gait of acclaimed Sacramento chef Oliver Ridgeway, from his new downtown brasserie, Camden Spit & Larder, to the VIP entrance of the Golden 1 Center. Which means that when Justin Timberlake comes to town or when the Lakers roll up to face off against the Kings, you might spot big shots from your window table—that is, if you can tear your attention away from the tasty feast before you: nugget-size sausage rolls (a far cry from their pigs-in-a-blanket origins), salt cod fritters (a brilliant spherical interpretation of a pub classic), spit-roasted rib of beef (unrecognizable as the stodgy Sunday roast). LeBron who?
If you're detecting the menu's British accent, you're not hallucinating. Ridgeway—who helmed the kitchen at Grange for seven years before he left last February to pursue his own restaurant, which opened in December—is a native of Sussex, a commuter town about 50 miles south of London that's now ruled, at least ornamentally, by American-born Duchess Meghan Markle and her husband, spare to the heir, Prince Harry (but we digress).
"I think your own restaurant is a passion project like no other, so naturally, you want it to reflect who you are," says Ridgeway, 42, whose eight-year, pre-Sacramento tenure with the Rosewood Hotel Group included cooking in luxury resorts located in Antigua, Santa Fe and New York City, where he was the executive sous chef at the historic Carlyle hotel. "I really wanted a brasserie that would feel British, but could fit into any cosmopolitan destination in the world. I hit the jackpot scoring a place so close to the arena."
Admittedly, British food has barely registered among the world's most influential gastronomies, though the finger-licking efforts of domestic doyenne Nigella Lawson and chef Jamie Oliver's boyish charm have certainly improved its standing. For his part, Ridgeway is infusing this historically "boring, tasteless fare" (NPR's words, not ours) with global influences to make it really pop in Sacramento's thriving restaurant scene, of which the chef is undoubtedly a pioneer. In 2011, when he relocated his family from Santa Fe, where he was working as the executive chef at the famous Inn of the Anasazi, it was the dawn of the capital city's modern farm-to-fork movement. The timing couldn't have been more perfect, and now the local harvest figures prominently into the new establishment, which is fittingly a family affair: Wife Tia is the operations manager at CS&L and son Camden, 9, is the eatery's namesake, but only because daughter Ella, 7, already sees her name in lights at another high-profile restaurant nearby.
"With all the farms and producers around, I really consider Sacramento my larder," says Ridgeway. For example, CS&L's spit-roasted meat—the succulent, fire-kissed cornerstone of the menu—is regionally raised. The rib roast, from Amador County, is seasoned with a fiercely flavorful blend of onion powder, Worcestershire powder, cracked black pepper and dry English mustard, and then tied tightly to hold in all the juices—the chef does loathe a "wobbly" prime rib—while it's on the rotisserie. "As the meat is cooking, it's constantly turning and self-basting, crisping up the outside, creating that delicious bark. That's the beauty of spit-roasting," he says. For his favorite craving, the roast chicken, the chef sources free-range birds from a farm in Petaluma. After 12 hours in a brine, one massage with Southwestern spices, and one hour spinning over a live fire, the birds emerge super juicy and crispy brown. Finished with a European-style salsa verde of shallots, cornichons, tarragon and peppery, thick-stalk arugula from Del Rio Botanical in West Sacramento, the roast chicken is a blend of global culinary traditions that also somehow feels familiar.
More across-the-pond-inspired dishes include, as you might expect, the fish and chips of ye olde English tavern, unexpectedly reimagined into salt cod fritters. These pillowy, golden-fried orbs of mashed potato and milk-soaked salt cod—a traditional method for dampening the intense saltiness of the Norwegian-style preserved fish—are presented on a bed of malt vinegar aioli, a velvety amalgamation that ingeniously combines the creamy satisfaction of tartar sauce with the sharp edge of vinegar. The sausage roll, a classic English petrol station provision that Ridgeway grew up on, gets a popper-style treatment: The bite-size house-made sausage, which is wrapped in puff pastry and spiced with a savory blend of sage, black pepper and garlic, is baked and served with hot English mustard and curry ketchup, the latter a nod to London's significant Indian population.
By now, having vicariously consumed Camden's culinary achievements, you must be thirsty. Luckily, Britain's reputation fares much better on the world stage when it comes to hootch. Bar manager Brett Heyer, also formerly of Grange, is tailoring the gin-centric program to reflect, as the food does, Ridgeway's English roots and adopted West Coast home. A gin and tonic, the preferred antimalarial cocktail of British soldiers in India during the mid-1800s, is made here with all Northern California ingredients, including gin from J.J. Pfister distillery in Rancho Cordova and hopped tonic water from San Rafael bottler, Bette Jane's. Passmore Ranch caviar is the Delta garnish on Heyer's Triple Nickel Martini, made with gin, barrel-aged bitters and Fino sherry. "Gin's popularity has really been booming the last few years," says Heyer. "It's so versatile. And so British."
Since dapper drink and dish are even more pleasurable when consumed in an equally dashing environment, event-goers making the 137-step saunter to Camden will discover a stylish scene straight out of London's Savile Row. Early in the buildout of the 4,200-square-foot former office space, Ridgeway mentioned to designer Brendan Koon that his father had been a tailor. "Suddenly, everything clicked," says Koon, principal at Vitae Architecture. "Why not play off the British haberdashery to create a truly 'tailored' experience?"
Koon set out to create a handsome "Kingsman meets Downton Abbey" tableau, upholstered in yards upon yards of men's suiting, a place where modern British fashion designers such as Ben Sherman and Fred Perry might've rendezvoused for a good old-fashioned chinwag. In the bar area, custom overscaled wingback chairs, bedecked in red-and-black plaid, or houndstooth-covered poufs around the communal table, make good places to settle in with a cocktail while waiting for a table in the dining room. The bar itself, quite striking with its architecture of industrial blackened steel arranged in the grid style of Piet Mondrian, takes tailoring more literally with its wooden boxes and glass cabinets reminiscent of storage for thread spools, bows and buttons.
Anchoring the dining room is the massive open kitchen, an impressive domain of shiny stainless steel—even the spit, in our mind's eye wood-fired and sooty, is actually a gleaming state-of-the art French contraption. In fact, "polish" also goes beyond its natty definition at Camden, taking on its more lustrous association when it comes to the dining room's faux pressed-tin ceiling and sprawling, geometric chandeliers. At the lengthy chef's counter, tufted leather bar stools briefly reference English pub culture, but in the dining room, proper, pinstripe-backed chairs and plaid-trimmed banquettes emphasize the design's common, er, thread.
Such a culturally rich aesthetic could have been too serious and brooding, were it not for the series of anthropomorphic portraits of animals posing as well-dressed Brits in the bar area. Even CS&L's window installation features a suited boar named Winston (as in Churchill) speeding away on a scooter emblazoned in houndstooth. Designed to beckon passersby, the stylish scene hints at the substance inside, which is not unlike what downtown's ongoing metamorphosis is doing for Sacramento's reputation. When Ridgeway was contemplating his family's move to the River City all those years ago, the area was a shadow of what it is today. "I remember thinking, 'This town's trying to be something right now,' " says the chef. "I'm glad we took a chance on each other."