Taste: Bacon & Butter now flipping flapjacks in East Sacramento and other dining news for February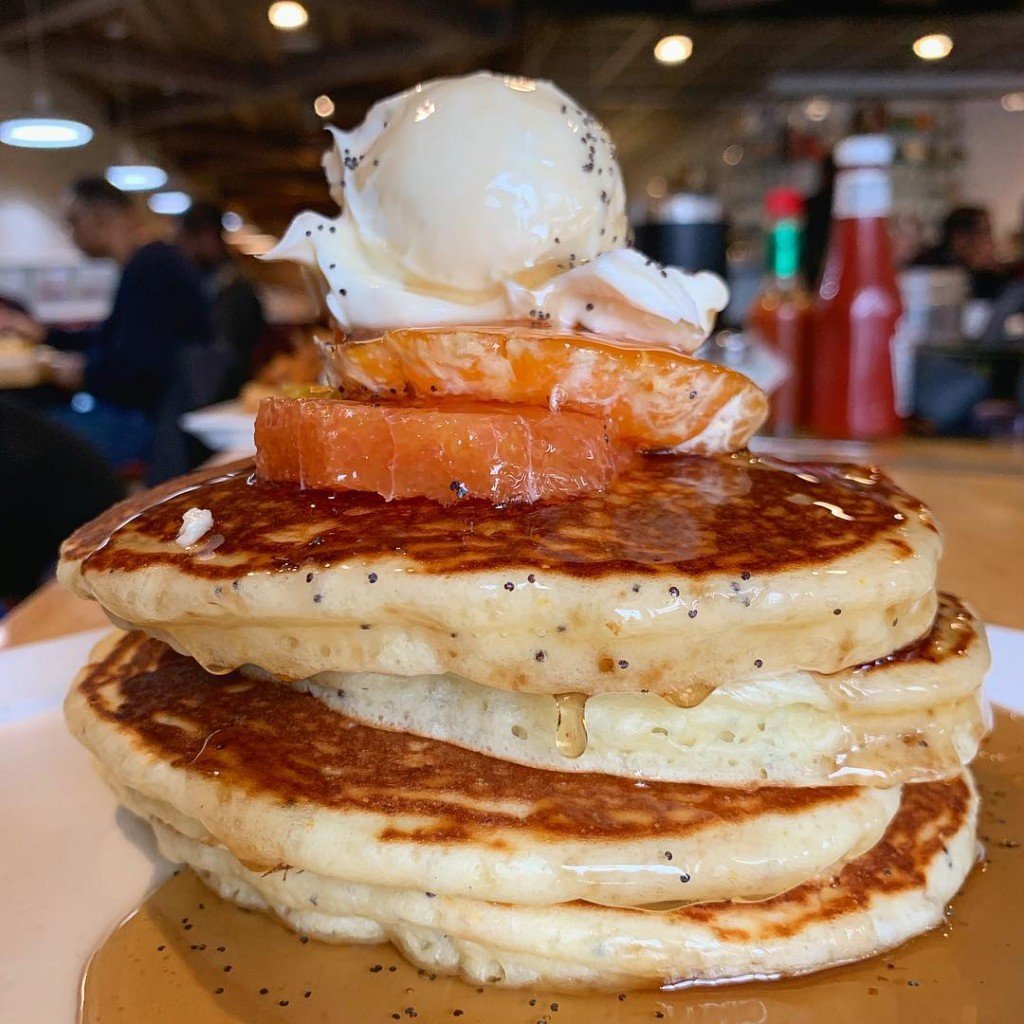 The wait is finally over for those chomping at the bit to take a bite of Bacon & Butter's locally famous pancakes at the brunch mecca's new East Sacramento location, which opened Feb. 5.
Chef-owner Billy Zoellin kept the date under wraps for as long as possible, considering the often long lines at his current Tahoe Park establishment, which he launched in 2014. "We wanted to make sure the crowds didn't overwhelm us," he says. "We want to live up to our own expectations."
While the 2,600-square-foot locale is expected to offer all of the decadent, seasonally focused B&B signatures—think pear-and-pecan French toast, fried chicken and waffles, and, of course, IOHO the region's best pancakes—the new location (which used to house Formoli's Bistro) will also include a new lineup of pastries (on display in a pastry case) and healthier offerings like sweet or savory grain bowls, including a chia seed pudding.
By spring, Zoellin also hopes to open up a 25-seat patio for outdoor dining and keep the restaurant humming into the early evening for happy hour—dubbed Three Happy Hours because it will run from 3-6 p.m.—with specialty cocktails and snacks.
Tues.-Fri. 7 a.m.-3 p.m. Sat.-Sun. 8 a.m.-3 p.m. 3839 J St. baconandbuttersac.com
In Other News:
If you're jumping on the keto diet bandwagon with celebs like LeBron James and Kim Kardashian, head to the The Boxing Donkey Irish Pub in Roseville for its inaugural Keto-Friendly February, during which head chef Melyssa Otter is offering a variety of keto-friendly items for the pub's lunch and dinner menu this month. Chow down on fried chicharrón, fried pork skin (which is naturally low in carbs); deviled eggs with bacon and jalapeño; jicama fries; or chicken lasagna—a cheesy, saucy, meaty dish in which Otter uses "chicken paper" (thin slices of chicken) as the noodles. Order a bacon-wrapped meatloaf (with bacon from Sacramento's own Del Monte Meat Company) paired with cauliflower mac and cheese and braised cabbage before finishing off your low-carb meal with keto dessert options like a chocolate peanut butter lava cake. 300 Lincoln St. Roseville. 916-797-3665. theboxingdonkey.com
Noticing a lack of Brazilian fare in the immediate area, Daniel Mendes, Claudio Silva and Paulo Almeida (all natives of Brazil) opened Fogo de Minas, a Brazilian steakhouse, in Natomas on Jan. 19, to expose more locals to the culture of their home country. The 1,800-square-foot restaurant features a modern aesthetic with charcoal-colored walls and wood-like tile floors, and gauchos in red scarves, black boots and blue long-sleeve shirts who approach your table to slice and serve you a variety of meats, from lamb and sausage to beef ribs and chicken hearts, as well as the the C-shaped picanha (aka top sirloin cap), Brazil's most popular cut of meat. 2606 Gateway Oaks Dr. 916-993-8498. fogodeminas.com
Grass Valley resident Sean Millar is set to take his signature kombucha—a fermented fizzy tea drink—one step further with the opening of NC Kombuchary (the NC stands for Nevada County) in Grass Valley toward the end of February. Catch live music while sitting around high-top tables surrounded by local art in the cozy 1,000-square-foot taproom, which will pour four seasonally rotating kombucha flavors, including Millar's bestseller Trifecta, brewed with blueberries, strawberries and blackberries, and Apple Crisp, which comprises locally grown apples and fresh cinnamon. Millar—who co-owns the company with his brother Patrick and sister Erin Silva—was inspired to become a brewmaster over seven years ago when a friend gifted him homemade kombucha with a SCOBY (which stands for symbiotic culture of bacteria and yeast and is used to make the bubbly beverage). 12534 Loma Rica Dr. Grass Valley. nckombuchary.com
In celebration of 60 years in business, the Arden-Arcade institution Sam's Hof Brau will be closed through Feb. 24 to undergo interior renovations to make way for the next half-century. Keeping the overall feel and heart of the restaurant intact, Sam's will focus primarily on updating equipment in the restaurant, like ordering new dishes and silverware, and swapping bar booths for stools and high top tables. For Sam's devotees, fear not—favorite menu items like pastrami and Sam's original French dip, a cut of roast beef laid on sourdough bread and dipped in au jus sauce, won't change, but regulars can expect a handful of new items at the all-new salad bar and grill stations. 2500 Watt Ave. 916-482-2175. originalsamshofbrau.com
Grab an acai bowl, munch on avocado toast and start your juice cleanse at Vibe Health Bar's latest 1,400-square-foot location in Folsom, which opened its doors Dec. 8, following in the footsteps of Vibe's previous stores in East Sacramento and Oak Park. At this new locale, Vibe regulars can still nab favorites like the vegan pesto grilled "cheez" and the barbecue chicken and greens wrap, but can also pick up new offerings like a cappuccino from the full espresso bar that's grinding up beans from local roaster Chocolate Fish, or a vegan breakfast sandwich. Instagram ops abound, with two white, steel-cased hanging chairs that resemble baskets and are situated next to a row of orchids, and the back wall that features a rippled ocean design by Folsom-based decorative artist Shauna Gallagher. Grab breakfast to go with a new superfood latte, like one made with almond milk, cinnamon, nutmeg and turmeric, the trendy spice known to ease arthritis and joint pain. 2770 E Bidwell St. Folsom. 916-990-5367. liquidologybar.com
You Might Also Like
First Look: The Snug brings an Irish pub with a craft cocktail twist to R Street
Milk House Shakes to open in Old Sacramento
The Cabin, a cozy camping-themed bar, to open soon in midtown