Taste: Chilangolandia brings Mexican street food to Carmichael, and other dining news for Nov. 13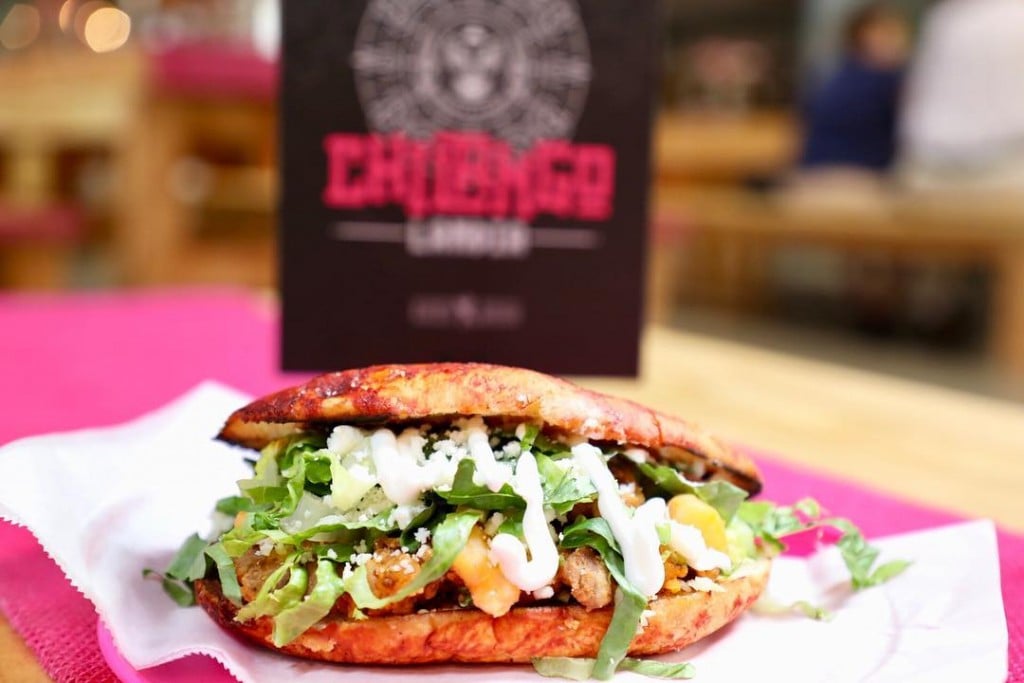 In an effort to bring a bit of his home country to the Sacramento region, restaurateur and Mexico native Ernesto Delgado has opened a tequila museum, a hip downtown Mexi-Cali taqueria and a Carmichael restaurant with a menu developed by a Mexican grandmother. With his latest venture, Chilangolandia, which opened in Carmichael's Milagro Centre at the end of September, Delgado offers up Mexican street food reminiscent of the type that comes from vendors on the calles of Mexico City.
"In California, we are very familiar with tacos and burritos, but not with street foods like huaraches and pambazos," says Delgado. "But if you go to Mexico City, that's what every stand has."
Named after the slang term "chilango," which is used to describe natives of Mexico City, Chilangolandia—decked out in Mexico City's official colors of black and pink and line drawings of masked luchadores (Mexican wrestlers)—serves up a small menu of Mexican street eats, like the aforementioned pambazos, a sandwich comprising bread that is dipped in red guajillo chili sauce and then fried and filled with chorizo and potato. Other bites include the huarache (a thick sandal-shaped corn tortilla stuffed with beans and topped with salsa verde, onions, cheese and carne asada), braised beef tongue tacos, elote (a corn cob rubbed with mayo and topped with cotija cheese and Tajín seasoning) and a quesadilla with crispy chicharrónes. On the sweet side, there's rice pudding scooped into a waffle cone and topped with cinnamon and raisins, as well as a plate of churros filled with either caramel or vanilla cream and accompanied by a side of hot chocolate.
6241 Fair Oaks Blvd. Carmichael. 916-283-4082. milagrocentre.com/chilangolandia
In Other News:
All-you-can-eat meat is the signature treat at Brisas do Sul, a Brazilian steakhouse that opened in Folsom in October. Co-owner Emanuel Peres modeled the 8,000-square-foot space after the churrascarias—carnivorous eateries developed by gauchos (cowboys) who were looking to satisfy their hardworking appetites—of his native Rio Grande do Sul region in southern Brazil. The menu includes authentically Brazilian dishes, including farofa (a cassava-based starch) and feijoada (a pork-and-bean stew). For the complete churrascaria experience, spring for the Full Rodízio, which offers an endless array of meats carved tableside, as well as access to the "farmer's table" with over two dozen salad options. 380 Palladio Pkwy. Folsom. 916-883-2747. brisasdosul.com
A sea breeze is wafting inland later this November with the opening of the first Sacramento branch of California Fish Grill at the Howe 'Bout Arden complex. The SoCal-based chain recently partnered with the Monterey Bay Aquarium's Seafood Watch program, which means every dish you dive into at the seafood-focused eatery, from ahi and barramundi to catfish and calamari, comes from sustainable suppliers. Order your catch tucked into tacos, piled on a salad or grain bowl, or fried in classic dishes like fish and chips accompanied by kaleslaw and sweet potato fries. 2100 Arden Way. 916-520-1658. cafishgrill.com
Lao and Thai food truck, Green Papaya—which earned street cred with its appearance on The Food Network show Diners, Drive-ins and Dives—opened its first River City brick-and-mortar location in South Sacramento on Nov. 3. The new 3,200-square-foot restaurant slings familiar mobile menu mainstays, including pad Thai, drunken noodles and spicy Lao sausage. You'll also find items unique to the restaurant, like a yellow curry with potatoes and carrots or the sour laap, a Lao staple made from ground beef or chicken tossed with lime juice, toasted rice powder and a tangy fish sauce. Pair your dish with sweet Thai tea, or if you're looking for something stronger, Thai coffee made from a blend of two different grounds and flavored with cardamom. 8785 Center Pkwy. 916-667-3703
Whiskey is often typecast as a masculine libation, but Sacramento's first women-owned whiskey company Legado Spirits, which launched in October, is determined to break those assumptions. The four owners—Yvette Rincon, Charmaine Magale, Hola Motuapuaka and Christy Decelle—distill their rye-based recipe in Indiana and bottle it in Folsom's American River Canyon neighborhood (the quartet hopes to begin distilling nearby within a few years). You can already find Legado Whiskey at bars and restaurants around the Sacramento region, including at de Vere's Irish Pub downtown (which will mix you a Legado Pall Mall or Monte Carlo upon request) and at stores like Raley's and Select Wine & Spirits. 916-752-2939. rdmlegado.com​

Jorge Alvarez, who hails from the central Mexican state of Guanajuato and has worked in Bay Area restaurants for over two decades, is serving up food that draws from both of those regional influences at Limon É Sal, which opened in Folsom on Sept. 28. Dive into dishes like the Jorge Especial, an appetizer of prawns and octopus tossed in piquant lime sauce, and the Quesadilla Suiza, which is stuffed with cheese and meat and was popularized in San Francisco's Mission District. Round out your meal with one of the desserts made in-house by Alvarez' wife Lety Calderon, like a "churro sandwich" that packs vanilla ice cream between two cinnamon-dusted waffles and a flan de elote, a rich custard made with corn. 6693 Folsom-Auburn Rd. Folsom. 916-294-7084. limonesalrestaurant.com
After opening more than a dozen locations throughout SoCal and the Bay Area, Mendocino Farms co-founder and Yuba City native Mario Del Pero is bringing his gourmet sandwiches and farm-fresh salads to midtown. Opening Dec. 6, the new 2,400-square-foot space will feature fan favorites, including the Impossible Taco Salad, topped with beef-like vegan taco meat, and the Not So Fried Mary's Chicken Sandwich, made with free-range chicken breast rolled in crispy polenta. Nestled inside the newly revitalized Ice Blocks, the space will feature Mendocino Farm's signature rustic, modern farmhouse décor, as well as walls covered in photos of Sacramento area farmland, including Del Pero's family farm in Marysville. 1610 R St. mendocinofarms.com
The family behind Taste of Angkor, which has been Sacramento's only restaurant solely devoted to Cambodian cuisine since it opened in 2015, expanded to Elk Grove in January with the sandwich-focused S.E.A. Hut (the title stands for Southeast Asian), which cranks out num pang, a Cambodian baguette sandwich related to bánh mì, along with savory snacks like grilled meat skewers and cold dishes such as laab and papaya salad. Mora Som, who owns the restaurant with her husband, brother and two sisters, says the main ingredient that ties the menu together is kroeung, a blend of lemongrass and six other aromatics that lends complexity to the skewers and sandwiches. "It's hard to make and time-consuming," says Som, "but that's what makes the [dishes] really Cambodian." 9655 Elk Grove-Florin Rd. Elk Grove. 916-896-1858. seahuteg.com
Small Bites
Late-night sweet tooths, rejoice: the Philadelphia-based cookie delivery chain Insomnia Cookies opened its first Golden State locale in Davis this past October. The company's late-night delivery fleet shuttles warm, freshly baked cookies—think chocolate cookies dotted with chocolate and mint chunks and classic flavors like oatmeal raisin and snickerdoodle—in pizzeria-esque cardboard boxes, along with milk by the bottle, to homes and dorms around Davis until 3 in the morning, and the full menu is also available for pickup at its downtown Davis storefront. 202 E St. Davis. 877-632-6654. insomniacookies.com
Having proven that there's mas (more) than meets the eye when it comes to the humble taco, midtown's Mas Taco Bar is set to open a second location in Arden-Arcade in December. The 3,600-square-foot location in the Arden Town shopping center will have the same coastal vibe as its predecessor on R Street, which opened to hungry crowds in March, and will feature a horseshoe bar with eight taps and an outdoor patio and fireplace. 3535 Fair Oaks Blvd. mastacobar.com
You Might Also Like
New food truck serves up bubble waffle cones stuffed with ice cream
New Glory Craft Brewery opens new taproom and eatery in Granite Bay
Gourmet "hipster-hop" doughnut shop Milk Money sets opening date