Taste: Hooby's Brewing serves up creative Belgian waffles and craft beer, plus other dining news for March 27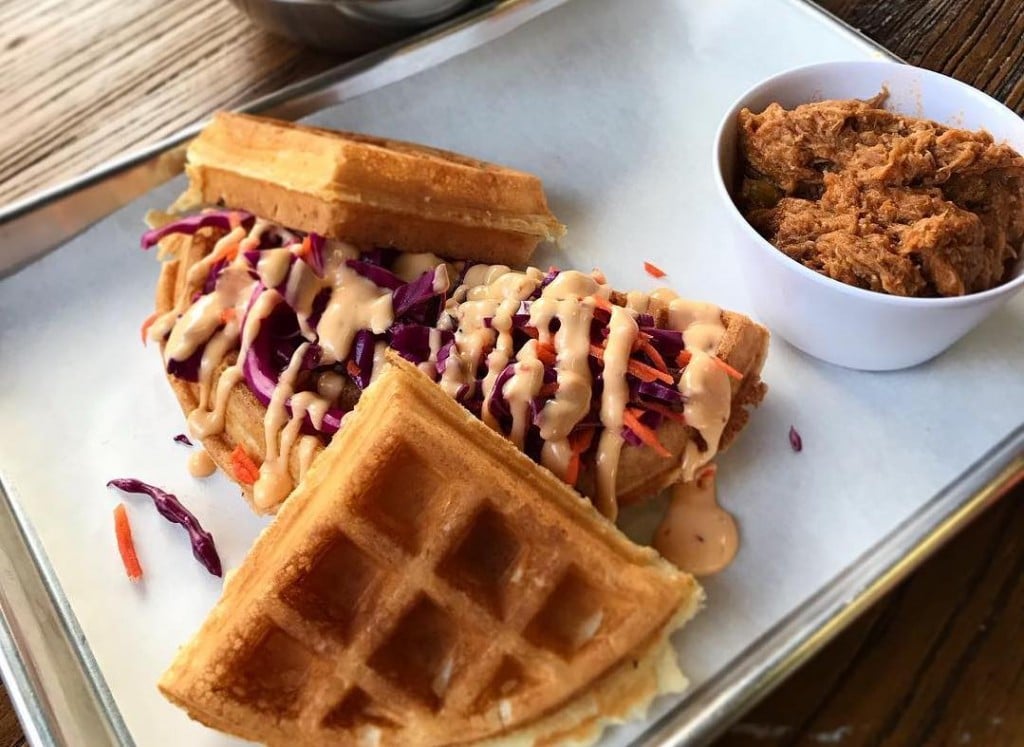 Fancy a Belgian waffle with your craft beer? Hooby's Brewing has been serving up the breakfast mainstay—either with toppings or as decadent bread for sandwiches—and house beers at its downtown Winters taproom since it opened on Feb. 16.
At Hooby's, the food lineup highlights waffle-centric dishes like a pesto grilled cheese waffle with mozzarella, Parmesan and sun-dried tomatoes, and a pulled pork waffle sandwich, served with house-made Dr. Pepper barbecue sauce, vinegar slaw and spicy aioli, as well as bar bites like nachos, smoked deviled eggs and pretzel-coated bratwurst (served with a mustard-beer sauce made with Hooby's Pardehsa IPA). Meanwhile, Sunday brunch features hearty entrées like a waffle breakfast sandwich with eggs, spinach, pesto aioli and bacon, an eggs Benedict on a waffle, and a waffle churro—a Belgian waffle topped with house-made dulce de leche, cinnamon and sugar. Wash it all down with pints (or flights of four 5-ounce pours) of the house-crafted suds, like the Hazy 128 Northeast-style IPA, the Wrong Way pilsner, the Water Tower kolsch, and the Travis Amber Flavored Beer (the title and acronym are a nod to Travis Air Force Base).
The taproom inhabits a converted fruit-packing shed that sports a rustic cabin vibe and is outfitted with 9-foot-tall antique wooden doors and lights that dangle from old fruit-picking ladders grafted to the ceiling, as well as an outdoor redwood bar and a bocce ball court. You won't find any beer-making equipment, though—the brewery itself, which launched last summer and is owned by Curtis and Susie Stocking and their four adult children, is located in a nearby building once owned by locals David and Gorda Hoobyar (the brewery's namesakes), which formerly housed Pardehsa Market, a popular bait and tackle stop for fishermen on their way to Lake Berryessa.
9 E Main St. Winters. 530-794-6118. hoobysbrew.com
In Other News
Since making the rounds at local farmers markets, festivals and private events, Gaspachos has become popular for its signature fruit cup, a traditional Mexican snack comprising pieces of fruit dusted with spicy seasoning. Now fruit fiends can get their fix at Gaspachos' first brick-and-mortar shop near South Sacramento, which held its grand opening March 23. Gaspachos owner Julio Ortiz gets his chili powders—like the fan-favorite blend of chile de arbol, chile pasilla, lime and salt—from his home state of Michoacán in Mexico to garnish his eye-popping concoctions, like the Traditional Gaspacho, which features mango, pineapple, jicama, fresh-squeezed orange juice, lime juice and black chili powder (the shop also sells packets of the signature blends in-store). Ortiz says he also plans to incorporate uncommon ingredients—like the cactus pear, a popular fruit in Mexico—into his menu of fruit cups, juices and smoothies. 5385 Franklin Blvd. 916-882-8182. gaspachosstore.com
The Green Restaurant Association (GRA) announced Feb. 5 that midtown's Kasbah is Sacramento's first Certified Green restaurant—meeting or exceeding standards in sustainability practices. Shifting the restaurant's behind-the-scenes culture toward sustainability, owners Tanya Azar and Deborah Chang—who bought the lounge in 2016 after serving as managers for over 10 years—are upgrading to energy efficient equipment and LED lighting, composting food waste, using green cleaning chemicals and following a recycling program. The duo has also introduced new meatless (i.e., environmentally friendly) eats like vegan Middle Eastern and Mediterranean cuisine such as harira lentil soup topped with crispy onions and served with warm pita, and vegan gyros made with tofu, cucumbers, tomato and tzatziki sauce. 2115 J St. 916-442-4388. kasbahlounge.com
On Jan. 31, husband-wife chef-owners Kai and Suji Jung opened Kuji Asian Grill, a snug, casual restaurant in Woodland where the pair offers a fusion of Hawaiian and Korean cuisine. South Korea-raised Suji and Davis native Kai met while working in the kitchen of the Hilton Waikoloa Village in Hawaii. After stints at local restaurants—Kai at Grange and Suji at Dawson's—the couple decided to launch Kuji, which features a lineup of from-scratch dishes like stone-pot bibimbap, bulgogi japchae (stir-fried glass noodles and beef) and a Korean fried chicken sandwich, as well as a variety of proteins—think Korean short ribs, gochujang-marinated pork and chicken katsu—served Hawaiian "plate lunch" style, accompanied by rice, potato mac salad, kimchi and Korean pickles. 1801 E. Gibson Rd. Woodland. 530-665-6097. kujiasiangrill.com
South Sacramento staple barbecue spot MacQue's—which made Sactown's 2015 list of best barbecue joints and is known for its spectrum of sauces and perfectly smoked pork ribs—will expand to a new Elk Grove location in April. Operating in the same industrial area since 1986, owners Mack and Charlie Thomas decided to open a second restaurant in Elk Grove after most of the Thomas clan had moved there. (Keeping things in the family, the couple's son Michael will helm the new locale.) Expect the same savory ribs, pulled pork and home-cooked sides at the new 2,300-square-foot dining establishment, which is outfitted with stained concrete flooring, reclaimed wood tables, stone-accented walls (festooned with family photos and local high school and college sports memorabilia) and an outdoor patio, as well as taps pouring craft beers from the likes of California breweries like Lodi Brewing Company and Seismic Brewing Company. 8517 Elk Grove Blvd. Elk Grove. macquesbbq.com
Wheel Lemonade, a lemonade cart that's become a popular mainstay at Sacramento's midtown farmers market and pours intriguing flavors like mint-ginger and watermelon-cinnamon, hosted the grand opening of its first brick-and-mortar shop in Elk Grove on March 24. Owner Robert Cao says Wheel Lemonade's new home base—a clean, airy 1,150-square-foot space decked out with black bar tables, yellow barstools and lemon yellow and lime green walls—will allow him to expand his menu, which currently offers only flavored lemonades, to also include sparkling and blended drinks, along with lemonade popsicles in flavors like blueberry lavender and watermelon raspberry. 9171 Elk Grove Florin Road. Elk Grove. 650-228-6493. wheellemonade.com
Small Bites
Downtown hot spot Tiger (722 K St., tiger700block.com) rolled out its lunch menu March 11, which will be served on weekdays from 11:30 a.m. to 2:30 p.m. and features a lineup of salads (think quinoa with black beans, avocado and paprika-lime dressing) and sandwiches (including a jerk chicken option with jicama slaw on a brioche bun). Savory bowls (like the Buddha with vegetables, basmati rice and yellow coconut curry sauce) will also be on offer in the near future.
On March 17, downtown's Camden Spit & Larder (555 Capitol Mall, camdenspitandlarder.com) launched a British-influenced brunch menu—including a full English with grilled mushrooms, tomatoes, bacon, beans and a banger—that will be on offer for upcoming holidays like Easter, Mother's Day and Father's Day.
By late spring, new food truck Hella-Halo (@hellahalosac) will start dishing out the traditional Filipino dessert halo-halo (a shaved ice and ice cream dish with fruit gelatin, sweet beans and condensed milk) on the streets of Sacramento. Husband-and-wife owners Pipo and Kelly Carrasca plan to offer classic flavors like ube—a purple yam native to the Phillipines that creates the signature purple hue of the dessert's trademark flavor—as well as new condensed milk-infused flavors like avocado, green tea and strawberry.
You Might Also Like
Eagerly awaited Cider House to open soon
The de Vere White brothers bring an Irish pub with a craft cocktail twist to R Street
Milk House Shakes to open in Old Sacramento