Taste: Kodaiko hosts a ramen pop-up and other regional dining news for December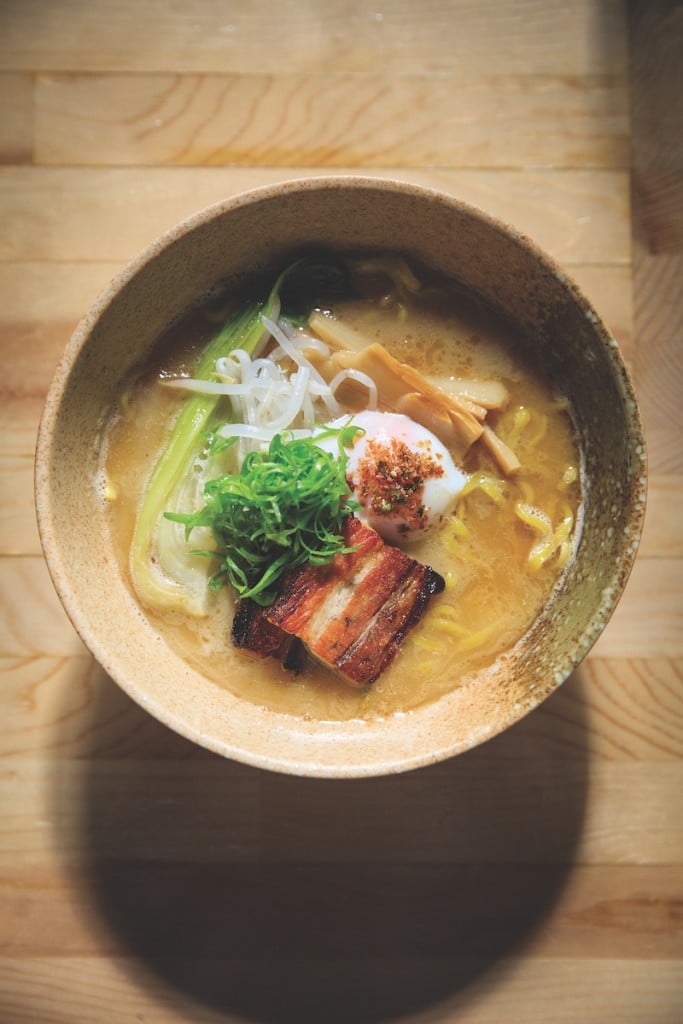 As they say, good things come to those who wait: Kodaiko, Billy Ngo's hotly anticipated underground ramen spot on the 700 block of K Street, was originally scheduled to open in December, but due to construction delays, is now aiming to open in February.
But if patience is not one of your virtues, you can get a sneak taste of the Kru chef-owner's soul-warming broth and noodles at a pop-up from 1-3 p.m. (or until the ramen runs out) this Sunday, Dec. 16, at Elixir Bar & Grill, which is co-owned by Curt Pow, a partner in Kodaiko. Ngo will be on hand at the downtown venue to dish out bowls of the vegan ramen he will eventually offer at Kodaiko—the base is a mushroom broth made with cashew cream and the soup features toppings like roasted mushrooms, garlic chips, garlic oil, mizuna (Japanese mustard greens), negi (green onions) and nori. (Kodaiko will also serve a Tokyo-style tonkotsu gyokai broth made with pork bones and house-dried snapper.) Non-vegans can opt for an egg or a thick-cut chashu pork on top. Ngo also plans to host a second pop-up in January.
Sun. Dec. 16. 1-3 p.m. (or until sold out). Elixir Bar & Grill. 1815 10th St. @ramenkodaiko
In Other News:
After spending four years living in New Orleans, Sacramento native Sammy Schnetz decided to bring a piece of the Big Easy back to her hometown. Inspired by the beignets—aka, "the French doughnut," puffy squares of fried dough dusted with powdered sugar—she had at the famous Café du Monde in New Orleans, Schnetz began developing her own recipe for the pastry and building a cart from scratch. Her mobile food venture Beignyay made its debut at the Sacramento Donut Festival in September, and while Schnetz and her bright yellow cart can only be spotted at local events in the Sacramento area for now, she hopes to eventually open her own shop where she can also offer traditional beignet pairings like chicory coffee and café au lait. Locations vary. @beignyay_sac
The Good Scoop, which opened in downtown Davis in 2016, is set to close up its original locale by the end of the year and move to Dixon this winter, with a soft opening planned for Jan. 1. At the new Dixon location, all of The Good Scoop's organic ice cream—which is made with dairy from Petaluma's Straus Family Creamery, and will boast rotating flavors such as Coffee and Donuts that will use doughnuts from the next-door Solano Baking Co.—will be prepped in the kitchen at the back of the 1,800-square-foot space, whose décor will feature a bright, cheery look and chalkboards on the walls where folks can give props to their favorite farm-to-cone flavors. Co-owner Stephen Layton also plans to expand to downtown Sacramento in early 2020, with a Good Scoop shop at the upcoming 1430 Q Street development; until then, look out for possible pop-ups around the River City. 1080 Pitt School Rd. Dixon. thegoodscoopicecream.com
Rancho Cordova residents and husband-wife team Justin and Jolynde Lazaro are drawing on their Hawaiian backgrounds to serve up island eats out of their new food truck, Mac Daddy Island Grill, which launched Nov. 15. Named after Justin's late father—a former chef nicknamed Mac Daddy—the truck slings Hawaiian go-tos like loco moco (rice topped with a hamburger patty, gravy and an egg) and Spam musubi (Spam and rice wrapped in seaweed), as well as inventively topped fries, like the popular steak frites, which features French fries tossed in garlic macadamia nut oil and seasoned with Hawaiian barbecue rub, laden with tri-tip and smothered with gravy. Locations vary. 209-423-0455. @mdislandgrill
DoCo just got a whole lot cooler with the late November opening of Popbar, the New York-based chain. This downtown locale sits on the upper level of the downtown center next to Century Theaters, where it greets DoCo shoppers with rows of colorful frozen pops in about 30 rotating flavors of gelato (think green tea, tiramisu and chocolate), sorbetto (apricot and peach) and yogurt that are handcrafted daily in-house. Patrons choose their base flavor of pop and then pick their toppings (Chipotle-style)—everything from a minty dark chocolate coating and caramel drizzle to sprinkles, coconut flakes, waffle cone pieces and popcorn. Popbar is hosting its grand opening Dec. 14, during which the first 50 patrons get a free pop and folks can buy one pop and get one free all day. 405 K St. 916-538-6296. pop-bar.com
The downstairs hall of Downtown Commons' Punch Bowl Social has been decked out in full holiday splendor—think tinsel trees, stockings, wrapping paper and countless ornaments—for its 1940s-themed pop-up bar that kicked off Dec. 5 and will run through the end of the year. Dubbed Nick's—after the bar in the George Bailey-free universe of Frank Capra's It's a Wonderful Life—the pop-up offers Christmas classics karaoke (the windows of the private karaoke room are dressed with pages from vintage Yuletide children's books) and a holiday-themed drink menu that includes the Give Santa Bourbon and Cookies, a clarified milk punch with bourbon, plum spice tea, raspberry syrup, orgeat and lemon (which can be ordered solo or as a punch bowl for four), and Hot Chocolate Wondermint, a house-made hot chocolate spiked with Wondermint schnapps, garnished with toasted mint and marshmallows. Nick's runs until Dec. 31. Hours vary by day. Punch Bowl Social. 500 J St. 916-925-5610. punchbowlsocial.com
While the obligatory fruit and milk teas are the signature offering at Tealicious, a new boba tea spot that soft-opened in South Land Park on Nov. 1 (a grand opening is scheduled for New Year's Day), the shop also dishes out intriguing fare like whole lobster tails on a bed of curry noodles and a slow-cooked beef brisket RJM (rou jia mo) sandwich, a Chinese street food that resembles a hamburger. Tea enthusiasts can order up the popular mixed passion fruit tea, a cold brew jasmine tea mixed with passion fruit puree and jam-packed with up to 10 different fruits like oranges, raspberries, blueberries and pomegranate seeds. The shop sports a cozy, coffee-house vibe with wooden accents, as well as a small bakery section touting sweet treats like crème brûlée, macarons and cheesecakes. 5101 Freeport Blvd. 916-758-5179. tealicious916.com
Small Bites
Gourmet sandwiches and farm-fresh salads are now on offer at Mendocino Farms, which launched its first Sacramento location at the Ice Blocks Dec. 6 (1610 R St., mendocinofarms.com). Co-founder Mario Del Pero, a Yuba City native, sites David Berkley's erstwhile Pavilion's market as the inspiration for the franchise. The Tahoe Park-based brunch mecca Bacon & Butter (5913 Broadway, baconandbuttersac.com) will be closed from Dec. 24-31 for the holidays, but will return in January in full force, with a New Year's Day brunch on Jan. 1, and a plan to open its second location in East Sacramento in the same month.
You Might Also Like
A new traveling Yuletide cocktail bar with a tiki twist pops up in Sacramento
Solomon's Delicatessen to host bagel pop-ups downtown
The Bank food hall sets opening date