Taste: Milka Coffee Roasters now serving sparkling espresso in a restored downtown Victorian & more dining news for April 26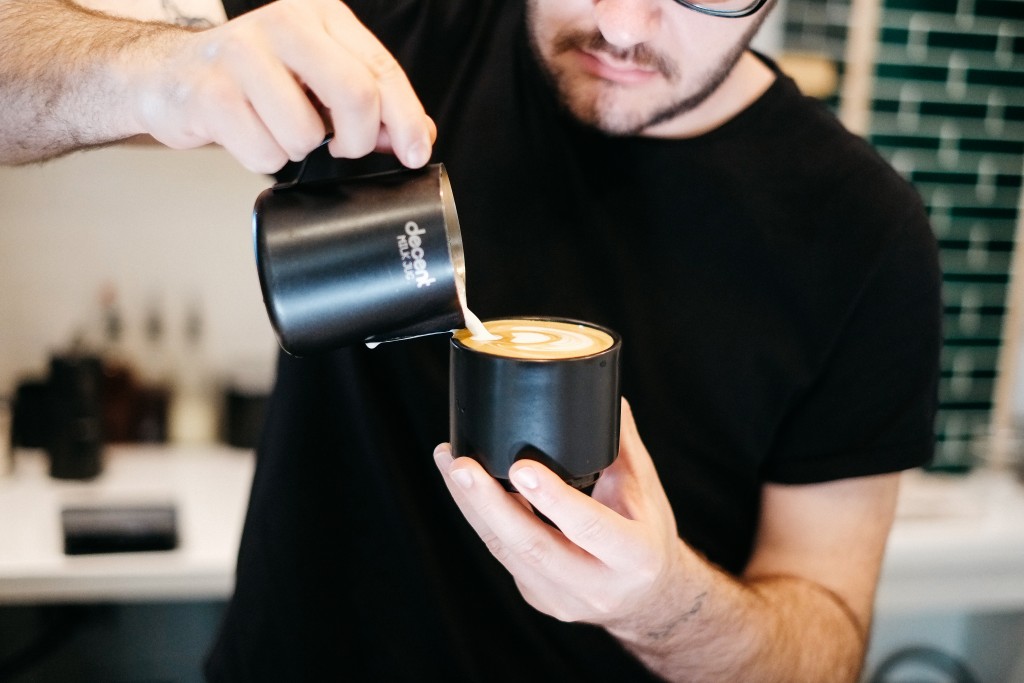 Milka Coffee Roasters, located downtown inside a two-story house that dates back to 1861, hosted its grand opening earlier this month on April 13. Owners Samir Benouar and Bree Uston, an interior designer, worked together to renovate the classic building (the couple currently lives on the second floor), accenting the space's historic Victorian Italianate features—think ceiling-high bay windows and a grand archway—with modern touches, and tearing out old drywall to expose the building's original brick façade, adding deep green tile columns along the coffee bar and replacing the old carpet with oak wood flooring.
Named after Benouar​'s great-grandmother Milka (whose photo adorns an inside wall), the shop serves up the standard third-wave staples of pour overs, Americanos and chai lattes, along with specialty drinks like the Sparking Milka, a blend of espresso, sparkling water, maple and sweetened condensed milk. (Benouar​ sources his beans from San Diego-based Global Coffee Trading, which he roasts in a room visible from the shop's front window.) The menu also includes fika buns and cookies from local pop-up Boy's Bakery. 1501 G St. milkacoffee.com
In Other News
As rapper Craig Mack would say, here comes a brand-new flava in ya ear. ​There are only a few days left to indulge in self-proclaimed "gangster-ass" doughnuterie Milk Money's April collaboration with local dessert whiz Matt Masera, who is whipping up new limited-edition ice cream and doughnut varieties. The chef, formerly of Mother and Hook & Ladder, has been remixing the shop's brioche doughnut recipe, instituting a fluffier and lighter dough for new incarnations like his "Purple Pills," topped with blueberry glaze and stuffed with lemon curd filling (on offer through Sunday, April 28), and the "Milk Money," which features orange and creamsicle glaze and coriander brown sugar streusel and will remain on the rotating menu after this month-long collab. Masera has also helped concoct new ice cream flavors, like salted pine nut or French vanilla with butter pecan and chocolate, which you can nab while jammin' out to Milk Money's '90s hip-hop-themed soundtrack produced by Sacramento DJ Greg J. 1715 R St. 916-469-2436. milkmoneymidtown.com
Later this month local NorCal halal food chain Falafel Corner is expected to open in the spot that formerly housed Dad's on J, which served the downtown area for eight years. Owner Saif Aslam will bring a Mediterranean-style menu of burgers, wraps and platters to the new location, including falafel served with hummus, pita, salad and rice and the Badmash Burger, which translates to "Gangster Burger" and features a double patty topped with lettuce, onions, beef bacon, pickles, tomato, egg, cheese and a house-made mildly spicy Badmash sauce. 1004 J St. 916-917-5556. falafelcorner.us
After catering Sacramento events and pop-ups with their wood-fired oven pizza cart for almost four years, Ben Roberts and Pembe Sonmez-Roberts, the husband-and-wife team behind Pizza Supreme Being, are set to open their first brick-and-mortar location later this spring. Diners will be able to grab a slice to go, or take a seat inside the cozy 1,000-square-foot downtown space near 14th and N (which used to house Yellowbill cafe and bakery) and nibble on pies with like the Hawaiian with fresh pineapple, Spam and jalapeños, and a cheese pizza made with a distinct blend of hand-pulled mozzarella and both Wisconsin-based and locally sourced cheeses. 1425 14th St. 916-534-0839. pizzasupremebeing.com
Elk Grove's third specialty coffee shop Savvy House Coffee Bar opened April 2. Brewing beans from Chocolate Fish Coffee Roasters, the location offers lavender and rose lattes along with teas, including a blend of lily, jasmine, chrysanthemum and marigold from TeaVivre that blooms into a flower as it steeps. The 1,600-square-foot location features eclectic touches like a table made of a recycled bicycle and a mural of the shop's African elephant mascot (drawn by local artist Jonah Davison), which owner Jamaar Anderson says represents beauty, strength and family. 9630 Bruceville Rd. 916-667-3846. @savvyhousecoffeebar

Small Bites
Just in time for patio weather, Old Sacramento's riverboat restaurant The Pilothouse aboard the Delta King is now open for Sunday brunch from 10 a.m. to 2 p.m. While sipping bottomless mimosas on the third level deck, diners can indulge in specialty dishes like a lump crab Benedict and a fried chicken and biscuit sandwich (1000 Front St. 916-441-4440. deltaking.com). And a third location for Mas Taco Bar has opened at the Palladio shopping center in Folsom, serving globally inspired varieties like drunken chicken in a soft shell tortilla and banh mi shrimp in a laughing bun, and our favorite appetizer, the Mas fries topped with steak, guacamole, roasted red peppers, cotija cheese and cilantro crème (450 Palladio Pkwy. Folsom. 916-597-2929. mastacobar.com).
You Might Also Like
Craving of the Week: The Cabin's Gimmie S'more
Into the Brew-niverse: Sacramento Beer Week returns with an outpouring of events
Hooby's Brewing serves up creative Belgian waffles and craft beer