Taste: The region's latest food, drink & restaurant news for April 19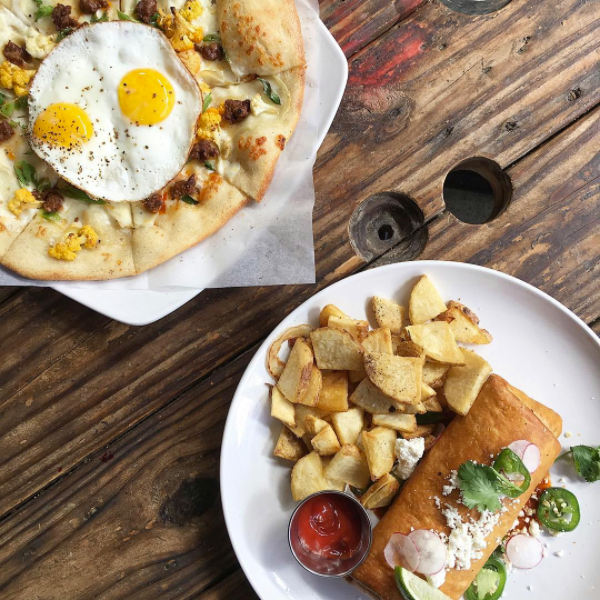 This week's food news: a taco-centric food truck gets ready to roam, while another puts down roots in South Sacramento. Plus, a Parisian bakery from Korea is set to launch its first local outpost; a popular midtown restaurant is now serving brunch seven days a week; and global cuisine eatery has opened in Arden-Arcade.
Boolu Eatery
This new family-owned place opened March 21 at the former location of Samarkand Kabob in Arden-Arcade, billing itself as a "globally inspired international restaurant." Boolu serves up a smorgasbord of menu items featuring American, African, Italian, Asian, Mexican, Jamaican, Creole, Peruvian, Turkish and Mediterranean recipes, from chorizo empanadas, spicy samosas and pork lumpia to okra soup with Nigerian-style chicken. Guests can also dip into familiar items on the "not so adventurous" side of the menu, with dishes like a fried chicken sandwich or the Napa Valley portabella burger. 621-3133. 3200 Fulton Ave. boolueatery.com
Hook & Ladder Manufacturing Co.
This midtown destination for craft cocktails and New American fare began serving its popular brunch menu every day of the week starting April 1. Executive chef Matt Masera says long lines during weekend brunch hours prompted the launch of this new scheme. From 10 a.m.-3 p.m. daily you can now dig into dishes like pork chorizo brunch pizza, soyrizo and spring vegetable hash, a carnitas chimichanga with rice, black beans, salsa roja and cotija, and the Hawaiian-inspired Loco Moco: two thin burger patties over white rice with mushroom gravy and a fried egg. The menu also highlights enduring classics like Hook & Ladder's braised bacon Benedict and "buttercakes" topped with warm maple syrup. 442-4885. 1630 S St. hookandladder916.com
Masa Guiseria
When Alexander Mishkin, who has run the pop-up taqueria Masa Guiseria for the past year, dreamed up a concept for his business, he was inspired by the street tacos in Mexico City's markets. Now Mishkin is slated to roll out a food truck in the last week of April, featuring his pop-up menu of tacos de guisado (meaning "stewed") with braised meats like classic carnitas or spicy chorizo served on homemade tortillas. Vegetarians won't miss out, as the food truck will also offer dishes like black bean tacos with avocado salsa or the rajas con queso, a taco with fire-roasted poblanos drenched in Mexican crema, corn, tomatoes and queso fresco. For dessert, Mishkin is introducing fun new items like a churro ice cream sandwich and churro "fries" served with chocolate and caramel dipping sauces. 287-0991. masasac.com
North Border Taco
This taco-centric food truck, which has been roaming through NorCal since 2013, is launching its first brick-and-mortar location, set to soft open at the end of April in South Sacramento. Owner Damian Avalos says his new restaurant will feature patio seating and the same menu items as its mobile counterpart, including the popular Tejano taco with smoked brisket and sautéed cactus pads. Patrons can also expect a wider selection of taco meats, like al pastor, adobada and chorizo, as well as a few surprising new dishes that play off of North Border's tagline "Mexican food with attitude," like the Lipstick Taco with pork and sweet raspberry sauce wrapped up in a cheeky pink tortilla. 370-6314. 3721 47th Ave.
Paris Baguette
With locations in Las Vegas, Manhattan, Tokyo and the Bay Area, this pastry shop that originated in South Korea in 1988 is opening its first Sacramento outpost at the site of a former TGI Friday's in Arden-Arcade. The Parisian-style cafe will feature rows upon rows of classic pastries like éclairs, macarons, cornet pies and croissants encased in glass at the counter, sandwiches served on house-made breads and layered cakes in flavors like green tea chiffon and red velvet with strawberries and fresh cream. The French bakery, which also pours espresso drinks, is slated to open its doors on Howe Ave. at the end of May. C'est si bon! 1229 Howe Ave. parisbaguetteusa.com
You Might Also Like
A popular South Korean rice burger chain takes over Golden Bear's kitchen for one night
The Flamingo House bar to land in midtown this summer
First purveyor announced for planned food hall, The Bank