Taste: The region's latest food, drink & restaurant news for Aug. 26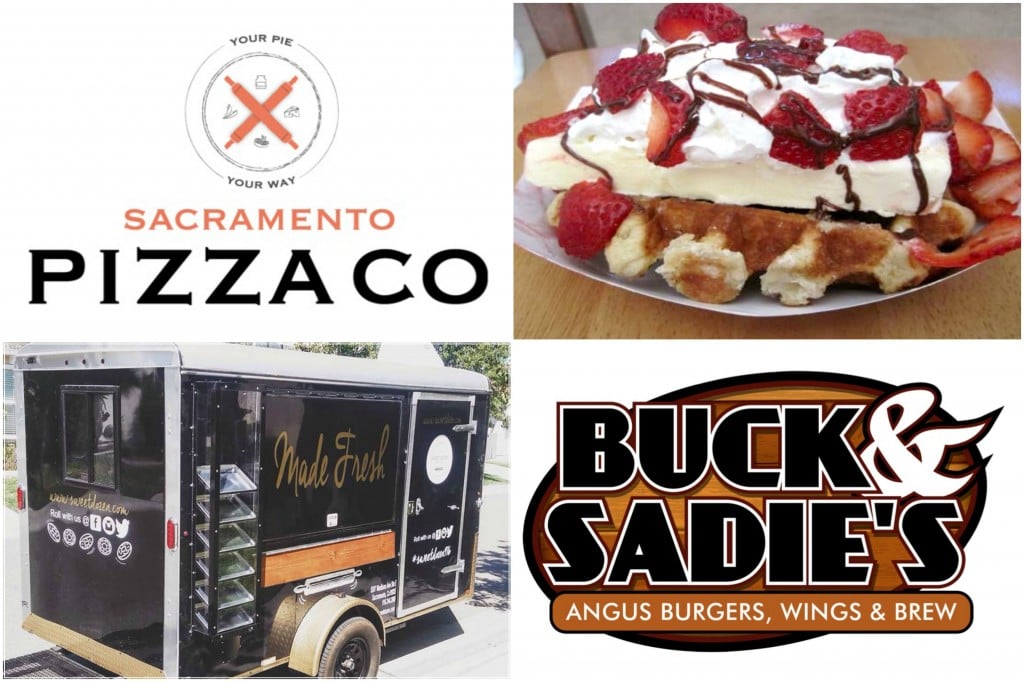 This week: Indian food comes to El Dorado Hills, a new pizza place will open in Folsom, a native daughter of the BJ's Restaurant family plans to launch a local burger joint in Roseville and two dessert food trucks expand their sweet horizons.
Bawarchi Indian Cuisine
Specializing in southern Indian, northern Indian and Indo-Chinese cuisine, this new restaurant held a soft opening Aug. 21 in the El Dorado Hills Town Center. Owner Sunil Adusumilli runs Bawarchi with his friend Sreekanth Doddapaneni, who has three Bawarchi restaurants in the Bay Area, and says this new location will be the only Indian food establishment in El Dorado Hills. With a warm, colorful dining room, an outdoor patio and a bar that will soon be serving beer and wine once the restaurant obtains its liquor license this week, Bawarchi is dishing out an expansive, diverse menu that includes classics like shrimp Biryani, warm garlic naan and sweet mango lassis, along with traditional offerings like chicken pepper masala, lamb masala and crispy dosas with cilantro chutney. You'll also find dishes straight from the wok like batter-fried baby corn Manchurian tossed in savory sauce, vegetarian curries and house-made desserts like ras malai, a Bengali special made of soft paneer mounds drenched in chilled milk and sugar. 2085 Vine St. El Dorado Hills. 222-8222. edhbawarchi.com
Buck & Sadie's Angus Burgers and Wings
Stay-at-home-mom turned restaurateur Tino Phillips is opening this new Roseville restaurant in November, continuing her family legacy (her father co-founded the BJ's Restaurant and Brewhouse chain) and Buck & Sadie's pays homage to the nicknames of her parents, Mike and Barbara Phillips. Tino Phillips developed a passion for cooking from a young age, learning from her father and grandmother, practicing recipes from the family cook book, and working for many years at BJ's. Bringing her passion and experience to Buck & Sadie's, Phillips says the restaurant will specialize in burgers, wings and creamy frozen custard and feature a bar with wine and up to 14 beers on tap. Signature dishes will include the Buck's BBQ chicken salad topped with black beans, corn, jack cheese and tortilla chips, or the Bacon Me Love You Burger layered with applewood smoked bacon, battered onion strips and cheddar cheese. 2030 Douglas Blvd. Roseville.
Sacramento Pizza Co.
This new airy, rustic restaurant is bringing fast-casual pizza to the Broadstone Shopping Center in Folsom. Similar to the popular DIY concept of chains like Pieology and Chipotle, Sacramento Pizza Co. will allow diners to customize their own pies down to the crust, sauce and a variety of toppings, some of which owner and founder Neil Patel says will include fresh, local ingredients that rotate seasonally. The pies—which will include unique variations like an Indian tandoori pizza topped with creamy red sauce, house-marinated tandoori chicken, mozzarella, red onions, cilantro and a drizzle of a yogurt-based raita sauce—will be flash-fired and ready within minutes. Patel says he hopes to open Sacramento Pizza Co.'s doors in the beginning of October. 2700 E. Bidwell St. Folsom. 673-9754. sacpizzaco.com
Sweet Dozen
This popular pastry shop, which opened in 2008, is taking to the streets with a highly anticipated new doughnut cart. Since the successful soft opening at Gather Nights in Oak Park on Aug. 13, the six-by-12-foot-long two-wheeler, which features a glass display case featuring rows of tempting doughnuts in front, has been parking at the midtown farmers' markets for the past two weeks serving its signature cake bombs, donuts and melts, like the MVB (an ice cream doughnut melt with sprinkles of bacon bits inside). You'll find sweet new additions in the cart's lineup, including a peach cobbler doughnut covered in peach glaze and cinnamon bun crumbs, or the ice cream churro doughnut sandwich with scoops of Gunther's creamy vanilla bean ice cream sandwiched between two cinnamon-sugar-coated churro doughnuts. Sweet Dozen's doughnut cart will be parked in front of The Trade Coffee & Coworking (2220 K St.) this Friday from 7 to 10 a.m. and at the Midtown Farmers Market on most Saturdays. Check their Facebook page for locations. 344-2000. sweetdozen.com
Volkswaffle
This popular red dessert van, which has been rolling out its striped awning at farmers markets and food truck events for the past nine years around the Sacramento region, has put down roots in Carmichael with a new brick-and-mortar waffle shop that opened July 10. Honoring the over 200-year-old tradition of Belgian Liège waffles (which are made with rich, yeasted dough and pearl sugar), owner Terry Jeske imports his dough straight from Belgium and is now griddling up orders at his new fire engine-red location, once the site of a coffee kiosk. Drive through or walk up to order popular items like The Most Wanted (topped with powdered sugar, organic strawberries, whipped cream and Nutella), The Belgian Chocolate Waffle, which is dipped in chocolate on one side, or go straight for the classic taste of The Purist, dusted with powdered sugar. Volkswaffle's newest concoction at the Carmichael waffle stand are Volksfrappers, blended Italian-style coffee drinks in flavors like double chocolate and caramel. We hear they pair nicely with a hot-off-the-press waffle or two. Call at least five minutes ahead of time for immediate pick-up. 4140 Manzanita Ave. 900-4909. volkswaffleca.net
You Might Also Like
First look: Empress Tavern adds sizzle to K Street
Shady Lady owners to open two new restaurants and a bar this fall
Dining news: Cask & Barrel begins brunch service, Temple Coffee expands to Davis and more