Taste: The region's latest food, drink & restaurant news for Dec. 16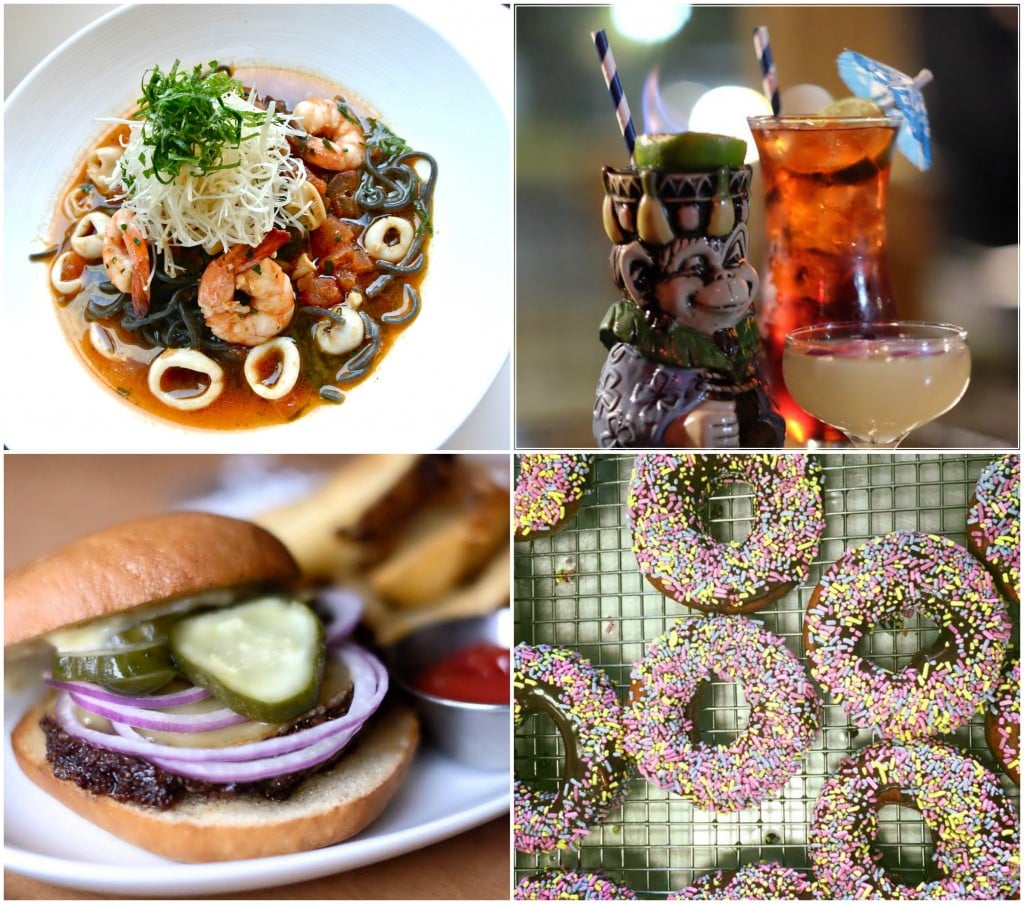 This week: Pushkin's gluten-free bakery expands and Formoli's hosts a "dinner and a movie" night. Plus, an Asian seafood restaurant comes to midtown, a tiki bar opens in downtown Sacramento, a Greek market arrives in Arden-Arcade, a vegetarian cafe opens in Folsom and a wine-focused restaurant replaces the former Bistro Michel space.
Formoli's Bistro
This East Sacramento Italian restaurant is spreading good cheer with its first Family Night dinner-and-movie event on Monday, Dec. 21. The evening includes dinner, a screening of Cloudy with a Chance of Meatballs (both the original and sequel), cookie decorating and ornament-making. While little ones munch on buttered noodles or cheese ravioli, grown-ups will receive a multicourse meal with dishes by Formoli's pasta maker Vinny Lazzaretto, such as gorgonzola crème and pomegranate gnocchi, ravioli stuffed with house-smoked mozzarella or Long Island cheese pumpkin tortellini with brown butter and dried figs. Co-owner Suzanne Ricci says the restaurant will continue the family events if the inaugural one is a hit. $45 ($10 for ages under 12). 6 p.m.-9 p.m. Formoli's Bistro. 3839 J St. 448-5699. formolisbistro.com
Greek Food Imports
This new Greek deli and market is set to open in Arden-Arcade by the end of January. Owned by Sacramento-raised Kostas Panayotakopoulos, the rustic shop, which will be lined with dark wooden tables, will feature Greek-imported goods like Dodoni feta cheese and Attiki honey, with an emphasis on organic products. Panayotakopoulos also plans to highlight Greek cuisine, with traditional fresh-baked pastries like baklava and malomakarono (an egg-shaped dessert), as well as sandwiches with names that pay homage to Grecian history, like the Socrates, made with bacon, collard greens, pepper aioli and Swiss cheese. The market-deli will also serve organic wine from vineyards like Frog's Leap and Long Meadow Ranch and organic beer from breweries like Bison Brewing and Auburn Alehouse. 650 Fulton Ave. 247-0180. greekfoodimports.com
Peach
This organic, vegetarian breakfast and lunch spot is scheduled to open mid-January in Historic Folsom, replacing The Black Rooster Café, which closed in November. Chef Cillian Spain, a prep chef at Karen's Bakery and Café who owns the new eatery with his wife, Sue, says Peach's menu will focus on vegetarian favorites like smoothies, acai bowls and protein-rich lunch dishes like roasted red pepper soup with corn and couscous, a spicy Thai peanut burger and grilled sandwiches with cheese sourced from Marin County dairies. For breakfast, Spain will create simple items like overnight oats soaked in almond and soy milk served with honey; seven grain toast topped with almond butter and bananas; or savory muffins baked with eggs, cheese and caramelized onions. 807 Sutter St. Folsom.
Pushkin's Bakery & Café
This gluten- and dairy-free pastry shop in midtown is relocating to a new, larger downtown location on Capitol Avenue in the spring. Husband-and-wife owners Danny and Olga Turner, who opened Pushkin's three years ago, are adding a cafe to their operations and expanding their menu to serve breakfast items like fire-roasted sweet potato hash and poached eggs and lunch items like open-faced veggie sandwiches. Half of the entrées will be vegan-friendly and the cafe will include Pushkin's current menu of baked goods like the classic Meyer lemon pound cake and the blueberry cinnamon coffee cake. Plans for the decor at the new location—which is four times the size of the original bakery—include bright white walls and marble tabletops seating 60, with a front patio strung with lights. Olga Turner also says she hopes to eventually host private parties and special events in the new space. 1813 Capitol Ave. 376-7752. pushkinsbakery.com
Rum Rok
The weather may be cooling down but this newly opened Tiki bar has been heating up the downtown bar scene ever since it opened Dec. 9. With bamboo barstools and an impressive rum-infused drink menu offering 33 craft cocktails, Rum Rok's interior features a tropical mural and a 50-foot LED-lit bar with a running waterfall backdrop at its center. Inventive cocktails include the Trader Vic's Mai Tai with rum, Cointreau, lime juice and house-made orgeat syrup, or the Breezy Sunset with pineapple juice, coconut cream and Angostura bitters. Co-owner Bob Simpson hopes that the bar, which occupies a former nightclub space on the corner of H and 15th streets, will become a go-to stop for concert and theater-goers attending shows at nearby Memorial Auditorium and Wells Fargo Pavilion. Hours are currently limited (Wed.-Sat. 8 p.m.-2 a.m.), but Simpson plans to expand in the spring. 805 15th St. rumrok.com
Skool
This popular San Francisco-based seafood restaurant is arriving in midtown Sacramento in February. Andy Mirabell—who has co-owned the original fish-focused spot with wife Olia Kedik and another married couple Toshihiro and Hiroko Nagano since 2010—grew up in Sacramento and says opening the new location feels like coming home. Fitting into the city's farm-to-fork ethos, the restaurant will offer a seasonal menu with sustainable, locally sourced ingredients to enhance signature dishes, such as the squid ink spaghettina, which features squid, shrimp and enoki mushrooms steeped in garlicky tomato compote, red curry and a lemongrass dashi broth. Skool will continue to push the envelope with unique menu items, including the uni flan, which is a light sea urchin-based custard topped with fresh uni, ikura and Fleur de Sel. 2319 K St. skoolsf.com
TableVine
TableVine, a new restaurant with a wine focus, opened Nov. 30 in the downtown space that formerly housed the erstwhile Bistro Michel, which closed its doors this past spring. Owned by Dan Sneed (whose résumé boasts names like Ella Dining Room and Bar and the San Francisco Ritz-Carlton), TableVine favors the feel of a "wine country living room" (think light green walls with white trim and Kona wood flooring) and a menu bursting with simple, yet elegant fare from chef Scott McNamara (formerly of Brasserie Capitale and Bistro Michele), like pan-seared scallops served with cauliflower purée, capers, raisins, toasted almonds and balsamic vinaigrette or a Portugese kale soup with white beans, linguica and potatoes. 1501 14th St. 942-9599. tablevine.com
You Might Also Like
A new Mexican restaurant set to open in Cesar Chavez Plaza
First impressions: Blackbird reopens with a smaller menu and bigger dreams
Where to find Sacramento's best hot chocolate