Taste: The region's latest food, drink & restaurant news for December 3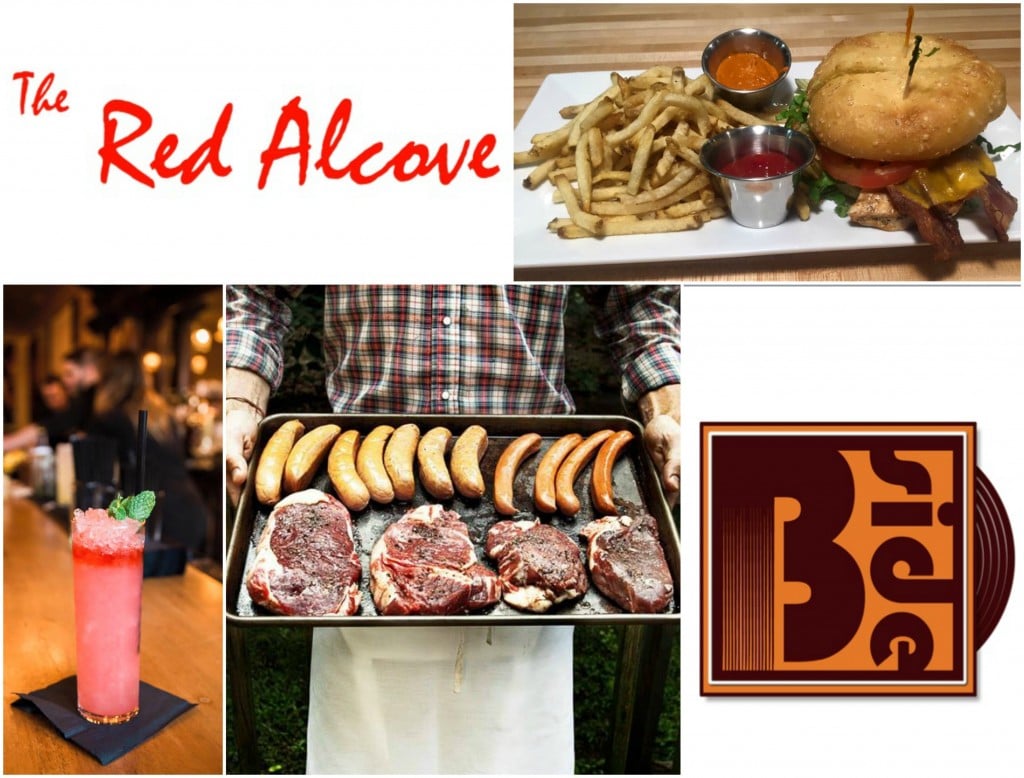 In this week's dose of local food news, a lunch and brunch restaurant opens in Land Park, a cook-it-yourself Korean joint opens in Rancho Cordova and a butcher shop opens in East Sacramento. Plus, two highly anticipated bars celebrate their openings.
B-Side
The brainchild of the owners of Shady Lady Saloon, the 1970s-inspired dive bar and lounge, B-Side, is set to burst onto downtown's bar and music scene next week. Taking over the lot formerly held by The Monte Carlo Club since 1937, the bar will feature DJs spinning vinyl to set the tone for a low-key music-listening mood. The lounge, which will play everything from 70's funk and soul to modern hits to home-owned records brought in by patrons, will fill the intimate space with tunes through a refurbished 1970s sound system. With low, warm lighting and walls adorned with old stereo parts, the bar's décor also falls in line with the resounding '70s theme. Don't expect to see a cocktail list at B-Side; instead mixed drinks are ordered dive bar-style through word of mouth with the lounge's expert bartenders. Though the bar itself won't serve food, B-Side is expecting to host a variety of food trucks every day of the week. The Shady Lady team's next venture Amaro, a new R-Street Italian bistro, is expected to open up on the corner adjacent to the Warehouse Lofts Building in late February. 1430 S St.
Golden Era
Paying tribute to the region's Gold Rush and Prohibition days, this new craft cocktail bar opened Nov. 20 along Nevada City's main street. Owned by local husband-and-wife team Steve and Cindy Giardina, Golden Era's bar program is run in part by their son Eric, who has worked for Future Bars, the label behind San Francisco hotspots like Local Edition and Bourbon & Branch. Bartender Darren Crawford is currently the general manager of Devil's Acre and bar manager Ben Smith was most recently behind the craft cocktail scene at The Porch Restaurant & Bar. Housed in a building constructed in 1867, the warm interior of Golden Era is adorned with a gold cathedral-tiled ceiling, a marble fireplace, chandeliers and plush leather furniture. But the true centerpiece is the ornate wooden bar built in the 1890s, where you can belly up and order from a list of signature cocktails like the Nevada City Swizzle with rum, Pisco, lime, housemade raspberry syrup, Peychaud's Bitters or the refreshing Grass Valley girl with gin, lime, orange bitters, seltzer and slices of cucumber. Plus, a soda fountain offers non-alcoholic drinks like cream soda and homemade root beer and the bar often hosts local music acts on evenings. 309 Broad St. Nevada City. (530) 264-7048. goldeneralounge.com
Meet & Eat
Filling in the space formerly held by Crepe Escape, this restaurant, which opened November 11, brings an array of gourmet brunch options to Land Park. Meet & Eat offers a unique spin on everyday lunch staples, including a hearty veggie sandwich filled with red beets and herb-marinated eggplant between two slices of feta cheese-encrusted focaccia bread; and a posh salmon salad topped with delicate filets of salmon and paprika-filled green olives. This creativity extends to the brunch menu as well, offering breakfast tacos filled with organic scrambled eggs, a blend of shredded cheese and smoked salmon, or a taco bar option in which patrons can choose from protein fillings like grilled pork belly, wild tilapia, grilled skirt steak and crispy fish filet. Created by the team behind Curtis Park's Café Dantorels, Meet & Eat also offers a diverse wine selection and 24 craft beers on tap during brunch. 3445 Freeport Blvd. 476-3082.
The Red Alcove
Move over, fondue. The Red Alcove, a Korean barbecue restaurant with grills on the tables, opened on Nov. 19, joining the international market and a karaoke and dining room in Rancho Cordova's sprawling Koreana Plaza. Owned by B.J. Yu (who has also owned the plaza since 2012), the new grill-it-yourself eatery features a contemporary maritime theme with wood floors, granite-topped tables and huge ropes decoratively wrapped around posts. Diners can order a single meat (from filet mignon to pork jowl to cuttlefish), which comes with an array of vegetables like mushrooms, carrots and onion and condiments and cook them on a charcoal grill on the table, or choose one of the combination plates that comes with a variety of selected meats and veggies, along with rice, steamed egg, bean paste stew and salad. 10971 Olsen Dr. Rancho Cordova. 853-8000.
V. Miller Meats
A new specialty meat and butcher shop, V. Miller Meats, opened in East Sacramento on Nov. 17. Co-owners Eric Veldman Miller (formerly a chef at Restaurant Gary Danko and Mulvaney's) and Matt Azevedo (who has worked at Chez Panisse and Restaurant Thir13een) are working with Northern California ranches like Marin County's Stemple Creek Ranch and Chico's Rancho Llano Seco to acquire whole animals to butcher them in house, offering cuts of beef, lamb, chicken and pork and rarer items like beef bones for bone marrow. Curious carnivores can also find a variety of rotating house-made sausages (think bratwurst, chorizo and hot italian) and cured meats like pork rillettes and pancetta for sale, as well as bone broth and deli meats that range from smoked turkey and black forest ham to beef tongue pastrami and Cuban pork loin. 4801 Folsom Blvd. 400-4127. vmillermeats.com
You Might Also Like
New Elk Grove lunchtime cafe is set to expand with a wine bar
Three new breweries coming to Placer County
Midtown's Localis expands its menu; a new farm-to-fork grocery store plans to open in Oak Park