Taste: The region's latest food, drink & restaurant news for Feb. 23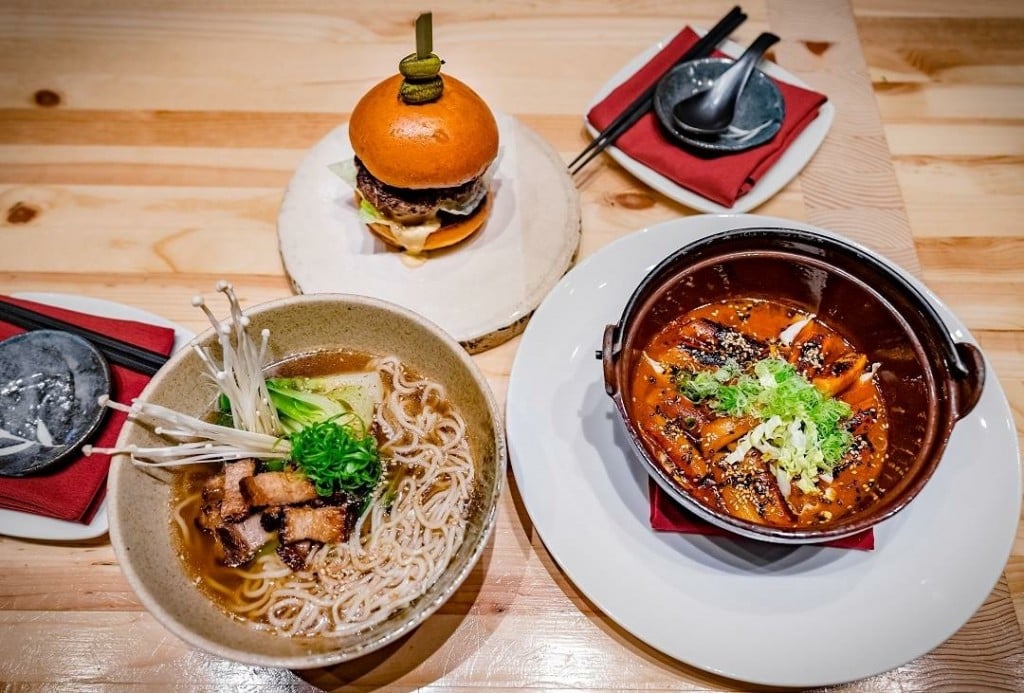 This week, we've got you covered on food news from around the region, including a desserterie whipping up pie and cake shakes, a new restaurant in Davis reimagining classic Asian dishes and several new breweries opening their doors. Plus, Kru launches late-night happy hour and Ginger Elizabeth Chocolates will begin taking guests behind the scenes for candy making and baking classes.
Big Shrimp'n
Sacramentans Aaron Faulkner, who runs the Smokers Wild BBQ food truck, and Shane Cichy, who owns Cichy Co., have teamed up for their newest mobile venture, Big Shrimp'n, which launched Jan. 17 and serves up Southern cuisine inspired by the tradition of Lowcountry boils—a family-style spread of kielbasa, potatoes, corn on the cob, hush puppies, crab, shrimp and lobster doused in butter and spread over a dinner table covered in newspaper. But instead of a table, patrons of this new mobile eatery—which roams throughout the region frequenting breweries from Tilted Mash in Elk Grove to Crooked Lane in Auburn—can expect their custom assortment of these vittles to arrive in a shareable basket, piled high and spread with butter (either original, garlic-infused or Cajun-style). The truck also serves up items like a shrimp po'boy and a fried chicken sandwich with house-cured pickles and homemade Cajun aioli. boiltruck.com
Chocolate Fish Coffee Roasters
Fans of this Sacramento third wave coffee shop can expect new stomping grounds very soon. Husband-wife owners Edie and Andy Baker hope to open the third outpost of their local chain along Freeport Boulevard between Land Park and Curtis Park in late April. The Bakers are currently renovating the 1,500-square-foot space with the help of Hausman Architecture to revamp the interior of the long-empty building with a bright, airy, minimalist design featuring white walls, floor-to-ceiling windows and a plant-filled patio, where patrons will be able to sit with a latte, a glass of wine or local craft beer from the likes of Sactown Union Brewery and Bike Dog Brewing Company. 2940 Freeport Blvd. chocolatefishcoffee.com
Ginger Elizabeth Chocolates
This weekend, local patisserie Ginger Elizabeth Chocolates will launch a series of monthly classes at its West Sacramento production kitchen, led by founder Ginger Elizabeth Hahn. On Feb. 24, a hands-on workshop will demonstrate the art of chocolate tempering, a process that gives chocolate its silky smooth texture, and participants will learn how to craft chocolate truffles. March 18 will bring an Easter-themed cupcake-baking lesson, and on April 15, Hahn will show students how to bake her picture-perfect French macarons, which come in flavors like lemon-blueberry and coffee-caramel. The series will wrap up on May 20 with a tasting course highlighting the distinctions between milk and dark chocolate. Bonus: participants can expect to leave with the sweet confections featured in each class. $45-$195. 916-706-1738. gingerelizabeth.com
Localis
Localis filed for its liquor license Jan. 23, and chef-owner Chris Barnum-Dann quickly got to work on a creative menu of seasonal cocktails using local ingredients, which will debut at the midtown fine-dining restaurant in March. Look for the gin and tonic that was inspired by the eatery's popular geranium sorbet and will mix geranium gin with house-made tonic, as well as what Barnum-Dann calls a "nontraditional White Russian" using sweet homemade coffee liqueur made from Chocolate Fish Coffee Roasters' beans. The bar will also stock spirits from around Northern California, like Sonoma Rye Whiskey, Auburn's California Distilled Spirits and Alameda's St. George Spirits. 2031 S St. 916-737-7699. localissacramento.com
Moksa Brewing Co.
This new brewery in Rocklin, which takes its name from the Hindu term for "freedom," held its grand opening Feb. 3, in a 5,000-square-foot taproom and production space. Head brewer Derek Gallanosa, who cut his teeth at San Diego's Karl Strauss and Abnormal breweries, says Moksa's name serves as inspiration for pushing the boundaries of how craft beer should taste and incorporating non-traditional flavors like vanilla, cinnamon and coconut into his brews. Moksa's tap lineup—some of which is available in specialty can releases—includes Smooch Berry, a tart golden ale; The Friend Zone, an unfiltered (and cheery pink) West Coast-style IPA made with guava and dragon fruit; and Bisco Party, a rich imperial stout made with Tahitian vanilla beans, Ghanian cacao nibs, ceylon cinnamon and toasted almonds. The bustling brewery also welcomes food trucks like Slightly Skewed and Bella Familia Wood Fired Pizza each week. 5860 Pacific St. Rocklin. 916-824-1366. moksabrewing.com
Water Pig
Water Pig, a new Asian food concept from the owner of Open Rice Kitchen in Davis, is set to open in the college town by the end of February. Calvin Liu, a Natomas resident and 2005 Aggie alum, will apply cooking techniques like sous vide, slow braising and confit to recognizable Asian dishes, like his take on beef and broccoli, which will comprise broccoli and ginger carrot purees, brown rice, pan-seared skirt steak and Worcestershire demi-glace; and the green onion pancake, a savory flatbread made with sourdough starter and served with ham and red-eye gravy. The restaurant, which takes its name from the Chinese zodiac element and animal of the year 1983, when Liu was born, features a floor-to-ceiling mural painted by Sacramento artist John Horton and a bar with 10 tap handles serving up beer from regional brewers like Track 7, New Glory, Yolo, Dunloe and Device. 2120 Cowell Blvd. Davis. 530-746-2187. facebook.com/waterpigdavis
​
Whips Desserts
Dessert is a piece of cake (or pie) blended with ice cream at this new sweets shop, which opened in Folsom on January 13. Patrons can choose from cake flavors (like vanilla birthday, carrot, red velvet and Italian cream) sourced from Granite Bay's Little Bliss Cakery or pie varieties (like banana cream, cinnamon apple and chocolate cream), which are whirled in a blender with scoops of vanilla ice cream into a "whip" (a thick, creamy mix served in a cup with a spoon) or a drinkable milkshake made smooth with the addition of milk or almond milk. Whips, which is run by Sacramento native Nick Morris and his parents Terry and Joanne, also offers sugar-free options like lemon cheesecake, chocolate cake and coconut cream pie. 711 E. Bidwell St. Folsom. 916-542-7907. whipsdesserts.com
Small Bites
Night owls, rejoice. East Sacramento Japanese eatery Kru has launched a late-night happy hour coined "Ngo Reservations" (a play on owner/executive chef Billy Ngo's last name in which the "g" is silent), which launched Feb. 9 and runs from 10 p.m. to 2 a.m. every Friday and Saturday with a limited menu that includes a wagyu beef burger, seared rice cakes and a weekly chef's choice ramen bowl.
The newest tenant to grace R Street's WAL Public Market, Camellia Coffee Roasters, opened Feb. 9 with a menu of single-origin roasts sourced everywhere from Brazil to Ethiopia and a minimalist space created by local interior designer Emily Wilder that features light pink mosaic tiles imported from Japan and planter boxes filled with tropical greenery.
On Feb. 2, co-owner and head brewer Ken Anthony of Device Brewing Co. received the keys to the brewery's new Pocket-Greenhaven location at the Promenade Shopping Center, a 7,000-square-foot space that Anthony says is slated to open by September. Device is also opening a third location: a taproom at midtown's Ice Blocks development set to open in early May. Elsewhere in brew news, SacYard Community Tap House held its grand opening in East Sacramento on Feb. 10, welcoming patrons to its family-friendly beer garden at 1725 33rd St.—converted from an auto body shop—with 24 taps pouring regional beers from the likes of Fieldwork, Track 7 and Bike Dog.
You Might Also Like
Fizz champagne bar to open in Downtown Commons
Gen Korean BBQ restaurant expands to Sacramento
Mas Taco Bar to open in Dos Coyotes space on R Street