Taste: The region's latest food, drink & restaurant news for June 23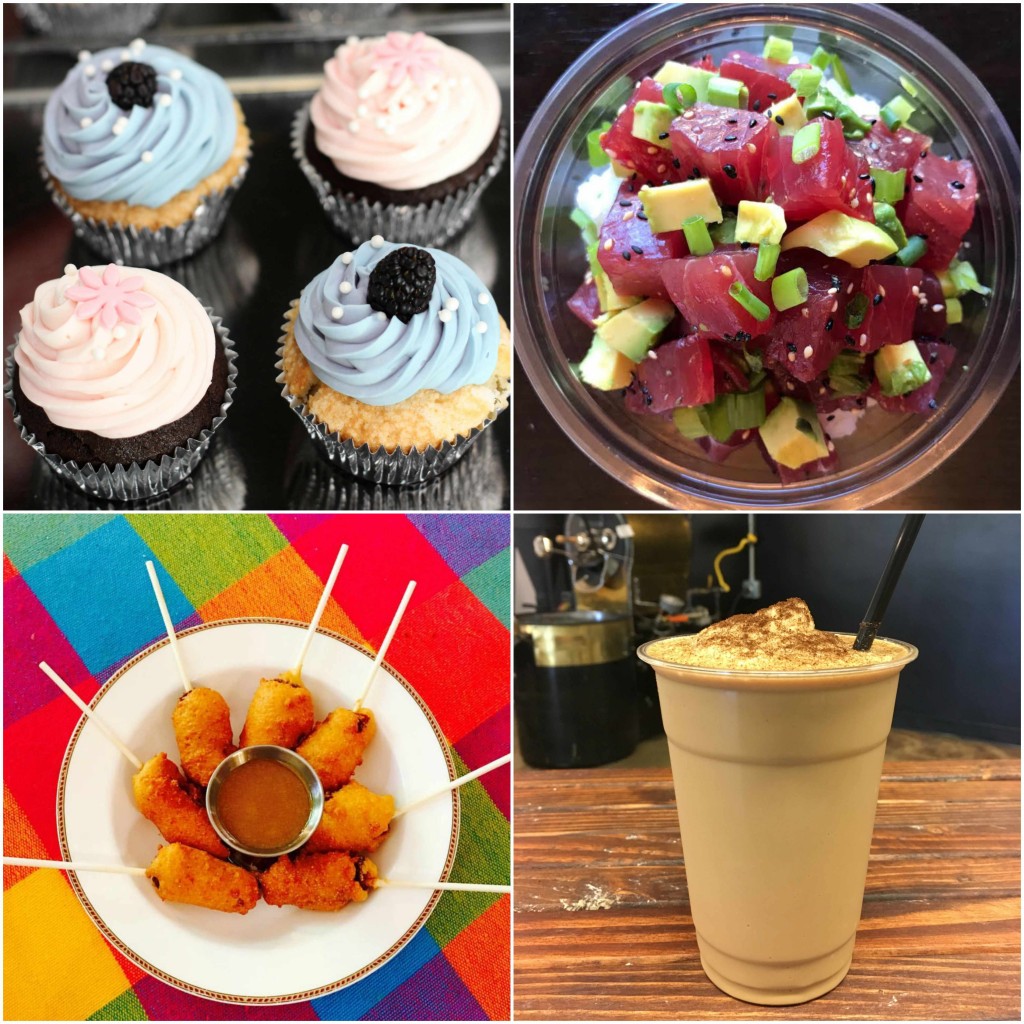 In this week's food news, the founder of a popular hot dog company beefs up fine dining in El Dorado Hills, a Mexican marketplace serves up tamales and flautas in Historic Folsom, and a pastry chef readies her first cake shop at Palladio. Plus, find out where to nab a coffee slushy and the latest place to get your poke fix.
An Honest Pie
This Grass Valley-based mobile food truck run by friendly owner Brenda Janssen is known for slinging decadent mini pies, including a crave-worthy buttermilk variety that made Sactown's list of "30 Things Every Sacramentan Must Eat" in our February/March issue. Now the inventive baker has come up with a new hand-held treat that is giving us all the heart-eyes: breakfast pies. Beginning June 24, at her pie station inside a vintage camping trailer parked at the Auburn Home Depot, Janssen will be serving up a Cheesy Amish Breakfast Pie filled with an egg casserole of hash browns, Italian sausage, cheddar cheese and chives, and Sarah's Rise and Shine Pie, which encloses an egg and two slices of bacon and is topped with melted Provolone cheese. Two porridge pies will also be available in apricot-almond and banana-walnut flavors, and as of Friday morning Janssen was experimenting with two more breakfast options: a biscuits and gravy pie, and a French toast pie capped with streusel. If all goes well, she plans to make breakfast pies available every weekend. Can we get an "mmm"? 7 a.m.-2 p.m. (or until pies sell out). 11755 Willow Creek Dr. Auburn. 530-990-1303. anhonestpie.com
Brissa & Co.
The family behind Carmelita's Mexican Restaurant, which has longstanding locations in Roseville and Fair Oaks, is planning to open a Latin-American market with traditional fare, baked goods and grocery items in Historic Folsom by early December. Brissa & Co., named for granddaughter Brissa Heredia, who's spearheading the project, is still in the construction phase, but Heredia envisions an entryway with cobalt blue doors that open up onto a marketplace offering hot and cold lunch and dinner items, a full bar, groceries, a coffee and juice station and a bakery serving up desserts like tres leches cake and Mexican sweet bread. The quick service restaurant inside the market will serve Carmelita's classics like tamales, chile rellenos and flautas, as well as California fusion items like chipotle macaroni and cheese and chorizo corn dogs with mango lime mustard. Guests will also be able to order café de olla in clay pots, spiced with cinnamon and sweetened with sugar cane, and browse handmade and retail items, from embroidered floral dresses to jars of Carmelita's signature salsa and bean dip. 409 Natoma St. Folsom. 791-3733. facebook.com/brissaandco
C. Knight's Steakhouse
Billed as El Dorado Hills' first steakhouse, this new restaurant is slated to open as early as mid-August in El Dorado Hills Town Center. Proprietor Chuck Knight, who also runs Ruffhaus Hot Dog Co., is planning to serve premium cuts of steak—on plates heated to 500 degrees Fahrenheit—with a splash of butter and sides like spinach soufflé and potatoes au gratin. The steaks will be cooked on a top-fire broiler that Knight says caramelizes the meat and creates a cleaner finish than a conventional wood-fired grill. The bar, adjacent to the dining room, will serve craft cocktails with spirits from El Dorado Hills' Dry Diggings Distillery, as well as vino from Borjon Winery in Plymouth and Boeger Winery in Placerville. Knight says that the 2,200-square-foot steakhouse will be cozy, with just 70 seats, but the décor will reflect the region's larger-than-life Prohibition roots with brass elements, a 40-light chandelier and diamond-tufted booths. 2085 Vine St. El Dorado Hills. 752-8550. facebook.com/pg/cknightssteakhouse
Kingdom Coffee Roasters
Coffee slushies, anyone? This new coffeehouse opened June 16 in the plaza across from Folsom Premium Outlets, serving up espresso drinks and coffee slushies made in a slushy machine with sweetened condensed milk, organic raw cane sugar and cream. Co-owners Will Rentfrow and Ty Manukyan began their coffee venture by roasting beans in Manukyan's garage and culling ideas from Rentfrow's experience in the craft coffee world, including stints as lead barista at Blue Bottle Coffee's Rockefeller Center and Beverly Grove locations. At the pair's first brick-and-mortar spot, the menu includes one drip coffee that rotates daily between roasts from Ethiopia, Guatemala and Indonesia, along with espresso, mochas made with Roseville's Cru Chocolate and cortados served in rocks glasses. At the quartz and granite counter, you'll find pastries in a glass case from Fair Oaks' Grateful Bread Co., including blackberry-brown sugar scones, banana walnut bread and bear claws. 305 Iron Point Rd. Folsom. 287-0240. kingdomcoffeeroasters.com
The Poke Fix
This new poke bar near The Promenade shopping center in Natomas opens in late July, offering signature and build-your-own bowls. Co-owners and brothers Alan and C.P. Pham cut their teeth in the dining industry working at their uncle's former Vietnamese-Chinese restaurant So-An in Folsom as teens. The brothers' poke ambitions only arose after they tried the raw fish bowls for the first time five years ago in Southern California, but they soon found themselves on a mission to sample dozens of poke dishes—including those at Fresh Catch in Honolulu, which was featured on Diners, Drive-Ins and Dives—in order to perfect their own recipes. At the brothers' local venture, diners will be able to pick from signature bowls like the Poke Fix, featuring ahi and spicy tuna, salmon and avocado, or the Classic Hawaiian with ahi, hijiki, masaga, and shoyu sauce. Custom bowls will start with your choice of base (white sushi rice, spring greens or brown rice), protein (like yellowtail, tofu or octopus), and toppings that include pickled ginger, mango and wasabi. The Poke Fix's mod interior will be anchored by a large-scale art piece the brothers crafted from plywood to resemble a fish gill. 3880 Truxel Rd. 204-9601. facebook.com/thepokefix
Pretty Sweet
This pâtisserie is set to open its first storefront in late August in the Palladio at Broadstone shopping center in Folsom. Known for her elaborate custom wedding and birthday cakes, owner Musarrat Afshan, a graduate of New York's Institute of Culinary Education, established Pretty Sweet in 2008 after her time in the kitchen at the erstwhile Masque Ristorante in El Dorado Hills, working under Ginger Elizabeth Hahn (of Ginger Elizabeth Chocolates), whom she succeeded as pastry chef there. Afshan has been selling her Pretty Sweet creations, like lavender shortbread cookies and lemon curd tarts, at her husband Nadeem Syed's La Bou on Howe Avenue, but at the new Palladio location, she plans to sell full versions of her homemade cakes (which use mousse instead of buttercream for a lighter and less sweet filling), as well as individual slices of top sellers like vanilla cake with passion fruit curd and chocolate cake with mocha mousse. Pretty Sweet will also offer grab-and-go desserts like cupcakes, cookies, and scones, in addition to savory options like quiches. The bakery's interior will be splashed with gold, white and charcoal accents and "a little glitter here and there," according to Afshan. 350 Palladio Pwy. Folsom. 952-3043. prettysweet.co
You Might Also Like
First Look: Oak Park's new Bavarian-inspired Oakhaus
10 tasty food festivals to attend in June and July
A new Armenian coffeeshop opens in Rancho Cordova