Taste: The region's latest food, drink & restaurant news for May 25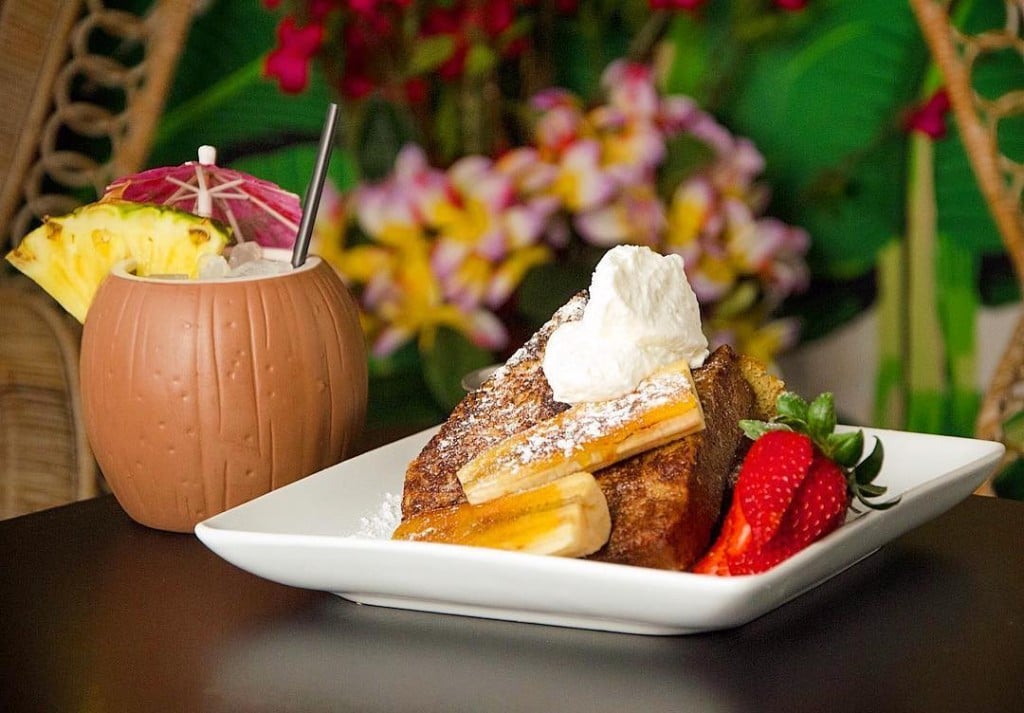 In this week's food news, a popular Italian bistro in Arden-Arcade changes hands, a health-conscious cafe readies to open downtown, a local coffee chain launches a Capitol Mall location, and an ice cream-doughnut sandwich spot opens in Elk Grove. Plus, Rocklin beer enthusiasts have a new watering hole, and beachy brunch service launches at a midtown tiki bar.
Backbone Cafe
With their sons Joey and Tomas, Matt and Yvette Woolston, owners of Carmichael's Matteo's Pizza & Bistro and The Supper Club (which operates the Crocker cafe), plan to open a health-conscious and community-oriented counter service restaurant called Backbone Cafe in a downtown space on J Street at the end of June. Backbone will cater to folks looking to adhere to vegan, paleo, gluten-free and ketogenic diets (as well as soy-free, grain-free and no-added-sugar regimes), using largely certified organic ingredients. The menu will include dishes like curried cauliflower steak topped with cilantro pesto, a vegan "zoodle" (aka zucchini noodle) bowl with avocado Alfredo sauce, vegan oyster mushroom or pork chile verde tacos and a burger made with grass-fed beef, free-range pork, bone marrow cheese and chimichurri-tomato tartare on a sourdough bun. The menu will also feature bone broth by the cup (folks can choose add-ins like free-range eggs and rice noodles) and drinks like keto-friendly butter coffee and Thai iced tea made with raw honey and coconut milk. The interior will feature a filled bookcase and lounge furniture, as well as elements that facilitate community involvement, like a canvas where patrons can add their artistic contributions. 729 J St. instagram.com/backbonecafe
Café Vinoteca
This neighborhood Italian bistro, which first opened in 1994 at the bustling corner of Fair Oaks Boulevard and Watt Avenue, has come under new ownership. On May 24, 29-year-old entrepreneur Stacy Schwarz took over the keys from husband-and-wife team Jim Ison and Janie Desmond Ison, who owned the restaurant for 13 years before deciding to focus on spending more time with their family and managing their other restaurant and retail projects: Steamers in Old Sacramento and the Arden-Arcade children's shop Puddles. Schwarz, who now runs Café Vinoteca with her wife Carla and her mother Janis Cole, began her foray into the food industry at Nugget Markets when she was 16 years old, and later worked her way up from cashier to general manager at the Pete's Restaurant & Brewhouse chain. Schwarz will not change Café Vinoteca's menu of Italian classics, but has plans to install a brick oven for pizza and introduce weekend lunches and delivery service. She also plans to freshen up the restaurant with a new coat of paint and add a weekend brunch menu featuring classics like eggs Benedict, huevos rancheros and crab cakes. 3535 Fair Oaks Blvd. 487-1331. cafevinoteca.com
Old Soul Co.
Old Soul opened its latest coffee shop at 555 Capitol Mall on May 22, and is slated to host a grand opening in early June. The new spot occupies 1,600 square feet of the building's first floor, and co-owner Jason Griest describes the space's interior—which was conceived with design help from Brendan Koon of the Bay Area's Vitae Architecture—as more sleek and modern than Old Soul's three other locations. The new locale features custom steel high-top and community tables and two patios, one of which faces Capitol Mall. Griest says his team is working on a few new beverage options that will be unique to this location, such as a macchiato with almond milk and a piccolo latte, the Australian version of the Gibraltar, the miniature latte popularized by Oakland's Blue Bottle Coffee. In the upcoming weeks, Old Soul is also introducing new entrées, like a citrus shrimp salad and a Thursday farmers' market lunch special using produce from the Capitol Mall market. And for those craving an afternoon pick-me-up, the coffeehouse is offering free public coffee tastings every Friday between 3 and 4 p.m. 555 Capitol Mall. oldsoulco.com
Sweet Puffs Ice Cream
This new ice cream shop, co-owned by husband-and-wife duo Mike and Sherry Le of Roseville, opened April 29 in a strip mall along Elk Grove Boulevard that previously housed a location of the ice cream cookie sandwich spot CREAM. At Sweet Puffs, customers can pick from fluffy plain or glazed doughnuts (or waffles) to create the shell for their "puff," then fill it with their choice of over 20 ice cream flavors like taro, horchata or strawberry swirl cheesecake. From there, puffs can be drizzled with sauces, from Nutella to marshmallow creme, and sprinkled with toppings like coconut flakes, crushed Oreos, mochi or Cocoa Puffs cereal, which Mike Le says inspired the sweet spot's name. 8469 Elk Grove Blvd. Elk Grove. 896-5341. facebook.com/sweetpuffsicecream
The Brass Tap
Run by father-and-son team Ed and Chad Fralick, this craft beer franchise from Florida landed in the Rocklin Commons shopping center May 7. The brew-centric establishment has 48 craft beers on tap, including some prominent local labels like Track 7, Knee Deep and Crooked Lane, in addition to more than 80 bottled varieties. Inside, the bar top is edged with ceramic tiles that mimic the look of heavy steel, backed by a wall of reclaimed barn wood with four large flat screens playing sporting events. Ed Fralick says that the tables, chairs and booths inside the 2,800-square-foot taproom and on the spacious patio have been arranged to make guests feel at home while they devour Brass Tap's signature fare, like house-made hush puppies, five-cheese mac and cheese, beer-battered tempura chicken tenders, and prime rib sliders served on buttered brioche buns with a side of au jus. 5150 Commons Dr. Rocklin. 246-2729. brasstapbeerbar.com/rocklin
The Jungle Bird
In late April, this colorful tiki bar on J Street added brunch to its menu, including five entrées and six specialty cocktails served every Saturday and Sunday between 10 a.m. and 2 p.m. Co-owner Tyler Williams says that the potato-free plates pay homage to the bar's tropical Polynesian theme. That's why you'll find dishes like the loco moco (a grilled beef patty over white rice with brown gravy and a fried egg) and the breakfast fried rice with Portuguese sausage, kimchi, jalapeños, ginger and a sunny-side-up egg. On the sweeter side, there's banana bread French toast and a tropical parfait that's served with seasonal fruit, yogurt, honey and house-made toasted coconut granola. And just in time for warm-weather days, The Jungle Bird has introduced brunch-only cocktails like a passion fruit mimosa, a bacon bloody Mary and the Camellia coffee grog, with rum, coconut cream, coffee from Sacramento's Camellia Coffee Roasters and a cinnamon stick. 2516 J St. 476-3280. thejunglebird.com
You Might Also Like
The Patriot plans July opening at Carmichael's Milagro Centre
The owners of LowBrau to open new restaurant at the Ice Blocks
14 great farmers' markets to visit throughout the Sacramento region