Taste: The region's latest food, drink & restaurant news for October 29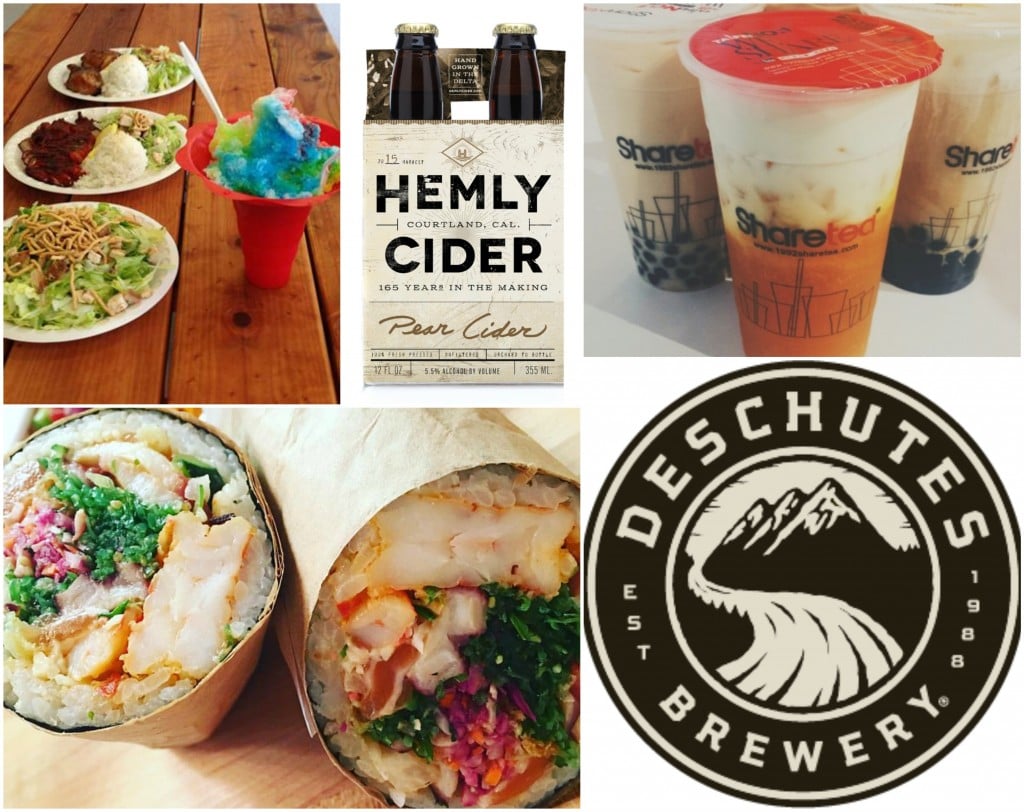 This week: a new boba tea shop opens in Davis, a family-owned orchard in Courtland launches a hard pear-apple cider, a Hawaiian barbecue joint opens in Folsom, a popular Oregon brewery parks its mobile pub in midtown, and a poke-sushi burrito restaurant makes waves in Elk Grove.
Ben's Huli Huli Chicken & Hawaiian Cafe
Almost two months after its soft opening on Labor Day, Ben's Huli Huli Chicken & Hawaiian Cafe will host a grand opening party on Thursday, Oct. 29 from 4 to 6 p.m. at its Folsom location. Owner Kit Syn—a Sacramento native who named the eatery after his 7-year-old son—will give out samples of menu staples like the Huli Huli chicken (huli is Hawaiian for "turn," and the chicken is cooked on a rotisserie over a mesquite grill), Hawaiian Asian salad with a sweet ginger dressing, and Hawaiian ice which is shaved in house and ready to be doused in 15 flavors, including mango and pineapple. Other menu highlights include garlic pineapple shrimp and the fried banana dessert with vanilla ice cream and chocolate drizzle. Syn, who lived in Maui about five years ago, hopes to expand the menu with items like the recently added mac salad and the soon-to-come kalua pork. Free. 6610 Folsom-Auburn Rd. Folsom 415-870-4854. benshulihulichicken.com
Deschutes Brewery Street Pub
This Oregon-based brewery will shut down two blocks of midtown on Nov. 14 to make way for its pop-up street pub, which has been hitting the road in 2015 through seven cities, including Cincinnati, Pittsburgh and Denver. Fifteen of Deschutes' top brews, from the black butte porter and fresh squeezed IPA, will be on tap at the mobile bar as it makes its way through Sacramento. The block party will also feature family-friendly activities like hula-hooping and chalk drawing for kids and plenty of fare from food trucks and Sacramento chefs like Brock MacDonald of Block Butcher Bar and Wesley Nilssen of de Vere's Irish Pub. Plus, three local bands Hans & The Hot Mess, Drop Dead Red and Humble Wolf, will keep the party going and all of the event's proceeds benefit local charity Runnin' 4 Rhett. Free admission. Nov. 14. 2-10 p.m. Capitol Ave. from 17th St to 19th St. events.deschutesbrewery.com
Hemly Cider
Greene & Hemly Inc, a fifth-generation, family-owned orchard in Courtland that has been in business since 1850 and runs 160 acres of organic pears and apples, is releasing a new hard cider beverage that incorporates two of their most popular crops. Hemly's pear cider, a sweet mixture of 60 percent Bartlett pears and 40 percent gala apples, will be available in 12-ounce bottles in mid-November at Tuscan Winery Village in Lockeford and in select Sacramento grocery stores and restaurants soon thereafter. While there are a few pear flavored apple ciders already on the market, cidery president Sarah Hemly says the family hopes their brand will stand out for its use of real pears from trees planted as early as 1870 as the main attraction in the fruity blend. 12740 Locke Rd. Lockeford. 209-797-5060. hemlycider.com
Make Fish
This casual seafood-focused restaurant, from the owner of midtown and Elk Grove sushi burrito hot spots Wrap 'N Roll, will host a grand opening on Nov. 6. The restaurant offers not only the enlarged version of the nori (seaweed paper) wrapped rolls, but highlights another food trend on the rise: poke, a marinated Hawaiian-style fish dish served in colorful, customizable rice bowls. Patrons line up under a sign that beams "Happiness starts here," and approach the create-your-own counter to choose from toppings like mango salsa and watermelon radish. The menu also offers salads and other fusion items like pork belly fries and tuna quesadillas. Mymy Nguyen, who co-owns Make Fish with her fiancé Jimmy Voong, says that to keep in line with Sacramento's farm-to-fork mantra, the restaurant offers local beer and cider on tap and commits to fresh produce. Make Fish, which soft-opened Oct. 16, will celebrate its grand opening with festivities that include free menu items for the first 100 customers. 9015 Bruceville Rd. Elk Grove.
Sharetea Davis
This Bay Area Taiwanese tea and boba shop opened its new Davis location on Oct. 8 to long lines. Popular drinks include traditional items like the mango and passion fruit green tea, the matcha red bean milk tea or the Okinawa pearl milk tea, as well as modern, inventive flavors like Oreo milk tea, Taro ice blended with pudding, or kiwi fruit tea with ice jelly. Owner Tony Lei says Sharetea prides itself in using fresh fruit or fruit puree to sweeten its drinks instead of thick syrups other tea shops use. In 2014, Sharetea opened a successful shop in Berkeley near the University of California, and Lei says that based on its popularity with the college crowd, he decided to open the shop by UC Davis. 207 3rd St. Davis. 415-734-0525.
You Might Also Like
Ella cook launches pop-up pizzeria
A new series of tours takes visitors behind the scenes of wineries and breweries in Placer County
A hot apple cider doughnut stand and six other must-visit spots to hit in Apple Hill this fall