Ten22 launches weekly beer tasting series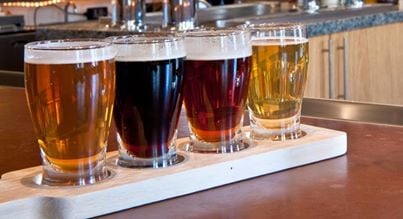 Starting tomorrow, beer class will be in session on Wednesday evenings at Ten22, the Old Sacramento restaurant that's launching a series of midweek tastings around executive chef Jay Veregge's sensational tap list.
The tastings will include six 4-oz. pours from the dozens of rotating selections on hand, which will largely comprise seasonal beers from craft breweries around the region like New Glory and Track 7. "I'll sit down and give them information on the grains, the styles, the hops and where they come from, and the origin of the beer," Veregge says. "We'll sit around and talk and pair some appetizers with it."
Veregge says he hasn't yet determined the specific lineup and food pairings for the tastings yet, but this week's tasting list will emphasize Ten22's red and brown ales before advancing to IPAs and other "fresh-hopped beers with fragrance" on Jan. 29 and continuing on through February and beyond. Tickets are $10 per person and include 25 percent off the food portion of any dinner bill when diners present their tasting receipt.
The tastings run from 6 to 7 p.m. and reservations aren't necessary. There are no attendance caps, either; if the number of guests exceeds the 15 or 20 who can comfortably occupy the front tables near the bar, then Veregge says there's always extra room on the restaurant's back patio. "The more the merrier," he adds.
Visit ten22oldsac.com for more information about the restaurant's Beer Tasting Wednesday and other events.