The Art of the Matter
When a sculpture by world-renowned artist Jeff Koons was selected in March as the centerpiece of the plaza outside the new downtown arena, it triggered an explosion of controversy--and an unprecedented opportunity for civic leaders and local artists to influence the future of public art in Sacramento. Here's how they are attempting to work together to shepherd this nuanced and often heated debate, and how they're racing against the clock to do it. Can they pull it off?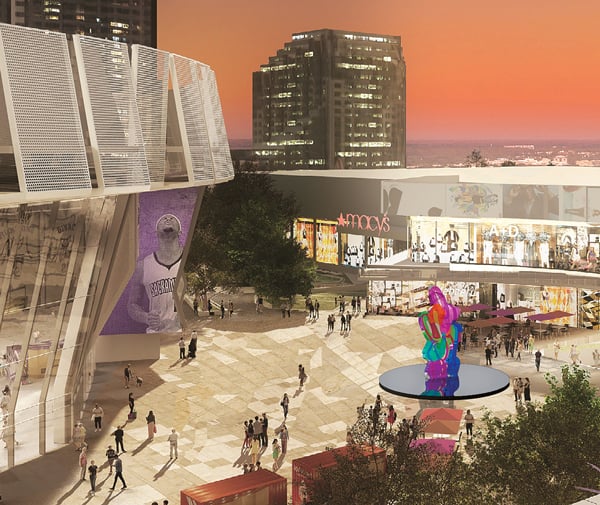 TThe event was like nothing the city had ever seen: Everyone had come out for the art.
The mayor was there, crowded along with the city council and other local leaders, officials, philanthropists, artists, journalists, activists and curious area residents. They had gathered to determine what a new, giant, controversial outdoor sculpture by a world-famous artist meant for downtown. In an unprecedented gesture, city officials had planned to invest heavily in a new plaza that they hoped would become a hub for iconic public art. Still, they sensed a backlash that only seemed to intensify over the weeks and days and even the minutes before this moment—especially as more and more people scrutinized the artwork. After all, the piece wasn't even original, but rather old work from years earlier simply revived by the sculptor for a coterie of private donors. It didn't have any relationship or connection to the city's environment or history. The artist, acclaimed as he was, lived thousands of miles away. To many, his piece, in the end, was just a very expensive, cartoonishly styled hunk of steel plunked in the middle of a sprawling 345-by-220-foot public space. And a lot of people in town just weren't having it.
"The statue represents the power of City Hall—stark, ugly, overpowering, frightening," said one elected leader, who urged the city council to swap the sculpture for a more recognizable monument to a favorite local athlete. An influential newspaper columnist torpedoed the piece, dismissing it as "nothing but a big, homely metal thing." A major art critic wrote that the sculpture was "no tour de force," focusing a chunk of his review on the acrimony and ambivalence among viewers. Protesters roamed the scene with signs and placards.
Still, when the time came for the mayor to speak to the assembly, he was unflappable, saying: "We dedicate this celebrated work this morning with the belief that what is strange to us today will be familiar tomorrow."
And with that, Chicago Mayor Richard J. Daley unveiled an untitled sculpture by Pablo Picasso—the cubist legend's 50-foot-tall hybrid of a woman and Afghan dog erected in Chicago's new Civic Center Plaza in 1967—that became an instant bellwether of how public art would be conceptualized, created, cherished, despised and debated in America for decades to come.
For Sacramentans, this vintage scene might seem especially familiar after events that transpired locally earlier this year. In front of a standing-room-only crowd at City Hall on March 10, Mayor Kevin Johnson and the city council voted 7-0 to approve an $8 million deal to purchase Coloring Book #4, the latest in a series of 18-foot-tall chrome sculptures by famed artist Jeff Koons. The sculpture will be the centerpiece of the plaza in front of Sacramento's new Golden 1 Center—or simply "the arena," as almost everyone regards the building sprouting like an iron weed at 5th and K streets—that the Kings will call home once it opens in 2016.
Like the Chicago Picasso, the Sacramento Koons prompted a spectrum of reactions from leaders, artists and residents alike. (The March 10 council meeting featured an even split of public testimony about the purchase—27 speakers for and 27 against.) "The chance to secure a work of public art that attracts global attention is an opportunity most cities only dream of," wrote Crocker Art Museum director Lial Jones in a Sacramento Bee op-ed. "Look at it this way," explained a letter writer to the same newspaper, "the arena is the cake, and Koons' sculpture is the cherry on top." A booming chorus of naysayers and skeptics disagreed. One local artist, invoking a sexually explicit series of Koons' work from the late '80s and early '90s, went on TV decrying Coloring Book #4 as a "breadcrumb to porn." Another published an op-ed raising concerns about the piece's maintenance needs and suitability for outdoor display. Other Bee letter writers condemned Koons as "a kitsch version of Thomas Kinkade" and dismissed the sculpture as random "plop art" and a "pile of colored cafeteria trays."
When the time came for the mayor to speak to the assembly, he was unflappable, saying: "We dedicate this celebrated work this morning with the belief that what is strange to us today will be familiar tomorrow." And with that, Chicago Mayor Richard J. Daley unveiled an untitled sculpture by Pablo Picasso.
Some in the region regarded the Koons circus as a positive thing. On the one hand, the backlash was simply par for the public art course. (Many in Chicago did jeer Picasso, after all.) On the other, it stimulated a civic conversation about art in a city where large-scale public and private development—from the arena district to the railyards project and beyond—is imminent after years of dormancy and delay.
"I found it thrilling to be in a city council meeting where something like 50 people stood up to debate the role of art in our life and in our society," says Rachel Teagle, the director of the Shrem Museum under construction at UC Davis who is part of the nine-member arena art panel that will solicit and commission the art for the plaza. "I think the Jeff Koons [sculpture] has already been successful as a public art project because it's provoked enough people to get out and talk and think about the role of art in our lives."
Part of the Koons backlash was powered by a narrative that more of the arena art budget should have been reserved for Sacramento-area artists, or at least by artwork inspired by the city, its spirit, or even its campaign to keep the Kings. "I was looking at the Koons piece, and I thought, 'This isn't really connecting,' " says David Garibaldi, the high-profile Sacramento-based performance painter who spoke in opposition to purchasing Coloring Book #4 at the city council meeting in March. "Art is so much more than just the conversation and putting something in public for people to view. I just thought [the council] could do better things with the opportunity. Not the money, not the artist, not where they're from. That doesn't matter. It was an opportunity to use art to communicate a great, inspirational message. That's just where I was coming from."
For artists and culture-goers around Sacramento, the conversation might just be getting started.
In the overall $9.5 million budget for art at the arena plaza, $1 million is earmarked solely for artists in or around Sacramento and the north Bay Area. The opportunity reflects a donation from Marcy Friedman, a leading local philanthropist (and the mother of arena developer and Kings minority owner Mark Friedman) who is also a member of the arena art panel. This summer, artists will submit proposals for panel-recommended sites like LED screens on the arena's massive hangar-style doors, two plaza entrances (two blocks apart on J and L streets), or two sweeping escalator wells that face the plaza through the arena's glass façades. The chosen artists will not only need skin thick enough to withstand the public art bureaucracy and withering attacks historically reserved for public artists in America (from Picasso to Koons and the many far lesser-known artists in between), but also have qualifications to handle both sizable budgets (outlays expected for the proposed arena sites range from $250,000 to $450,000) and tight timelines for the arena opening next year.
Overseen by Shelly Willis, the executive director of the Sacramento Metropolitan Arts Commission, the art panel is racing to recruit, commission and even educate area painters, sculptors and others who might be able to meet such standards. It won't be easy: In three decades, only three artists from the area—Granite Bay-based Michael Riegel in 1988, Davis-based Stephen Kaltenbach in 1999, and erstwhile Sacramentan (and current Chico resident) Michael Bishop in 2006—have received public art commissions over $250,000. Now the city needs to commission at least three in a little more than three months. Willis has spent part of this spring unpacking and illuminating America's grand if turbulent public art tradition—from Depression-era murals to Picasso to Koons—for artists angling for a spot in the arena plan. After an open call for submissions in June, the panel will spend the summer reviewing and selecting artists before officially approving and commissioning designs this fall.
"The criteria that's the most important as far as the arts commission is concerned—and the city and the county—is that it be of the highest artistic quality possible," says Willis, who scheduled open meetings in May and June to showcase the challenges artists face while working in the public realm; some of the events feature workshops for artists with an eye on pitching work for the arena. "Everything else is secondary—whether it's a 'plop art' work of art, whether it's site-specific, whether it's conceptually specific, whether it's by a local artist or not. All of those things are secondary to it being the highest artistic quality possible."
As with that day 48 years ago in Chicago, countless open and perhaps unanswerable questions persist about what will be familiar tomorrow. But today, with Koons on the way, tumult in the air, and the clock ticking on the biggest public art opportunity—and gamble—in Sacramento's history, one key question demands reckoning: Are our artists ready?
***
The city's art officials are hardly strangers to big undertakings or local artists or even outrage, as the $8 million project that placed indelible pieces (including those by Sacramentans Gregory Kondos and Joan Moment) throughout Sacramento International Airport's gleaming, billion-dollar Terminal B will attest. Leap, the airport's $800,000 floating red hare by Denver-based artist Lawrence Argent, drew harsh attacks upon its unveiling in 2011. Like Picasso's sculpture and scores of other embattled artworks before it, it has endured and endeared to become a symbol of the city. Still, public art's history in Sacramento is relatively new, not far removed from generations when the very concept of public art was synonymous with a spirit of stolid, inoffensive commemoration. Artist Judith Baca coined the phrase "the cannon in the park" as a shorthand for this strain of cultural expression—bronze sculptures of political leaders and war heroes (and, yes, cannons in parks), or murals by the Public Works of Art Project documenting scenes of 1930s-era American life.
Technically speaking, "public art" has no real definition. It can be publicly or privately financed or owned (or paid for with some combination of the two). It can reside indoors or outdoors on public or private property. At its most general, public art is characterized as art that's freely accessible to the public. By mid-century, in any case, as modern art swept through postwar America, a conception of public art that was more independent of its surroundings gathered currency among city planners and leaders. Starting in Philadelphia in 1959, many local governments began initiating "percent for art" programs that reserved 1 percent of public construction costs for art on-site. This percentage and its terms vary in cities, counties and states nationwide; Sacramento mandates 2 percent of a building's construction budget (as opposed to administration, design and other costs), thus the original $5.5 million art fund carved from the Entertainment & Sports Center's estimated $277 million construction cost. Private donors, like the funders of the $400,000 Picasso sculpture in Chicago, also began getting in on the action.
"I found it thrilling to be in a city council meeting where people stood up to debate the role of art in our life and in our society," says Rachel Teagle, the director of the Shrem Museum at UC Davis. "I think the Jeff Koons [sculpture] has already been successful as a public art project because it's provoked people to get out and talk."
"There was a shift," Willis says of this era. "All of a sudden, cities and communities and the government were commissioning artworks that were the best artworks possible and putting them into environments outside museum walls."
In this sense, Sacramento's planned addition of a Jeff Koons sculpture to the plaza outside the arena is consistent with a great urban tradition. After Picasso, Chicago alone has installed pieces by such renowned artists as Alexander Calder, Claes Oldenburg, Marc Chagall, Joan Miró and, in arguably its most stunning addition, Anish Kapoor, the British-Indian sculptor whose bulging chrome Cloud Gate—known colloquially as "The Bean"—has dazzled visitors to the city's Millennium Park even since an unfinished version of the sculpture debuted in 2004. Its final cost, estimated at $23 million, reached nearly four times its original budget of $6 million as fabrication and installation expenses mounted between 2004 and Cloud Gate's final dedication in 2006.
The broad if checkered legacy of modern public art in Sacramento trails Chicago's by only a decade or so, stretching back to 1977 when the city created its Art in Public Places program. That year, Sacramento State art instructor Gerald Walburg won a design competition for a piece demarcating the junction between the west side of Downtown Plaza and the pathway leading to Old Sacramento. By 1979, the five pieces of Cor-Ten steel that compose Walburg's Indo Arch took their spot amid howls of disapproval near the intersection of 4th and K streets. Scores of artworks have gone up around the city and county in the three and a half decades since. Some, like the colorful "Fuller Poles" at 16th and Q streets, have proven icons of memory and engagement. They're pieces worth a journey—landmarks where you wouldn't hesitate to take visitors or meet friends. Others, like the garbled Clock Tower sculpture to the south of Indo Arch or the blocky fountains installed at downtown's East End project, have loomed as broken icons of disrepair and ennui. They're the kinds of pieces that might elicit groans from those same visitors and friends: What were you thinking?
This latter reaction can happen anywhere. Perhaps most notoriously, Richard Serra's Tilted Arc—a 120-foot band of steel bisecting Federal Plaza in New York City—was removed from its site in 1989 after years of litigation and debate about the responsibility of public art to its environment (if any). Yet disappointment with public art tends to occupy an outsized place in the collective consciousness of Sacramento. It's not just the arena's historically large public art budget that has captivated the local arts community, but also the psychic stakes—the need to redeem years of inertia by recognizing art for, from and about Sacramento. Sure, Marcy Friedman's million-dollar donation is staggering, but its announcement with the news that eight times that amount—$5 million of it from public coffers, and $3 million from donations by Kings co-owners Vivek Ranadivé, Kevin Nagle and Phil Oates—will be shipped off to a New Yorker like Koons is enough to arouse all the old rankling anxieties. "If [the panel] had just announced, 'We're earmarking a million dollars for local art,' that would have been met with so much happiness and joy," says Merle Axelrad, a critic of the Coloring Book #4 deal who has had her fabric-collage landscapes commissioned as public art at City Hall and the CalEPA building downtown.
"I was looking at the Koons piece, and I thought, 'This isn't really connecting,' " says David Garibaldi, the Sacramento-based performance painter. "Art is so much more than just the conversation and putting something in public for people to view."
Which isn't to say that the frustration over Koons is specifically about entitlement and parochialism, or about Coloring Book #4, or even all that much about Koons. In art, context is everything. In a 2003 article in Sculpture magazine, artist and academic Harriet Senie theorized that much of the contempt for Manhattan's Tilted Arc stemmed from a phenomenon she called "the Velcro factor," in which detractors stuck their frustrations over the circumstances of the art—the impassability and inconvenience of Serra's hulking sculpture blocking the middle of Federal Plaza—to their judgments of the art itself. It's easy to imagine a correlation with the Entertainment & Sports Center, whose opaque politics and quarter-billion-dollar public commitment (particularly without a public vote) drew enormous opposition before Jeff Koons ever entered the picture. In theory, any art in the plaza—whether conceived in Newcastle or in New York City—is just a surface to project continued arena antagonism.
Willis, a veteran arts commissioner with an encyclopedic knowledge of American public art, is sensitive to this context. Nevertheless, she admits she might have been late to it, and was blindsided by the tsunami of second-guessing and recriminations that accompanied it.
"I think that one of the reasons [for the controversy] was that the community felt they didn't know about this—that it sort of came out of nowhere," Willis says. "In public art history, one of the most important things to do is to educate the public about work before it arrives, so it doesn't feel like it arrived overnight—that nobody's surprised. Because really, the public realm is everybody's living room. You don't want to just wake up in the morning and walk downstairs into the living room and have this big thing sitting there. You want to know about it. What does it mean? Where does it come from? Why are you getting it?"
***
Of course, acknowledging context also means acknowledging other, harder realities about the challenges facing the arena's public art process. First, part of Koons' appeal is the assemblage of methods, staff, organization and infrastructure he has in place to fabricate and transport a piece of large-scale sculpture like Coloring Book #4 by the arena's opening day in October 2016. Those qualifications are rarer than you'd think, and they're priced accordingly.
Another reality is that for Willis and other arts administrators familiar with the process, it's practically unheard of for cities to earmark this volume of public art resources to local artists the way Sacramento has with the arena. (It's illegal to geographically restrict public "percent for art" funds; Sacramento is able to do it only because of—and only with—Friedman's private $1 million donation.) Generally, cities don't need to set boundaries, because professional artists want cross-pollination between cities and regions: It means a wider range of possible outlets for one's work. And the majority of calls for public artwork are regionally self-selecting anyway; a $5,000 commission in Pittsburgh isn't likely worth the trouble for an artist from Sacramento.
Not that Pittsburgh wouldn't welcome it.
"I understand why people have a knee-jerk reaction and say, 'We should only be working with local artists,' " says Renee Piechocki, the director of the office of public art at the Pittsburgh Arts Council. "It gets to the whole [appeal of] local food, local everything. But I don't know many artists who want to have a geographic restriction where they can work. Artists want to have the most opportunities they can get. If your best artist in Sacramento gets an exhibition at the Whitney Museum in New York, why shouldn't they say yes?" (In fact, Joan Moment and the legendary Wayne Thiebaud are two Sacramento artists who have done exactly that at the Whitney.) Ultimately, Piechocki says, artists should apply for sites where they're the best fit, geography notwithstanding. "I don't only want to look at artwork by local artists," she adds. "I want to look at artwork by great artists."
Interestingly, Pittsburgh, a city roughly the same size as Sacramento, boasts a marvelous precedent for a major public art project that successfully blends both local and national artists, as well as private and public funding. In 1998, the city's Sports & Exhibition Authority launched a $2 million public art initiative for the renovation of its David L. Lawrence Convention Center. A panel selected the celebrated New York-based artist Jenny Holzer to create its anchor for the project (an $875,000 LED projection that scrolled the text of books about Pittsburgh), while Chicago-based sculptor Tony Tasset and five artists from around the Steel City—out of roughly 200 who applied—provided the remaining artwork. The local commissions totaled $150,000. Meanwhile, another $125,000 was allocated to a purchase program for paintings, drawings, photography, sculptures and other existing work by Pittsburgh artists.
"Not everyone works in giant steel or polished coloring book figures," Piechocki says of the regional commissions. "It was a way to give visitors to the convention center an idea of the talent that we have in our region."
One massive difference distinguishes the Pittsburgh case study from Sacramento's present-day: Pittsburgh had five years to plan, purchase and install public art for the refashioned convention center. This type of advance work is common in public art situations from Chicago's Millennium Park to our own airport, whose development afforded Willis three and a half years to coordinate art for Terminal B. In the case of the arena, the building was going vertical for months before Marcy Friedman's donation was even announced.
"I understand why people say, 'We should only be working with local artists,' " says Renee Piechocki of the Pittsburgh Arts Council. "It gets to the whole [appeal of] local food, local everything. [But] I don't only want to look at artwork by local artists. I want to look at artwork by great artists."
This has led to another of Willis' hard realities, in which she and the panel have to jockey for dibs on prime art sites like the arena's escalator wells—which the Kings' sponsorship team could just as easily claim for a more lucrative rotation of advertisements. "You're working with this live thing that's happening," Willis explains. "So, as time passes, opportunities disappear or become more expensive."
The time crunch would be brutal enough in a city overrun with experienced public artists. In Sacramento, however, it portends perhaps the hardest reality of all: Suddenly, the quickly moving arena plaza has become a testing ground for local artists who have never worked on such a scale.
Their success is hardly impossible or even all that improbable: In 1981, Maya Lin was a Yale undergraduate with no professional experience (let alone a public art track record) when she submitted her design for what would eventually become the Vietnam Veterans Memorial in Washington, D.C. Pittsburgh's artists rose to the public art challenge more than a decade ago for the city's convention center: "We were afraid that Pittsburgh artists wouldn't have the expertise to develop proposals," said one Heinz Endowment executive after the works debuted in 2003. "But it turned out much better than we expected. People were really serious."
Moreover, the Koons deal actually benefits Sacramento-area artists in a way they wouldn't likely have encountered without him: The original $5.5 million budget for arena art didn't promise a dime to local creatives. The expanded $9.5 million budget—boosted by the $3 million from Ranadivé, Nagle and Oates, as well as Friedman's $1 million donation that limits eligibility to artists from 19 Northern California counties—essentially does make that promise. It's true that these counties include more seasoned public artist hotbeds like San Francisco and Alameda, which raises the distinct (and possibly scandalous) possibility that art from Sacramento and its surrounding counties still may not make the arena cut. (Complicating matters further, the remaining $500,000 of the total $1.5 million for "local" art is public money that cannot legally be restricted to the Sacramento region.)
However, that 19-county condition also ensures one huge advantage that artists wouldn't have had otherwise: a one-on-one audience with the city's creative placemakers. For starters, Willis says she and her staff intend to target the arena art panel's outreach and marketing efforts to artists based around Sacramento. This spring, SMAC offers free workshops and tutorials where public art curators from Sacramento and elsewhere will review artists' portfolios and help them polish their pitches. "Let's say the Koons thing hadn't happened," says Liv Moe, executive director of Verge Center for the Arts, the downtown venue hosting the arts commission's series of public art workshops. "You would have had a random slew of commissions that would have been available. I keep trying to tell these guys [who are upset]: Big picture! Big picture!"
Most importantly, if selected for the plaza, their art will have one of the world's most famous and conspicuous neighbors in Jeff Koons—the kind of visibility and magnet that has some Sacramento artists wondering what anyone really has to complain about.
"Suppose you're a local artist, and you get one of the commissions to put work outside the arena as well," says Milton Bowens, a Roseville-based arts educator and mixed-media artist who spoke passionately in support of the Coloring Book #4 purchase at March's city council meeting. "You might not be in front of the arena like Jeff Koons is, but you'll be on the side. Your résumé is going to shoot through the roof because you're going to be compared to a living master. Artists have got to put their best foot forward."
***
Until the artwork takes shape against the landscape, of course, the true big picture for Sacramento is anyone's guess. Civic leaders often forecast the windfalls of local jobs and revenue they expect after public investments on facilities like the Entertainment & Sports Center. Sometimes they even present data and projections to back it up and calm skeptics. Even in cities that have invested heavily in public art—experts commonly cite Chicago, New York City, Seattle, Philadelphia and San Francisco as leaders in the field—the art's broader cultural or economic impacts don't initially receive the same benefit of the doubt, for one significant reason.
"It's free," says Patricia Walsh, the public art programs manager for Americans for the Arts, a national advocacy and support organization based in Washington, D.C. "There are no tickets to sell. It's hard to count how many people see it. The quantifying part of it is hard to nail down. Hopefully one of these days we'll come up with a way to evaluate public art on that level. At this point, as far as I know, there isn't any template or matrix that does that."
That said, studies done on Millennium Park in Chicago—home of the wildly popular Cloud Gate and its celebrated, water-spouting companion piece Crown Fountain—could offer an instructive case study in how a major urban development project with the right art can stir waves of growth in the city around it. Roughly like Sacramento's arena, the park project cost $490 million. In Chicago, 1.33 percent of the park's construction cost went to public art; also like Sacramento, the remainder of the sculptures' combined $40 million cost was furnished by private donations. Between 2004, when the park opened, and 2011, the surrounding area witnessed an estimated $1.85 billion in residential development. (Meanwhile, in Sacramento, more public art will be found in a similar residential district that is already under way on K Street, where a $55.4 million redevelopment project promises 137 units of both affordable and market-rate housing.) Overall real estate values around Millennium Park are estimated to have climbed by at least $100 per square foot over the last decade, and the park remains a cultural hub for locals and tourists alike.
And then there's what Koons and the arena art can mean for institutions like the Crocker Art Museum, whose mission is more explicitly dependent on getting visitors through the door. When you ask museum director (and member of the arena art panel) Lial Jones about this impact, she has her own big picture in mind—literally. It's affixed to her office wall on the museum's second floor: a large map of the downtown grid with a photocopy of the arena plaza schematic taped over the blocks where construction crews are hard at work a half-mile away.
"Capitol Mall is right here," she says, gesturing to the six-block thoroughfare west of the Capitol. With that, Jones begins tracing an imagined art walk through downtown. It starts with the sculptures and monuments already established in Capitol Park, then meanders down the Mall, which would house various pieces and installations on its median. She taps the arena schematic with her right hand—indicating Coloring Book #4 and the rest of the plaza's public art collection—then ranges over to the Crocker, where visitors could view another piece before checking out the museum. She winds up the imagined journey by floating her hand across the Sacramento River.
"There's already work at Raley Field and in front of City Hall in West Sacramento," Jones says. "Then you start to actually put together a really nice [arts] destination. It doesn't exist yet, in full concept, but it's something that we can be growing toward. It's an opportunity that's kind of presented itself, as long as we look at it and say, 'Yeah—let's make it happen.'"
Shelly Willis has her own version of Sacramento's arts future, some conjuring her great love of temporary installations. Last year's virtual-reality project Broadway Augmented, for example, used image-recognition technology and a free smartphone app to superimpose 15 digital, 3-D artworks over a handful of locations along its namesake street. Such a project could just as easily transform the arena plaza for new or even repeat visitors. Either way, she predicts, Coloring Book #4 will transcend the fear, loathing and controversy that has preceded it. "[People] are not going to care how much it cost, or how much came from the donors or how much came from the city," Willis says. "They're just going to want to sit by it. They're going to want to get their picture in front of it. They're going to want to be awed by it. They're going to want to meet somebody at it. It starts to have these other kinds of functions that art should have in the public realm. They're going to say, 'That's art?' Maybe a kid says, 'That's inspiring. I want to go make something now.' "
Meanwhile, Merle Axelrad singles out Sacramento artist Marc Foster and his sculpture La Feuille—the public art centerpiece of the forthcoming McKinley Village community in East Sacramento—as an example of the vision and elegance that could have been at the arena. "It's going to look gorgeous," Axelrad says of La Feuille, which is planned at 20 feet tall—two feet taller than Coloring Book #4. "It's mirror-polished stainless steel. It's these two leaves that will reflect everything. The plan of McKinley Village is like a leaf, so it works on different levels. And then there are these roots that go way out and come up and act as benches." The project's cost, according to Shelly Willis, who is managing La Feuille for SMAC? $100,000.
Still, all the big pictures cohering around Sacramento's public art legacy—from established work like Indo Arch and Leap to the jagged seismograph of reactions around Koons and the arena—will remain inherently abstract until each new creation settles in amid the city rising around it.
Until then, there is Koons and our $8 million conversation. There are his arena neighbors-to-be. There is inspiration and will and fortitude and luck. And there is the power, resilience and evanescence of art itself—the enduring, sometimes crazy belief that what is strange today will be familiar tomorrow.