The Big Picture
In the world of performing arts centers, a funny thing happened on the way to profitability: Hollywood movies. Here's how Sacramento can become a star of stage and screen.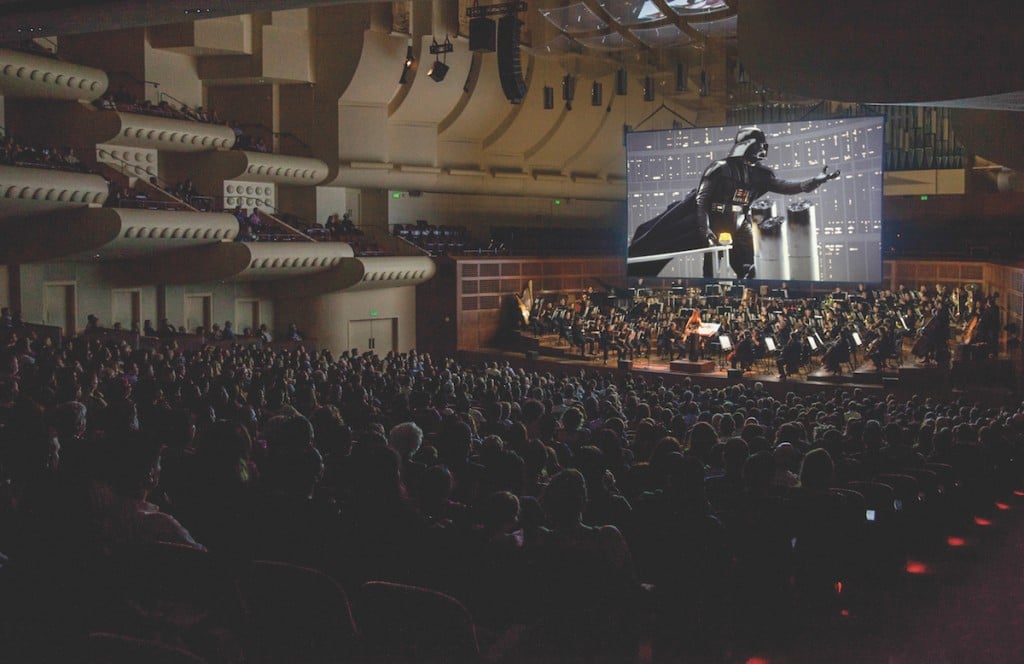 In July, the City of Sacramento will begin work on a 21-month renovation of the Community Center Theater that will cost around $85 million. Honestly, I'm not a proponent of the renovation. I favored demolishing the old concrete box and designing a modern theater on another site that would be more responsive to the needs of both arts groups and patrons. That said, what started as a modest rehab proposal five years ago will be far more expansive than originally planned. So, that's a good thing.
But for all the improved details inside and out—two center aisles, a better façade facing the street, more women's bathrooms—there's still one big picture component missing: a big picture.
Unfortunately, instead of purchasing a projector and film screen—two increasingly essential elements of any new performing arts center—up front, the City is going to continue to require those using the theater (local arts groups, touring acts, etc.) to rent the equipment themselves. The one problem with that logic: Renting projection systems is very expensive, and arts organizations don't have deep pockets.
In fact, when it comes to making money in the performing arts, any expert will tell you it's extremely difficult. But it turns out that one of the hottest (and most lucrative) trends in entertainment venues across the country is screening full-length feature films with a live symphony performing the score in real time.
"Orchestras everywhere are jumping onto the movie-music bandwagon," reported Variety. "The biggest boom has been in the screening of complete films with orchestral accompaniment." That was way back in 2013.
Now, in 2019, film-centric orchestral concerts are even bigger.
In an age of small-screen addiction, it turns out that people love seeing movies on a really big screen with live music. "When high culture and pop culture meld into awesomeness," one patron Instagrammed at a recent screening of The Nightmare Before Christmas staged by the Nashville Symphony. The bonus for philharmonic groups is that these types of shows introduce many people to orchestral concerts for the very first time.
Last year, the San Francisco Symphony's film series—featuring titles like West Side Story and Love Actually—filled up the room on 32 separate nights. "Film concerts sell out," one executive there told me. "We need that revenue coming in to offset concerts that don't sell out." Among the movies on tap this year: La La Land and Close Encounters of the Third Kind.
Charlotte Symphony CEO Mary Deissler, whose company is performing the score to Harry Potter and the Chamber of Secrets in March, told her hometown paper a few months ago, "This idea has been wildly successful in virtually every market, a booming source of new revenue."
In an age of small-screen addiction, it turns out that people love seeing movies on a really big screen with live music. "When high culture and pop culture meld into awesomeness," one patron Instagrammed at a recent screening of The Nightmare Before Christmas staged by the Nashville Symphony.
For its part, the Sacramento Philharmonic & Opera has found success with film scores (sans the actual film) lately. Its Star Wars night—featuring the music of John Williams—will take place on April 27 (you should buy your tickets now), and it will provide a boost to the nonprofit's bottom line. But it hasn't yet invested in live accompaniment of full-length films.
The group's executive director Alice Sauro cites two major financial obstacles in its way—licensing fees to display the movies, and expensive projector and screen rental costs. There's nothing we can do about studio licensing fees, but one thing that is in our power is to give our local arts groups every chance to succeed. The Sacramento Philharmonic & Opera has struggled mightily over the decades, but under new leadership, it has seen a recent resurgence. Unless we want to become one of the biggest cities in America without a major symphony, we need to fuel that comeback. Many others are making that investment.
In Lubbock, Texas (metro population of about 300,000 compared to Sacramento's 2.3 million), the team building the new $154 million Buddy Holly Hall, which will open next year, plans to outfit its 2,200-seat theater with a projection system, both for local groups and touring shows. "Our attitude is, 'What do we need to do to get the good stuff?' " says director of marketing Michelle Stephens. She says they want to make sure they don't have to say no to any profitable tours that need that equipment. She adds that theater consultants have advised them that video is becoming increasingly important, especially for younger patrons. "You've got to the think of the audiences of the future," she says.
Likewise, Lubbock Symphony CEO Galen Wixson says that projecting images is part of his company's long-term plan. And it's not just about presenting Hollywood films, but also about making orchestral concerts more engaging. "Symphonies have been experimenting with screens for many years now to add a different layer to what has traditionally been a listening-only experience," he says. "During performances, we can employ cameras to show sections of the orchestra when they have the melody, or a close-up of a single performer or guest artist during a solo. And of course, the orchestra can perform the score while the movie plays on-screen. The possibilities are endless."
When San Antonio's Tobin Center opened in 2014, it purchased a projection system that it uses for everything from rock concerts to operas to, yes, live soundtracks to films. Aaron Zimmerman, its VP of programming, says, "We use it all the time. My gut says we use it 50 times a year. It's important."
Over in Salt Lake City, Jeff Gwilliam, director of operations for the Salt Lake County Center for the Arts, says the group uses its projection capabilities for everything from TED talks to business meetings. "In my opinion, owning a screen and projector opens up a large number of events that would [otherwise] turn away," he says. Gwilliam explains that not only are the rental costs high, but so are the labor costs to install and remove the equipment, especially when it needs to be removed after normal business hours, triggering overtime rates.
Closer to home, both of the other major performing arts venues in our region, Davis' Mondavi Center and Folsom's Harris Center, opened with a projector and screen when they launched in 2002 and 2011, respectively. In 2016, the San Francisco Symphony performed to a full-length showing of E.T. the Extra-Terrestrial at the Mondavi. I was there, and it was extraordinary.
Of course, an investment like this wouldn't simply be for the Philharmonic & Opera. Both the Sacramento Ballet and Sacramento Speakers Series have indicated they would use—and save money with—a theater-owned projection system. Brandon Weber, who founded Sacramento's TEDx events, has put on two productions at the Community Center Theater, and says he'd be more likely to use the space again if he didn't have to rent a projection system.
So what would a new a digital projector and screen cost?
The City of Sacramento priced them out and came up with an estimate of about $150,000 before ultimately deciding not to include the system in the renovation budget. It's expensive, sure, until you consider the cost of rentals. One Southern concert hall operator told me that his company spends between $15,000 and $35,000 to rent the equipment for its symphony's film series for a two- to four-night run (movies require more powerful projection systems than say, ballet companies or speakers series do). As a result, the company is now looking at purchasing the equipment.
Here in Sacramento, the recently renewed Measure U sales tax will generate nearly $50 million annually. Those dollars will begin flowing into the City's general fund this June. The mayor and city council have said many times that the arts are a priority. If that's still the case, this investment is an absolute no-brainer.
After all, why spend $85 million on a better patron experience in the new theater if we're not doing everything we can to create more patron experiences? A projection system that would help the theater thrive would cost a mere 0.18 percent of the project's total budget. Let's do the right thing and not place additional burdens on the shoulders of nonprofit arts groups, but rather plant the seeds of success from the outset.
It's time, Sacramento, to focus on the big picture.
View this post on Instagram
A post shared by Katie (@katiecarterart) on
View this post on Instagram

A post shared by Lori Bates (@bates1840) on