The Brutalist Truth
Sacramento is brimming with optimism these days, but a proposal to spend up to $80 million to fix one of our city's worst buildings is recklessly pessimistic. It's time for this plan to exit stage left.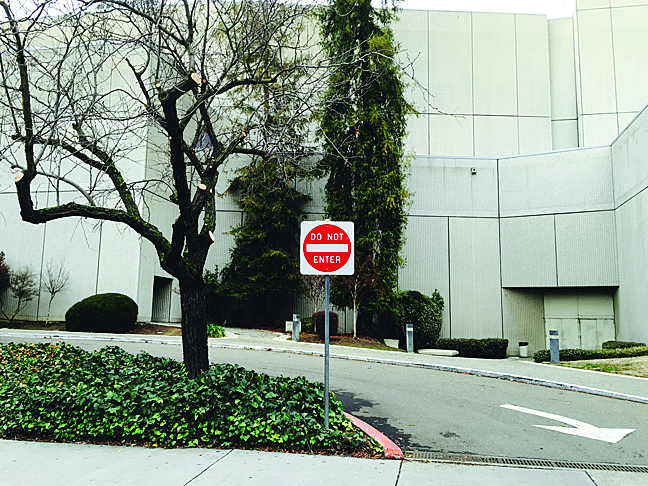 L
Last March, Jerry Seinfeld was performing at the Sacramento Community Center Theater, and right off the top, he went after the building. He joked—and I paraphrase—"What, you couldn't even get Doritos to pony up for naming rights here? C'mon, people."
Sadly, he was right.
It only took about 10 seconds for an outsider to sum up the sad state of affairs surrounding Sacramento's primary performing arts center.
And in the coming months it may take only one City Council meeting to lash this concrete behemoth to our ankles as we drown in a sea of missed opportunities. By the end of March, the council may take critical steps toward refurbishing the Community Center Theater (CCT) at a cost of many tens of millions of dollars—far more than once expected.
But let me back up. Over the past decade, city officials have been wrestling with the civic embarrassment that is the CCT. Performers and audience members have long complained about the acoustics; the loading bay is too small; the backstage is too cramped; and there certainly aren't enough women's bathrooms. (In what other city do many patrons actually need to leave the theater to use the restrooms in an adjacent building?) The list of its inadequacies is impressive.
The upshot is that out of 365 days per year, performances are held there on only about 90 of those days (mostly by the Broadway Series and Nutcracker), leaving a jaw-dropping 275 empty days per year.
It wasn't until 2008, however, when a lawsuit was filed against the city for not providing wheelchair seating close to the stage, that a sense of urgency emerged regarding renovation. In 2010, the city was considering a $40 million refurbishment plan, and by 2014, three proposals were presented to the City Council, ranging from $11 million to $52 million. The smaller amount was geared primarily at addressing disability issues, while the costliest amounts included new carpet, seats, women's bathrooms, electrical systems, etc.
But even at the $52 million level, the refurbishment not only didn't address acoustical concerns—in a concert hall!—but it ignored the option of tearing down the building altogether and starting from scratch.
At the time, I had made the argument that the state-of-the-art Mondavi Center in Davis was built in 2002 for $61 million, and while a larger theater here would cost considerably more, it was time that Sacramento took that leap to regain the performing arts footing it had lost to Davis and Folsom over the years. Sacramento has, by and large, all but ceded the majority of major performing arts events to the suburbs, and at a time when the city is investing deeply in its downtown.
Part of the problem has been that the CCT was designed as a one-size-fits-all model. At 2,400 seats, it works perfectly for hosting touring Broadway shows, but it's far too large—and expensive—for other resident arts groups like the ballet, philharmonic and opera, which, like their national counterparts, draw smaller audiences.
According to a 2012 study on Austin's new performing arts center by the University of Chicago, "a hall that is too large for a given company's audience leads to a loss of intimacy and has a pronounced psychological effect on both the performers on stage and the audience members sitting in a half-empty theater."
That's why one of the newest trends in modern theater design is a flexible-seating format with retractable chairs and walls. San Antonio followed this model with its new theater that opened in 2014, which features seating that expands from 1,750 seats to 2,100. This kind of format also allows for "flat floor" events like weddings, conventions and other revenue-generating options that don't exist with traditional theater designs.
Another problem may be somewhat more subjective, but no less important. Our city's primary performing arts center is, quite simply, about as ugly as you can get.
This is a structure built in 1974, that even the most ardent preservationists—and I count myself among them—have at least some difficulty defending.
Not only was the building constructed during the short-lived, and now largely maligned architectural movement known as Brutalism (named for the "brutal" façades comprising the movement's signature gray concrete walls—then a technological novelty), but its design also defies every lesson we've learned about contemporary theater architecture in the decades since.
Today, modern performance facilities of all kinds—including downtown's arena—employ liberal use of steel and glass to open up these civic spaces to the cities surrounding them. The idea is that the passersby outside see exciting things happening inside the theater, and patrons inside see the movement and twinkling lights outside. As our walls become more porous, the city becomes more connected. This type of structure creates a civic experience rather than simply doubling as a dark box that doesn't play well with others.
But looks aside, the CCT has also become a shell of its former self in terms of the number and quality of performances—the lifeblood of any performing arts center.
In fact, Seinfeld is one of the increasingly rare national or international acts that even plays Sacramento anymore, thanks to the Mondavi Center and Folsom's Harris Center, both of which have extraordinary theaters as well as arts presenting organizations that fill their schedules.
I actually worked at the Mondavi Center back when it was called UC Davis Presents (UCDP). This was years before the Davis theater was built in 2002, back when UCDP booked its biggest acts in Sacramento. And I can tell you firsthand that the benefits of having the world's greatest performers playing in your city are significant.
One day, in 1994, I was asked to pick up a 32-year-old jazz trumpeter named Wynton Marsalis from the Hyatt Regency and drive him to Sacramento High so that he could lecture and play for the students there. I was fortunate enough to stay and watch. As inspiring as it was to me, imagine how it must have impacted the hundreds of young students in the auditorium.
So, not only were world-renowned artists then staying in Sacramento hotels, eating at our restaurants, selling out our concert hall, and bringing 2,400 people to downtown Sacramento, but our children were also getting music and life lessons from some of the world's greatest teachers—an intangible benefit of incalculable value.
Those days, unfortunately, have largely ended for Sacramento.
But it doesn't have to stay that way.
Not if we invest wisely. Not if we exercise even a modicum of vision.
The first step is to throw the refurbishment plan out the window (assuming you can find a window in the CCT; good luck with that).
Refurbishment would not only deprive Sacramento the opportunity to create a stunning piece of architecture and urban design that would keep downtown's momentum going, but it would also deprive the city of placing a new theater in a location where it could incent adjacent investment in residential and retail projects (the CCT lot is currently penned in, precluding any future developments that might be spurred by a new theater there).
Another critical reason for moving the theater somewhere else is that the convention center needs room to expand to stay competitive with other cities. Moving the theater allows that happen.
Where should it go? There are several viable sites, although the leading contender at the moment is Lot X—currently a parking lot at 3rd and Capitol Mall that is owned by the Sacramento Kings. Virtually adjacent to the Crocker Art Museum, it has the potential to add to the burgeoning entertainment hub near the arena a few blocks away. It would also be a major leap forward for the efforts to transform Capitol Mall into a vibrant boulevard.
Refurbishment would also deprive Sacramento the chance to design the kind of theater necessary to help the city attract a major arts presenting organization. For instance, the team at the Mondavi Center has already expressed interest in programming a Sacramento venue that could bring the world's best performers back to the capital city. Even the Sacramento Ballet has, for some performances, turned to the Mondavi Center—a higher quality and more affordable venue. When it comes to the performing arts, Sacramento has become a cultural afterthought in the region.
Merely refurbishing the CCT would be, in no uncertain terms, an admission of defeat.
Even if fully refurbished, the CCT would reign as Sacramento's ultimate monument to mediocrity. If the new arena is the city's biggest urban design victory in generations, a gussied-up CCT would surely be the city's biggest setback.
And time is running out to do something about it.
In 2014, the City Council again came perilously close to spending $40 to $50 million to renovate the theater before Mayor Kevin Johnson interceded, asking for a year's extension to explore the potential for a new performing arts center. Virtually every major—and minor—arts organization in the city endorsed that decision; almost none of them wanted a refurbished theater. And with the council's blessing, Mayor Johnson formed a task force to explore what kind of new theater complex would best suit our city, where it might go, and what potential funding mechanisms might look like.
I served on that task force for nearly a year, meeting dozens of times with the mayor, consultants, and some of the region's top arts and business leaders to try to answer these questions. The endgame was that, once our research had concluded, the mayor would take on the biggest task of all and, as he did years ago with the Kings, go hunting for the whales that could finance this effort.
Long story short, with Major League Soccer knocking on our city's front door—whales already in tow—and with a number of other unfinished initiatives in the pipeline before his final term is up this year, the mayor recently stated that he would no longer be able to personally helm the effort for a new performing arts center. Feeling he couldn't see it through before leaving office, he handed the matter over to the city.
The immediate result was that many supporters of this endeavor collectively shrugged their shoulders, assuming if he couldn't do it, then Sacramento couldn't do it.
I'm here to tell you that nothing could be further from the truth.
If that were the case, I'd be the first one to pack my bags. Because if we begin to believe, even for one moment, that we can't make important, game-changing projects happen in this city without our high-profile mayor leading the charge, then why ever aspire to swing for the fences again?
Besides, the mayor has told me that he still very much wants a new performing arts center to happen here in Sacramento.
But that's not why we should do this.
First, supporting and funding the arts are critical components to a healthy, vibrant metropolis. The arts stimulate our economy, create jobs, and help attract businesses and the coveted "creative class" to the region.
Second, we now have the opportunity to design a truly landmark building, one that serves our arts groups far better than the CCT does today or ever could; one that interacts with the city surrounding it by becoming a magnet for residential and retail growth; and one that is so visually and experientially compelling that it invites the city to take part in the arts on a daily basis.
Some of the newest performing arts centers being built around the country, for example, include public spaces that invite anyone to come sit on a great lawn and watch films or performances projected on the façade of the building. That can't happen at the CCT's current location.
Or imagine being able to see through the building itself, perhaps via a glass wall that exposes the philharmonic or ballet to those on the street who could listen in with apps on their phones. Think of the thousands of schoolchildren from all economic backgrounds who could attend music and dance performances for free that way.
On a tour of Nashville's symphony hall, I was told that the single biggest indicator of whether an arts patron was likely to become an arts donor was if they were exposed to the arts as kids. So it follows that if we expose more children to the arts in Sacramento, more of them will support the arts here as adults. A new theater has more potential to make that possible.
Despite that fact, as we speak, the city is sharpening its pencils to determine the cost of refurbishment, which has now risen from a peak of $52 million to a number likely much closer to $80 million.
That's a huge chunk of change for a facility that won't create a fraction of the financial and cultural ripple effect of a brand new theater run by an experienced performing arts presenter.
And if you think Sacramento isn't up to the task, then you have to wonder how other cities are making it happen.
Salt Lake City is currently building a 2,500-seat theater for $119 million that was designed by César Pelli and will open this fall. San Antonio opened the beautiful Tobin Center for the Performing Arts in 2014 at a cost of $203 million. (By the way, it delivered a surplus in its first year of operation.) In 2008, Austin opened the $77 million, 2,400-seat Long Center for the Performing Arts as the first in a phased, multi-theater complex, and will add a 7,000-person outdoor performance venue this spring.
Notably, the metro populations of Sacramento and San Antonio are virtually identical, and both are larger than either Austin or Salt Lake City.
So now is the time for philanthropists, visionaries and city builders in Sacramento, be they individuals, foundations or corporations, to step forward and lead the charge, much in the same way Golden 1 Credit Union stepped up with its 20-year, $120 million naming rights deal for the new downtown arena. A single $20 million naming rights deal for a new performing arts center would kick things off nicely.
If the city is planning nearly $80 million in refurbishment costs for an old, substandard building, then why not put that amount toward a new flexible-seating center that will lift the arts, push downtown further ahead, and pay dividends far beyond what's possible with our current structure?
When you factor in the lost opportunities, the refurbishment plan isn't just ill-advised and shortsighted, it's no less than fiscally and civically irresponsible. It ignores the needs of the majority of our region's arts groups, and robs the city of an extraordinary economic and cultural catalyst.
Thus, it's incumbent upon the members of the City Council, the current mayoral candidates, and the city's philanthropic and corporate communities to take a stand in defense of the future of Sacramento's cultural environment.
It was a funny moment when Jerry Seinfeld suggested that our theater couldn't even attract a tortilla chip company endorsement. But there's nothing funny about wasting our taxpayer dollars on a structure that will hold us back in countless ways for decades to come. I'd rather wait five years for the right building than get the wrong one in two years. As a city, we should be raising the bar on everything we do, not lowering it.
There's an extraordinary new level of energy and confidence in Sacramento these days. With the Crocker's recent expansion, we finally have the art museum we deserve. With the Golden 1 Center, we will finally have the arena we deserve. And now we're on the verge of landing a major league soccer team, with a new stadium to boot.
But when it comes to the performing arts—one of the biggest drivers for a city's ability to draw the highly desirable creative class—we seem content to play second fiddle in the name of expediency and self-doubt.
That needs to end today.
In sports, Yogi Berra famously said, "It ain't over 'til it's over." With the Kings, we learned exactly how true that was. We didn't give up. And now, looking back, who can possibly imagine a "refurbished" arena?
So let's take a cue from Yogi's operatic counterpart and remember that when it comes to the performing arts, it ain't over until the fat lady sings.
Sure, there may be a little drama along the way, but let's keep our civic momentum going and end this story on a high note.