The Cabin, a cozy camping-themed bar, to open soon in midtown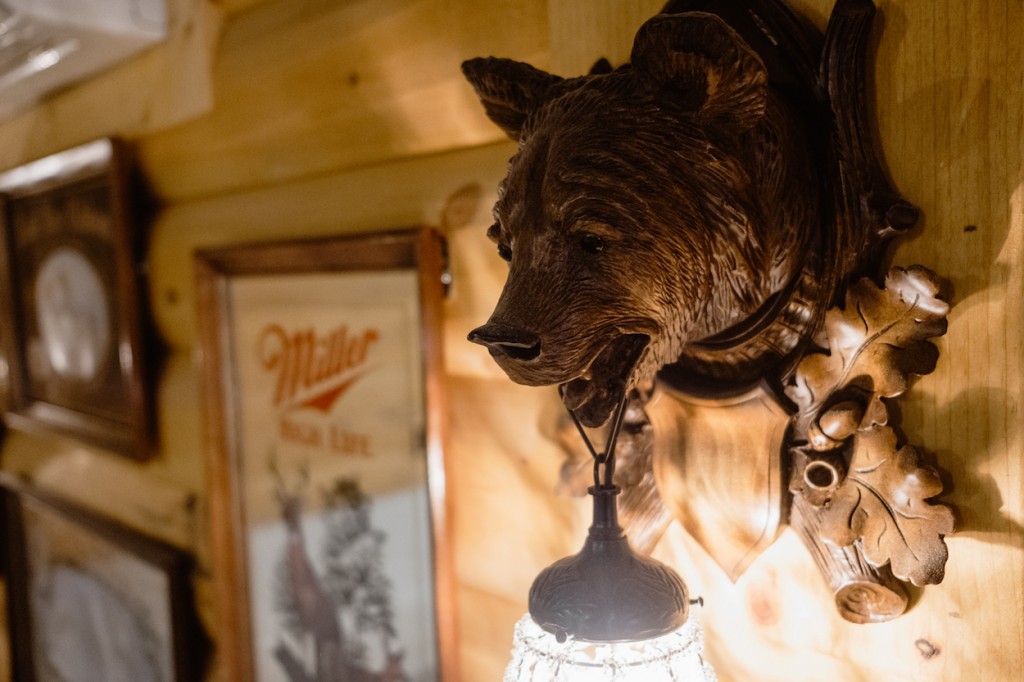 With a chill in the air, there's no better time to warm up in a cozy mountain chalet with a steaming mug of spiked hot chocolate. Lucky then, that The Cabin, a new camping-themed bar—think logs, taxidermy and s'mores martinis—is set to open in early February.
The Cabin, located on 21st Street between L and Capitol and steps away from Kupros Craft House, comes from the team of Eric Rushing and Bret Bair, who opened the R Street live music venue Ace of Spades in 2011. The prolific pair also own Goldfield Trading Post and Holy Diver, and have a stake with other entrepreneurs in the retro, vinyl-record-themed B-Side.
Rushing says the inspiration for the concept for The Cabin came from Los Angeles' Bigfoot Lodge, which is themed like a Pacific Northwest lumberjack's paradise, tongue planted firmly in cheek. The wood-slathered tavern where the bartenders (many sporting thick hipster beards) dress in Pendleton plaid, seems like the kind of place Sasquatch himself might care to bend a furry elbow.
"I just fell in love with it," Rushing says. "There's just kind of an over-the-top concept where they didn't just throw a couple things on the wall—it is overdone very well."
Rushing, Bair and a third partner, Eddie Meehan, found a small space on 21st Street (formerly Bonehead Tattoo), and gutted it for a studs-out remodel. Whereas the Bigfoot Lodge (and Portland's Doug Fir Lounge, also on Rushing's radar) imported that Pacific Northwest theme, Rushing looked closer to home, to the Sierras, for The Cabin's design ethos. "It's like stepping into a cabin in South Lake Tahoe," he says. "We've got a custom-built bar that has a massive live-edge redwood countertop, and a custom log-built back bar. All of our walls are logged. We built a river rock fireplace. All the furniture is hand built."
The interior will exude cabin-kitsch with lantern-style light fixtures, fish and game taxidermy, and even an indoor "patio" area with Astroturf, patio chairs and a bench swing for two. All of the barstools were handmade by Amish artisans in Pennsylvania. Even the view is themed. Sacramento artist John Horton painted a forest-scene outdoor mural that's visible through the south-facing windows. The trio hired interior designer Whitney Johnson of MTA Inspired Spaces (think Kru, Hook & Ladder, Bottle & Barlow and Shady Lady to name a few of the spaces she's sprinkled her fairy dust over) to consult in the background and provide design cohesion, but Rushing spearheaded the space's vision himself.
The bar will have eight taps rotating local brews like Moonraker and New Glory, along with 22 beers in cans or bottles. Rushing worked with mixologists Wolf Braunreuther (of Goldfield) and Tajz Wells (formerly of Block Butcher Bar) to create an equally rustic cocktail menu, feauturing more than a dozen signature drinks, including the seasonal Sweater Weather, a blend of Ketel One peach-and-orange-blossom-flavored vodka, ginger syrup, lemon, honey syrup and orange flower water that's served hot during these blustery winter months, as well as spiked hot chocolate and a s'mores cocktail with marshmallow vodka and a toasted marshmallow garnish.
"[Another] one of our signatures is called Bobbing for Apples," Rushing says. "It's Bulleit rye, Averna Amaro, apple cider, lemon, brown sugar syrup, Luxardo Maraschino and two dashes of Angostura bitters."
Whether you decide to lace up those leather boots and trek in on foot or take a Lyft, you can leave the trail mix behind. Operating sans-kitchen, the bar will offer up a small menu of "really cool craft snacks," including two kinds of locally sourced beef jerky, one from Finz & Featherz (owned by local UFC fighter Chad Mendes) and the other from Midtown Jerky, although Rushing is intent on keeping the whole lineup under wraps until opening day. "That part of it is kind of a surprise."
Opening day hours Friday, Feb. 8, 4 p.m.-2 a.m. Regular hours, Sat.-Sun. 11 a.m.-2 a.m. 1207 21st St. thecabinsac.com
You Might Also Like
The Double Barrel Smokehouse to reopen and quintuple in size
Sactown's Year in Food: 2018
Owners of Binchoyaki plan new bento box spot