The City of Trees: A Love Letter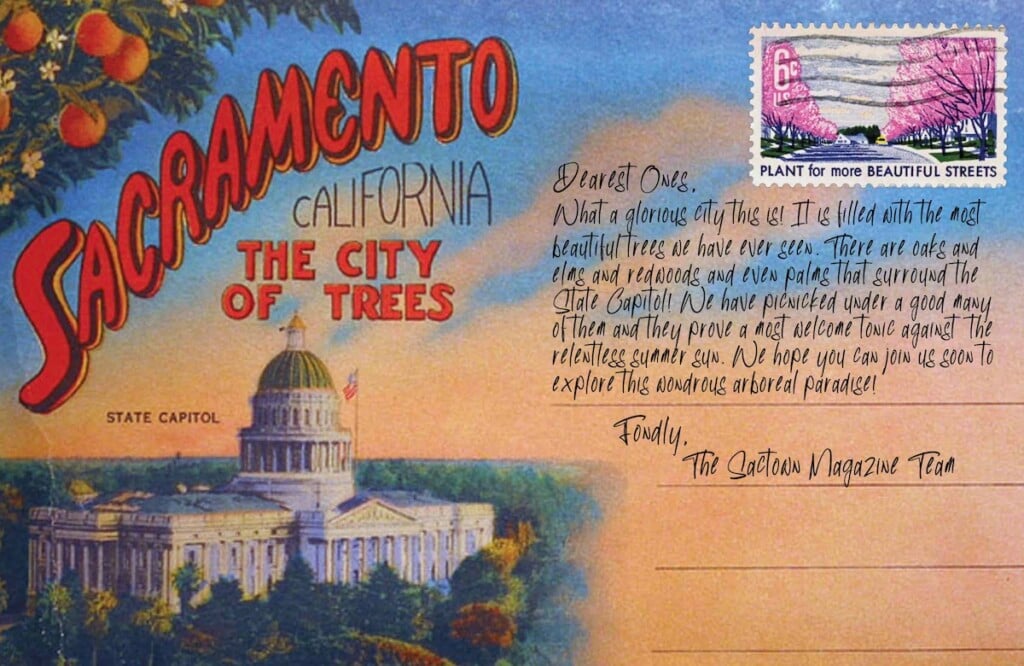 Dearest Ones,
What a glorious city this is! It is filled with the most beautiful trees we have ever seen. There are oaks and elms and redwoods and even palms that surround the State Capitol! We have picnicked under a good many of them and they prove a most welcome tonic against the relentless summer sun. We hope you can join us soon to explore this wondrous arboreal paradise!
Fondly,
The Sactown Magazine Team
OUR NICKNAME'S DEEP ROOTS
By Hillary Louise Johnson
Settle in under the shade of a leafy oak. Here's the story of how Sacramento came to be the City of (a Million) Trees.
OOnce upon a time, there was a land called the City of Plains. Yes, Sacramento's riverbanks were shaded by mighty sycamore, cottonwood, oak and willow trees, but beyond the riparian zone, the natural landscape was, as one 1837 explorer described it, "a sea of grass."
That grassy swamp had early settlers contending with fires, floods and summer temperatures in the teens, along with epidemics of cholera, malaria and encephalitis. Tree root systems dried up mosquito breeding grounds, while their canopies offered respite from the brutal sun, so while the first wave of gold rushers were just passing through, those arriving with plans to put down their own roots here quickly planted troves of new trees at first out of basic necessity, but then increasingly out of a need for beauty.
This was the weather report in the newly founded Sacramento Bee (née The Daily Bee) on March 4, 1857:
Yesterday was one of the most gorgeous days ever experienced in the delightful Sacramento Valley. The air from the north was mild and balmy, and all nature seemed to revel in the glorious sunshine that covered the earth. The thousands of fruit trees in the city are in full bloom, making sweet perfume for all who can obtain time to inhale the delightful odor from spring blossoms, and the thoroughfares of town were lively and gay with the graceful forms and fair faces of our city belles.
In just 20 years, the rough-and-tumble City of Plains had blossomed into the paradisiacal City of Trees—a moniker that began showing up around 1855. John Sutter Jr. included a dozen treed squares when he platted the city in 1849, and Bee editor Tames McClatchy and his successor, son C.K., were both such ardent arboreal boosters that crimes against trees (e.g., a laundry line causing damage to a cottonwood!) appeared in the paper, and a fallen tree of note might receive an obituary notice. In the 1880s, leafy neighborhoods with names like Curtis Park and Oak Park sprang up along trolley lines.
Over a century later, despite climate change, we're in a modern-day tree renaissance. Contrary to very popular belief, Sacramento isn't second only to Paris in trees per capita. Rather, according to MIT's Treepedia, the City of Trees smokes the City of Light with our much more robust tree canopy, which is about 20% to their mere 8.8%. And a 2018 report commissioned by the city—which estimated that we're home to one million trees—revealed that our canopy coverage had increased by a third since 2004. But there's still room for growth.
With a total potential coverage area of around 40%, we could still double our tree population. Today, the Sacramento Tree Foundation recommends the "Shady 80," a list of the best trees for our region, which is sortable by attributes like fast-growing and "water wise," and in partnership with the organization, SMUD provides up to 10 free trees to every customer, given that mature shade trees can save residents roughly 10% on energy bills.
But adding urban trees can be tricky, even without drought. "Our native oaks don't need a lot of water, but they do need a lot of space, so it's much more difficult to retrofit a city than it is to start from scratch," says UC Davis landscape and urban ecologist Mary Cadenasso. "You would need to design the front yards, the street-sidewalk combination a bit differently. If houses are built close together it's difficult to have a big tree."
Home builders and developers take note: That extra effort to accommodate trees may pencil out. Sacramento's inventory of over 100,000 public trees provides over $10 million a year in value by filtering carbon dioxide out of the air, slashing energy consumption, intercepting millions of gallons of stormwater runoff, and substantially increasing property values.
Each public tree—which make up about 10% of the local tree population—pays dividends worth around $120 annually. Add the other 90% that grow on private property, and you could almost say that money does grow on trees. At least it's clear they remain an excellent investment, although the currency may take the form of precious drops of water. "Even if you might be reducing water use in your yard, continue to water your shade trees," Cadenasso warns, "or you will lose them."
Indeed, the combination of years of drought followed by destabilizing rain and winds became a deadly combination during the January 2023 storms, when we lost around 1,500 trees. "Trees protect us from storms, but when a storm is severe enough, you're going to have damage," city historian Marcia Eymann explains. But she says that reports depicting Sacramento's trees as having gone rogue Sharknado-style were a bit off-base. Big storms aren't unheard of historically—in 1938, a storm felled 6% of the city's 15,500 trees, and another in the 1990s was equally devastating.
The consensus? Come drought, fire or atmospheric river, just keep planting. With Sacramento getting warmer every year we just logged our hottest day on record last year (a scorching 116 degrees) it's clear that we need trees more than ever. So like our city's founders did a century ago, we should continue to grow more sycamores, cottonwoods and oaks to stay made in the shade for the next hundred years and beyond.
A FROND FAREWELL
By Stu VanAirsdale
How do I love thee? Let me count the unexpected ways. As he prepares to uproot himself from Sacramento, Stu VanAirsdale pays a surprise tribute to his favorite tree, a "perfect" palm in McKinley Park.
PPalm trees in Sacramento are generally the worst. What's the point? They provide almost no shade. Their brownish-green fronds cluster like manes beneath their crowns, then shed and litter the ground like trash in the slightest sustained winds. They don't grow bananas or coconuts like their cousins in the tropics. The idea that some Victorian-era bozo deliberately introduced spindly, shaggy palm trees to the City of Trees to posture amid the majesty of our native oaks, sycamores, cottonwoods and other broad, leafy titans seems worse than a mistake. It's a troll, a perversion, a humiliation.
And yet.
Defying all odds and logic, one of Sacramento's most visible palm trees has captured my heart. It occupies the east end of the Frederick N. Evans Memorial Rose Garden in McKinley Park, directly opposite its inferior fraternal twin on the west side of the symmetrical 1.5-acre grounds. My east-end palm tree is indeed just a palm, with all the aforementioned indignities and regional incongruities that distinction implies. Nevertheless, my Rose Garden Palm Tree has become my favorite tree in the city—maybe my favorite tree anywhere. It's hard for me to believe, but I love this dumb tree.
It wasn't love at first sight. For years, on routine walks around McKinley Park near my home in East Sacramento, I would barely register the palms bookending the rose garden. Then, in the pandemic fall of 2020, those walks became longer and more attentive. Social distancing heightened my sense of nature and my surroundings. The lush, fragrant idyll of the rose garden became a sanctuary where I would wander for hours each week. To rest, read or just observe, I claimed a solitary retreat on the benches flanking the east-end palm tree.
One day, surely annoyed by the presence of a palm tree in the otherworldly spread of roses, I stopped to actually study the tree. I noticed fairly quickly that as a plant specimen, my palm tree is pretty much perfect. What's not to appreciate about perfection? I admired its sturdiness (a stout, unbending trunk subtly ribbed with leaf scars), its height (50 feet, give or take a few), its crown (thick foliage unencumbered by the usual skirt of gross old leaves), and its posture (arrow straight). It has the aesthetic edge over the garden's western palm, with its weird burls and vaguely mangy crown. My tree also has the locational edge over the ancient palms near McKinley Park's southwest entrance, the last remnants of a "palm drive" that once greeted parkgoers in the early 20th century but now tower awkwardly over the nearby pond.
I also love it as the platonic ideal of the right plant in the right spot. The McKinley palm trees were installed in 1930 by Evans, Sacramento's first parks superintendent and the rose garden's namesake, who transplanted them from a nearby residence. Of course Evans would put palms in the garden—shadier trees would block much-needed sun from the rose bushes. They are the only palms that make sense in Sacramento, and the culture has rewarded them. Since Evans' bright idea nearly a century ago, generations of first dates and weddings and picnics and engagement and graduation photos have come and gone beneath the sentinels of the twin palms. The title character of Lady Bird frolics with her first love in the dark garden.
This being the Instagram era, the palm quickly became a kind of muse for me. I photographed it from my vantage point at the bench. I shot it at dusk, at dawn, up close, far away. Blue sky, pink sky, pierced by contrails. Blanketed in clouds, moonlight, starlight. I experimented with my phone's panoramic image feature, using it vertically instead of horizontally to snap big, broad portraits of my new favorite tree. I posted the shots to social media with no filters or edits, just goofy captions and emojis: "Wow! What a tree! 😍🌴❤️" Stuff like that. "It is beautiful and quite photogenic… for a palm tree," my mom replied in a comment. I revised my IG bio to identify as a "McKinley Park Rose Garden Palm Tree Stan." This spring I'll leave Sacramento for a new job in Stockholm, Sweden, in whose Nordic climes palm trees are a novelty. But I look forward to returning to visit my unlikely friend in McKinley Park, the leafy giant that taught me to be ready to be surprised and inspired and even a little awed when you least expect it.
Not So Made in the Shade
By Ryan Miller
Tree deserts lead to poorer air quality and dangerous body temperatures. For under-canopied neighborhoods around Sacramento, setting down roots could literally be a matter of life and death.
TThe turn of the year wreaked havoc on Sacramento's trees. Rain from a succession of atmospheric rivers churned the soil into soup and brought winds that toppled giants whose roots no longer had a firm hold. The devastation was everywhere: Oaks lay on their sides with thigh-thick roots exposed to the air, piles of eucalyptus limbs cluttered gutters, and cypress and redwood trees came crashing down onto homes. Two unhoused people lost their lives after trees fell on their tents.
The city's Public Works department estimates the winter storms downed 1,500 of Sacramento's roughly 1 million trees. While that's a small percentage, every elm, maple and pine lost is one fewer tree protecting locals from extreme weather that's only expected to get worse. Not only do healthy trees play a vital role in reducing the region's air pollution, but they also provide crucial shade—a major benefit since Sacramento is so hot (and getting hotter).
A climate change assessment conducted in 2018 predicted an average daily maximum temperature increase of 10 degrees in the valley by the end of the century. Experts are grappling with ways to counter the effects of regional warming. High heat can increase people's stress and body temperatures to dangerous levels, as well as create more environmental problems by cooking up vehicle exhaust and factory emissions into ozone—the main ingredient in smog.
The good news is that much of Sacramento still has ample trees, equipping neighborhoods with one of the best weapons against swelter weather and the host of health problems it brings. Trees filter lung-damaging pollution from the air, emit water vapor that lowers ambient temperatures, and keep the ground, structures, and living things below their branches cooler—up to at least 9 degrees cooler—by providing shade.
As such, adequate tree canopies also significantly help to mitigate urban heat islands, which are pockets of excessively high temperatures that hover over an area. They're typically caused by a mix of dark, heat-absorbing surfaces like asphalt streets and minimal plant life.
"Trees are absolutely 100% recognized as an air quality strategy," says Alberto Ayala, executive director of the Sacramento Metropolitan Air Quality Management District. "We've seen from not only the region, but around the world, some of the severe heat events that have happened in major metro areas—people die. I mean, that's really the ultimate concern, right?"
---
READ MORE: Q&A with Alberto Ayala – The fight for clean air in Sacramento
---
Our million or so trees provide smog-sucking, heat-tempering benefits for residents across the city each day. Unfortunately, for under-canopied neighborhoods—such as swaths of South Sacramento, Meadowview and North Natomas, which don't get an adequate share of that million—there's little standing between residents and the sun.
Research shows that people living in "tree deserts" are more likely to be harmed by heat and have more health problems in general. "We see higher rates of asthma within the communities that have less trees—significantly higher," says Victoria Vasquez, grants and public policy manager for the Sacramento-based nonprofit California ReLeaf, which advocates for urban forests. "When you look at the lifespans within zip codes, you see a drastic difference in ones that are under-canopied."
SINS OF THE PAST
The aforementioned 2018 Urban Tree Canopy Assessment found that Sacramento, just shy of 100 square miles, has a little over 19 square miles of tree canopy. Agencies involved in the study discussed setting a goal of growing the canopy average to 35% over the next 20 years. The state average is 15%.
Certain neighborhoods in Sacramento have serious work to do to meet the group's goals. At the time of the assessment, our least-canopied communities were North Natomas (11.17%), the south area (14.76%), Fruitridge/Broadway (15.48%), and NorthSacramento (15.97%). Meanwhile, more affluent neighborhoods in the city, such as East Sacramento (30.62%) and Land Park (31.73%), are already close to reaching the city's tree canopy aspirations.
Ecologist Mary Cadenasso, a professor in UC Davis' department of plant sciences, says that many factors contribute to an area's lack of canopy. But a 2015 study she helped conduct found that income levels—and even the racial and ethnic demographics of a neighborhood in more than a half-dozen cities, including Sacramento, tend to be strongly associated with the density of a neighborhood's urban tree canopy cover.
"If you live in a neighborhood with fewer trees," Vasquez adds, "it's more than likely a low-income community." She explains that some weak tree canopy rates are often the result of redlining, a racist financial lending practice that segregated communities by denying housing loans to people of color starting in the 1930s. Maps of Sacramento at the time show these zones most prominently in the east and northwest.
"One of the ways that plays out in regard to trees and landscaping and green space is that fewer parks were put into redlined communities, and fewer what we call 'street trees' were planned for them," Vasquez says. "It fell to the homeowner to plant their own tree in their front yard, and they had fewer resources to maintain those trees because those were not being maintained by a city or a county."
That said, while under-canopied neighborhoods resulted from racist practices enacted nearly a century ago, Cadenasso cautions that overlaying census data on maps of tree distribution doesn't necessarily convey intent. A neighborhood may have been redlined, or it may simply be too new to have mature, shade-providing giants.
Or developers may have built houses too close together to allow room for large trees, or planted a single species throughout a neighborhood because it was aesthetically popular at the time. If disease or old age hits that sort of monoculture, it can wipe out a swath of urban canopy all at once.
Vasquez says she's seen this happen in multiple developments where the same tree ended up in every yard, including Arden-Arcade and River Park. And an investigation she conducted into Meadowview's meager canopy led her to discover that publicly maintained trees were doing fine, but trees on private property were failing. After combing historical images on Google Earth and checking out the neighborhood, Vasquez concluded that the front-yard trees had suffered en masse from inadequate soil, watering, and care in their formative years due to locals not truly understanding how to care for them.
"We failed an entire neighborhood in regards to their tree canopy, which directly relates to their health and the amount of years that they live," she laments.
Living in tree deserts can lead to everyday challenges, from needing to spend more money to run an air conditioner to having to stand in the sun and breathe in exhaust fumes while waiting at a bus stop or walking to school. Each of these moments is a "stressor," Vazquez says, and they can shorten a person's lifespan.
PLANTING FOR THE FUTURE
A popular proverb says, "The best time to plant a tree is 20 years ago. The second-best time is now."
For Sacramentans of the future, 20 years ago is today. We need to put more roots in the soil ASAP. The Sacramento City Unified School District is "one of the ripest, lowest-hanging fruit for planting trees in Sacramento," Vasquez says, because it has so much land.
"If you have a student at a school, advocating for more trees on your school campus is something that we don't see from the parents," she adds. "And if you are able to volunteer your time to help plant trees, attending a tree planting with the parks department or a nonprofit in an under-canopied neighborhood is a great way to help out. Obviously, the Sacramento Tree Foundation is our hometown org, and they are planting throughout [most] seasons."
Residents can also encourage local officials to get serious about planting more trees in parks and other public lands, as well as in tree deserts around town. But the city oversees only a tenth of Sacramento's 1 million trees. The vast bulk are on private property.
So perhaps one of the best ways we can help one another is simply by planting trees of our own—and just as importantly, getting educated on how to care for them in the years that follow. The shade from the tree in your own yard could cool your neighbor's home too, and when you plant and properly care for a tree, you're creating a healthier environment for the entire block—from creating more walkable streets and higher property values to reducing energy bills and providing a safer space for kids.
"Whatever issue is in your neighborhood," Vasquez says, "the problem can be solved by planting more trees."
Ray of Hope
By Rob Turner
He was the head of the Sacramento Tree Foundation for decades and is a relentless advocate for our city's tallest living residents. Ray Tretheway may be retired, but he's still fired up about making our urban forest the best it can possibly be.
WWhether you know him as a longtime Sacramento city councilmember or the man who shepherded the Sacramento Tree Foundation for nearly 40 years, Ray Tretheway has a perspective on our tree canopy like no other. As the foundation's executive director, he oversaw the group's modest goal of planting a single tree a day grow to planting 1 million trees over a decade. Upon his retirement in 2020, Natomas Oaks Park was rechristened in his and his wife's honor as the Ray and Judy Tretheway Oak Preserve.
After the winter storms that recently ravaged Sacramento's trees, we thought of no one better to check in with about the current state of trees in the City of Trees. Tretheway, 75, talks about the new cherry blossom grove that is about to be planted near the riverfront, how we can sustain our "people-driven forest" and yes, the controversy over the removal of the Freeport water tank's "Welcome to Sacramento, City of Trees" sign.
This interview has been edited for length, flow and clarity.
How far does your love of trees go back? Have you loved them your whole life?
That's an interesting question. I served in Vietnam in 1968 and 1969, and I saw the cruelty, the hatred, the bigotry, the racism and the violence, and I couldn't believe it. I just couldn't handle it. I came back just totally disillusioned, and I somehow eventually picked up a book by Wendell Berry called The Unsettling of America, and there was something in it about how only humankind can undo the harm they have done. That just struck me. I thought, "Maybe I have a role here." So I just wanted to find places where I could make improvements to our community and to our environment.
Also, I grew up in Sacramento but I spent every summer in a paper-thin shack in Homewood, Lake Tahoe, with my mother and two brothers. No car, no radio, no money. But we did have a wonderful big old sycamore tree in our backyard that was always second base in our Wiffle baseball games, and it was always home base for Blind Man's Bluff or Kick the Can. It was a huge beauty.
Those kinds of things influenced me to live a positive life and contribute as much to the public goodwill and the environment as I could.
Then it makes sense that you would grow up to join the Sacramento Tree Foundation in 1982, the year it launched. How did you become employee No. 1?
The Tree Foundation started on California's Arbor Day [March 7] with two audacious goals that were really over the top. We had a five-year strategic plan to plant one tree a day, teach the kids the importance of trees, and work with the business community. And all the programs would be volunteer-led. I was on the original board of directors, and it wasn't very long before we finally listened to our technical advisory committee—about 25 arborists and landscape architects—and realized that trees needed stewardship and care, but so did our volunteers. So I put my name in the hat to be the first employee—as program manager—and I was able to play all of the roles up and down the organizational ladder for eight years.
In 1989, we announced our Million Tree campaign and said that we'd plant a million trees in the 1990s—although it took about 11 years instead of 10. Soon after, Jeanie Shaw [a longtime pastor and a member of the foundation's board] and her husband, Assemblyman Lloyd Connelly, had David Freeman [who was the executive director of SMUD] over for dinner. She said, "Look, David, you need to join our Million Tree campaign. The Tree Foundation is ready and SMUD needs to be a big part of this campaign."
Six months later, we signed a nearly $2 million contract to start a campaign with SMUD. It was totally amazing. The foundation asked me to be the executive director, which was kind of natural. I said, "Well, I need a full-time staff, with benefits. And we want to have our own place." We hired 30 full-time people, and off we went.
Fast-forwarding three decades to today, we lost over 1,000 trees in the recent storms. What kind of impact does that have on a city?
It's heartbreaking. And how is this going to affect people wanting to plant another tree? Are they going to plant small trees instead of larger trees? If so, I personally think that we have short memories—[in Sacramento,] we have six months without rain and lots of heat. And the need for shade is exponential during those times.
We lost many of these trees mainly because of the horrific storms, but how many of those trees that went down were deep-watered once a month during the summertime? How many of those trees were fertilized twice a year? I don't think very many. I think we take trees for granted rather than the assets that they are.
On a brighter note, a lot of trees have been added over the years, thanks in large part to the Million Trees campaign. Do you have an estimate of how many trees were planted during your time at the Tree Foundation?
About a million and a half trees total in Sacramento County. There's probably never been an urban hand-planted tree campaign as large as this anywhere.
And I believe we need to do it again. We really need a renewed commitment to planting out our tree canopy. East Sacramento and Land Park have 30% to 40% canopy. Most of the neighborhoods in North Sacramento and South Sacramento have 7% to 15%, so we need to put another million trees in the ground as soon as possible.
In the Mayors' Commission on Climate Change report that the cities of Sacramento and West Sacramento adopted in 2020, the goal was 25% canopy coverage by 2030 and 35% by 2045 [prioritizing areas with the lowest tree canopy coverage]. It addressed the need to plant as many trees as possible today, and concentrate the plantings in areas that have not been invested in to the extent that neighborhoods like Land Park and Curtis Park and McKinley Park have.
But we're dragging our feet.
Why do you think they aren't doing it? Is it just not a priority? Is it funding?
It's the leadership. It's not a high priority. You know, it's always been hard to get traction to plant trees: "Oh, we need to spend money on this other initiative today, because we can always plant a tree tomorrow." Also, I think it's just a reach for electeds to move from what a tree can do—which is a whole bunch of good stuff—to understanding what a good tree canopy can do. It's measurable, but it's hard to understand how it increases people's lifespans—improves their health in all sorts of ways and it increases their well-being and sociability. In our well-canopied neighborhoods, people live longer and live better lives and go to the hospital less.
The other thing is that probably 90% of all the trees need to be located on private land, so then you're not talking about a mayor or city council member or supervisor to help you, but now you have to motivate every landowner in low-income neighborhoods. And you have to motivate every landlord, but so many of them are more interested in a monthly rent check.
Is this issue the main reason you got into politics and ran for city council?
No, but when I ran the first time, in 1989, Mayor Joe Serna called me and said, "Come on down to my office." He loved the Tree Foundation. He would always say he couldn't believe that white people from the suburbs are coming to Franklin Boulevard to partner with a lowrider club to plant trees. He just couldn't believe it. But Heather Fargo won [the council seat I was running for]. It wasn't even a contest. I was fortunate, of course, because I personally think she was more ready than I was [at that time]. And then I got to grow the Tree Foundation. So, sometimes losing wins.
Can you tell me about planting trees with lowrider clubs?
I think we did it three or four different times in the early '80s. And each time, they brought more than 10 people, and they were eager to improve their neighborhood. We've always had this idea that trees never discriminate. Wherever it's planted, it does what it does, right? And it does it well. But there's a lot of discrimination on behalf of the communities.
Speaking of which, you were making an effort to help under-served areas way back then, but there's still obviously a serious imbalance in the tree canopy. When you retired in 2020, the Tree Foundation launched a campaign to raise money for causes close to your heart, including "projects that improve canopy equity throughout the region."
Right. In the mid-90s, I had actually started a program called NeighborWoods because when you go into low-income neighborhoods, there's quite a bit of distrust. I just think it starts with the amount of stress that is in certain neighborhoods when the household doesn't have enough income or food on the table, or if it's not safe to go outside. I remember the first time we went to South Oak Park, we had a meeting, but nobody came. Then we talked to the local ministers, and they said, "Well, they don't trust you. They don't know you. They think you're going to come in and do something good and then you're going to leave. You're not going to leave anybody with a job. You're not going to leave anybody with anything much better than the responsibility to take care of a tree."
In those neighborhoods, people aren't moving every seven to 10 to 20 years, but maybe every seven to 11 months—they have different priorities. The whole point of NeighborWoods is to empower local leadership to set goals and priorities for their tree canopies. The inequity still stands today. It's a long haul.
But here's the biggest inequity in Sacramento. [Many] homeowners in Land Park have their trees taken care of by the city, so if your front yard tree fell [during the recent storms], the city came out and fixed the problem at their cost.
But if your tree fell in North Sacramento or South Sacramento, you [likely] had to cover the cost, and you probably didn't have insurance for it.
How can that be?
You know what—it is confusing. To put it simply, the city told us that city-street trees are defined as any tree that's between the street curb and the sidewalk—called the planting strip. But unbeknownst to us [until more recently], the city has "rights of way" that run from the back of the sidewalk up to as far as 12 feet onto [many people's] properties for things like underground utilities, and they're mainly in older neighborhoods like Land Park and in East Sacramento. So [those front-yard trees that fall in the public right of way] got included in with the planting-strip trees, so the city must take care of them. [Most newer neighborhoods don't have these public rights of way on their front yard, so residents in those areas are responsible for their trees—the city can't help.]
But the city must change their policy and take care of all of those front-yard trees in Sacramento because it's an urban heat island mitigation that helps everybody. The trees will give shade to the hard surfaces where the urban heat sinks, and it'll be a cooling effect for the entire city.
The foundation has been fighting the city for five years to rectify this problem. And they've been very reluctant to take on all those trees in the city of Sacramento.
And yet the city of Sacramento has the Landscape and Lighting Act [a 1972 statewide provision, adopted in Sacramento starting in 1989] and imposed a tax that everybody has to pay, and that act includes money for trees. So this is a tax inequity and a canopy inequity. The city knows about it, and it's been very frustrating. You can imagine the city attorney saying, "Let's not take on that liability of [additional] planting and maintenance." And we're going, "No, that's the public realm. Those trees are shading the sidewalk and the streets, and they are of immeasurable value—hundreds of millions of dollars in benefits—to this city and its residents." And yet, they're reluctant to either see that or to endorse it.
It seems as though people think we've always had this great tree canopy and don't realize that people had to work to make it happen.
Urban tree canopies don't happen by themselves. Never. Ever. They do on the East Coast. You've got lots of rain there and trees are sprouting up all the time. Out here, somebody has to make a decision to do it. And trees define Sacramento.
It's fascinating to me how often people I don't know find out who I am or what I'm doing or what I've done, and they ask, "Why don't we get that water tower back to 'City of Trees'? How come we haven't done that yet?" [In 2017, the signage on the Freeport water tower near I-5 was notoriously changed from "Welcome to the Sacramento, City of Trees" to "Welcome to Sacramento, America's Farm-to-Fork Capital."]
It was Mike Testa from Visit Sacramento and city councilman Rick Jennings, who bypassed the city council. But this is a city asset, right? It was in Rick's district, but they changed it with no permission whatsoever. It never went to council. They just went out there and erased it and put [the new sign] on. I don't know how they did it. But they got it done. They hijacked us.
We spoke in 2015 for a story about the threat of Dutch elm disease, and you told me then that our tree canopy was in danger and that "the essence of midtown and downtown would change if we lose those trees." Can you give me an update?
They're losing about 20 trees a year now. Roughly half to Dutch elm disease and half because they are old and high-risk trees. And that's a third of what happened 10 years ago. But if you do the math, there are just under 1,200 city-owned trees left. The crisis just magnifies.
Are there other threats to our existing tree canopy?
The other threat to the canopy is all these new mid-rise apartments, which are mostly in midtown, but also downtown. Many of these buildings don't have setbacks to make room for the tree canopy. So, we're diminishing the tree canopy in the middle of the urban heat island. It's so much hotter in downtown Sacramento, and the air pollution is so much worse there and it spills over into midtown. The remedies for urban heat islands are to reflect the heat back by having white roofs, light pavement—and trees. That's the formula. That's all there is.
I just don't think the city planning department plans for trees. They want to plan for every single cubicle to house people as fast as possible. Not everybody appreciates the value of a tree canopy.
I also want to ask you about the Hanami Line—a grove of cherry blossom trees that will soon be planted along the waterfront. The project is finally happening, starting this spring.
It is! It is so exciting. What a gift to Sacramento and the Japanese-American community and the international relationships. It's the mouse that roared. It got approved by the Army Corps of Engineers and the California Parks and Recreation department, which funded the original Robert Matsui Park [where the trees will be located]. It's been 10 years in the making.
How many cherry trees will there be?
I think 103. In the first plan we adopted, we wanted the cherry trees to run from Old Sacramento to the confluence of the American and Sacramento rivers, so that's why we called it a "line." And that's still the long-term plan, but one step at a time.
What was the root of that idea? How did it start?
We got a phone call at the Tree Foundation around 2012. One of my managers took the phone call and came into my office to say, "Some guy wants to plant 10,000 cherry trees in downtown Sacramento." I said, "What? There's no room!" I looked the guy up and he was a very influential Republican consultant named Joe Rodota [an advisor to both Governors Pete Wilson and Arnold Schwarzenegger]. We brought Joe in and he had spent a lot of time with clients in Japan, so he really saw the meaning behind these cherry blossom festival parks. Soon after, Rodota met Lon Hatamiya. [Once Gov. Gray Davis' secretary of trade and commerce, Hatamiya would go on to manage the Hanami Line's site recommendation committee and co-chair the park's advocacy group Sakuramento with Rodota.] We teamed up with them and held a design contest. We had more than 20 entrants, and the one we said we thought would never happen—because it's on the river and would involve the Corps of Engineers—was the one that happened.
Are you still involved with the Tree Foundation? I was surprised to see that you're not on the board of directors.
I really haven't done too much for the foundation since retiring, which I think is wonderful. I'm just helping raise some money for the Hanami Line—you can name one of the 100-plus trees for $10,000—so I'm out doing that. But I don't think that would be fair to be on the board because we really wanted the new executive director, Jessica Sanders, to be free of any unnecessary oversight or influence. She is just amazing. She has a Ph.D. in urban forestry from Rutgers University. And she worked for Washington, D.C.'s Casey Trees [a much larger and better funded organization that exists to protect and grow that city's tree canopy] as the director of science and policy. She's fired up.
And looking ahead, what do you see as the biggest challenges for our tree canopy in the future? Is it disease, climate change, the drought?
It's none of that stuff.
Oh, what is it?
It's our collective will to plant a complete urban forest and to steward it. So I think it's more of a political and social task ahead of us. And that means everybody has a role.
We know that SMUD has done an amazing job [in supporting the planting of trees], and now the Tree Foundation is working with SMUD to move beyond just planting trees for energy savings to doing so for sustainability and climate resiliency.
Any SMUD customer, for example, can call the Tree Foundation—business or residential—and they will come out [for free] and map out a complete urban canopy for your property, and for the first time ever, they can [provide] evergreen trees, as well as deciduous trees [which are trees like oaks and maples that shed their leaves during winter and the drier months].
In the first 25 years of SMUD's free shade tree program they were deciduous trees only because of energy savings—in the summertime, you want shade, and in the wintertime, you want the sun to come through the branches to warm your house.
There are many great places for evergreen trees when you look at increasing canopy cover [which benefits the entire city, not just one house]. So by including evergreen trees now, they switched from focusing strictly on energy conservation with some air quality benefits to adding a climate resiliency program that also benefits tree canopies.
But we need to build a better grassroots movement, like what Jessica did [with Casey Trees] in Washington, D.C., which I'd love to do here. They had a Citizen Forester certification. They went into every neighborhood that was interested and they informed people, educated people and trained them on how to advocate for trees, neighborhood by neighborhood. So when a development came up—from a park to a home to a street—the residents were down there saying, "Where are the trees?"
The Sacramento Metropolitan Air Quality Management District used to help small nonprofits and individuals review Environmental Impact Reports on new [real estate] developments so that people could advocate for air quality measures in their neighborhoods. We need to replicate that for our tree canopy.
And if you're an average citizen who is not a former city councilman, who was not the director of the Tree Foundation, what can you do?
Your choices are nearly unlimited. You have the Tree Foundation to go to and ask for assistance, help, resources—and free trees! And every day, an elected official or a planner or an economic manager in your city or your county is making a decision about your neighborhood. Every day.
We live in a forest. And this is a people-driven forest. So you have to believe that everybody has the capacity and the ability to be a leader, even if that means just watering a tree once a week in the summertime. That's leadership.