The Firehouse introduces new chef and revitalized menu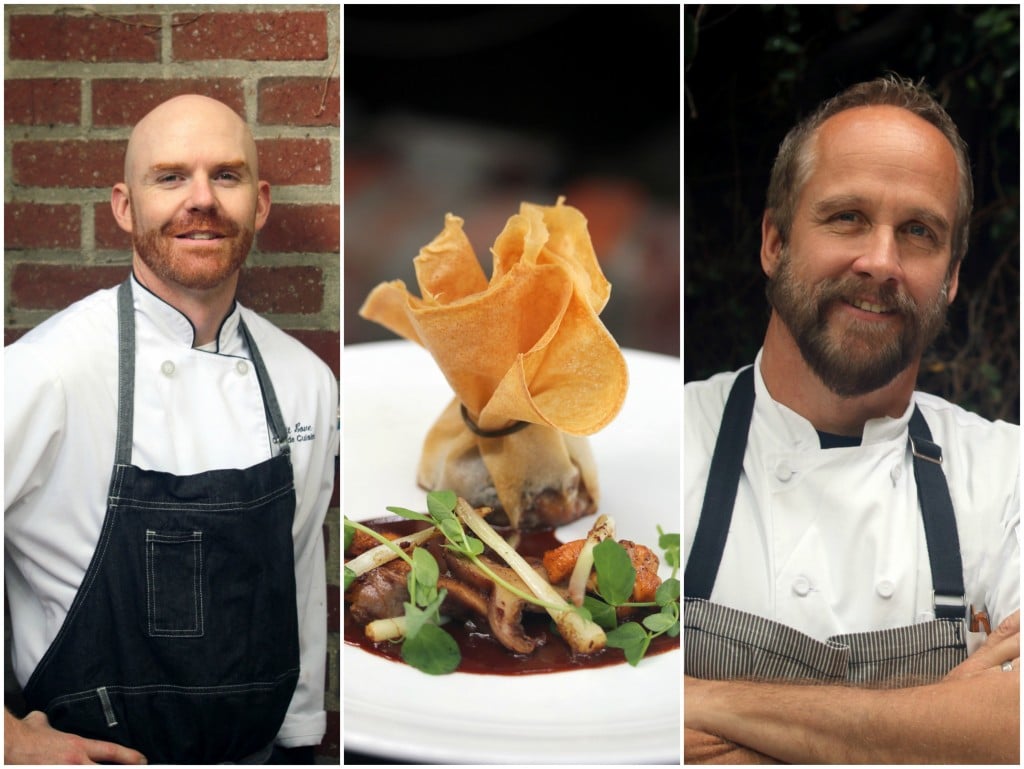 The Firehouse Restaurant in Old Sacramento debuts a refreshed menu and a restructured culinary team.
"It was time to upgrade, to be more sophisticated," says Jay Veregge, who now serves as Director of Culinary Operations for Harvego Restaurant Group, which owns The Firehouse and nearby restaurant Ten22. Veregge, formerly executive chef at Ten22, will oversee menu creation, food presentation and work closely with chefs at both restaurants.
"The [previous] menu wasn't as focused," he says. "It had a lot of international flair thrown in. [The new menu, which began May 18] is a little more locally driven; it's fresher and it's definitely a better pair with the wine," he says. Veregge's team sources locally, utilizing products from nearby Watanabe Farms and Del Rio Botanical as well as Guinda's Riverdog Farm.
Lunch highlights include a grilled Portobello sandwich with red pepper aioli and a seasonally changing prix fixe menu currently featuring salmon and an asparagus salad. For dinner, The Firehouse offers dishes including the Maine Lobster Three Ways starter (with a poached tail, bone broth custard and chilled claw) and Liberty Duck confit with Riverdog turnips as a signature entrée.
Additionally, the dinner menu introduces an option in which diners can choose a specialty cut—a half rack of lamb, lobster tail or beef filet, among others—to pair with a variety of sides, such as wild-foraged mushrooms, gorgonzola-baked Brussels sprouts or lobster mac and cheese. The flexibility, Veregge says, allows for more wine pairings, taking advantage of The Firehouse's impressive collection of 16,000 bottles.
The Firehouse team is also introducing new chef de cuisine William "Matty" Love, who replaces former executive chef Deneb Williams. Love began at The Firehouse in April after relocating to Sacramento with his wife and son from Jackson Hole, Wyoming, to be closer to family. Originally from Salt Lake City, Love was working in kitchens at age 14 and attended culinary school in Boston. He has held various positions at restaurants at the Four Seasons Jackson Hole and Vail Resorts' Snake River Lodge & Spa.
"I had a love for being in the kitchen and the life of being a cook," says Love, who most recently worked as executive chef at Jackson Hole's Amangani Resort.
He says The Firehouse's stellar reputation preceded it. "I feel it's a great responsibility to take on the kitchen lead. It was a little frightening," he says.
Veregge, however, is very optimistic.
"Matt is awesome," Veregge says. "He's a young, aggressive chef with a passionate heart for making food. I'm happy to have someone working with me like him. He reminds me a lot of myself when I was his age."
Veregge hopes the changes revitalize the atmosphere at the Old Sacramento mainstay.
"I would like to see some new customers show up, more of a younger, vibrant crowd embracing this modern twist on the classic set up of The Firehouse," he says.
1112 2nd St. 442-4772. firehouseoldsac.com
You Might Also Like
The Porch begins a Friday brunch menu
Owners of Mother and Empress Tavern roll out a new food cart
New locally grown on-demand food app launches in Sacramento