The Handle District to add new design-forward trash and recycling bins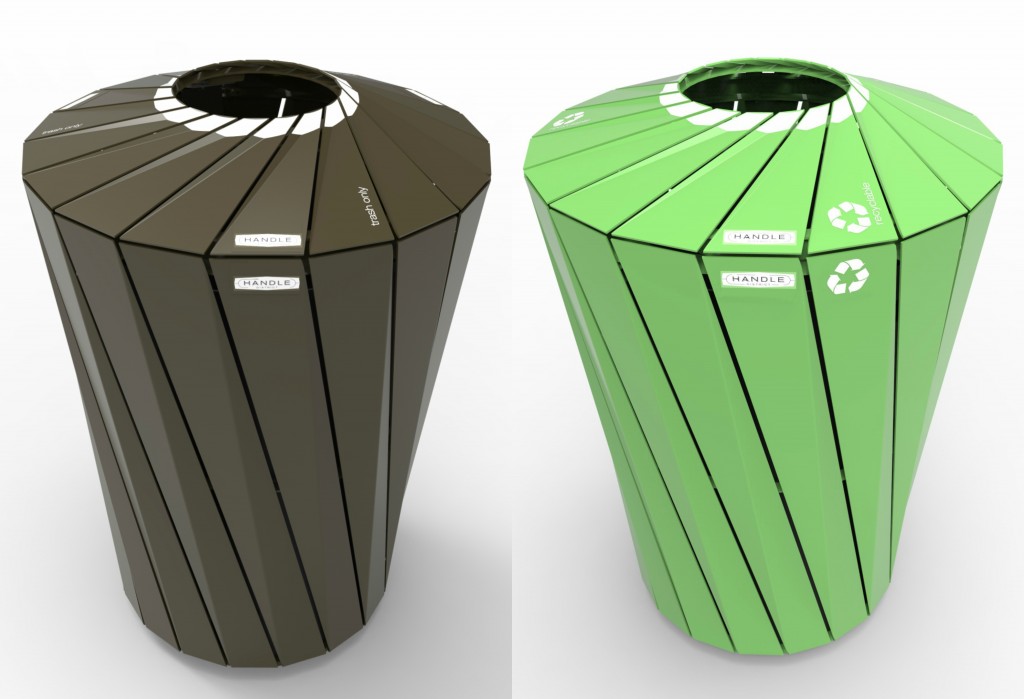 It's a too-familiar scenario: you're walking down the street, empty coffee cup in hand, and block after block, there's not a trash or recycling bin in sight.
The Handle District—a hip midtown neighborhood bounded by 18th, 19th and L Streets and Capitol Avenue—is on a mission to change that. In the next several weeks, the district will install 12 trash cans and six recycling bins whose sleek, modern design may just turn a few heads.
These new receptacles, made with 30 percent recycled aluminum alloy and eco-friendly paint, were originally designed by San Francisco-based Landor Associates for the Central Park Conservancy in New York, which commissioned 700 of the trash and recycling cans in 2013. The design was inspired by the architectural vernacular of the New York City park, particularly the benches designed by the architect Robert Moses in 1939. (Watch a video on the design process below.) In 2014, Handle District planners were seeking a way to tackle waste management when they spotted a story in Sactown magazine featuring the stylish and eco-friendly receptacles.
"Their design makes a statement," says Seann Rooney, executive director of the district, and the person who spearheaded the project. "They're a little bit out of the ordinary and look more attractive than what people are used to."
Before this, Rooney says the Handle District only had five of the standard red wire mesh trash cans scattered throughout midtown and, like the rest of downtown and midtown, had no recycling bins at all. (On Feb. 1, the County of Sacramento installed 64 large black trash bins—with a design that discourages scavenging—throughout downtown and midtown, but none of that waste is sorted for recycling.) The 18 new Handle District receptacles, which will be serviced by the district's own maintenance team, are a big change for a small neighborhood that is home to popular restaurants like Zocalo, Crepeville and Broderick and boutiques like the newly launched Boar Haus. The district also hosts popular community events like the annual Bastille Day Waiters' Race & Street Festival (also inspired by a Sactown "Why Not Here" column).
Rooney says the modern bins—which are adorned with the Handle District's logo—will not only help keep the streets clean day-to-day, they'll also blend in with the district's overall urban streetscape concept, which includes plentiful bike racks and future plans for more fun additions. He believes this project could also set the tone for other neighborhoods in Sacramento, inspiring them to begin installing trash and recycling cans that are both functional and attractive.
The colorful cans were delivered on March 10, and Rooney says he is awaiting final permits and inspections to get them installed, which could happen as early as the end of March.
You Might Also Like
Green is the New Black: where are Sacramento's recycling options?
New gift boutique with a focus on the hip and handcrafted opens in midtown
Local group launching campaign to relight the Tower Bridge with LEDs
SaveSave