The hotly anticipated restaurant Beast & Bounty to open soon at the Ice Blocks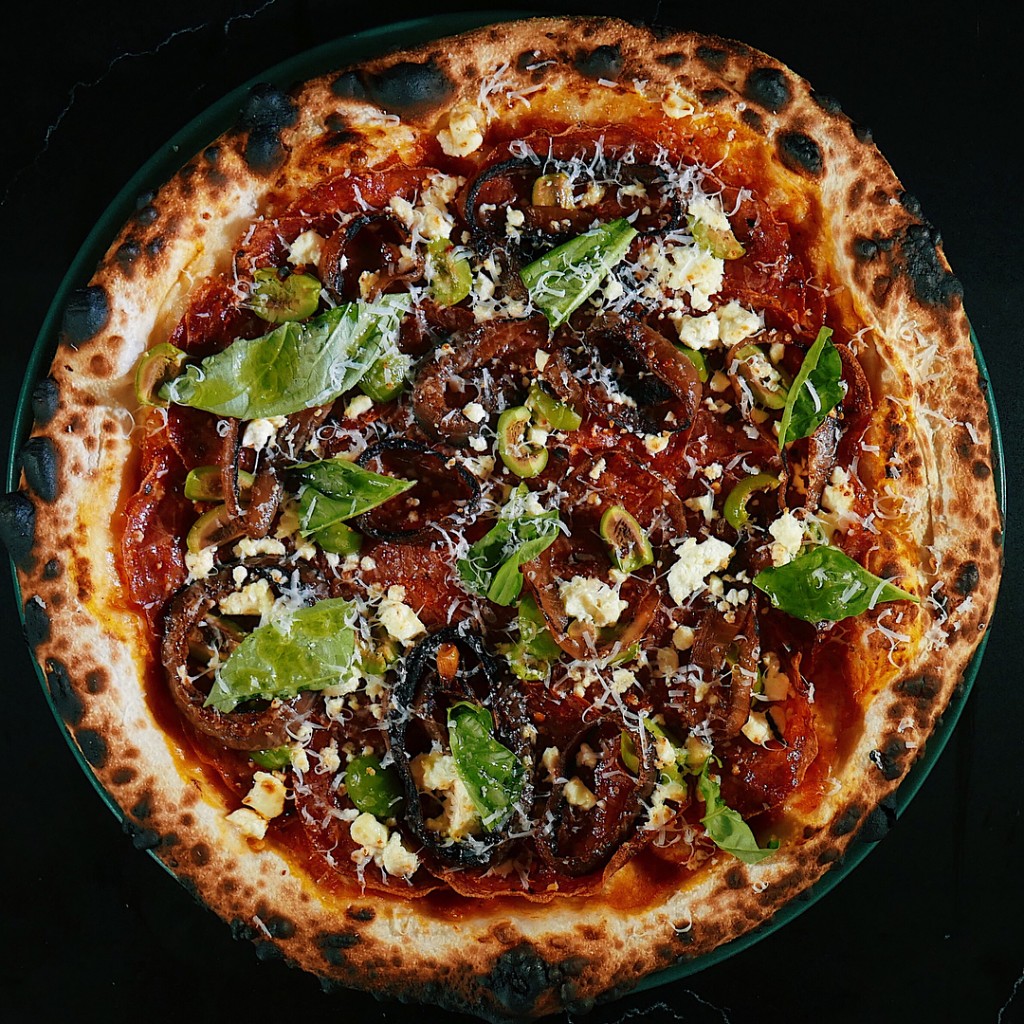 July 31 update: Beast & Bounty will soft-open today at 5 p.m. The days and hours of operation are Tuesday through Sunday from 5 to 10 p.m. Lunch service is slated to begin on Tuesday, Aug. 21, and the restaurant will start offering brunch and breakfast soon thereafter.
****************
Beast & Bounty, owned by restaurateur Michael Hargis and chef Brock Macdonald, the pair behind midtown hot spots LowBrau and Block Butcher Bar, will open on July 31, highlighting both meats (the beasts) and vegetables (the bounty) equally.
Macdonald, who has previously worked at Spataro, Tuli Bistro and OneSpeed Pizza, has spent the past few years honing his charcuterie skills at the meat-forward Block Butcher Bar and Germanic-leaning (read: sausage heavy) LowBrau. But creating the eclectic carnivore- and herbivore-friendly menu at Beast & Bounty has allowed him to stretch his creativity, resulting in vibrant vegetarian and vegan offerings, like a plate of fried, house-pickled seasonal vegetables with a vegan beet aioli made with aquafaba (the leftover liquid from cooked chickpeas), or a carrot dish with the root vegetable in pureed and cured forms, served with a salsa verde made from the carrot tops. Meat entrées will also abound, like a 60-day dry-aged rib-eye topped with chermoula (a Moroccan relish with cilantro, harissa and garlic) and served with fried confit potatoes and garlic.
The menu is also dictated by the hearth—a wood-fired and coal grill where Macdonald will cook everything from rotisserie chicken to carrots—which will serve as the centerpiece for the 2,500-square-foot space. Hargis describes the décor as minimalist and modern, with herringbone white oak floors, black marble countertops, terra cotta planters with greenery, and pops of brass and pink, a contrast to the smoke and ash emitted by the hearth.
"Anytime you have live fire, it adds elements of danger," says Hargis. "So there is a juxtaposition with this refined, almost dainty space and this wood hearth. Although it will be a sexy space, it's not pretentious. It's inviting, it's fun."
Portraits of musicians the duo admires will adorn the walls, like those of Hargis' favorite songwriter, Martin Gore of Depeche Mode, and Macdonald's favorite rapper Action Bronson, along with singer-actress Grace Jones. The restaurant will also feature an outdoor patio and bocce ball court, and Hargis also says the bar program will focus on craft cider, wine and cocktails that play on the restaurant's food offerings—a Tobacco Old Fashioned, for example, has hints of smoke made with Rittenhouse Rye, tobacco syrup and tobacco bitters, served with an ice cube topped with black peppercorns and cloves, while the Princess and the Pea utilizes plant-based flavors with pea purée, St-Germain elderflower liqueur, lemon and vodka.
Beast & Bounty will be open for breakfast, lunch and dinner Tuesday to Sunday, and Hargis and Macdonald hope to create a comfortable atmosphere where Sacramentans feel inclined to come multiple times a week and for any occasion.
"Going out to eat is about enjoying yourself," says Macdonald, "whether you're on a business lunch, or it's your first date, or you're going to propose to the person you love—whatever it is."
"It's about bringing people together and having fun," adds Hargis. "Not taking yourself too seriously and [providing] a great experience."
Tues.-Thurs. & Sun.. 8 a.m.-10 p.m. Fri.-Sat. 8 a.m.-2 a.m. 1701 R St. eatbeastandbounty.com
You Might Also Like
Bao burgers and lobster rolls join the menu lineup at new downtown food hall
A new taproom and eatery to open on K Street soon
Taste: The region's latest food, drink & restaurant news for June 7