The Manetti Shrem Museum's grand opening will feature a unique ribbon created by UC Davis alum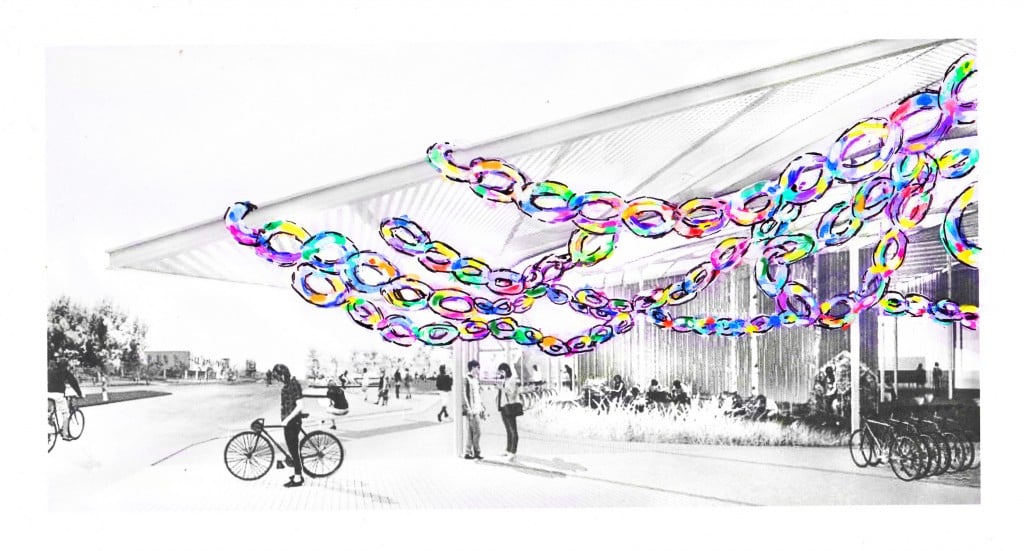 The new Jan Shrem and Maria Manetti Shrem Museum will be tied up in a one-of-a-kind ribbon for its grand opening ceremony on Nov. 13.
Through Verge Center for the Arts, the museum commissioned Bay Area-based artist and UC Davis alum Lisa Rybovich Crallé to create the ribbon concept. The three-dimensional ribbon, which Crallé likens to a piece of jewelry because of its chain-like quality, comprises more than 400 interlocking, fabric-covered foam loops, each measuring three and a half feet in diameter, and is expected to clock in at 1,500 feet long when it is installed on the exterior of the Manetti Shrem Museum during the first week of November.
Also wanting to incorporate the community in the creation process, Crallé has hosted two workshops this month, and will hold two more in the coming weekends, during which artistic attendees can contribute to the ribbon by painting the interlocking hoops.
"I've had a chance to talk with almost 300 participants now, and it's really wonderful to hear how excited people are to be a part of this," says Crallé. "They're just really enthusiastic and supportive."
The workshops are free to attend, and Verge provides the art supplies to decorate the foam rounds. Folks can put their stamp on the ribbon at the two remaining opportunities on Saturday, Oct. 15, from 1-4 p.m. at Verge Center for the Arts, and Saturday, Oct. 22, from 1-4 p.m. at Napa Valley Museum in Yountville.
"A lot of the people who have participated in the workshop have said things like, 'I haven't worked with paint since I was a kid,' and there's kind of a caveat that unless you are pursuing a career or hobby as an artist, the hands-on quality of art gets lost," says Crallé. "What's been really wonderful for me is to provide an opportunity for people to try their hand at painting again and connect to what it's like to produce art. That type of engagement will hopefully encourage people to look at the art in the new museum with fresh eyes and more of an awareness of what that process is like."
The ribbon will be ceremoniously "cut" at noon during the museum's grand opening on Nov. 13: A section of the ribbon will be tied together with silk bows, which will be then be untied to signify the ribbon cutting. The ribbon will hang in front of the Manetti Shrem for an as yet-undetermined amount of time before it is taken down and sectioned off. (Pieces of the ribbon will go to Verge and the Manetti Shrem Museum, while a section will become a semi-permanent installation in Davis' City Hall.)
Free. 1-4 p.m. Oct. 15. Verge Center for the Arts. 625 S St. facebook.com/events. Oct. 22. Napa Valley County Museum. 55 Presidents Circle. Yountville. facebook.com/events
You Might Also Like
Just Add Water: how we can transform rainy day streets into art pieces
The California Hall of Fame announces its 2016 Hall of Fame inductees
5 spirited events throughout Sacramento to mark Day of the Dead