The Naked Eye
Pamela Anderson dropped her robe for him, Paul McCartney bought one of his pieces, and Claudia Schiffer tried to have his nude painting of her lounging on a hot dog destroyed. Oh, and one of America's greatest artists says he's better than Andy Warhol. With an unlikely career built on painting superheroes and bare naked ladies, Sacramento native Mel Ramos finally has a hometown one-man show—with lots and lots of women.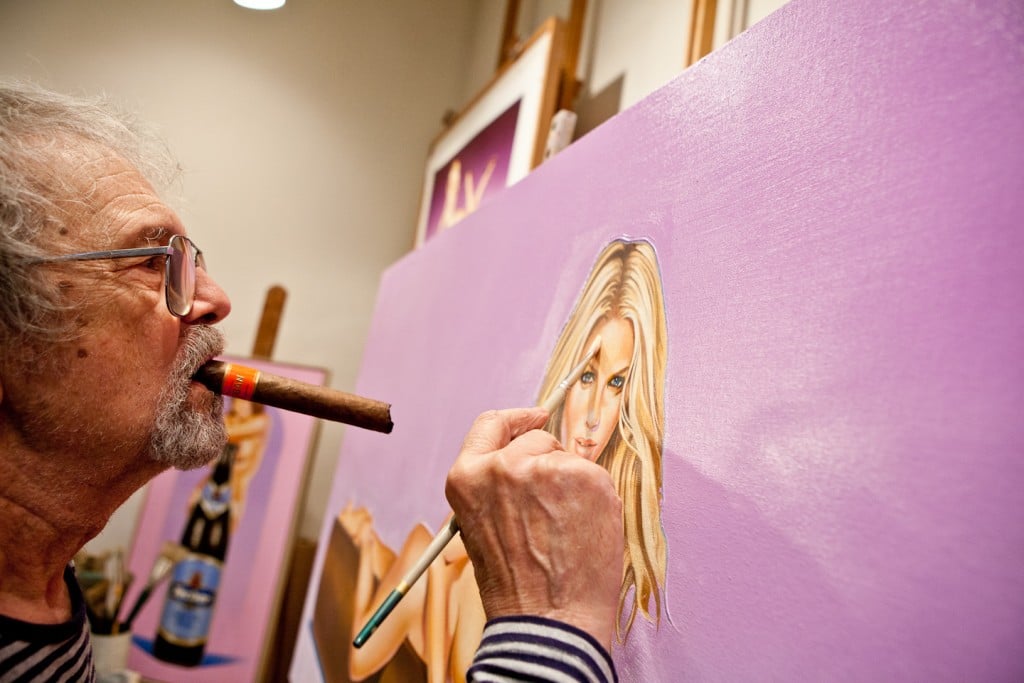 WWhen it came to the question of whether or not Pamela Anderson should don a tiny bikini bottom for the session, the discussion was decidedly brief. She asked without showing much preference one way or the other, and the artist's answer was just as direct. "No, I don't need it," he said simply. Problem solved.
It was 2008 when Anderson arrived at his home in a stretch limousine and soon unveiled for him and his camera her formidable wares, all in service of what would eventually become a pair of painted portraits.
The "him" in this equation is the celebrated Sacramento painter Mel Ramos. Known primarily for his nudes, which reside in institutions such as the San Francisco Museum of Modern Art, the Smithsonian and the Whitney Museum of American Art, Ramos was commissioned for the endeavor by Anderson herself. Flattered, the artist would break two of his rules for the blonde bombshell. Ramos prefers not to paint women with implants, and he always asks 50 percent payment in advance. In this case, exceptions were made on both fronts.
He is a man known for his grand genuflections to monuments of female beauty, and the Anderson anecdote is as telling for what it isn't as for what it is. When he describes Anderson emerging in her small robe and then removing it, he is in no way lascivious or ungracious in the recounting. If anything, it's a story about professionalism: hers, as well as his.
Of course, while Ramos is serious about his art, he's also a deadpan-funny man who always seems to have either a paintbrush or a cigar on hand, and often both. And it's clear that he appreciates the irony of a career that includes his works sharing space on museum walls with Klimt, Cézanne and Picasso, but also finds a naked Pamela Anderson in his home studio.
After all, the bulk of his work is nothing if not a study in unexpected juxtapositions (nude women emerging from banana peels or candy bar wrappers, for example), and the Crocker's first major retrospective of these works brings the 76-year-old artist back to his hometown after a half-century of artistic adventures.
On June 2, the Crocker Art Museum unveils its first solo show of his work, "Mel Ramos: 50 Years of Superheroes, Nudes, and Other Pop Delights," which will span the abstract expressionism and valiant superhero figures of his Sacramento years, through the voluptuous model-and-object creations with which he has become synonymous worldwide. It's a version of the exhibit that showed last year at the famed Albertina museum in Vienna, which also recently mounted exhibits celebrating artists no less substantial than Warhol, Picasso, Lichtenstein and Michelangelo.
If you're surprised that someone of this stature has never had a one-man museum show in his hometown, you aren't alone. Crocker curator Scott A. Shields says the museum has wanted to do a Ramos exhibit for quite a while. "The conversation has been going on for a long time," he explains. "My director, Lial Jones, and I both have liked his work, and Lial has long said we should do a show of him." When they heard about the Albertina show, the timing clicked.
"For any living artist, that is an enormous accomplishment," says Shields. "But for an artist from Sacramento that's never had a show at the Crocker—it really seemed like, 'Boy, we gotta get on this bandwagon.' "
And a hefty bandwagon it is. The Crocker will exhibit approximately 70 pieces in all, including one of a scantily clad female superhero named Phantom Lady that Shields calls a pivotal piece in Ramos' career, marking the switch from heroes to nudes. "There are a lot of superheroes in the show, and a lot of nudes, and she's sort of this hinge," he explains. "It provides the link to what happens next."
The Crocker exhibit is also an opportunity to revisit the Sacramento artistic community from which Ramos emerged. He studied for a short time with world-renowned painter Wayne Thiebaud, whom he calls both his mentor and close friend, and has had associations with other prominent Sacramento artists throughout his career, including Fred Dalkey, Gregory Kondos, Roy De Forest, Patrick Dullanty and Jack Ogden.
Thiebaud, interviewed from his midtown Sacramento art studio for this story, tells fond tales of a long-ago cross-country drive that he, Ramos and their wives took to New York City. And then, shortly after the interview begins, Thiebaud seizes the moment to heap praise on his old friend: "I am going to make a very bold statement and say that Mel is a much more important and interesting and greater painter than Andy Warhol. This is somewhat heretical in terms of what kind of preoccupation people have with the Warhol world."
*****
There are two Wayne Thiebaud paintings on display in the house where Mel Ramos has lived with his wife, Leta, since the late 1960s. The home is in the Rockridge neighborhood of Oakland. The Thiebaud pieces, gifts from the artist, rest on adjacent perpendicular walls of the dining room, which is furnished in dark wood, as are the rest of the home's public areas. Modest in size, one of the paintings depicts a sundae, the other a half grapefruit, and they overlook a massive set of antique tin toys collected by Mel and Leta. The adjoining living room is decorated with spoils from the Ramos' travels. For decades, the family has summered in northeastern Spain, in a town called Horta de Sant Joan, where Ramos has a home and studio.
The walls of his Oakland house are covered with art, like the two Thiebauds and a series of paintings by Leta. There's also an original Franz Kline, a thick black abstract-expressionist swirl atop a page ripped from a phone book. And there is, nearby, a nude of daughter Rochelle, which Ramos painted decades ago when she was 24.
Rochelle, who became her father's studio manager in 2010, is one of the Ramoses' three children, all of whom were born in Sacramento. The others are Skot and Bradley. Bradley was born with Down syndrome and passed away in 2010, just before his 51st birthday. Skot is a contractor and a sculptor, and Rochelle a former financial advisor.
"I asked Dad to perfect my flaws, or not paint them," says Rochelle of her portrait, "but that is not his method. He is first and foremost my dad, who loves me tremendously. My mother was also [at the session] to make me feel more comfortable. So my little crooked toe made its debut in oil paint. I am honored to have the painting of me, and I hope one day, when she is older, that he will paint my beautiful daughter."
One floor down is Leta's rectangular studio, where she is in the middle of working on a series of tiny square still lifes of garden vegetables. A single tomatillo rests on her table, its outer casing like nature's own paper bag. Her painting depicts its veiny shape in rich pastel-like colors. She explains that this room used to be Ramos' studio, and then opens a second door, which reveals a space that seems as large as the rest of the house combined.
This is Mel Ramos' studio, and has been since it was added to the house in the mid-1980s. It's a brightly lit two-story box of a room, filled with prints and books and framed paintings and crates of source material and many tables, each covered with brushes and paper and other tools of the trade. There is a light box, atop which are slides of nude women, and a fully clothed shot from the very same cross-country trip that Thiebaud had mentioned. There is a row of candy bars (Snickers, Almond Joy) sitting upright, their wrappers partially undone—studies for a series in which Ramos' trademark model-beautiful women emerge from the candy wrappers; it's something Roald Dahl's Charlie Bucket might have dreamed of once he'd outgrown his preteen fixation on Willy Wonka's chocolate factory. Against the far wall is a floor-to-ceiling wooden apparatus that allows Ramos to move around his canvas. He is seated on a stool, brush in hand, adding touches to a smiling nude blonde astride an oversized cigar. The woman is modeled after a model: Brooklyn Decker of Sports Illustrated swimsuit-issue fame.
Ramos grabs a regular-sized cigar and one of his many lighters featuring an earlier buxom beauty, Marilyn Monroe, and takes a seat on the small outdoor deck. His hair is frizzy and his eyes intense. Age has slimmed him down, reduced his once ample musculature. He speaks of his Sacramento childhood. "I used to look forward to the so-called Holy Ghost celebration. I got to carry the Portuguese flonce. It was very heavy. I have fond memories of those events." He refers to the cultural activities of the local Portuguese community, into which he was born in 1935. Then as now, Catholic Portuguese life in Sacramento centered around Saint Elizabeth Church at 12th and S streets. It was a short walk from his boyhood home, near 5th and T.
He spent his Sacramento childhood waiting for Dad to return safely from World War II (which he did), and later assisted his parents when they operated a lunch counter in a produce market near Sacramento's New Helvetia Housing Project, where the family eventually relocated after an interim stint in Natomas. The neighborhood, just south of Broadway, bounded by Muir Way, Muir Park and Marsh Street, is now under consideration by the state for recognition as the New Helvetia Historic District.
High school, where he would first witness the benefits of a life in art, was a couple miles farther away. He attended C.K. McClatchy. "When I was 14, I saw the work of Salvador Dali," he says. "That experience made me want to be an artist. And my ambition has been growing ever since." And it was there that he took his first class in art. (His family didn't particularly support his interest: "My father encouraged me to play baseball.") As it turned out, Ramos had a knack for drawing. "The teacher liked my cartoons," he explains. "She said if I do the posters for the football games, I don't have to do any class assignments. So, right away: perks! I painted posters all the time—'McClatchy versus Modesto Bulldogs.' " He notes that an image he drew of a little lion leaning against the letter M adorned the school newspaper's sports section for many years after he graduated.
Ramos first noticed his future wife, Leta, at McClatchy, where she was a cheerleader one year ahead of him and "going with the biggest superstar in the school," he says. Suffice to say, his description of his first sight of her, walking the school corridors, involves a tight cashmere sweater and is best left to the reader's imagination.
But he wouldn't actually meet Leta until a trip to Lake Tahoe in the summer of 1954 when they were going to different colleges. (Leta, for her part, fondly remembers taking note of Ramos' strong legs.) He had woken up hungover on the beach one morning and saw that a friend of his was asking Leta out for the next night. Ramos seized the moment. "I just arrogantly said, 'No, no. You can't have her for the night after, because she's going to be with me.' She accepted, and we were married a year later."
As it turns out, Ramos made another lifelong connection in the '50s, when the high school senior first met Wayne Thiebaud. The occasion was a career fair. Thiebaud, who is a decade and a half Ramos' senior, was then teaching at Sacramento Junior College (today known as Sacramento City College), and had dropped by to speak to interested students, Ramos among them. What struck Ramos initially was how Thiebaud looked: "In walks Wayne, and he had on a pair of kelly green corduroy pants and a maroon jacket, and his ears stuck out." In Ramos' mind, Thiebaud looked like an artist was supposed to. "He talked about working for Walt Disney, and I was really, really impressed by the way this guy was talking—really sharp guy."
Once Ramos found himself at Sacramento City College, he took a class from Thiebaud, but says he recalls very little of what was taught. "The only thing I remember about it was the first question on our test: 'Spell Cézanne,' " he says. "Most people left off the accent." Later the two men were colleagues, when both began to attend a "painters' critique" at Sacramento State. "People brought [their] work and discussed it from different points of view," says Ramos.
Also in regular attendance was artist Robert Else, for whom a gallery at Sacramento State is now named.
"I've always considered Wayne my mentor," says Ramos. "He instilled in me the desire to make [my work] better. He has such a lucid mind. He's so articulate and clear thinking. I have been referred to as Wayne's student, and I have no problem with that. I consider myself very fortunate to be one of those students."
Ramos married Leta in 1955 and, like Thiebaud, he eventually settled on a job in education as a means to support himself, his painting habit and his young family, who were living in Sacramento. "I taught high school, starting at Elk Grove," he says. "That was a long drive in the morning. I had to drive along country farm roads. There was no freeway yet."
In his off hours, he painted continuously, and tells stories of completing some canvases in a single weekend. He says, "I had to teach myself about 95 percent of the time. I was flying blind, just trying to do it, just trying to make it work." After Elk Grove, he spent a half-dozen years teaching at Mira Loma High School—"longing," he says, "to have a college job."
When it came to painting, Ramos spent many years exploring abstract expressionism, in particular the chaotic and colorful maneuvers of Willem de Kooning. He also cites the stark planes of Nathan Oliveira as an influence. By Ramos' own telling, de Kooning was such a strong force on his own vision that he felt he simply could not move past it. "I realized I was scraping the bottom of the bucket with my abstract paintings that were just copies of de Kooning," he says.
Having decided to stop copying de Kooning, he did something entirely different: "I painted Superman," he says, speaking of the piece he did in 1962 at age 27. Then he corrects himself: "No, Batman was the first one. I decided to just go, 'The hell with it. I'm going to be an artist. I'll paint whatever the hell I want.' I started paying attention to the comics I had—the guys who drew those comics were really incredible. I did a celebration of comic book heroes, in a heraldic way, the way Gainsborough would do a portrait," he says of the 18th-century master. Ramos' Superman appropriated the hero from a dramatic comic book setting and placed him against a nearly blank backdrop. For the record, Ramos lists C.C. Beck as his favorite comic artist. An image of Beck's work on Captain Marvel adorns one of the glasses that hold Ramos' brushes.
He eventually got that full-time college teaching job he desired, at California State University, Hayward (now Cal State, East Bay), where he taught until he retired in 1998. That's what precipitated the move to Oakland. He suspects that part of the reason he received the Hayward position was that his art had, per chance, been featured not long prior in Time magazine.
The 1963 article listed Ramos first among six artists showing at a major exhibit of Pop Art in Los Angeles, among them Edward Ruscha and Thiebaud. It commented on the controversy inherent in Pop Art, quoting a visiting curator, Peter Selz of New York's Museum of Modern Art, who called the collected paintings "limp and unconvincing." Today, it's worth noting, there are 10 Ramos works in the New York MoMA's collection.
*****
"It is the most historically significant Pop Art painting in our permanent collection," says Timothy Anglin Burgard. Burgard is curator of American art at the Fine Arts Museums of San Francisco—comprised of the de Young and the Legion of Honor—whose collection includes, in addition to the Ramos, work by Roy Lichtenstein, Claes Oldenburg, Wayne Thiebaud, and that avatar of Pop Art himself, Andy Warhol, who Ramos says once hit on him at a party in the '60s at New York's Dakota (where John Lennon lived and was killed). The subject of Burgard's comment is that very same Superman painting that Ramos made in 1962 after saying "The hell with it." It currently hangs near the entrance of the de Young in Golden Gate Park and it was acquired in conjunction with the opening of the new de Young Museum in 2005, and came directly from the Ramos family.
Burgard illuminates, at length, the place Superman holds in the de Young collection: "It was important for the Fine Arts Museums of San Francisco not only because the painting is historically significant, but also to have a truly stellar example of Pop Art, which obviously was a national phenomenon, as a cornerstone of our postwar permanent collection." The work's significance comes in many forms, but foremost because Ramos' own transition from abstract expressionism like de Kooning's work to superheroes coincided with the broader cultural transition from abstract expressionism to Pop Art—that is, from the cult of Jackson Pollock to the cult of Andy Warhol.
Ramos' piece, Burgard says, helped the newly expanded museum define its enlarged purview. (Burgard refers to the 2005 unveiling of a brand-new de Young, its predecessor building having been demolished as a result of damage during the 1989 earthquake.) "The Fine Arts Museums," he says, "have been known for their historical collections, and with the expansion of our galleries, we were very interested in expanding the parameters of the collection into the postwar period."
These superheroes were, ultimately, a transitional point for Ramos himself. "After the comic book heroes came the heroines, who were really sexy in those days," Ramos says with relish. These include his famed work like Phantom Lady, which hangs in the Ramos' living room when it isn't touring museums on the other side of the world, and Ramos' highest sale to date, Miss Liberty—Frontier Heroine, which went for $1.8 million. Miss Liberty shows a white-blonde young woman clad tightly—and fully—in an American flag outfit, her identity lightly disguised with a Lone Ranger mask. She straddles a fast-moving white stallion above a cloud of dust. It went to a collector living in Jerusalem, who informed Ramos' New York dealer Louis K. Meisel that he desired a work showing no nudity, something of a scarce resource in the artist's oeuvre.
Those comely heroines of a more reserved era served as the gateway to Ramos' later contemporary nudes. "And from the 1960s on," he says, "that's what I've been doing."The nudes are how Ramos figures in the popular imagination, like Warhol with soup cans and Monet with lily pads: Hunt for the Best, in which a woman stands a head taller than the ketchup bottle she lovingly embraces; California Browned Bear, in which only tan lines can be said to get between a female sunbather and a docile grizzly; Miss Grapefruit Festival, in which a busty torso emerges from a horizon-spanning field of tellingly ripe fruit.
Ramos' women have, over time, come to form an army of near-universal sex appeal and buoyant humor. They lay astride, atop, or beside soda bottles, boxes of Velveeta and elephant seals. They explode from cans of Valvoline and candy bar wrappers as if from a birthday cake. He occasionally returns to the superheroes, having a few years back done a version of an almost claustrophobically attired Catwoman with a likeness of Michelle Pfeiffer's face. And there was a period of landscapes. But the nudes endure.
All artists are, to some extent or another, products of their time. Ramos' nudes arrived a decade after the 1953 founding of Playboy, and a few years in advance of the Summer of Love. By his telling, they occurred as a natural progression in his work: Superman and Batman rescued him from abstract expressionism, the female superheroes succeeded their male counterparts, and the more he painted the female form, the more he desired to paint the female form. Ramos says in the long run his career hasn't suffered in the slightest, though there have been hurdles: "I couldn't show my work at public spaces such as banks, like my fellow artist friends were." Adds his daughter, and one-time model, Rochelle, "I feel that Europeans have a clear respect for the beauty of the human body, both female and male. At times, the United States seems particularly judgmental, a bit uptight, whereas Europeans have a better sense of humor."
For evidence, look no further than the commission Ramos received last year from Ferdinand Oliver Porsche, great-grandson of the carmaker's founder. He requested a nude to celebrate the planned remake of the classic Volkswagen bus that will come out next year. Ramos suggested Porsche's wife. Porsche thought about it, and agreed. Ramos will take pictures of her this summer for the painting.
American museums have at times indirectly addressed the tension of Ramos' hyper-real nudes. For the cover of the catalog for his 1977 Oakland Museum exhibit, the editors selected one of Ramos' paintings that features a largely abstract image in which only the woman's face, neck and hair are visually legible. The cover of the catalog to a Rose Art Museum exhibit, which also included nudes, showed none of his art at all, just a blank, yellow square—it comes across as the cheeriest censorship mark ever.
For its part, the Crocker, which will feature dozens of nudes in the retrospective, will have a nude on the cover of its program, albeit with some strategically placed lettering. And there won't be any age restrictions but perhaps some "cautionary signage," says Shields.
When it comes to the reactions to his work, Ramos has many colorful tales of battle. He recalls, as if it were yesterday, being informed that when the feminist artist Judy Chicago encountered his work in an exhibit, she screamed so angrily that museum employees reported hearing her voice a floor down. And he was once confronted by the famous Guerrilla Girls, the anonymous feminist collective. "We suffered the rage of feminists," he says, "because we did paintings of nude women. Exploitation, they called it. My reaction to that is, 'You're assuming exploitation is a bad idea.' Exploit a good idea, that's good." In other words, having painted countless nudes of beautiful women, Ramos is at best bewildered by the concept of seeing them as anything other than specimens worthy of celebration.
Ramos semi-jokes that he owes a debt to Robert Mapplethorpe, whose nude photographs of New York's downtown scene—often replete with sadomasochistic imagery—made him a lightning rod for moralizing before he died as a result of AIDS in 1989: "He did things that make my work look timid." Ramos tells of encountering a female artist at an Oakland studio that deals in reproductions for both of them: "She came over, thanked me for my work, and said, 'When I first saw your work I didn't like you at all, but that was 20 years ago.' "
At first, when pursuing his nudes, he painted these women largely from images he'd found in Playboy. Other images—the animals and logos and consumer packaging—were selected from other magazines. Sometimes he'd have to wait a year until the right image presented itself in order for him to complete a composition. "I've always considered myself an unreconstructed surrealist," he says. "And my whole career has been based on a strategy that uses a lot of tenets of surrealism—incongruous relationships, for example," by which he means the sort of contrasts he regularly posits between, say, a blossoming young woman and a half-obscured Lucky Strike logo.
He eventually shifted from clipping magazines and to using models, at first his wife, Leta. The matter was characteristically practical: "Well, it was either her, or I had to pay somebody five bucks an hour." (Says Leta of the nudes, "In the beginning I was shocked, but I have learned to love and appreciate his work.")
Through it all, Ramos kept his wits, and his wit. After the plainly titled Superman and Batman and Captain Midnight came titles in which Ramos' humor was part of the package, such as the series of reclining nudes he captioned You Get More Salami with Modigliani. Decades after forcefully leaving behind Willem de Kooning, Ramos revisited the abstract expressionist but with his own trademark wordplay. That series he titled I Still Get a Thrill When I See Bill. Ultimately, he leans on art history—rich with painters who portrayed nudes, from Picasso to Goya—for validation. Ramos tells a story about a visit to the Louvre in 2009. "Titian, Tintoretto and Veronese," he says, naming three formidable painters of the last millennium. "[There were 15] paintings of nudes by these guys. I got blown away. The sky parted and God came down and spoke to me and said, 'You're doing a good thing.' I got vindicated."
*****
At 76, Ramos says he is more productive than ever. He wakes early, eats breakfast, and then paints. And paints. A canvas of, say, 15 square feet, such as the current cigar nude depicting Brooklyn Decker, can take approximately 10 working days to complete. By his family's telling, he will miss a meal if not coerced from his studio, or brought his food there. And as evidenced by the recent Anderson and Porsche commissions, his work is also in demand by notable collectors.
The list of celebrity collectors includes longtime locals like Tower Records founder Russ Solomon, who once traded Ramos a stereo system for a 1965 painting of a nude on a block of Monterey Jack cheese called Monterey Jackie (which will appear in the Crocker show), and continued collecting his works even after he learned about the many 45s that Ramos had lifted from Tower's private listening booths (each outfitted with a turntable) in his younger days.
Other notable collectors of Ramos' paintings have included the Oscar-winning actress Eva Marie Saint (On the Waterfront and North by Northwest), Guess Jeans co-founder Georges Marciano and none other than Sir Paul McCartney, who bought one of Ramos' well-known "keyhole" paintings of a Playboy playmate.
But celebrities aren't always the collectors; often they're the subjects. Many of Ramos' pieces feature the likenesses of stars like Uma Thurman, Angelina Jolie, Cameron Diaz and Scarlett Johansson, but none actually posed for the works or even agreed to them. And not all of them have been happy about it.
Take supermodel Claudia Schiffer, whom Ramos portrayed nude (using her face, but a different woman's body) reclining on a hot dog in 1995. As it happens, the piece was shown in Germany, where Schiffer lives, and the gallery owner had changed the piece's name from the original Doggie Dinah. "This idiot called it Claudia," says Ramos' dealer Meisel. "So she went to court, and they seized the show and asked for [the painting] to be destroyed." The piece was eventually released under the condition that it not be shown again.
Of course, there was the one celebrity fan who actually commissioned a work of herself: Pamela Anderson. "It was supposed to be $250,000," says Meisel. "She claimed that she couldn't afford that. So I said, 'OK, [we'll take] $150,000 and you will then let Mel do eight more paintings of you using your name.' And she said, 'OK.' " Anderson never ended up paying that either.
But the deal wasn't a total bust.
One of the two paintings that Ramos has done so far was sold in Vienna for $250,000, and the other in South Korea (neither Meisel nor Ramos knows for how much). So if you're in the market for an original Ramos Anderson, there is still an opportunity to commission one. "If a collector comes to me and says, 'I'd love a Pamela Anderson,' " says Meisel, "I'll show that collector 40 to 80 pictures, and say, 'Tell us which one you like, and Mel will figure out how to get it into a painting for you.' "Payment, however, will be expected in advance.