The New Golden Age
By weekday, they're construction workers, utility mechanics and registered nurses. But on weekends, they abandon their respective vocations and venture far up into the storied Sierra foothills and far back in time—circa 1849—dodging rattlesnakes, poison oak and the stink-eyed gazes of seasoned treasure hunters as they transform into passionate modern-day prospectors. And they're not alone. The global pandemic drove gold prices to record highs this past year and left many with a lot more time on their hands—and knees—searching for the precious yellow metal that's so deeply entwined with our region's historical DNA. Yep, there's still gold up in them thar hills, and the rush to find it is on (again).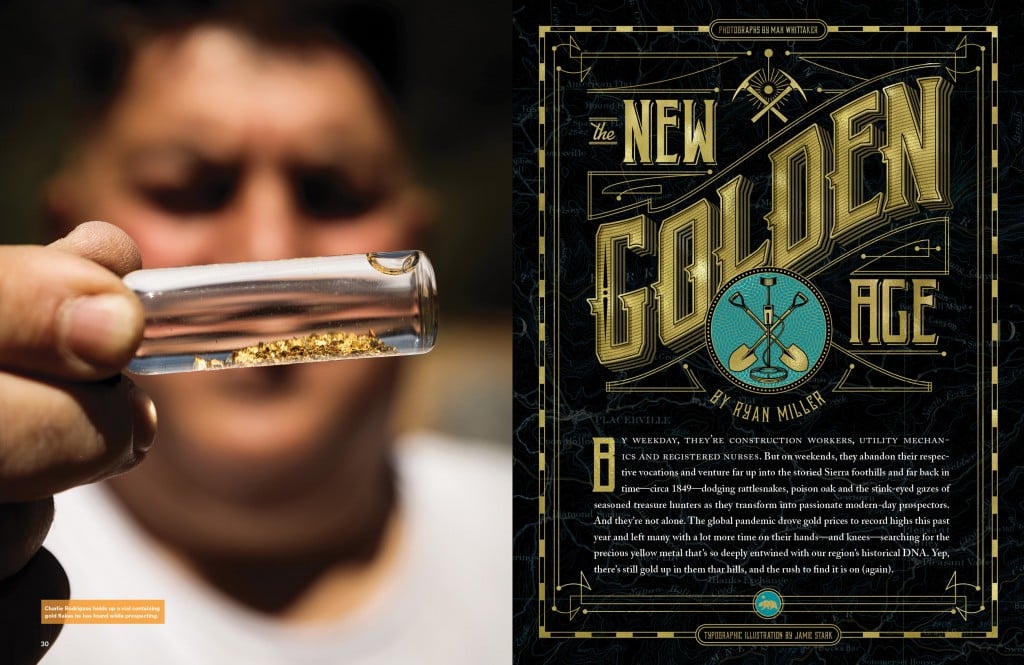 TTo call the path I'm staring at a "trail" is charitable. Fringed with poison oak and punctuated by an exclamation mark of rusty rebar at the bottom, the steeply angled route from El Dorado Hills' Salmon Falls Road to New York Creek burbling below is more of a dare. Shuffling and hopping from the wildflower-dotted shelf to the rock-studded banks about 100 feet down will take equal parts common sense (to figure out where to plant a toe or heel and prevent an all-out plummet) and recklessness (to even attempt the scramble in the first place).
Reggie (not his real name, but more on that later) makes sure I'm OK with the plan, then begins his descent—with a pickax strapped to his back, no less. As a 35-year-old Sacramento-area construction worker, he has plenty of experience hauling gear in dusty conditions, but the casual ease with which he drops down this hill is more likely due to the fact that he's spent more weekends than not navigating such backwoods byways over the last seven years.
While he enjoys tromping trails and rekindling the wonder and freedom he felt as a child exploring his family's 10-acre property in the foothills town of Rescue, his wanderings these days have a particular purpose. It's the whole reason he heads out to spots like this, where cell service is a memory and hikers are wise to keep an ear out for rattlesnakes.
Reggie is a gold hunter.
I push all thoughts of rashes, abrasions, bites and impalings out of my head as I follow this modern-day prospector over the edge—not headfirst, but close.
"Almost any creek around here is going to have gold in it," Reggie says after I land beside him. He gestures toward a huge bank of dirt and rocks, explaining that he brought me to this particular spot because he wanted to show me some history. What might look to casual passersby like a flood-built wall of debris or a berm constructed by some public works group is actually what he calls a "tailing": a long hill of sand, gravel and other mineral leftovers piled up by busy prospectors some 170 years ago.
"What this tells me is that they found gold," he says.
The cloth covering his nose and mouth—less out of Covid concern and more a barrier against the abundant pollen that would make his allergies flare—hides his smirk, but the sly grin is evident in his voice as he adds, "But they didn't get everything."
✦ ✦ ✦
When James W. Marshall spotted something glinting in the South Fork of the American River on Jan. 24, 1848, he became Patient Zero for a new affliction—gold fever—that quickly engulfed the entire world.
In the span of four years—during which California transitioned from a territory to a state of the union—the non-native population swelled from roughly 14,000 people to about 250,000, all of them with a single shiny fixation. They came from around the country and beyond, trekking overland from the East Coast and Deep South, stepping off ships from Europe, China and Australia. The bulk of the horde landed in the Sacramento area, with the 1850 census tallying El Dorado as the most populous county in the state.
At its peak in 1852, the Gold Rush coughed up an estimated $81 million in minerals. After that, larger-scale mining, including hydraulic operations, gradually took over from individuals or small groups scouring creeks and staking claims.
But like many conditions, gold fever was never truly eradicated. Charlie Rodrigues, a 55-year-old mechanic for "a large utility in the area" who lives in Citrus Heights and serves as vice president of River City Prospectors, says that many miners followed new rumors of gold, packing their picks and pans to chase smaller rushes in Colorado, Oregon and Washington. The Klondike Gold Rush of 1896 drew at least 100,000 of them to Alaska.
Rodrigues explains that in the Grass Valley area, where he grew up, several mines continued operating through the beginning of World War II. Interest in gold waned, but didn't die out. Rodrigues remembers seeing gold hunters working at Mammoth Bar when he went for picnics with his parents and eight siblings in the late '70s and early '80s, all of the kids jostling in the back of their dad's truck on the way there before pouring out to find au naturel swimmers he dubbed "mermaids" sharing the current with dredging equipment sucking up gravel from the riverbed.
State regulations to curtail dredging put firmer brakes on local gold hunting efforts, but the activity tends to enjoy a resurgence now and then—from businesses and hobbyists alike—helped along by surges in gold prices and interest in the outdoors. The Covid pandemic wooed potential prospectors on both fronts by prompting the value of gold to rise to record levels and taking away all opportunities for participating in indoor activities, from sporting events to dining to church to simply getting together at a friend's house.
There's also the simple fact that the stuff is still out in them thar hills. In January 2021, the U.S. Geological Survey reported that America has a known 15,000 tons of gold yet to be taken from the ground—and another estimated 18,000 tons yet to be discovered.
✦ ✦ ✦
As with just about any activity, there are many ways to approach gold hunting, ranging from the casual to the hard core. There are parents who occasionally take their kids out panning in the clear waters of the American River as a way to pass a late summer afternoon and professionals who bristle at anyone who refers to prospecting as a hobby instead of a federally granted right. (A prospector pro who grew a bit testy in a recent Facebook thread groused: "If you want a hobby, go bird-watching.")
Despite the grizzled gold hunting gatekeepers who lament Sacramento Valley and Bay Area residents flooding their increasingly crowded and environmentally regulated hills—calling the tourist types "flatlanders" because they didn't grow up on elevated land —thousands of people in the Sacramento region have joined clubs and online groups devoted to the pastime. Rodrigues' River City Prospectors, the Sacramento chapter of the Gold Prospectors Association of America (GPAA), has about 600 members on Facebook. Auburn's Mother Lode Goldhounds boasts more than 2,700.
Rodrigues says group membership grew during the pandemic. Their outdoor meetings typically drew about 20 people prior to Covid. Now, they see 35 or 40 attendees regularly each month. This is reflected at the national level too, where GPAA Executive Director of Development Kevin Hoagland says public interest in prospecting has been mounting over the last decade, bolstered by the ballooning value of gold—but more so, in his estimation, by people wanting to get off the couch and into nature. Membership has grown about 5% per year, he estimates, adding, "That's pretty good growth for what's considered a niche industry."
During the pandemic, however, the numbers "skyrocketed."
"It was in April, May and June [2020] that we really started seeing the growth," says Hoagland, a former Placerville resident who now lives in Arizona. "But as we came into July, August, September, that growth absolutely went nuts. There were people that just could not sit in their house anymore. They were going crazy, and they started discovering the idea of prospecting."
Now, membership sits at more than 30,000, 15% of which joined the GPAA in the pandemic months of 2020 alone.
The last time something like this happened was after President Richard Nixon lifted the gold standard and the mineral flew past $600 an ounce in the 1980s, inspiring a mini "rush," Hoagland says. That was around the same time River City Prospectors started. Chapter president Gary Watts agrees that interest in prospecting seems to rise along with the price of gold, which shot up in value from about $1,300 an ounce in March 2019 to a record high of more than $2,000 an ounce in August 2020 before settling down a bit to hover in the $1,800 range for at least the first half of 2021.
This was not a random jump. When investors start worrying about the economy—such as when a pandemic decimates global industry and travel—they turn to gold. Unlike bitcoin, you can actually hold gold in your hand. It's not theoretical or representative: It's there, even if confidence in the value of the U.S. dollar isn't.
Those kinds of numbers also tend to attract attention beyond investing, especially when they're connected to something anybody can find by kicking over the right rock. And I do mean anybody. Thanks to the Mining Law of 1872, all citizens of the United States have the right to explore for valuable minerals on federally held public land—no permit required.
The law also means that if you discover something worthwhile, you can stake a claim for mineral rights on a 20-acre parcel by filing paperwork with the Bureau of Land Management and paying a $225 fee, then the $165 annual maintenance fees. Hoagland says the gold you find is also taxable. Whether or not prospectors actually report their hauls is a different matter.
The various gold hunters I talked to for this story did emphasize the importance of respecting the law and researching online databases before heading out to a new spot to be sure it's not already claimed by someone else. An app called OnX Hunt shows public and private land boundaries, while thediggings.com lists property lines and active claims (475 in Placer County and 345 in El Dorado County as of May 2021).
The claims themselves should be properly marked with monuments to let wanderers know any minerals within the boundaries are off-limits. It's not a perfect system: A 20-acre parcel is big, and it's possible to miss the signs. More egregious is the crime of knowingly sneaking onto someone else's claim to mine when they're not there.
The GPAA owns hundreds of claims around the country and grants access to members. River City Prospectors also has a claim of its own, as well as access to nine others around the region, which are generally open to people who attend at least a few meetings and kick in $10 a year to help cover the necessary fees. The group holds fundraisers to further defray maintenance costs, such as an annual springtime get-together that involves participants hunting for gold coins buried by the organizers, or a "sluiceoff" that rewards the person who finds the most gold in a day.
When he's not running such association events or working his day job, chapter vice-president Rodrigues is likely standing in any of several local rivers he frequents. He slips into waders during the colder months, but summertime sees him in shorts—more than the "mermaids" of his youth wore.
Despite his childhood days of seeing dredging in action, he first got truly interested in gold 11 years back when he chaperoned his daughter's elementary school California history field trip. One of the class activities was panning, and he got so caught up in the demonstration, he had to be reminded why he was there: "The teacher said, 'Hey, Charlie, you need to come watch the kids! The gold panning part is over now.' "
He took his own kids out a few times in the following years, but it wasn't until he reconnected with Watts—a high school buddy and fellow military veteran—about seven years ago that he really gave in to gold fever. He prefers to pan and operate a sluice, which is essentially a box that uses a stream's own flow to wash away the dirt shoveled into it. Heavy gold, if there is any among the lighter sand and gravel, gets stuck in riffles along the bottom.
Rodrigues says that he spends almost every weekend prospecting, heading out with friends now that his kids are grown. He put his first year's findings into a locket for his wife, but he has dropped the rest of his flakes into clear, water-filled vials, separating them roughly by year. He admits his flakes aren't much—and he's never weighed them to see how much he's collected overall—but he has about half a dozen vials, each about the size of a pinkie finger. He passes them around at meetings for demonstration purposes, but otherwise simply enjoys that they're there.
"I just like having it around," he says of the gold. "You look at it, and it's hard to explain. It's what man has been chasing for centuries, whether for jewelry or money or trading value or what they could make with it."
What he doesn't like is garbage, like lead fishing weights, which he pulls from the water as he prospects. The whole group adopts this approach, he says, working not just to find treasure, but to take care of the land they love.
"Even the days where you get skunked, you're still out in the woods, and it takes your mind off the everyday grind," he says. "It's really relaxing. Then you get that rush when you see gold in the pan and go, 'Oh man, this is why I'm out here.' "
In this way, prospecting has proven to be a mental lifeline for Rodrigues. His job didn't slow during the pandemic, and in fact kept him busier than usual due to two of his co-workers having to shelter in place because of their family situations.
"I need some time to decompress and get over working during the week," he says. "So [Watts], myself and a couple other guys, we hardly missed any time on the weekends going out and getting gold."
Rodrigues and Watts have also built a YouTube channel, Yellow Dog Adventures, where they share advice and footage of their outings, from exploring old mining camps to having the police called on them by a woman who spotted them metal detecting at a public park.
✦ ✦ ✦
Newer regulations have refined the Mining Law of 1872 over the years, and other jurisdictions beyond the federal may also require some i-dotting and t-crossing, but that 149-year-old bit of legislation is still the bedrock upon which modern prospecting stands. Miners who count on gold for their income fiercely defend and rely on the law, which also benefits families who might pause their picnics long enough to stand next to a stream and swirl some dirt around in a dish.
Reggie lives somewhere between those two extremes. (He asked to be identified by a pseudonym for this story in part because someone once began posing as him online, posting photos of his family and prospecting exploits as their own.) While he heads for the Sierra Nevada range practically every chance he gets, he also wants to be sure his passion never becomes something he relies on for income. Like Rodrigues and so many others, it's his opportunity to enjoy nature and near solitude. Sometimes he heads out with a buddy, the two of them fueled for days by nothing more than bananas, granola bars and their burning desire to find that next nugget. Other times he takes his kids, hoping to instill in them the same sense of wonder and freedom he felt as a child wandering his family's land or hunting for flakes and forty-niner artifacts with his own dad.
While he has maintained a lifelong interest in the outdoors, like Rodrigues, he didn't truly catch gold fever until about seven years ago, after a friend of his showed him what someone with a little drive, ingenuity and luck could find in the nearby mountains. The two of them began panning, then sniping, which involves strapping on a swim mask and dunking your head in the snowmelt to better spot gold glinting underwater. By the time Reggie took some money he had on hand—a payout after a car accident—and bought a metal detector, he was hooked. Now, he scours Google Earth for signs of old digs that may be worth exploring with a fresh set of eyes and a new millennium's technology.
"Gold mining has been awesome for our family," his wife says, adding that she sees his passion for the pursuit and considers it a healthy way for him to spend his time. She admits that it can be hard, at times, to be apart from him so often, but the sacrifice is worth it. "And, you know, obviously the gold is nice."
Indeed, Reggie's hobby has paid for itself. He earned back the initial investment he put into that metal detector and went on to buy an SUV for $15,000, paid for with the gold he found in a single summer during his second year of prospecting. When I ask about his biggest find or his estimated annual take, he demurs: "The ounces come and go."
Considering that many prospectors find a few flakes—if that—for their lifetime take, Reggie's use of the plural "ounces" is telling.
Secrecy is generally the preferred approach for experienced prospectors. Much like dedicated anglers who jealously guard their best fishing holes, many gold hunters take great pains to protect their personal info and their richest sites from being discovered. When Reggie guides me to El Dorado Hills' New York Creek on a Sunday afternoon in mid-April, he has already spent the prior Thursday after work and all day Friday and Saturday hiking for miles to dig in a location he won't disclose.
Even if Reggie were willing to escort me to one of his most preferred creeks or crags, he couldn't—at least not in spring, with white still visible on the Sierra Nevada range. Knowing that most nuggets are nestled under the snow and inaccessible until the thaw, he agrees to take me to the spot just a bit past Folsom Lake, more to show me a metal detector in action and point out the tailings than find a big score. The relative nearness to civilization means more potential prying eyes, but despite seeing several other vehicles parked along the side of the road, we're the only humans at this spot.
"Hear that?" Reggie asks. "The sound of the creek and no people around you? That's good for your soul."
I suggest we fire up the metal detector, so he fiddles with it a bit before switching it on. The long pole has a box and handles at one end, a flat plate at the other. I hear an otherworldly whine from a pair of earphones plugged into the box before he clamps them to the sides of his head. He sweeps the device back and forth, moving the detecting disc in slow arcs with motions somewhere between vacuuming and weed whacking.
He makes pass after pass over one specific patch, then nods and points at the ground.
When he lets me listen in, I hear the electronic tone rise and fall and rise again, like the haunting opening theme to a Star Trek episode from the '60s. My heart pumps a little faster. Reggie, however, is not as excited about the theremin-like warbling. He doesn't reach for any of his digging tools. He doesn't even nudge the dirt with the toe of his boot. When I ask why, he explains that what we're hearing is junk. The pitch is wrong, he says. It's too high.
"The tone of gold? It's hard to explain," he says. "It has its own frequency. It just sounds different. Gold sounds more pure and crisp. Iron and aluminum are wobbly and sporadic."
Reggie points out the creek's high water marks and speculates on its original path, before prospectors diverted it in a prior century. It's clear he'd rather be 5,000 feet higher in elevation, digging in one of his personal pits, away from the trail-going families that have now started to make themselves known in the previously quiet spot.
Perhaps sensing that I was hoping to see at least a flake on this field trip, Reggie pulls a prescription pill bottle from his pocket and tips three yellow lumps the size of small grapes into his palm. Each nugget weighs about a third of an ounce, he says, rattling almost $2,000 in minerals around in his hand. He found one in El Dorado County, one in Placer County, and one in Plumas County.
Finds like these take both work and luck, he explains. Prospectors can hunt for days and end up with less than a gram—or nothing at all. It's the pursuit he enjoys, and finding evidence of previous pursuits, like the mounds that loom over New York Creek.
"Seeing it in person?" he says. "That's the thrill."
✦ ✦ ✦
Work and luck tend to partner with proper preparation, which is why Celeste Sandbank, a 50-year-old registered nurse who lives in Auburn, maintains a daily ritual of waking at 5 a.m. to spend an hour or two before work combing the internet for scans of documents that date back to the mid-19th century. Historic records are loaded with clues, if you know where to look. Everything from digitized archives of small-town newspapers to publicly available real estate information has the potential to yield a nugget of information that could lead to a nugget of gold.
After her research, she administers Botox injections and laser hair removal treatments three days a week at Roseville Dermatology where "they would love me full-time," she says, "but that would give me no time to prospect." Her work in the beauty business, blonde hair and predilection for pink led her to adopt the nickname "Prospector Barbie" on social media.
Sandbank's gold fever struck about 10 years ago when her husband, who knew that she had long wanted to try her hand at treasure hunting, got her a metal detector for Christmas "as a last-ditch effort" to salvage their 15-year marriage. Prior to this, she hadn't been especially outdoorsy. She played in the dirt a lot as a kid—like most kids do—but began developing symptoms of Lyme disease and Epstein-Barr in her 20s and 30s, which curbed her energy levels. Upon receiving an unexpected excuse to get outside in her 40s, she decided to take it.
"We ended up splitting up, and I used my metal detector as therapy," she says. "Nature is very healing. It just kind of started from there, and it turned into a huge obsession."
Sandbank joined Auburn's Mother Lode Goldhounds and threw herself into excursions, but her entry into the world of prospecting wasn't easy.
"It can be tough for a solo woman without any connections to break into this," she says. "When I started, I had to do everything myself. I had to teach myself."
Now, she's been exposed to poison oak so often that she has to take prednisone to tame her severe reactions, has photos of rattlesnakes coiled menacingly near her sandaled feet, and recalls a time she was trying to clear a mysterious white "fluff " out of a hole in Georgetown in El Dorado County when she realized that she was scooping thousands of baby scorpions with her bare hands. And she's also made her own contribution to the growing collection of online meeting spaces for prospectors. June 17, 2021, marked the one-year anniversary of a Facebook group Sandbank launched to focus on women mentoring and supporting their fellow female prospectors to meet up as a group for outings. Dubbed "Diggin' Chix," the group currently has more than 800 members.
✦ ✦ ✦
The clues Sandbank finds during her research often lead her to modest treasures—pockets of quartz here, interesting relics and artifacts there—but she occasionally finds more. After learning that fault lines can correspond with gold formations, she read up on the nearest tectonic plate activity she could find, the Bear Mountain fault zone, and followed her metal detector to a nugget the size of a cherry pit hidden just below the surface near El Dorado Hills. You can see more than a few tooth-sized nuggets cradled in her calloused hand or held between two well-manicured fingernails on her Instagram feed.
She also recently came across the story of seven prospectors who took off from Placerville in pursuit of gold, "only to find a band of Indians," she explains, telling the tale as reported by a local paper in the late 1800s. "They're playing with a ball the size of a baby's head. Guess what that ball was made of? It was gold. A solid gold ball!"
When she read that, she says, she got chills everywhere—mainly because the alleged event happened in the same piece of El Dorado County where she and her mining partner, 25-year old Georgetown resident Jai Odyssea, staked a couple of claims this past February. Odyssea has been mining variscite, a mineral that's like a translucent cross between turquoise and jade, and selling it for around $10 a carat, though he hopes it will command a higher price once they collect all of the vein and see how much they have.
In April, Sandbank found a several-foot-thick slab of quartz on one of the claims and broke a piece off while trying to nab some crystals. The underside of the chunk has a thin layer of what looks like metallic gold, she says, so she's getting it tested and planning to blast the slab apart to see what lies beneath. While it could be nothing, she admits, it could also be something.
I join Sandbank and her fiancé, fellow treasure hunter AJ Utush, for an outing on a clear day on the cusp of spring, past the mountain towns where patches of snow still dot the landscape despite the thermometer inching upward. After the couple spends a hot and dusty afternoon digging out what Sandbank estimates to be several hundred dollars' worth of quartz and other minerals, she waves her silver-glittered nails at the rocks around her.
"I know eventually I'm going to pop open one of these," she says, "and there's going to be a huge gold vein in it."
That hope of something more is what motivates her and the others to spend hours driving, then hiking, then wielding heavy tools in remote locations. It's the same hope that triggered one of the largest mass migrations in U.S. history, persisting to this day. You can practically see the shimmer among the low-growing manzanita of El Dorado County, hear the faint cries of "Eureka!" echoing among the granite outcroppings and down into the Sacramento Valley, where modern-day prospectors are, at this very moment, preparing for their next excursion—even as millions of vaccinated people begin congregating indoors again and gold prices start to sink a bit as economic stability returns. For these 21st-century forty-niners, gold hunting is not a flash in the pan.