The Nuclear Options
It's been 25 years since Sacramento's sole nuclear power plant was shuttered. Other cities have turned their aging cooling towers into hot commodities. Maybe we can, too.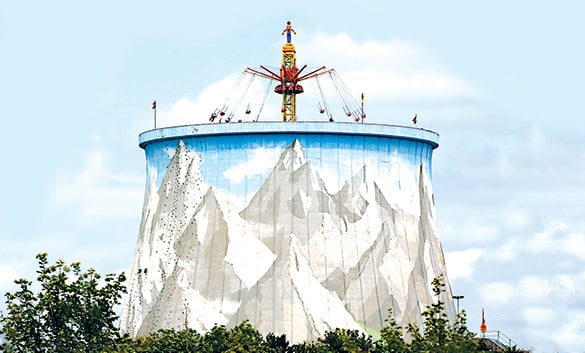 The Idea
In 1989, due largely to cost and safety concerns, the Sacramento Municipal Utility District (SMUD) closed the Rancho Seco nuclear power plant in southeast Sacramento County, 25 miles from downtown Sacramento. Today, the shuttered facility is surrounded by recreational amenities like trails and a 160-acre lake where boating, swimming and fishing are popular. And residential projects have bloomed in the surrounding area.
While spent fuel rods still exist on the site's property, they have been safely stored and SMUD now encourages visitors to the area outside the plant's gates. The central symbols of the facility, of course, are the twin cooling towers that rise 425 feet above the ground, a few feet taller than the Wells Fargo tower, Sacramento's tallest skyscraper. Given the structures' size and unique design, they provide an extraordinary opportunity to create a strikingly visual work of art or recreational facility.
In Soweto, South Africa, for example, two decommissioned, nonnuclear cooling towers were painted in 2003, one now standing as the largest public mural in the country, with images of Nelson Mandela and other patriotic symbols represented. The towers have also become an extreme sports mecca with rock climbing, zip lining and a rope bridge hanging between the towers designed for bungee jumping. In Switzerland, a single nuclear cooling tower doubled as a massive canvas for projected works of art by a renowned light artist.
Perhaps the most dramatic adaptive reuse of a former nuclear power plant stands in Germany, where the Wunderland Kalkar is a full-scale amusement park with more than 40 rides and whose sole cooling tower is painted with a winter mountain scene and features a massive climbing wall on the outside and a swing ride nearly 200 feet high in the center.
The Players
SMUD owns the property and will ultimately control its fate, but if an art project is feasible, the Sacramento Metropolitan Arts Commission could be a key partner. While a permanent work of art would be ideal, a light show held on a periodic basis could be more affordable. Perhaps Sacramento Theatrical Lighting could help with such a project. Converting the empty cooling towers into an extreme sports facility with bungee jumping and a climbing wall, à la Soweto's towers, would add to the area's recreational options and become a regional magnet for climbers. An amusement park would likely require relocating the fuel rods (which has long been planned), and there's plenty of land on the site and the surrounding area for some kind of creative endeavor.
The Bottom Line
While the Rancho Seco towers have likely been forgotten by many, they are ripe for a creative adaptive reuse project that could excite locals and, done right, draw international attention. It would be an extraordinary opportunity to turn a facility with a regional stigma into an attraction with a very positive—and safe—energy.