The owners of LowBrau to open new restaurant at the Ice Blocks called Beast + Bounty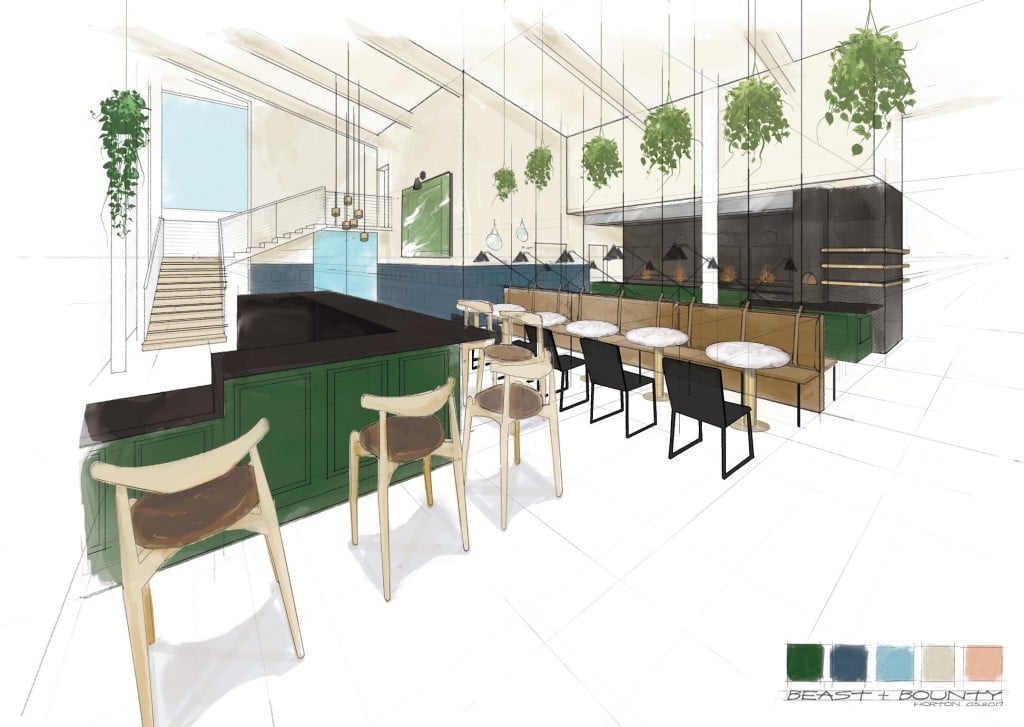 The folks behind LowBrau and Block Butcher Bar are planning to open their newest restaurant venture titled Beast + Bounty by the end of this summer at the Ice Blocks development on R Street.
Beast + Bounty will occupy part of the former Orchard Supply Hardware building at 17th and R streets, where co-owner Michael Hargis and executive chef Brock Macdonald (who currently heads up the kitchen for LowBrau and Block) plan to offer an elevated yet approachable menu that highlights proteins and vegetables equally, something Hargis felt was missing from his restaurants in midtown.
"I'd go out [in Sacramento] with a group of friends, and I'd have a group of vegans and vegetarians, and a group of meat eaters, and I was like, 'Where do we go?'" says Hargis, whose inspiration for the place came from restaurants like Gjelina in Los Angeles and Ox in Portland. "There are a few places that have some of those offerings, but still not one pivotal place that answers that question, 'Where do we all come together?' So, we'll be celebrating both meats and vegetables on the same level."
While the menu hasn't been finalized, Macdonald's ideas include rotisserie meats, house-made pastas like a squid ink farfalle with clams and Calabrian chilies, wood-fired pizzas like a salumi pie with pesto and house-made mozzarella, and a daily Beast (meat) burger and Bounty (veggie) burger. Other possible menu items include a pasture-raised quail with a cornbread waffle and whiskey BBQ sauce, and a winter squash pie with citrus ricotta, sage veloute and pecorino cheese. He says the dishes will be largely dictated by the exposed wood-burning hearth (midtown's first, according to Hargis), which will be a centerpiece of the open kitchen.
"I'm really excited to show that it's not only about protein, that vegetables can be the star of the show," Macdonald says. "And obviously, seasonality plays a huge part. There will be entrées, there will be smaller plates, but everything is subject to change." As such, Macdonald's drafted menu includes everything from apps like charred Monterey squid with pickled green almonds to plates like a tomato tart with braised herbs and fresh goat cheese.
Macdonald is working closely with pastry chef Edward Martinez, who will be creating the dessert menu for Beast + Bounty, which may include vegan and gluten-free options. Currently creating desserts at the Michelin-starred Lazy Bear in San Francisco, Martinez cut his confectionery chops at local establishments like Hawks in Granite Bay and the erstwhile Enotria, as well as Tyler Florence's Wayfare Tavern and Restaurant Guy Savoy in Las Vegas. Working ideas for the dessert menu include a milk chocolate custard with smoked sugar and buttermilk sherbet, as well as toasted rice puffs with jasmine cremeux and charred plums, and a salt-roasted pear with milk jam and Straus cream.
Hargis says the cocktail program will also be inspired by the central hearth, with plans to incorporate char and smoke as flavor profiles, and in contrast to LowBrau's extensive beer program, Beast + Bounty will focus on craft cider, highlighting small-batch cideries. Hargis also aims to offer a comprehensive wine list, perfect, he says, for the folks who want to play bocce ball at the court on the patio.
"I can't imagine being outside playing bocce, and not having a good glass of wine," he says.
In addition to the outdoor bocce court, the 2,500-square-foot space with vaulted ceilings and one brick wall will seat about 90 people inside, with room for 30-40 seats on the exterior patio. For the interior, Hargis is planning a "Scandinavian hunting lodge" aesthetic, featuring herringbone white oak floors and white oak tables, with coral, blue and leather accents. He is working with Erin Boyle and Stefan Betz Bloom of midtown's Scout Living, as well as local furniture maker Steven Tiller, to achieve the look.
"It's going to be different than anything midtown has seen to date," Hargis says. "Bright and airy, modern design, super fresh. Lots of light-colored woods and fun color pops, juxtaposed with the wood-fired kitchen—the interior will be the bounty and the kitchen will be the beast."
Hargis and Macdonald are aiming to open Beast + Bounty by early September, and the restaurant will serve breakfast, lunch and dinner throughout the week and brunch and dinner on the weekends. Prior to opening, Macdonald will host two pop-up dinners to offer a preview of the space and food, which he and Hargis are excited to bring to the burgeoning midtown neighborhood.
"[Beast and Bounty] is an answer to what's missing in the Sacramento food landscape," Hargis says.
The new restaurant is the first eatery that has been announced at the Ice Blocks, a mixed-use development that will offer retail, office and residential space and house a West Elm, Philz Coffee and Pressed Juicery.
1710 R St. 799-4533. eatbeastandbounty.com
You Might Also Like
First purveyor announced for planned food hall, The Bank
Burly Beverages will be poppin' bottles this May at its new craft soda shop
A new Italian food truck hits the streets of Sacramento