The owners of Milestone Restaurant to open Mom & Pop Chicken Shop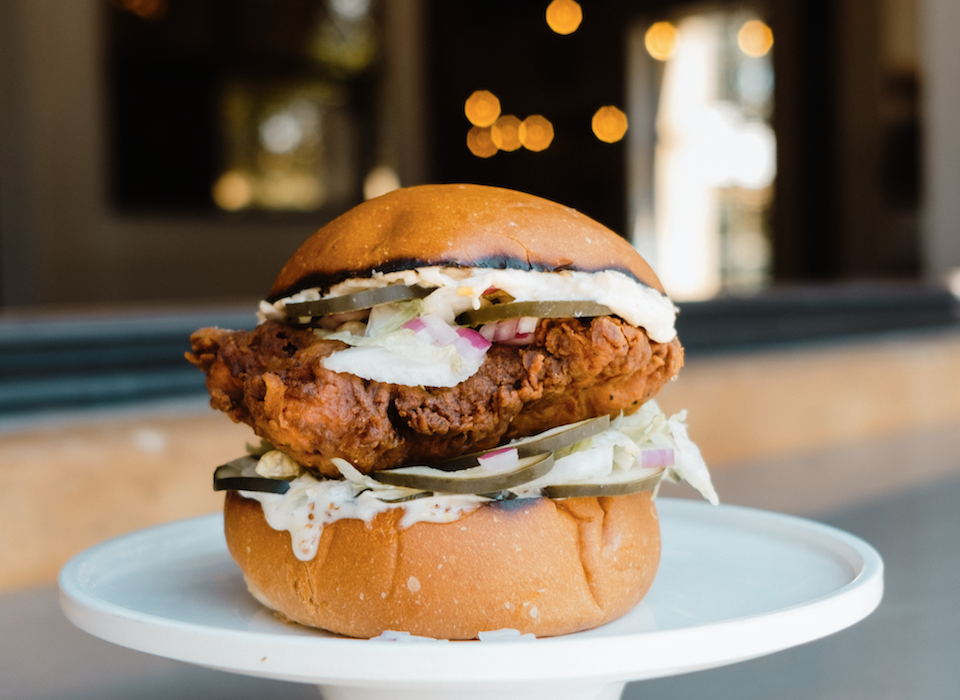 The buttermilk fried chicken at El Dorado Hills' Milestone Restaurant has been flying off the fryer since it made its debut at the comfort food eatery five years ago. In fact, its popularity has spawned a new sister spot, Mom & Pop Chicken Shop, which is set to open mid-August.
Milestone owners (and affianced couple) Nick Dedier and Alexa Hazelton are the eponymous mom and pop of this casual joint, which will also be located in El Dorado Hills' Town Center. And like any finger-licking-good fried chicken, Mom & Pop's version is served in a variety of ways: in three-piece boxes, sliced and chopped atop corn tortillas for antojito-style tacos, and on a brioche bun in three different sandwich variations, including The Original Blueprint, featuring a buttermilk fried chicken breast slathered in "shop sauce" (a honey-mustard aioli flavored with Old Bay and pickles) and the Black Pepper Bar-B-Que, which is loaded with onions caramelized in a Jack-and-Coke reduction.
Mom & Pop's fried chicken formula is no secret: Dedier—who previously served as GM of Thomas Keller's Ad Hoc in Yountville and manager of Gary Danko in San Francisco—happily discloses that organic farm birds are soaked for up to 20 hours in a honey-and-apple-cider-vinegar brine before they're dunked in buttermilk, dredged in flour seasoned with Old Bay and smoked paprika, among other spices, and then fried in canola oil, which has a high smoke point. The process, says Dedier, results in a "savory, robust crunch on the outside, and a flavorful interior that's a little sweet." (A "naked" option—flour-free, spice-rubbed chicken cooked in a separate Le Creuset Dutch oven—will be available for gluten-free guests.)
The menu will also include shareable dishes like a quintessentially Southern "cheese plate" of pimento cheese and fried saltines. Chicken appears elsewhere as wings tossed in a spicy garlic-and-red-chili sauce and atop a bed of sautéed cabbage, onions, Brussels sprouts, walnuts and cauliflower rice for a keto-friendly meal. Even the ahi tuna burger stays within the restaurant's poultry theme, if in name only—it's listed on the menu as the Chicken of the Sea. And Dedier hopes customers save room for dessert, especially the pound cake doughnuts, in flavors like banana cream, strawberry shortcake and iced lemon.
Highlights from the bar program include by-the-quart beer cocktails, like a strawberry shandy (Anchor Steam lager, fresh muddled strawberries and house-made lemonade), and a hangover-deflecting michelada (lager blended with Preservation & Co.'s Bloody Mary mix, Worcestershire, horseradish and lime juice). High-end bubbles from Dom Pérignon and Louis Roederer will be available to elevate Mom & Pop's otherwise down-home fare.
As for the décor, retro-cool elements like a disco ball and an '80s color scheme (neon pink and highlighter yellow) will be paired with sleek utilitarian furniture like hard-wearing metal tables and a steel-top bar. Two concrete bas-relief murals with metal leafing in gold, bronze and blue will depict the Sacramento skyline and landscapes from Lake Tahoe and Yosemite.
Mom & Pop's concept is inspired by Dedier's time at Ad Hoc, where the fried chicken prompted a line out the door every other Monday; its limited availability only adding to its cult-like status. During an Ad Hoc renovation in 2011, Dedier came up with the idea to turn an old garden shed on the property into Addendum, a lunch counter offering Ad Hoc's famous fried chicken in personal-sized takeaway boxes. Dedier also wants Mom & Pop to be no-frills at heart.
"I think a lot of fried chicken places have taken the mantra of elevating fried chicken. I'm not about that," says Dedier. "I want to offer a place for people to gather and not take themselves too seriously."
4355 Town Center Blvd. El Dorado Hills. chxshp.com
You Might Also Like
Get pantry cooking with local artisanal shelf stockers
Downtown's Solomon's Delicatessen gets a global menu makeover, but keeps its heart in the Jewish deli
Hotly anticipated Majka Pizzeria & Bakery gets set to open in midtown