The Place Maker
If you felt the pulse of the city quickening the last time you spent an evening out dining, shopping or gallery hopping in midtown, Oak Park or the R Street Corridor, Ron Vrilakas likely had a hand in that. With an uncanny ability to transform historic structures into modern gathering spaces, and to create new buildings that blend seamlessly into their surroundings, he has helped define the look and experience of our most exciting—and most livable—neighborhoods. Meet Sacramento's busiest architect and its scrappiest developer, whose goal is to turn our city into an urban paradise, one innovative project at a time.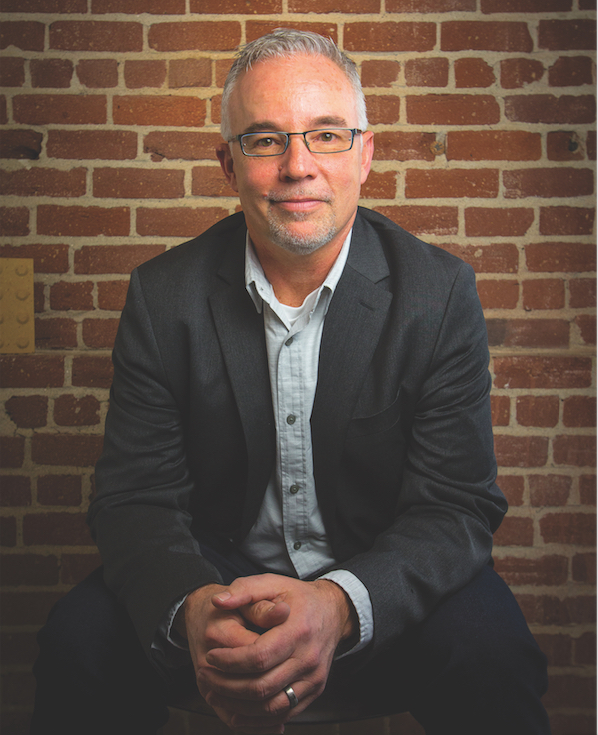 "A building is not an object," says Ron AVrilakas.
The architect and developer whose fingerprints are all over midtown, Oak Park and the R Street Corridor just isn't that into buildings, and hasn't been since the day he landed in Copenhagen in 1984 on a study abroad program.
"I was just stunned by what a beautiful place this was," he says. "Not the buildings, but the place. [The impact] was immediate, and it changed how I thought about everything from that day forward."
Vrilakas was moved by the way the built environment in Copenhagen supported day-to-day life with grace and beauty—the city wasn't a collection of buildings, but a man-made ecosystem. "That became one of the primary mentoring experiences I had," he says. "I wasn't mentored so much by an individual as by a place."
The then-21-year-old architecture student made a conscious decision to turn away from what Vrilakas calls his profession's "fascination with the shiny object," the idea that the future of our cities lies with auteur architects turning out statement buildings that win accolades. The point of buildings, and the neighborhoods and cities they comprise, he asserts, isn't form or function, per se, but something far more mystical and soulful. The proper role of architecture, he says, is to "elevate the human experience."
If you live, dine or shop in midtown Sacramento, then chances are your experience has indeed been elevated by Vrilakas' touch, even if you've never heard his name. Historic storefronts renovated with surprisingly rustic modern elements, cafes spilling onto widened sidewalks, cross streets where vintage Craftsman bungalows face rows of new loft residences with welcoming front stoops. Vrilakas' signature isn't a single architectural form, but the mix itself. Stroll down 18th Street between K and L streets and you're seeing a neighborhood that wasn't here 10 years ago. Vrilakas lovingly renovated the ornate former auto showroom that now houses the restaurant Zocalo and was originally conceived by Leonard Starks, who also designed the Crest Theatre and the Elks Tower. "Starks had a fine attention to detail and was stylistically agnostic," says Vrilakas, who could be describing his own work; he left Starks' elegant façade intact, adding brick and rustic wood-beamed spaces above that complemented the old building without intruding.
Vrilakas also came up with the adjacent slatted-wood-and-black-steel structure, a translucent, layered cube with the serenity and horizontality of a Japanese teahouse, where Pushkin's Restaurant now lives, with luxury lofts above. The juxtaposition of styles gives the neighborhood its texture—too many cities treat their older neighborhoods like picturesque theme-park set pieces, but midtown is vital and urban. And Vrilakas' projects have set the tone. Like a modern-day Johnny Appleseed, he plants his projects in such a way that they spur subsequent development around them that reinforces the Vrilakas ethos.
* * * * *
The native Sacramentan has earned a reputation among his peers for his uncanny ability to inject life into communities where others had failed—or had never even considered attempting. "He is a master of placemaking," confirms Mark Friedman, developer of West Sacramento's Bridge District and the Golden 1 Center, and a collaborator and staunch admirer of Vrilakas' gentle brand of city-craft.
"What a beautiful job he did of preserving and highlighting what was great about the old building, and seamlessly extending that into the new," Friedman says of the Zocalo building. "I think because the insertions are so respectful and quiet, he doesn't get the credit he deserves for rebuilding our community."
One place the 54-year-old architect is very much recognized and appreciated is within a loosely knit Bloomsbury Set of local developers that includes the likes of Friedman, Michael Heller and Sotiris Kolokotronis. While the members of this collegial peer group don't necessarily "sit around drinking tea together," as Friedman puts it, they do appreciate and support one another's work toward the shared goal of building a 21st-century city.
Vrilakas (pronounced vree-LOCK-us) may well be the smallest-scale member of this cohort—his own development projects are modest and either bootstrapped or rely on loans backed by the city redevelopment agency—but one of the reasons he's so appreciated by his colleagues, who frequently hire him as an architect, is that as a developer, he takes risks they wouldn't or couldn't, and by doing so starts the ground-level momentum that helps pave the way for conventional deals to follow.
"The common thread that links all of his projects together is a genuine love for his city and a willingness to take chances in the pursuit of building cool neighborhoods," says Michael Heller, another longtime collaborator who most recently hired Vrilakas to help design The Ice Blocks, now nearing completion on R Street. "What I admire so much about Ron is his keen understanding of what makes for a great urban experience and what people love about cities," Heller adds. "He just gets it."
Vrilakas' particular gift is the ability to map a neighborhood's DNA and figure out what it needs to become a fully self-actualized version of itself.
Take Oak Park, an area with a strong architectural heritage and a diverse core of loyal denizens that had struggled for years with blight and crime. Fourteen years ago, long before his bid for mayor, Kevin Johnson's St. HOPE organization redeveloped the block at the intersection of Broadway and 35th. The project, dubbed 40 Acres after the "40 acres and a mule" that were promised to liberated slaves by General Sherman in 1865, houses the rehabbed 1915 Guild Theater and several businesses, including Underground Books, run by Johnson's mom, Georgia "Mother Rose" West, and an Old Soul coffee shop.
Vrilakas, who has lived in midtown for over two decades, was a fan of Johnson's endeavor, and fell for the neighborhood. "I love the bones of historic Oak Park," he says. In 2008, he put his money where his heart was, building 10 units of high-end live/work lofts on a plot kitty-corner to 40 Acres.
"At that time, this was all really struggling—boarded-up buildings, weeded lots," he says during a recent visit on a sunny morning, looking down the block from outside the bustling Old Soul shop. It's hard to tell, nearly a decade on, that this was ever the case. Looking around the streetscape today, Oak Park feels like it could be a hip section of Brooklyn, just with palm trees and better weather. Scanning the intersection, pretty much everything in sight was built or renovated by Vrilakas. He points out some of the smaller undertakings you wouldn't necessarily recognize as part of the master plan: La Venadita, a Mexican restaurant located in a former butcher shop that he rehabbed; a single-family dwelling above a storefront; a row of townhomes peeking out of a side street; The Plant Foundry, housed in an old tire shop. They're all different, each adding a new flavor to the neighborhood's spicy mélange. The variety of textures on view is the secret sauce that makes Oak Park feel so naturalistic, rather than like a development project—and that's no accident.
"I like to think that small things can become big things in terms of their meaning," he says. "You don't have to do a high-rise to make a difference. In fact, sometimes you can make a bigger difference by turning a former used tire shop into an urban nursery. I'm as proud of that as any big thing I've been involved in."
"Many of his buildings feel like they've been there forever," says developer Mark Friedman. "A lot of other people try to shout and make enormous visible statements. With Ron, there's a quiet hand that is very respectful of our history, but that also points to a better future at the same time."
Across the street stands his two angled buildings, completed in early 2014, that contain retail shops and residential lofts, one phase of a four-part plan Vrilakas hatched with the Sacramento Housing Redevelopment Agency to revitalize the area surrounding 40 Acres, a four-block stretch of Broadway between 32nd and 36th streets that has been dubbed the Broadway Triangle district. The old-fashioned storefronts with mullions and sashes echo the scale of the historic buildings nearby, but the clean lines telegraph modernity. The structures have a sense of timelessness, in turn lending the neighborhood an air of relaxed permanence.
"He's had a very broad-reaching impact on the development of the core," says Friedman, "but he's done it in such a sensitive way that many of his buildings feel like they've been there forever. I think a lot of other people try to shout and make enormous visible statements. With Ron, there's a quiet hand that is very respectful of our history, but that also points to a better future at the same time."
What this means for the neighborhood is simple: That child being pushed down the block in a stroller today? You can picture her revisiting "the old nabe" in 20 years' time and marveling at how little it's changed. Newcomers who hear that none of this was here a couple of years ago are stunned that anything like it could have gelled so quickly, but Vrilakas' accessible vision makes it easy.
In 2012, Maritza and Roshaun Davis, principals of the event marketing agency Unseen Heroes, got an early look at Vrilakas' Broadway Triangle buildings. A mutual friend had introduced them to the architect, who sought out their opinion as noted local tastemakers—the two are the closest thing Sacramento has to so-called "coolhunters."
Vrilakas had only timber framing and renderings to present at the time. "They were just frameworks," Maritza recalls, "but he showed us a vision, and that was it—we were sold."
Oak Park hadn't been on the couple's radar, but they immediately got what Vrilakas was trying to accomplish. "He wanted to keep things authentic to what Oak Park was, in addition to wanting to breathe life back into a beautiful area that hadn't seen a lot of love in recent years," explains Maritza.
The Davises believed in that vision so much they became Vrilakas' first tenants, moving their business from Alkali Flat into the development in 2014, and even relocating their young family from Natomas into the neighborhood. They've since become huge Oak Park boosters, launching Gather, a popular warm-weather street festival with food, music and shopping, and opening boutiques Display: California and Damas in two of the Broadway Triangle buildings' retail spaces.
"It's gotten denser, lots of young families," Maritza says of the area's evolution. "The business quarter is booming. Within [the past] year, we've seen seven businesses open. That's huge."
One thing that hasn't changed is the neighborhood's ethnic makeup, which is something the mixed-race couple—Maritza is Hispanic and Roshaun is black—emphasizes as one of the district's primary attractions for them. "Oak Park continues to stay diverse," Maritza says, "Our neighbors [range] from Middle Eastern to Asian to African American to genuine African."
As such, while Vrilakas' work in Oak Park has had its opponents, it as much as possible has avoided the gentrification label. The architect-developer has assiduously attended community and business association meetings, seeking input from everyone, including locals concerned about getting priced out by rising rents. On the other hand, building on vacant plots owned by the city and bringing in new residents helps combat blight. "I don't think people are being driven out as much as we're adding new people in," Vrilakas says. "Nothing is going away that was here, but we're taking a lot of space that was underutilized or just fallow, and we're bringing it back into the neighborhood. Ideally we're adding not just jobs, but a commercial corridor that is the heart and center of the neighborhood."
Two more major phases of the redevelopment project are at or nearing completion: Triangle East consists of a ring of single-family homes that will go on the market this summer. In lieu of individual backyards, the residences share a private park nestled in the middle of the block like a secret garden. Triangle West includes a rehabbed building that is home to Oak Haus, a new hofbrau-themed restaurant with an expansive beer garden from the owners of La Venadita. The renovation of the property and others sharing the block included a newly converted alley, which the city invited Vrilakas to name. In an homage to Johnson's 40 Acres, he decided to call it Mule Alley.
But wait, there's more—The Pedroni Building at 3330 Broadway, yet another Vrilakas-owned building, houses a salon, three boutiques and a design office. On the parcel across the street, now a vacant lot, he hopes to break ground by year's end on a project that will add yet another innovative texture to the neighborhood: a complex of 20 micro-storefronts to serve as start-up incubators for retailers and makers, which will be built out of recycled shipping containers. "What we learned in the Triangle development is that the smaller the retail space, the more likely we were to land a tenant who fit our vision," he says. There is, of course, more to it than right-sized rental units: the vision is all about creating community. "The uniqueness of the project alone should draw people to come and see it," he adds.
Seeing that vision through Vrilakas' eyes on a stroll through Oak Park feels a little like getting a tour of Disneyland from Uncle Walt, and you'd think the putative Mayor of Vrilakasville would be eager to hold forth on his grand vision, his master plan.
Instead, Vrilakas is almost anti-visionary in his rhetoric. He is eloquent, personable, and excited when he talks about the projects he's describing, but he checks himself constantly. It isn't humility, just intellectual rigor. He's quick to demur, for example, that he's a craftsman, not a maestro, even while scolding himself peremptorily for what little ego may creep into his creative process. "What architects do is not art," he declares. "There's a sociological function to it, a fiduciary responsibility, an environmental consequence. In art, you don't worry about any of that, you just express yourself. Architects are confused about that—we are. I'll include myself in that."
* * * * *
Before he figured out how to be an architect on his own terms, Vrilakas' questioning nature almost led him to give up on the profession altogether.
He had what he describes as a middle-class, suburban upbringing in West Sacramento, a locale, he says dryly, that back in the '60s and '70s did little to make him want to grow up to be an architect. "The seed was planted by day trips to San Francisco," he says. "I got to [go there] often, so I knew a little bit about the magic of cities."
That magic led him to study architecture at the University of Colorado Boulder and that life-altering trip to Copenhagen. After graduating from college, Vrilakas spent a few uneventful years in Boston, then decided to return to the West Coast and settled in the Bay Area—coming back to live in Sacramento never occurred to him.
But his family was in Sacramento, so he visited often, and on one of those visits home he saw something in the newspaper about the R Street Corridor. "This is the early '90s," he says. "What would become of R Street was a very hot topic."
He started following the news, and the more he read the more fired up he got about the possibilities.
"I made the tough decision to come back to my hometown, which to an architect's eye was not a very interesting place," he says of Sacramento at the time. But to Vrilakas, that was exactly the opportunity. "I decided to try to be a part of the changes that are going on here," he says. "That's 25 years ago, and that's what I've done almost every day for 25 years. It's hard to believe."
Landing near R Street in midtown (he's lived there ever since his return, in different homes), Vrilakas got involved in the community-led fight to keep big, institutional office buildings from taking over the corridor. The group of neighborhood denizens and their supporters wanted to see mixed-use development with a 50/50 ratio of housing to office space and a 100-foot-height limit. The goal was to avoid the expansion of the kind of downtown that rolled its sidewalks up and became a ghost town after dark. "This great debate that occurred in the '90s was the stuff of novels," he says. "All the power in the city came to bear upon that one street, and all the development money was engaged in trying to get its way on that one street."
Throughout much of the '90s, developers submitted proposals for R Street that included towers up to 20 stories and projects of upwards of a million square feet of office space. The final showdown came over a proposal by prominent developer Angelo Tsakopoulos, who owned the parcel where the former Crystal Ice buildings sat and wanted to erect a monolithic office complex there, which would have overwhelmed the street, squelching any chance it had of becoming a human-scaled neighborhood. "Nobody was developing the things this community effort was describing at the time. The old-guard developers just laughed and said, 'Dream on,' " Vrilakas says. "They viewed development as a tool to make money. They didn't view it as a profession in which you are, in a sense, a caretaker of your place for the next generation."
Vrilakas, then in his late 20s, found himself cast as the movement's de facto spokesman, speaking at city council meetings and fielding calls from then-Sacramento Mayor Joe Serna Jr. "An architect could get up and say things with some credibility that you couldn't just as a neighborhood person," he says. "I quickly got right into the wheeling and dealing of the power players at the time, which I was clearly not."
The crusade marked the first time Vrilakas felt that sense of serving a true calling, that he was finally somewhere he felt needed. "If I were a doctor, I would be going to the places where people are sick," he says. "Sacramento at the time had such a lack of city life. Cities are a tremendously good way to conserve resources and take care of the planet. Living in cities is by far the best way humans can walk lightly. I wanted to be a part of making Sacramento a city."
The protracted fight over the Crystal Ice parcel ended in a dramatic victory in 1996, when the city council voted with the community—and against the region's biggest developer—to the astonishment of just about everyone involved. "Sacramento is historically a very developer-friendly town," says Vrilakas. "I think it was the moment in time when the city of Sacramento said, 'We're going to be part of the future; we're not going to be part of the past.' "
Still, his hoped-for career did not magically unfurl from this point forward. While the R Street win was promising, it would be more than a decade before anything stirred on that moribund stretch of real estate, and after establishing a freelance practice, Vrilakas soon found himself in a new kind of rut, doing mostly suburban home remodels, and feeling disengaged and unfulfilled.
This is the juncture at which he describes being tempted to walk away from architecture entirely, variously entertaining the ideas of enrolling in journalism school or becoming a high school teacher. "I needed to be connected to something where I felt I could make a contribution," he says. Bathroom remodels were just not cutting it. After some soul-searching, he decided to make one last stand, committing himself to giving architecture his all for just one more year. That's when his path turned a corner.
One fine day in 1998, Vrilakas recounts, "Somebody walked into my office and said, 'How would you like to design an urban renewal project of some size?' " That somebody was Al Esquivel, project manager of Sotiris Kolokotronis (who coincidentally happens to be Tsakopoulos' nephew). With a portfolio of master-planned suburban communities under his belt, Kolokotronis had branched out with an infill project in Portland, Oregon, and after that took an interest in urban redevelopment, but was having a hard time finding a local architect with the right vision for a property in midtown.
Esquivel had seen Vrilakas speaking out about R Street at a city council meeting and been impressed with the young architect's advocacy for mixed use and density downtown. "Al said to Sotiris, 'Let's talk to Ron. I know he doesn't have any experience, but he says all the right things,' " Vrilakas says. He ended up designing 1801 L Street, completed in 2006 after many delays, a five-story building in the heart of midtown on a site that had been a weed-choked vacant lot for many years.
"The common thread that links all of his projects together is a genuine love for his city and a willingness to take chances in the pursuit of building cool neighborhoods," says developer Michael Heller. "What I admire about Ron is his keen understanding of what makes for a great urban experience."
The single edifice contained all the elements that would characterize Vrilakas' work: Instead of presenting a massive façade to the street, it was broken into sections, each styled differently, with an awning-covered corner space reminiscent of a Parisian cafe that now houses the Buckhorn Grill, while a deep arcade along L Street shades The Rind, Make Fish and Ginger Elizabeth Chocolates. Around the corner, brick stoops lead to live/work loft spaces and urban apartments on the upper floors overlook a central courtyard. The building was never so much a structure as a microcosm of a neighborhood, a snapshot of what midtown could be and—thanks to Vrilakas' leading example—soon would be.
Around the same time as opportunity literally knocked, Vrilakas experienced another epiphany that also contributed to the turnaround in his fortunes and his attitude. "I decided I needed to find a way to control my destiny," he says. "That brought me to development: Why not be my own client?"
His first development project, completed in 2001, was the mixed-use rehab and expansion of an 1894 former grocery store at 1500 Q Street, facing Fremont Park, with a total budget of just under $1 million and partial funding from the Capitol Area Development Authority (CADA). An early example of Vrilakas' knack for blending historical structures with modern additions, the old building houses the Naked Lounge, one of the area's first craft coffee shops, and a pair of affordable rental units above that, with new market-rate row homes nestled behind it. It barely reads as a single project—but it definitely makes an impression as a streetscape. If you plan to watch the Coen brothers film festival in the park this summer, maybe after dining at Magpie or Hot Italian, Vrilakas seeded that sense of place.
The ingenuity of the blended buildings caught Mark Friedman's eye while he was driving by one day, and the developer and his partner Michael Heller brought Vrilakas on to design the Elliott Building on 16th Street, another historic building and former auto showroom with walls of windows on three stories, which Vrilakas kept, shaving away ornament and adding a fourth floor above for a profile so contemporary that at first glance it reads as new construction. Gov. Jerry Brown kept a loft there until recently, and the second floor contains the offices of Friedman's Fulcrum Property. It was the start of a daisy chain of working friendships, and the rest, one could say, is Sacramento history.
* * * * *
A decade after winning the day at City Hall, Vrilakas finally got to put his stamp on R Street in 2006, when restaurateur Randy Paragary hired him to renovate the Perfection Bakery Building, which currently accommodates Cafe Bernardo, R15 and Ace of Spades. When it opened, the project set the tone for R Street to become the best curated block in town. All of Sacramento, it seems, suddenly "got it." The Cordano Company followed suit in 2014, hiring Vrilakas to rehab the building across the street, now home to Iron Horse Tavern and a Dos Coyotes cafe, in the same spirit.
But Vrilakas' real triumph came only last year. "Remarkably, my firm got hired to design the Crystal Ice project," he says with a twinkle that shows just how satisfying it was for him to complete that circle.
Tsakopoulos had sold the parcel to Friedman, whose intention was to redevelop the original buildings. With Golden 1 Center on his plate, though, he passed the project along to Heller. Construction was about to begin when the main structure burned to the ground in a fire in November 2015. Regrouping, Heller tapped Vrilakas to design two of three phases in a new three-block development called The Ice Blocks: Ice Block 2, a steel and aluminum warehouse-style apartment building that feels like it could belong just as well in Manhattan's Meatpacking District, and Ice Block 3, a low collection of retail and office spaces with angled roofs and connected by swaths of inviting decks, paved walkways, overhangs and terraces that feel ripe for urban exploration.
For Heller, Vrilakas was a good fit, based on their track record of easy collaboration. "It is never a struggle to make decisions together on design," Heller says. "And I often defer to Ron because I have such respect for his talent and commitment." Beyond that, Heller also appreciated Vrilakas' vision for the area. "What was also appealing to me was his determination that R Street become an authentic piece of urban mixed-use planning—and he was willing to fight for this vision. He was passionate about this opportunity, which I knew would lead to a great design."
Vrilakas' deconstructed, soaring concept for the Ice Blocks is nothing like the tight, traditional streetscapes he conceived for Oak Park. The aesthetic is full-on industrial, in honor of the corridor's history. A railway used to run down the street, surrounded by warehouses. "Concrete and corrugated metal are the dominant materials," he says. "The corner piece is inspired by the metal sheds that were on the site originally." Rents will be high, in keeping with the quality of design and construction, and the neighborhood's elevated profile. He hopes the location will have enough cachet to attract a major retailer, something downtown is currently lacking. "Wouldn't it be great to have a Crate & Barrel or CB2?" he wonders aloud. The Sacramento Republic FC plans on relocating its offices there, and a few retail operators are already committed, including San Francisco coffee chain Philz, with others expected to join the party.
Another R Street renovation and expansion is scheduled to break ground this summer on the corner of 11th Street, across from the Fox & Goose pub, this one for the Cordano Company. Vrilakas' renderings of the project incorporate the historic Sacramento Granite & Marble Building, and add industrial-style concrete and metal residential units—stylistic echoes of the Ice Blocks—above the original brick façade, with a new brick structure beside it.
"It's tricky putting new atop old," he says, offering insight into his design philosophy. "It turns out the most embracing way to do it is to create new architecture that's distinct from the historic. It's a little counterintuitive at first, but the idea behind it is that you can tell what is truly old and truly new, and there's no blurring of that line, no fake historicism. This building on R Street is 100 years old, and now we're going to give it another 100 years of life." As unlikely as it seemed 20 years ago, Vrilakas says, "R Street has arrived."
Which isn't to say that there aren't more battles ahead. Another project he's been hired to execute, the forthcoming B Street Theatre, struggled for years to achieve adequate funding and is only now set to move forward. The theater will be integrated with a neighboring Fort Sutter Hotel being developed by Paragary, which Vrilakas also designed. "I've been working on the B Street Theatre as an architect for five years now," he says, voicing frustration at the difficulty in raising funds for such an undertaking here. "We aren't a city of great corporate wealth." But criticism isn't really Vrilakas' style, and he immediately flips the equation around. "I try to see the other side," he says, "which is that some positives come with that as well. We're a very accessible city. The barriers to making a difference are not very high. That's the positive side to that coin."
He's thinking, most likely, of his own somewhat improbable move from architect to developer. Vrilakas' first development projects relied on city-backed redevelopment loans, and many still do. "Oak Park is a simple one—no redevelopment agency, no projects," he says. He points out that the terms of such loans include a cap on profits and jokes about his initial naïveté. "I had to spend money for seven years before I made any money," he says, laughing. "More experienced developers know that, so they don't do it."
"The Arnold Brothers building was a good example," Vrilakas says of the 1925 structure that now contains Zocalo. It was a redevelopment endeavor no other developer was prepared to take on. "They didn't really see it. They didn't really feel it," he says. "I did."
The project, along with others, including 1801 L Street, helped define what would be dubbed the Handle District in 2010. Restaurants keep the streets lively into the night as downtown workers linger, and this nightlife in turn ensures that rental vacancies are a scarce commodity in midtown, which feels a lot more like Copenhagen today than it did 25 years ago. Vrilakas experiences this cosmopolitan scene on a daily basis from the offices of Vrilakas Groen, which occupy a stylish brick-and-wood-beam aerie perched on a semi-hidden second floor above Zocalo and accessed through an unassuming doorway that's hard to find even when you're looking for it.
Vrilakas and partner Mark Groen, who joined the firm in 2007, eschew the kind of work that might lead to the company's growth, like hospitals and education facilities. "You can pretty much see what's going on in the economy by how many people are in our office," Vrilakas jokes of the staff that fluctuates between four and 10—it's currently seven. The smallness is by design, though. The firm manages around 10 to 12 projects at any given time. "I realized early on that if we got big I would not be working on things I cared about," he says.
Vrilakas currently lives in a 1908 house he shares with his wife, Sandra Gambirazio, a schoolteacher at Theodore Judah Elementary, and their 11-year-old daughter Remi, who attends the school where her mother teaches—and a backyard chicken. "They go about three-quarters of a mile in the morning in one direction, and I go about three-quarters of a mile in the opposite direction, and that's our world," he says, agreeing that his life is pretty much the urban idyll he had always dreamed of creating. "If I could have scripted something, it would look like this."
It's the kind of idyll more and more Sacramentans are experiencing, thanks to Vrilakas' ongoing efforts, and those of his clients and peers. "Every year it seems like I get to do more interesting things," he says, "There's a snowball effect. It is interesting to be part of a changing city. We're a fairly young city, so we're still finding ourselves."
And it seems that now others are finding us, too. Not long ago, Vrilakas entertained some clients for the day, a visiting team of developers from Stockton. "They come to Sacramento to see what's going on here, and their jaws drop," he says. "They talk about how this is what they hope to achieve in Stockton. I'm used to being the person saying that about Portland, or somewhere else, and to hear someone come to Sacramento, look around and say, 'I can't believe what's happening here!'—it's really nice to hear that."
Never one to rest on his laurels, Vrilakas is part of a team that has just submitted a competitive proposal to CADA for an eight-story mid-rise condominium project overlooking Capitol Park at the junction of 14th and N streets. "The corner we are needing to turn is where we build a 100-unit or 200-unit project—fully amenitized, ownership housing," he says, noting that this kind of high-density dwelling downtown would aid the city's long-term health.
"I'm cautiously optimistic that is the next chapter in Sacramento's growth. I think a lot of people would love to live in an elevator building in a walkable community," he says. "It's not hard to sell urban life, you've just got to build it."
And it's a fair bet that if Vrilakas builds it, they will come.