The Pour de France
In recent decades, American cities have begun celebrating Bastille Day—July 14—with a waiters' race modeled after a historic Parisian competition. It mixes tradition and civility with modern-day philanthropy and urban excitement. On your mark, get set, Bordeaux!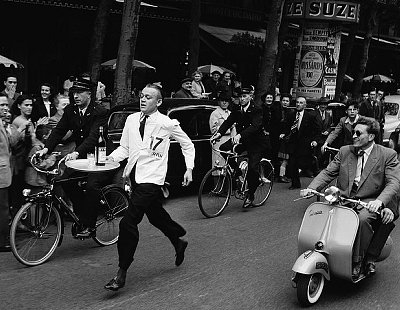 The Idea
Francophilia is on the rise in Sacramento. Recently, more French-inspired restaurants and boutiques have opened their doors; the Sacramento French Film Festival celebrates its ninth season this summer; and Le Cordon Bleu began training aspiring young Julia Childs earlier this year.
Now it's time to take the next step, or rather series of very fast steps. Following a pre-World War II tradition born in Paris, American cities are discovering the kitschy delights of emulating the famous waters' race to help celebrate the French national holiday, Bastille Day. In fact, it was boxer Jack Dempsey who first imported the concept to America in 1935 to promote his New York restaurant. It has spread across the country like a fine pâté ever since. Washington D.C. (where they start the race by popping open a champagne bottle) launched its annual waiters' race in 1975. Boston joined in 1998, Los Angeles in 2002 and Portland in 2005.
The concept is simple. Local waiters and waitresses—often in Parisian-style black-and-white outfits—speed-walk while balancing a tray with some precarious combination of bottles and drinks—usually wine (we should localize ours with regional wines). The goal: cross the finish line with the wine more or less intact, typically using only one hand. Prizes range from cash to plane tickets to Paris, and the races also often raise money for charities through sponsorships or entry fees.
But where to have it? One option is Capitol Mall with its wide boulevard (our own Champs-Elysées, if you will). The other possibility is the midtown block bound by 18th and 19th streets and L Street and Capitol Avenue—a veritable French arrondissement of its own, with the charming boutique Le Petit Paris; Gallic-inspired restaurants Crepeville and L Wine Lounge; chocolatier Ginger Elizabeth who specializes in French truffles; Old Soul Co. bakery featuring quiche, French Press coffee and freshly baked baguettes; and wine bar 58 Degrees, which already hosts its own Bastille Day event. The race route can circle the block, giving all four streets a taste of the excitement. Bastille Day is often on a weekday so most cities celebrate it on the weekend. So, work with the city to close down the streets, import some live music and sidewalk vendors and let your French flag fly.
The Players
The Midtown Business Association or the Downtown Partnership might help, depending on location. The Alliance Française de Sacramento and Le Cordon Bleu are natural partners. And midtown councilman Steve Cohn is already involved in the French Film Festival, so we know he has a soft spot for the culture.
The Bottom Line
The Portland race draws about 3,000 spectators, and Linda Witt, executive director of the Alliance Française de Portland (who coincidentally grew up in Sacramento) says that while the entire Bastille Day celebration costs about $26,000, the race itself costs only about $1,000 (for prize money). But with potentially thousands of people in attendance, the economic benefit for the midtown or downtown merchants could be truly magnifique.