The Queen of Happiness
Everyone's in pursuit of happiness, but how do you capture it? Nearly 11 years after being diagnosed with ALS—the same deadly disease that took the lives of her mother and two brothers—Cathy Speck is alive and kicking butt. Even the more recent news of terminal cancer hasn't slowed (or brought) her down as she navigates the streets of Davis on her festively festooned trike, spreading her colorful brand of heartfelt cheer and hard-won optimism. Speck shows us all how to live like you were dying, while loving every precious minute of it.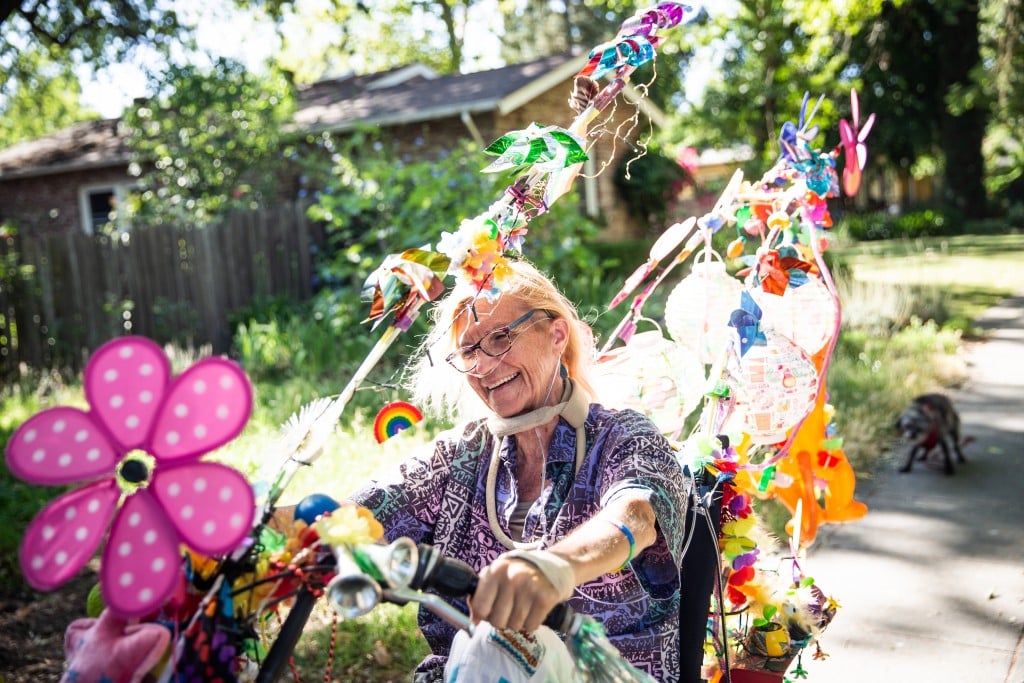 WWith her flashcube smile and shock of blonde hair, the patient enters the lobby of the Sacramento Sutter Medical Center as if leading a self-guided parade. Her "pug-puddle-terrier monkey princess" Mazie sits happily atop a pillow on a gleefully adorned walker. The patient scoot-steps gradually toward the elevator, smiling at passersby as if she's heading to a day at the spa instead of an unpleasant monthly medical procedure. Once inside the third-floor infusion room, the receptionist welcomes both her and Mazie by name; the oncology nurse oohs and ahhs over the tiny pooch as they ready her master for her June injection.
Cathy Speck has arrived.
The rail-thin 59-year-old Davisite was diagnosed in January 2009 with a rare form of amyotrophic lateral sclerosis, commonly known as ALS (or Lou Gehrig's disease), a fatal motor neuron disease that shuts down the brain's ability to move muscle groups in the body, one by one. Five years into that cruel diagnosis, she doubled down on bad luck with a second medical finding: metastatic neuroendocrine cancer, which led to a life-threatening blockage in her small intestine that required immediate surgery and is now considered inoperable.
So why is this woman smiling?
Nearly 11 years after learning she had ALS—a feat unto itself since only 10 percent survive a decade after diagnosis—Speck is legendary on her home turf in Davis, a one-woman argument for carpe diem. Nicknamed the Queen of Happiness, she can often be seen riding unhurriedly around town on her spangling red trike like a festive three-wheeled motorcade of joy. Festooned with rainbow flags, colorful pinwheels, flower spinners, Chinese lanterns, sparkly lights and a stuffed monkey, Speck's presentation is unconventional, if not downright eccentric. She views the decorations as fun—a way to break down barriers, make people grin and push out her message of positivity. People holler to her from the street, "Yo, Cathy! You go, Cathy!"
Given the daunting challenges of her primary disease and the additional arrival of another, Speck's general aura of bliss begs a question: If she can exude happiness, why can't we all?
**********
AAs any psychiatrist will tell you, attaining a sense of well-being in life isn't a one-size-fits-all proposition. But in Speck's case, clues can be found in both her outlook and actions that mirror those that experts say trigger happiness. She embraces a live-in-the-moment philosophy, expresses gratitude naturally, is generous with her time, energy and talents, creates art and music, and attempts to stay as active as possible. Most importantly, Speck has a committed, loving and laughing network of friends and family members with whom she stays connected, physically and virtually.
The relationships part is key.
Dr. Robert Waldinger, a renowned psychiatrist who directs the Harvard Study of Adult Development, one of the world's longest in-depth examinations of which factors lead to happy and healthy lives, makes it plain.
"People are happier when they're more connected to others," he says. His study demonstrates that social support—whether from friends, family or a spouse—is far and away the most significant factor when it comes to predicting better mental and physical well-being.
"There are people and things that get [Speck] up in the morning, that make getting up worthwhile," explains Waldinger. "People can have that even if they're in pain, even if they're ill, even if they're facing death."
And what do Speck's closest friends think is her secret?
Angela Simon (nicknamed "Blanchie" and dubbed BFF by Speck) acknowledges that her friend is on a life journey that's come replete with heartbreaking lows and soaring highs. "What I've seen is a progression of awareness," says Simon. "Cathy's basic personality was that anyway—funny, positive and irreverent. It's just come out a lot stronger because of what she's been through."
"So many people have been helped by her and her attitude," Simon continues. "And that's what she wants, to help other people. She feels she's gonna die [soon] and she's at peace with that. She really knows how to take one day at a time and be joyful for every moment she's given."
**********
SSpeck was just a kid when her mom Dorothy began having strange pains and mysterious "twitches" and experiencing weakness. At first misdiagnosed with common disorders like tennis elbow and bursitis, this athletic mother of nine soon learned she suffered from a far worse malady. By 1971, the 50-year-old was diagnosed with ALS, where muscle groups weaken, then waste away. The cruelty of the disease is that the body slowly stops functioning while the mind remains intact.
Dorothy Speck died the following year. For 13-year-old Cathy, the loss was overwhelming. She kept her feelings hidden and lived the rest of her adolescence "funny and smart" on the outside, she says, but grieving on the inside. Speck was a straight-A student, valedictorian of her class at Davis High School. She came out as gay once she went away to college in the late '70s; the unveiling was difficult given her Catholic upbringing. She'd rejected opportunities to attend Yale or UC Berkeley in order to play on the women's basketball team at Chico State for the simple reason that she heard there were lesbians playing there. But a painful knee condition drove her from the court.
Speck went down hard. She suffered from severe depression and, she says, spent her early adulthood as an "alcoholic, anorexic and bulimic." She considered suicide. Among other low points came a DUI arrest (then called a charge of "wet reckless") that got her five years' probation. Thanks to her BFF Simon, who now lives in Long Beach, Speck went into rehab in Southern California for her eating disorder in 1988 and spent years after that trying to get sober. "I was in incredible [emotional and physical] pain," she says. "I went to a doctor and it turned out to be my liver. He said, 'You've lost the use of two-thirds of your liver—you're going to die if you keep drinking.' "
Cathy Speck often tells the story of when—during this period of self-reckoning—she came across a kindergarten picture of herself, "one of those cute little things, me with the twinkling eyes." She looked in the girl's eyes and thought, " 'Oh my God, that little girl is still in me.' I realized I had to do right by her."
She was hospitalized and wound up in a rehab center in Woodland. Ultimately, thanks again to the care of Simon, other loyal friends and the counsel of fellow travelers from countless 12-step meetings (mostly AA), she stopped drinking altogether in 1991. Speck often tells the story of when—during this period of self-reckoning—she came across a kindergarten picture of herself, "one of those cute little things, me with the twinkling eyes." She looked in the girl's eyes and thought, " 'Oh my God, that little girl is still in me.' I realized I had to do right by her."
She enrolled in a few college classes, including one at Sacramento City College called the Psychology of Death and Dying. "Once I got sober, there was just a whole other world out there. Life got better and better," she says. "I was really healthy, really strong, doing everything I love."
As a musician, she spent many years playing in bands, producing Women's Music Nite in Davis. She also wrote stories and poetry, helped coach the Davis High School freshman girls' basketball team and became an LGBTQ activist. She grew to be well known for her comedic tendencies too—while working at the Davis Food Co-op, which she did for over 25 years until 2014, she would, for instance, commandeer the intercom to urge shoppers, in a high-pitched British accent, to conduct stretches and calisthenics in the aisles.
But then, in 2008, her older brother Larry received a diagnosis of ALS.
"And it was … oh no," says Speck.
Though the Speck family knew their mom and her aunt had both died of the disease, thus far the family had not heard of a genetic mutation for it. As Larry's symptoms mounted, Speck found a program at Northwestern University doing research on the genetics of ALS. She sent Larry's sample in, and hers too.
Larry would never live to hear his results. He died at age 61 of respiratory failure within two months of diagnosis. He was found to have the mutated SOD1 gene that affects a fraction of the already small number of ALS patients (10 percent) who have the inherited form of the disease. Speck, who sensed early symptoms coming on, remembers clearly the words her neurologist spoke as he revealed her diagnosis six months after Larry's death, as well as the Northwestern DNA results for the both of them.
"That's what your brother had and that's what you have," he told her.
"It wasn't until then that we knew it was familial ALS," says Speck.
After surviving one particularly terrifying near-suffocation experience, and after what had happened to Larry, Speck decided she was going to opt for "noninvasive ventilation." Since then she has carted around (on her walker or trike) a tank of oxygen and worn a clear tube or "cannula" (a nasal interface) that feeds her oxygen. She also wears a BiPAP (a noninvasive breathing device) every night. Dr. Cathy Lomen-Hoerth, director of the ALS Center at UCSF, says noninvasive breathing support is now considered standard of care for ALS patients. "More than any drug available, more than any other treatment, using noninvasive ventilation can extend life," she says.
Meanwhile, in the fall of 2009, another brother, Paul, was also diagnosed with ALS. Nearly two years later, though he had just begun to use a BiPAP, he wound up dying tragically of respiratory failure in the emergency room at the age of 65.
For Speck, the first years of ALS were the hardest as she struggled with how her body was changing in terms of strength and stamina. By 2010 the former athlete had to wear a neck brace full-time because of painful headaches and because "it took too much effort to hold my head up." She also suffered from muscle cramps and fasciculations, muscle twitches common to ALS patients. Thankfully, her doctors put her on a range of medications that helped with those symptoms, as well as fatigue. She takes them to this day. But some of what weighed on her spirits at that time was not physical but psychological. It took about two years for her to feel at ease with the brute fact of her ALS and the diminishment and death she now faced. She struggled with losing her independence. "My status in life was changing," she says.
"Having to let go—that was really wearing on me."
Looking back, Speck recalls many rough patches. But it turned out that taking care of her brother Larry years earlier—with the assistance of her then-partner and longtime music collaborator Linda Duval—had prepared her more than she realized. The main thing she learned was "letting go of stuff that wasn't truly important—materially, mentally, emotionally," she says. She became more and more present in day-to-day living. "I've had a taste of the sad and a taste of the good," she realized, "so why would I choose anything but the good?"
When asked about the decorations on her walker and trike—the rainbow flags, stuffed critters, honking horns and multihued garlands—Speck says their purpose was always the same. They helped others approach her. Between the adornments and Mazie—now 9 and a half years old—Speck's unconventionality conveyed good vibes. They invited strangers to start up conversations.
Do such interactions, numerous as they are in Speck's case, feed into her overall well-being? There is little doubt. A 2014 University of British Columbia study and others confirm that having random, seemingly inconsequential interactions with strangers can literally lift moods and affect one's feeling of happiness.
In fact, Jennifer Terra, another longtime friend and "soul sister" to Speck, describes both her friend and Mazie as "goodwill ambassadors" to any and all with whom they cross paths. The pair serve as a reminder to "live in and be grateful for the present moment," says Terra. "When I think about Cathy, I think about love. Her philosophy of life is love. Love yourself and love those you come in contact with."
In 2014, providence showed that it was not yet done with Cathy Speck. Enter the cancer diagnosis. Speck spent a week in Sutter General Hospital in Sacramento that summer after surgery to remove tumors in her lower intestine, plus her appendix and gall bladder. She took her community along for the ride, with friends surrounding her hospital bed day and night, decorating her room in a Hawaiian motif and sharing photos of Speck in various stages of recovery on social media. Hundreds of shares and posts proclaiming affection and admiration flowed toward Speck that week. One friend advised her: "The amount of love being sent through the Internet to you may cause your iPad to blow!"
Attaining a sense of well-being in life isn't a one-size-fits-all proposition. But in Speck's case, clues can be found in both her outlook and actions that mirror those that experts say trigger happiness. She embraces a live-in-the-moment philosophy, expresses gratitude naturally, is generous with her time, energy and talents, creates art and music, and attempts to stay as active as possible.
Speck's response to the new diagnosis was to fold it into how she felt about a dying process that was already underway—one she had come to peace with. She says the cancer actually served as "a wake-up call for me to get back on top of my game and to be with the sweetness of the moment, to be happy to the core and extend that out."
Simon (aka "Blanchie") confirms that the cancer didn't seem to really faze her friend. "I don't think she went into a depression about that. I was there for the surgery and I don't recall that. I haven't seen her depressed in years and years."
Emiliana R. Simon-Thomas, a leading expert on the neuroscience and psychology of happiness and science director of the Greater Good Science Center at UC Berkeley, describes Speck as an "outlier" but someone with important lessons to teach. When a person prioritizes the types of experiences they know contribute to happiness—like spending time with loved ones—then, she says, they are more likely to feel happier overall.
"Clearly Cathy is somebody who has been able to develop habits of thinking that are helpful to her. It's mostly just habit and practice," she says. "If we spend more time reflecting on what we appreciate on a given day, or the good things we get to enjoy in life, or the way other people are contributing to all these good things we enjoy, that becomes more readily available to our conscious experience."
Yale psychologist Laurie Santos, professor of the most popular class in the history of Yale University called Psychology and the Good Life, adds, "I think [Speck] proves what a lot of the research shows—happiness isn't about our life circumstances, it's about our mindset, and how we view the world. People who are sick and in dire straits are sometimes happier than people who are rich and healthy."
**********
LLast October, I found myself in attendance at Raley Field for the festive spectacle of the annual Walk to Defeat ALS. Upbeat music rebounded from the sound system as a giant red-and-white balloon arch waved in the breeze over the start-finish line. Hundreds of people in all categories of age, race, health and income streamed to tables to register for walking teams. The buoyant vibe almost hid the cruel truth about ALS–though most participants were there to walk for the living, some were present to honor passed loved ones. That's why I was there. My brother Marty Welsh, a family physician from Placerville, died from ALS in 2010.
In fact, the same event back in 2009 was how I first became aware that the newly diagnosed Speck suffered from the same disease my brother had. Every year my preternaturally competitive brother attempted, good-naturedly, to raise more funds than anyone else at the walk. The Welsh clan was made acutely aware that year that Marty faced a serious competitor in Speck.
Not surprisingly, Speck spent this last summer going all out to once again rally her troops, called the "SPECKtaculars," to raise funds and awareness for this year's big ALS event at Raley Field on Oct. 5. But at last fall's walk, I approached a phalanx of teenage girls wearing royal blue Team Speck T-shirts and asked why Cathy was missing. They explained their team leader wasn't there because she had taken ill and was forced to cheer them on from a hospital bed. As to why 40 carefree teenagers from Davis spent a beautiful fall Saturday morning helping raise funds for the ALS cause?
"It's a way to give back," explains Heather Highshoe, head coach for the Davis High School women's basketball team. In fact, her boisterous squad has shown up for Speck at the ALS walk each year for the past five years. "Cathy does so much for us, we can do this for her."
"She's always just been our biggest fan," Highshoe continues. "She comes to all our basketball games whether they're home or away. As long as she's feeling good, she'll be there. When you put in perspective everything Cathy goes through and she still manages to be front row with Mazie and cheering for us, it's really an inspiration."
Indeed, both Speck and the teenage hoopsters—who belong to an age group normally known for self-involvement—benefit from the arrangement. The World Happiness Report, a landmark annual survey on the state of global happiness, looks at what people around the world cite as leading to a good life. And in this year's findings, giving back to others—exhibiting personal generosity—was once again seen as a big factor for measuring well-being all over the globe.
Speck serves as an inspirational speaker for Highshoe's team and for other groups. In 2011, Speck was inducted into the Davis High School Hall of Fame for her advocacy on behalf of ALS and LGBT issues, alongside another graduate who'd recently won a Nobel Prize. With her trademark humor, Speck began her acceptance speech with a joke about her luck at having to follow the esteemed graduate (Carol Greider, a molecular biologist) at the microphone. Then she held up and loudly rang a bell—"a No Bell," she said to laughs all around.
That same year, Sacramento City College professor Joanne Moylan-Aube invited Speck to talk to her Psychology of Death and Dying class—the very one the latter had enrolled in, newly sober, decades ago. Speck has been appearing as a guest speaker several times a year ever since. "I love my life, I love living," she enthused to the students from her walker in a 2013 visit that appears on YouTube. "I love helping people smile and them helping me smile."
In fact, Moylan-Aube doesn't know if she'll go on teaching the class once Speck is no longer able to make her guest appearances. "She's the greatest teacher, like a Buddhist philosopher," says Moylan-Aube. "Her life story includes different obstacles and challenges [but she turns them into] more opportunity to love."
Speck brings visual aids to the class—the urn she plans to be cremated in, the BiPAP machine she wears to assist her breathing at night, the robe she wants to be cremated in (the same robe her mother was wearing when she died). She shows a video taken as she jumped (with a trainer) from a plane while hosting her once-annual Specktacular skydiving fundraiser for ALS.
"I mean, what more could I possibly have to teach them?" says Moylan-Aube. "That's why she's here. I just think the universe isn't done with her."
After each of Speck's visits, students are asked to write papers about what they learned. One student wrote, "She made me reflect on my own life and how I can possibly change my perspective on my own challenges." Another expressed that "after listening to her speech and life, I decided to take her advice and not live life with anger or grudges. I'm really quick to hold a grudge and have anger issues so it'll be a challenge. But I'm determined to change my attitude."
Earlier this year, Speck's festooned trike was inexplicably stolen from its standard parking spot outside her one-bedroom apartment. She was shocked because the vehicle—with its outrageous accoutrement—was so easily identifiable. "But I wasn't mad," she clarifies. "I just figured whoever stole it must've needed it more than I do." She posted news of the missing three-wheeler on Facebook and, within 48 hours, the community had rallied to her side. It presented her with a brand-new red trike (with extra funds for plenty of new decorations.) Donations—mostly from the Davis Police Officers Association and the Davis Community Church—made it happen. "I was absolutely amazed at the response," says Speck. "To me, it was this wonderful love story."
On the day-to-day front, Speck is big on the power of staying upbeat, getting out and staying active. "I would say definitely having a positive attitude helps me," she says. "When you have a lot of negative energy in you, you stress the body out."
"People are happier when they're more connected to others," says Dr. Robert Waldinger. His study demonstrates that social support—whether from friends, family or a spouse—is far and away the most significant factor when it comes to predicting better mental and physical well-being.
But she knows it's a challenge for some to break through to such optimism. "A lot of people, because of circumstances in their life, they don't realize they have a choice because they're stuck. For whatever reason people choose to hang on to sadness. Or feeling resentful or angry," she says. "I've learned as the years go by that I let go more and more of anything that's negative."
Harvard's Waldinger concurs. "Happiness is a choice for people who can choose," he says, while also noting that one in five people suffer from depression or anxiety that could make "choosing" happiness not possible. "[Speck] can wake up in the morning and choose and that's great. But some people can't. If you believe that happiness is a choice for everybody all the time, then you can leave some people feeling very guilty and inadequate."
In fact, it would be easy to believe Speck's positive attitude is the reason she's doing as well physically as she is, given the avenging nature of ALS—patients are given an average prognosis of two to five years, a forecast she has obviously outlived. But the progression of the disease is widely varied, and though Speck feels she has benefited physically from a sunny disposition, UCSF's Lomen-Hoerth says she isn't aware of any scientific evidence that shows that psychological well-being leads to improved physical outcomes in the particular case of ALS.
"Some [medical] conditions we know are affected by outlook or mood," says Waldinger, citing cardiovascular disease and asthma as two examples. "But many are not. A good outlook doesn't cure cancer. Though there are a lot of people who say it does and books and stuff, I don't think there's any good data on that. I think there's some biological processes that aren't so subject to our moods."
For a sense of calm, Speck takes breaks for "quiet time" and reflection and says she's a loyal reader of Thich Nhat Hanh, a Vietnamese Buddhist monk, peace activist and author of many books on mindfulness, gratitude and the art of living. She doesn't do "official" meditation but attempts her own version. "I could [meditate] just staring at that flower right there," she says, pointing to a bloom on the grounds of Davis Community Church. "Just the miracle of that. How lovely it is. Something as simple as that."
Speck says she looks less to books and aphorisms to inspire her these days. Instead, she is famous among her friends and followers for creating and repeating her own sayings and mottos. "Adapt, adapt, adapt" is the one that she started up with when her brother Larry was dying in 2008. (It's where her new band "The Adapters" got its name.) Among her other favorites: "Attitude of gratitude," "You just never know," "Look at the trees," and "How do I wanna feel right now?"
**********
AA tree-lined residential neighborhood in Davis is not the place you expect to hear midday celestial singing in three-part harmony. But five choral angels just landed on Ganges Place and have entered a living room there. They surround Speck—lying back on a couch with Mazie nearby—and begin to perform. The group is Davis' chapter of the global Threshold Choir, whose singular mission is to "bring songs of comfort to the dying."
"Let me be in this moment," come the lyrics to the first tune. "May this moment be all I need it to be." The pieces, written by choir members from chapters across the country, are nonreligious and tend to focus on love, light and being in the moment.
"The very first time [that I heard the choir] I was blown away just by the fact that they were there with this intention," says Speck who has been sung to several times a month for the past year. During a past visit, she closed her eyes to meditate during each song. "The images were of me being surrounded and embraced by light beings," she says. "It was kind of what I imagined having as a deathbed experience." On this visit, after each song, she conveyed her thoughts to the singers about each particular hymn, praising the women for their lilting harmonies.
With all her activities, it can sometimes be tough to remember that Speck has a fatal disease. And though she still receives a monthly injection of a chemo-like drug that is used to treat diarrhea and other symptoms of her cancer, she doesn't do much else anymore in the way of regular medical visits. "I don't see a neurologist anymore," she says. "I don't even seen an oncologist since there's nothing to be done. So it's just my regular doctor."
She started feeling generally poorly toward the end of summer 2018. "I'm used to feeling iffy, but I wasn't feeling well at all." In September, after a grocery shopping trip, she lifted her walker into the car and… "Boom. I go down," she recalls. "I go completely out. I can't move. I can't open my eyes. I can't talk."
Much drama ensued. Speck wound up in the emergency room. The next morning, she says, "I woke up and I felt like I was being stabbed." She had pneumonia and pleural effusion (a buildup of fluid in the lungs and chest) that required draining. Her esophagus was "not working right." A month later, a CT scan indicated that her cancer has progressed to her abdominal area, pelvic region and right lung. She thought she might be in the process of "actively dying." Last November, Speck threw a big party to celebrate her 59th birthday on the assumption that she might not make it to her 60th. But in January of this year, things took an upward turn.
"I started up again," she grins.
Speck resumed doing her thing—venturing out on her trike, making music, creating and exhibiting Phonetos (pronounced "phone toes" aka photos taken with an iPhone). Speck gets easily exhausted but maintains a busy schedule anyway. A spring Facebook post reveals her attitude about getting yet another second chance: "Ah, yes, another day to be filled with gratitude and live fully in the moment."
As we all know by now, numerous studies show that gratitude is good medicine. Simon-Thomas of the Greater Good Science Center mentions that, in a general population of healthy people, the ones who are happier tend to live longer. "That has been shown probably 50 times," she says.
"The most powerful gratitude is gratitude for other people," she adds. "When we really acknowledge and take heart in the way other people—those we know and love and those we have never met—are contributing to all the positive things that we get to enjoy in life, it helps fuel a sense of purpose and meaning. It's good for us."
Speck's singing voice, which she had lost in 2011, returned unexpectedly in 2014 right as the cancer hit so she wasn't able to take immediate advantage of her regained ability. But recently, eager to make up for lost time, Speck has been performing in different groups. One is the reunion of a popular local band she'd formed long ago with her musical partner (and now ex-wife) Duval. The two have proceeded to hit local stages often. Speck's other duo—the aforementioned Adapters with friend and ukulele player Neal Hibbard—have been playing gigs, such as the 2019 Davis Pride Festival, since last year.
Duval—who still lives with her former spouse in their small one-bedroom apartment—is described by Speck as her "loving and supporting" primary caregiver. The place is packed. The bedroom holds a "deluxe adjustable" hospital bed where Speck sleeps with her BiPAP, "our old king bed, all our musical equipment, my art in bins and bins and bins. There's barely enough room to just get in to where you need to go," says Speck, laughing. She spends much of her time in a recliner "lift chair" in the living room, since her feet need to be elevated most of the time.
For years, Speck has gotten her nutrition solely from Ensure and protein drinks (though she still eats the occasional snack of chips or soft cookies). "Even before cancer, food just didn't digest in me very well," she says. Her flashing white smile comes thanks to a full set of dentures she wears due to "years of malnutrition, bulimia and alcoholism" she says.
This past March, the Davis Community Church, a "super progressive" Presbyterian congregation Speck attends regularly, decided it was time for a special tribute to its beloved member and sensei of gratitude. After service one day, parishioners poured onto the grounds for a ceremony and planted a crepe myrtle tree there with a plaque dedicated to her featuring a poem called "In the Breeze" that she had adapted from earlier song lyrics. An excerpt: "If you come looking for me / in my usual place / you won't see my body / you won't see my face / but you will know / I promise you / you will know when it's me / you will know / promise yourself / you will feel me in the breeze."
Speck and I share the fact that we both live in Davis, but we have another bond—we are both advocates for speaking openly about mortality and end-of-life issues. I came to embrace this cause after facing a terminal diagnosis of my own these past years. Thanks to a brilliant doctor and groundbreaking developments in immunotherapy, I no longer have detectable cancer in my body (though I still carry the diagnosis of metastatic cancer). But the experience taught me how transformational it would be if—as individuals and as a society—we stopped denying that we are, every single one of us, going to die. Speck feels the same. "Our society is getting better," she says, "but we still, generally, are not comfortable talking about death and dying."
Though she doesn't believe in heaven or hell, Speck does believe in God. As for what will happen after she dies, Speck trusts that she will continue to be a presence and provide comfort to those who loved her most. "I imagine that it'll be something similar to the feeling I get when I want to feel my mom," she says. "If her presence is so real to me, I imagine that I can do that [for others] after I die. People will go, 'I just felt Cathy Speck.' "
The Queen of Happiness does not mince words in talking about the fate she knows awaits her; her only sadness comes from awareness of the grief her death will bring to her closest friends. She has prepaid her cremation and has a "big urn" (the one she takes as show-and-tell to classes) and "some little urns" too to give to close friends, she says. And then there are the Easter eggs. "I'm going to have leftover ashes," she grins, "and have those little plastic Easter eggs so people can scoop some up, take them home, and put them in their garden. It's kind of a metaphor of the egg. And plus, it's funny. And colorful."
Just like Cathy Speck.
As she approaches her 60th birthday on Nov. 28—which, appropriately, happens to be Thanksgiving—Speck sums up her strategy going forward with a big smile. "I'm at peace with the living and dying process and am the happiest I've ever been in my life," she says. "So much of how I live my life is the cliché stuff. 'Be here now.' 'Appreciate the moment.' Bumper sticker thoughts that are true. And that's what I choose to focus on."