The Rules of Attractions
With all the recent talk of transforming Sacramento into a "destination city," it's time to figure out just what that means. And do we have the vision—and the money—to make it happen?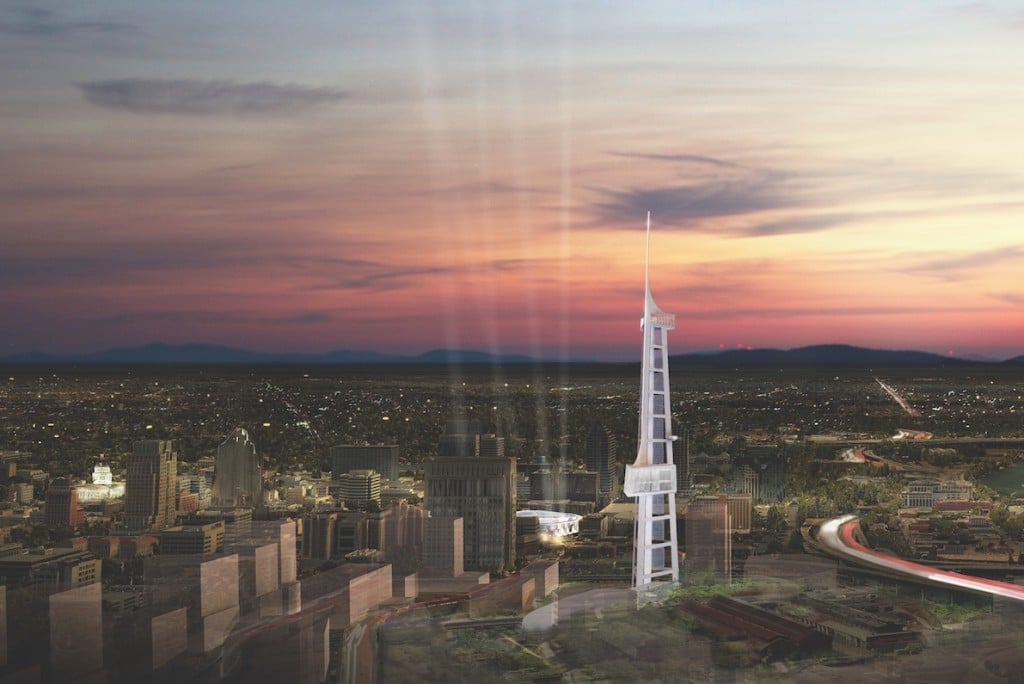 Ever since Darrell Steinberg became mayor a year ago, he's been talking a lot about making Sacramento a "destination" city. He even made the wise move to peel off $22 million from the planned convention center expansion to create a "Destination Sacramento" fund to help achieve that goal. The reasoning was, and remains, sound: Before building a much larger home for conventions, let's first spend some time and money making this a city where conventioneers and tourists really want to come.
So what exactly is a destination city?
It's an amorphous concept, to be sure. What makes a city a destination for some people is different for others. But if we're going to commit tens of millions of dollars toward becoming one, it's worth a discussion.
Here's my take.
First, it's important to realize that being a destination city isn't the same as being a great place to live. Rather, it's about being a great place to visit. The reason that's an important distinction is because it may mean investing in projects that locals don't necessarily think of as civic priorities. After all, in most cities, residents aren't frequenting tourist attractions even though the attractions might play a critical role in the local economy, creating jobs and tax revenue.
And the most direct way to make Sacramento a true destination city is to offer outsiders experiences that most cities can't. A city's ability to draw people from other places is all about the value proposition put forth by any given city: Either we can offer visitors a unique experience or we can't. But to compete, we absolutely must.
It may sound strange to some, but cities, like people and companies, compete with each other all the time. These days, many cities are fighting to be the site of Amazon's future second headquarters, but most days they're contending for start-ups, millennials, convention-goers and vacationers. Like people, cities must grow or die.
And every mayor knows it.
In 2016, Houston Mayor Sylvester Turner called for a major amusement park within the city limits. "If we want to be that destination city in terms of conferences and tourism, we have to have that component in this city," he said.
And right now, Sacramento is behind the ball. To be clear, we're not behind in quality of life. There's no question that the city is a certified hot property these days in terms of food, art, craft beer, coffee, civic creativity and other critical quality of life areas. But those are the elements that keep people here once they're in the door; they're not what get people through the door.
So how do we get there?
The good news is that we already have some built-in advantages when it comes to attracting people. We have, for instance, Old Sacramento and the Capitol. But these are undervalued assets that haven't yet reached their potential.
That's why I'm thrilled to hear that the city plans to invest big in Old Sacramento. It's the low-hanging fruit of urban development. The history and the location are wholly unique, a quality in too-short supply here. Add music, lights, better entryways and a more interesting tenant mix and we're one step closer to our own French Quarter.
Another underutilized asset is the California State Capitol. Yes, it's already beautiful, but if we really want to capitalize on it, we need to do what some other state capitol buildings have done in recent years and open up the dome to the public. The 360-degree views (see picture above) from the dome are simply spectacular.
Believe it or not, the dome was open to the public from 1872 until World War II, when it was closed for security reasons. In the past decade or so, the capitol domes in both Colorado and Kansas, once closed to the public too, reopened and became instant tourist magnets. With a mayor who used to be the president of the state Senate, this should be a slam dunk for Sacramento.
That takes care of boosting some of our existing assets.
Now comes the hard part.
What we really need are new civic amenities—attractions of various shapes and sizes that don't exist in every city, and preferably ones that exist only here. On that front, we currently can't compete. But we can change that.
What kind of amenities should we be striving for? I think the most successful ones combine strong local roots with national appeal. How can we tell our story in a way that captures the eyes of non-locals?
One perfect model is Atlanta. Spend a weekend there and just try to narrow down your options. It won't be easy. Do you go on the CNN studio tour or the World of Coca-Cola tour? How about the Jimmy Carter Presidential Library or Centennial Olympic Park? The Martin Luther King Jr. National Historic Site or the new Center for Civil and Human Rights? And that's leaving out a lot.
The city has clearly learned to leverage its strengths to attract a global audience. And you may think they have an unfair advantage (obviously we can't claim either MLK or Jimmy Carter), but it's not as sizable as you might think.
Ray Eames, for one, is all ours. Ray was born here in 1912, and she and her husband Charles were arguably the most accomplished designers in American history. From creating homes, furniture and fabric patterns to making films and photographs, they did it all. Why not an Eames Museum of Design in Ray's hometown? I guarantee that it would be an international destination overnight.
Russ Solomon is from here too. Why not a Tower Records Museum celebrating his music empire? Nashville has the Country Music Hall of Fame and Museum. Cleveland has the Rock & Roll Hall of Fame. Don't underestimate the global nostalgia that this Sacramento institution engendered. Let's tap into that.
Then there's Wayne Thiebaud, whom you can read more about on page 56. He is, at 97, a living legend in the art world. He's far too humble to ever consider such an honor, but if there's a Warhol museum in Pittsburgh and a Georgia O'Keeffe museum in Santa Fe, then a Thiebaud museum (with accompanying bakery and pie shop, of course) is a natural for us.
And if Atlanta has a Coca-Cola tour and the Ben & Jerry's factory tour is Vermont's No. 1 tourist attraction, then we need to bring back the Blue Diamond Almonds factory tour that disappeared in the '90s. It's the only truly international brand that was born here, and such an attraction could tell our incredible farm-to-fork story like none other.
What kind of amenities should we strive for? I think the most successful ones combine strong local roots with national appeal. How can we tell our story in a way that captures the eyes of non-locals?
But in addition to telling our story with amenities like these, another way to create an impression is through bold architecture.
A year ago in these pages, we invited architects from around the country to conjure designs for a Sacramento observation tower. The purpose was twofold: to dramatically improve our skyline by fashioning a sculpted tower unlike any other in the world, and to create a vista point for locals and visitors to see the city in a whole new way. The results were breathtaking. Click here to see the story.
And great design isn't just about towers. We need to demand it of our new Sacramento River bridge that will be designed soon, and we need to demand it of the new state buildings currently underway. We need to bake it into the planning process of all new Sacramento projects. In a country filled with homogenous structures, we need to zig where others zag.
Last but certainly not least, don't underestimate the impact of parks on tourism.
This past April, Chicago Mayor Rahm Emanuel announced that Millennium Park, which only opened in 2004, not only became the No. 1 tourist attraction in Chicago, but in the entire Midwest.
Sacramento, unfortunately, is one of very few large American cities without a great urban park in or near the central city.
But it doesn't need to stay this way.
In 2003, local lawyer Joe Genshlea floated the idea for a concept called Gold Rush Park. The massive park would run along the American River north of downtown. Over time, it would be filled with bike paths, music venues, museums and other civic amenities.
A grand urban park is one of the key elements that creates a sense of place in a city. Try to imagine San Francisco without Golden Gate Park, or San Diego without Balboa Park, or New York without Central Park. It's impossible.
And if this doesn't sound like a destination project, think again. In April, Mayor Emanuel said that Millennium Park had surpassed 13 million visitors during the second half of 2016 alone, and that 15,000 to 20,000 hospitality jobs had been created in downtown Chicago as a direct result of tourism generated by the park.
It's mind-boggling that Sacramento isn't aggressively pursuing this brilliant idea.
If you're thinking that these ideas all sound very expensive, for the most part, they are. Which is why the mayor is right to not wait around for these opportunities to come about on their own, but to actively seek funds to jump-start them. We have the creativity and ambition already; now we need to marry bold concepts with funding to be the kind of city that people don't want to leave and that outsiders want to visit, including tourists, students and, yes, conventioneers.
And the timing is perfect.
In September, The Washington Post started a story with the words, "Sacramento is having a moment." It was referring to the fact that several recent films have featured our hometown prominently, including Lady Bird by native daughter Greta Gerwig (click here for more on her). But it could have just as easily been referring to this moment in our city's evolution.
It's clear that we've finally reached a place where we're actually beginning to believe that anything is possible here. It took a lot of work to get to this point—now is the time to capitalize on this "moment." Let's find a way to tell our story, and invite the world to come join in.