The Sacramento Food Film Festival pairs flicks with flavors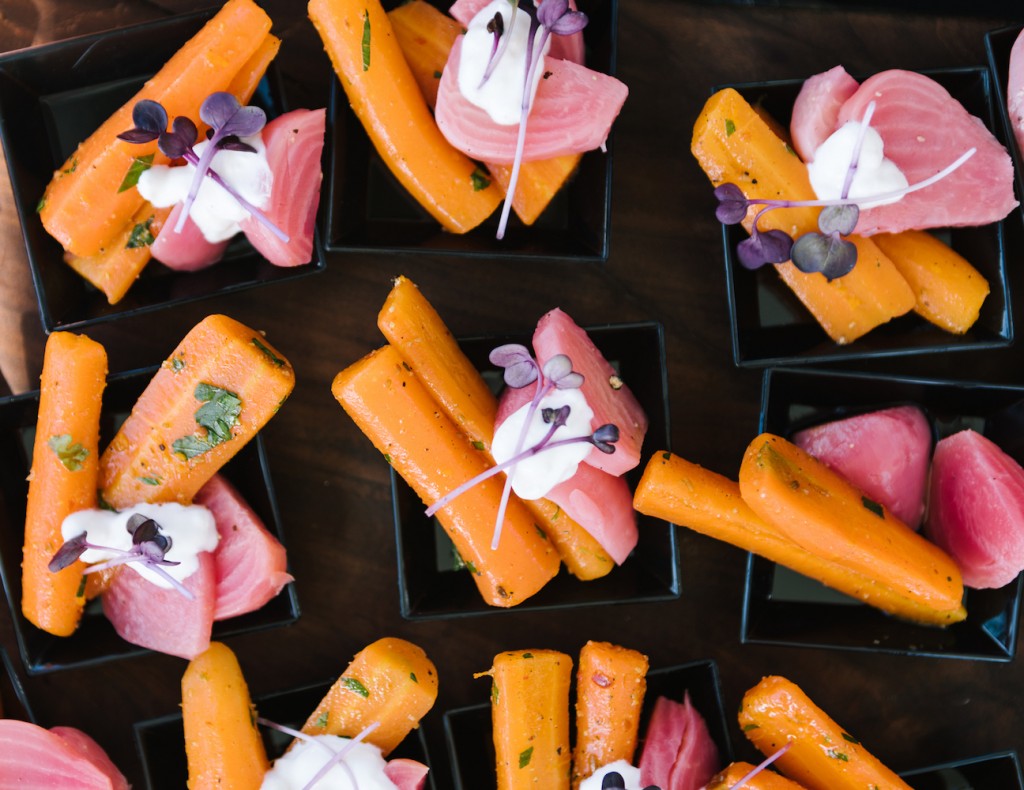 Every year, fans of food and flicks—and who isn't?—flock to the Sacramento Food Film Festival, which returns this year April 10-16 for the eighth time with a lineup of three food-focused screenings paired with themed bites, largely prepared by area chefs.
"You're not just sitting down at another auction or another chicken dinner," says Amber Stott, founding executive director of Sacramento's Food Literacy Center, a food education nonprofit that is both host and beneficiary of the festival. "You're getting some of the best chefs in Sacramento that are having fun outside their restaurants and working collaboratively together."
The food flick festival will kick off April 10 with Dinner & A Movie at Lucca Restaurant & Bar, where chef Ian McBride will create a multicourse meal inspired by the featured film Edible Paradise. (Tip: Get your tickets now, as this special event has sold out every year since 2012.) The movie follows New Zealand communities over the course of five years, during which community members use public lands to cultivate and preserve fruit varieties via food forests—multilayered, self-sustaining natural gardens filled with fruit- or nut-bearing trees, shrubs, herbs and root vegetables.
Women will take center stage on April 14, with the screening of A Fine Line, a documentary that talks with renowned female chefs and restaurant owners—including Cat Cora, the first female Iron Chef, Dominique Crenn of San Francisco's Michelin-starred Atelier Crenn, cake baker Sylvia Weinstock and James Beard-nominated Mashama Bailey of The Grey in Savannah—about why less than 7 percent of restaurant owners and head chefs in America are women, as well as the issues they face in the industry like workplace harassment, equal pay and paid parental leave.
The screening will feature bites like sautéed morning glory (a Vietnamese water spinach) with garlic, grilled prawns and Parmesan flakes; deviled eggs with grilled asparagus, prosciutto, daikon radish and Romesco sauce; and a finger (aka, forkless) salad with garlic-seasoned labneh (strained yogurt), Thumbelina carrots, fava beans, English peas and borage (a cucumber-flavored microgreen). The food will be prepared by a crew of local female chefs and business owners, including Molly Hawks, co-chef/owner of her eponymous restaurants in Granite Bay and East Sacramento; Karen Holmes, owner of Karen's Bakery & Cafe in Folsom; Toki Sawada, co-chef/owner of downtown's Binchoyaki Izakaya Dining; Kim Scott, chef/owner of Mama Kim Cooks; Minnie Nguyen, co-chef/owner of midtown's Station 16, The Bank's Station 8 Burgers and East Sacramento's Station 38 Coffee; Casey Shideler, executive chef of Land Park's Taylor's Kitchen and Taylor's Market; and Amy Breedlove, co-chef/owner of the Culinerdy Cruzer food truck.
The finale on April 16 will show The Kids Menu, a film about fighting childhood obesity, in which documentarian Joe Cross—who chronicled his personal plant-based weight-loss journey in 2010's Fat, Sick & Nearly Dead—shows what some educators are currently doing to connect kids to healthy foods, from maintaining school gardens to helping youngsters change their school lunches. During the film, the Food Literacy Center will share eats that are made with kids during its programs, including homemade ranch popcorn, beet hummus, soba noodle salad and a green dip made with jalapeño, garlic, lime, lettuce, cilantro and green onion.
Prices and times vary by event. For more information visit foodliteracycenter.org
You Might Also Like
The Bank food hall opens for breakfast and lunch
Federalist Public House owners to open The Neighborhood Pizzeria in East Sacramento
Chef Jeremiah Tower