The Sacramento Mural Festival will return with a splashy new name and grander plans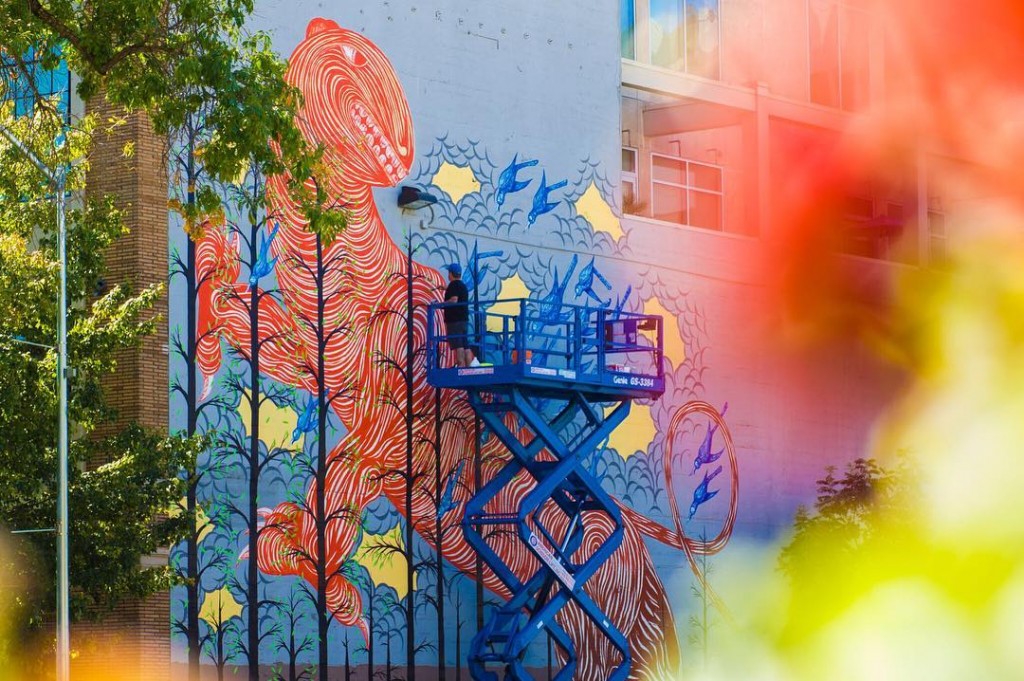 Color us happy. Last year's inaugural Sacramento Mural Festival is making good on its promise to become an annual event.
Sporting the new title Wide Open Walls, this year's fest will take place from Aug. 10-20, and will branch out of the grid to decorate neighborhoods throughout Sacramento, with more than 30 large-scale works.
Wide Open Walls' producer, David Sobon, who co-presented last year's mural festival with Friends of Sacramento Metropolitan Arts Commission, is intent on creating more viewer experiences at the site of each mural to facilitate a grander festival atmosphere.
"Last year, it was pretty cool when you drove by a blank wall on a Wednesday, and the painting happened over the weekend, and [then] there's this insane piece of art on the wall," Sobon says. But this time around, he wants more people to come out to watch the artists at work. Each mural site will host events throughout the 11 days, including pop-up art shows and seminars. Visitors can expect to see street performers and food trucks, as well as the chance to participate in walking, running and biking tours, and a Second Saturday block party.
That's not the only change: Whereas last year's 10 murals were concentrated on the grid, this year the festival will see a geographical expansion, with paintings going up in areas like Oak Park, Del Paso Heights, Natomas and Power Inn Road, which Sobon says ties directly into the rebranding of the festival as "Wide Open Walls."
"We will always have art in midtown and downtown, but we're expanding [beyond those neighborhoods]," he says. "We want walls, and we want them wide open, and we want to put art all over them."
The 2017 roster of artists will include locals like Jose Di Gregorio, whose trademark fluorescent geometric works appeared in February's three-week ArtStreet installation, and Bryan Valenzuela, whose Multitudes Converge (a representation of the American and Sacramento rivers) hangs inside Golden 1 Center. More than a dozen out-of-town artists will also participate, including Palm Springs-based Micah Crandall-Bear, who specializes in abstract landscapes.
While the majority of proceeds from the festival will go to Friends of Sacramento Metropolitan Arts Commission, entities like Sacramento State University and nonprofit groups like the Developmental Disabilities Service Organization will also create murals to raise funds for their respective programs.
But regardless of whether a renowned art pro or a nonprofit is painting, Sobon expects the new works to be a feast for Sacramentans' eyes. The artists "are giving up [11] days of their lives to create something beautiful for the city," he says. "It's mind-blowing when you see what is going to be done and what this town is going to look like."
Wide Open Walls will take place August 10-20. For more information and updates, visit wow916.com.
You Might Also Like
12 colorful spots around town to take your next Instagram photograph
Culture Club: the story of the team behind ArtStreet
New clothing and accessories shop opens in Oak Park