The Sacramento River Cats unveil new hometown uniform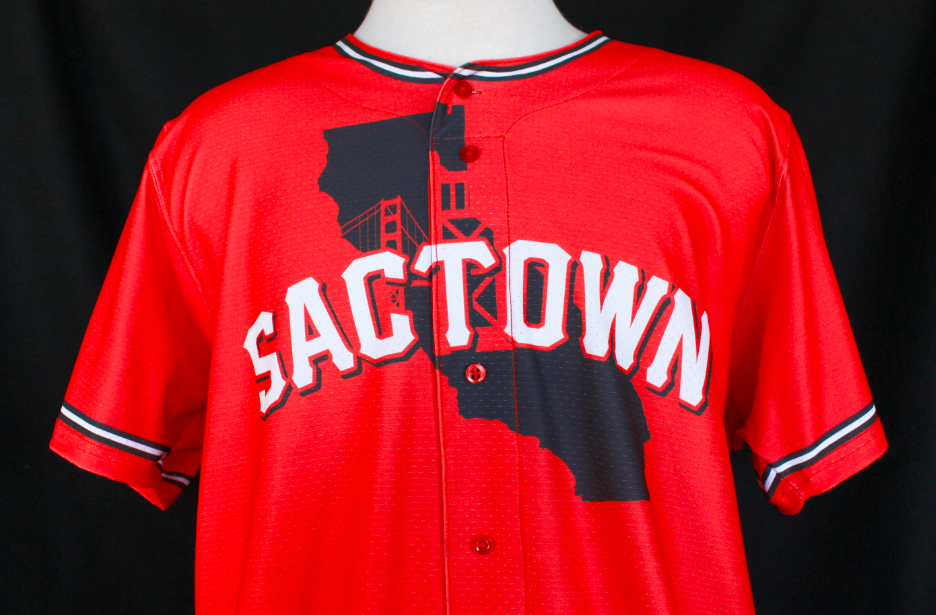 The Sacramento River Cats are tipping their hats to their hometown—literally—with a new uniform inspired by the capital region.
The West Sacramento-based minor-league baseball team has just unveiled its first-ever alternate jersey and hat, which were designed by the team's graphic design coordinator, Mike Villarreal. The jersey, which is orange—the color is a nod to the River Cats' new affiliation with the San Francisco Giants—and features block letters that read "Sactown" and a silhouette of California, along with an image of the Tower Bridge and the Golden Gate Bridge. And the new charcoal gray cap prominently displays "Sac" above the orange bill.
The alternate uniform will make its debut on March 30 at an exhibition game between the River Cats and the Giants and will be worn by players throughout next season during Friday home games, starting with the home opener on April 15. "There is always talk about minor league teams: 'Are they the affiliate's team or the city's?' We are really proud of where we are from and we want people to share that with us," says Robert Barsanti, the River Cats media relations coordinator. "We wanted to strengthen our ties with the Giants, but also keep our roots because we are Sacramento's team."
The team hopes for a positive response from its fans, the community and even other teams. "This might inspire some of them to jump on board with [their own] local hometown jersey," Barsanti says.
Can't wait for next season to try the new uniform out for size? You can currently purchase T-shirt versions at the River Cats store in Raley Field and on the team's website. The caps are expected to become available by the end of this month, and the "Sactown" jerseys will go on sale in late January or early February.
You Might Also Like:
2015 California Hall of Fame inductees announced
Sacramento graphic artist creates book based on comic series
Global Winter Wonderland returns to light up Sacramento for second year