The Shapes of Water
In cities like Venice and London, rivers and canals are doubling as gallery spaces, displaying art like no walls ever could. Let's make some waves in the art world, too.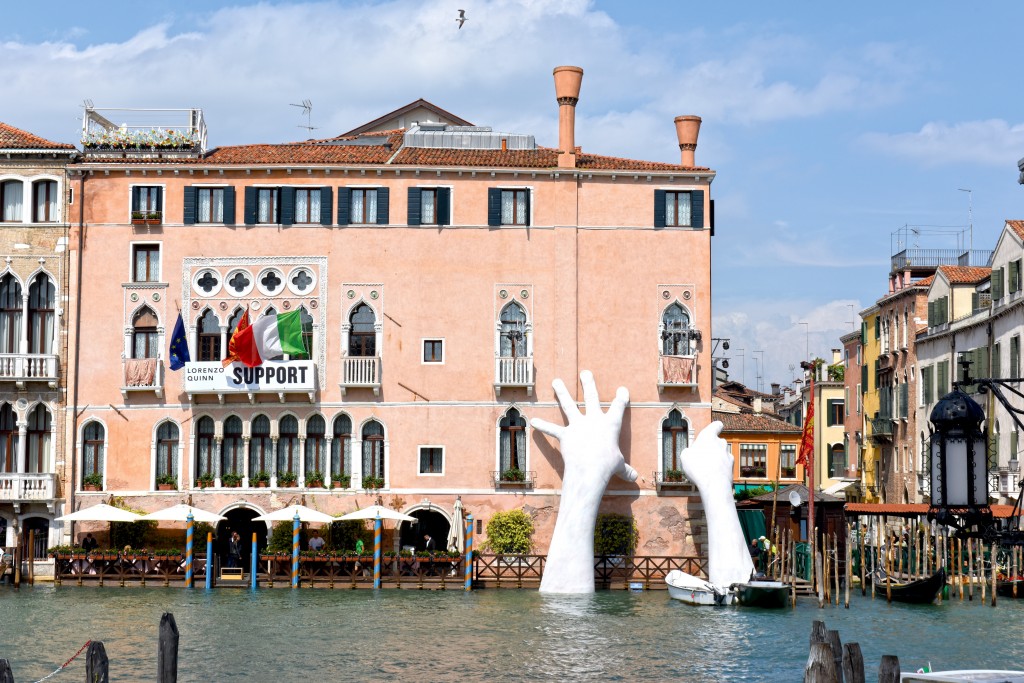 The Idea
​Last year, during the Venice Biennale art event, two massive hands appeared to reach up nearly 30 feet out of the Grand Canal to grasp a building. The work by Italian sculptor Lorenzo Quinn (pictured above) captured the hearts and imaginations of Venetians and visitors alike, as well as the attention of publications like The Atlantic and Condé Nast Traveler.
In cities from Stockholm to Hamburg, artists are creating large-scale works designed specifically to take advantage of water's unique ability to host or augment public artworks.
In 2015, British sculptor Jason deCaires Taylor created a temporary piece for the Thames River in London comprising concrete statues that depicted people on horses. Water heights rise and fall throughout the day, so at times, the horses seemed to be standing on dry land, while at other times, they were largely submerged. The result was a work of art that changed constantly without moving. This sculpture, like Quinn's, was designed to spotlight the effect that climate change has on sea levels.
Here, our two rivers have the opportunity to be aquatic canvases as well. One potential site: Discovery Park—300 acres near the confluence that is designed to flood, sometimes by 8 feet or more, each winter to relieve pressure on the American River levees. Imagine a sculpture garden there where the artworks take on different forms depending on the tide.
There could be, say, a sea lion sitting on a large rock that appears as an island only during floods; a whale (remember Humphrey?) whose tail rises above the watery surface once the rains come, tricking passersby into incredulous double takes; or perhaps a boat that has run aground, but appears to float once again as the river rises to meet its hull.
Think of the paintings in the Haunted Mansion elevator at Disneyland that reveal their full meanings once they stretch.
The Players
As it happens, the Sacramento Metropolitan Arts Commission (SMAC), in partnership with Congresswoman Doris Matsui and the cities of Sacramento and West Sacramento, is currently accepting submissions, through Aug. 13, for a temporary public art project focused on the riverfront. Hopefully, a few of the ideas that emerge will employ the river itself as a medium. The parameters for this endeavor don't extend to Discovery Park, but perhaps SMAC can work with the city and county to explore ideas there too.
The Bottom Line
Floodwaters are generally perceived in a negative light here in Sacramento, but what if we could find a way to turn them into a civic asset? What if our majestic bodies of water enhanced public art in a very real way, as only Mother Nature can do? Let's see if we can rise to the occasion, just like our rivers.