The Spirits of Sacramento
Small batch, big taste. We spotlight nine makers of locally distilled vodka, bourbon, gin, rye, rum, brandy, absinthe and more. Please read responsibly.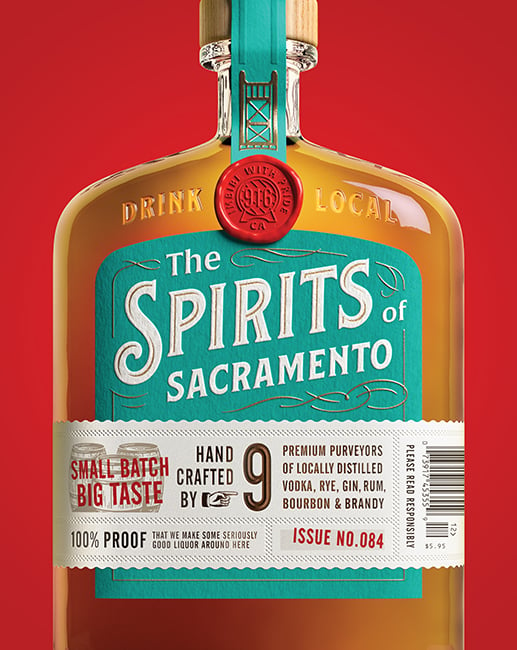 California Distilled Spirits
When Foresthill resident Ed Arnold gave up his 20-year practice making prosthetic limbs—a bold career move that started him on the road to pursuing his passion, craft spirits—he discovered that the two divergent fields had common denominators. "They both require very hands-on technical work, and yet there's a great deal of creative expression involved," says Arnold, who credits Darrell Corti with sparking his interest in craft spirits in the early '80s during a Scotch tasting—he had been impressed with the iconic East Sacramento grocer's expertise on the subject. "I also find the end products much more interesting than something else [that's also technical and creative], like a small oil painting." A career switch was still decades out, but it was always on his mind. In 2013, Arnold finally launched California Distilled Spirits in Auburn and never looked back.
His signature approach to making spirits is nuanced, but artful. For example, the fundamental grain mash used to create his bourbon, dubbed The Young Prince after an 18th-century French royal known as the Duke of Bourbon, is 52% corn and made to his exact specifications by nearby Loomis Basin Brewing. That's just one point higher than the legal threshold (in comparison, commercial bourbons are 70% to 80% corn, which portends frugality, not necessarily craft). The Young Prince's higher proportions of barley and rye, along with a two-week fermentation—double the industry standard—result in a spirit that the distiller says is "richer and deeper in flavor."
The palate of the Darjeeling Gin—which won best in show at the World Beverage Competition in 2015—is described by gin expert Aaron Knoll on his blog The Gin Is In as "a pageant of vibrant full-bodied spice, citrus zests and the comforting warmth of fresh-brewed tea." Arnold is flattered, but modest about the high praise that his flagship bottle has received. "My flights of fancy just don't go that far," he says. Surprisingly, coaxing shades of earth and spice only requires trace weights (mere grams per 30-gallon batch) of nine different botanicals (Arnold cops only to Darjeeling tea, "citrus" and juniper berries, gin's piney trademark), which are placed in the copper still's vapor path for unadulterated flavor extraction. That the award-winning spirit is beloved at Shady Lady, Kru, Ella and—cue full-circle moment—Corti Brothers is quite an affirmation for Arnold's career pivot. "You really can take [a life] that was already good and make it even better," he says. californiadistilledspirits.com—Leilani Marie Labong
Patio 29 Spirits Company
Six years ago, the Boone clan—Jeff, Anita and their adult sons Adam and Eric—were hanging out on their backyard patio in Davis, sipping cocktails and spitballing ideas for a family-run business. A restaurant? Sure, Anita told Jeff, he could open a restaurant if he liked—using whatever was left after their divorce. A brewery? Not in Sacramento's saturated market, Jeff said, swirling his swizzle stick. Hey, what about an artisanal distillery?
Jeff and Anita quickly became students of their craft, taking fermentation science classes at UC Davis, attending industry seminars and visiting small-batch distilleries around the country, like Leopold Bros. in Colorado and Dry Fly Distilling in Spokane. (Adamand Eric joined in when they could, during military leave and college breaks, respectively.) Jeff experimented with making mash by first brewing beer in his garage. "It's that 10,000 hours thing," he says, referring to the notion popularized by author Malcolm Gladwell that only practice—hours and hours and hours of it—makes an expert. "I'm not going to build a rocket engine, but if something looks doable, from my perspective, you learn about it, put time into it, and you get better at it. We figured it out."
Patio 29—the name is a tribute to the origin story, with the atomic number for copper thrown in to sweeten the distilling pot, which is made of said metal—launched in August 2019, with a vodka featuring grain-forward undertones and a wisp of weight on the tongue, and a gin distilled with cassia and local lavender (its slightly sweet character is reminiscent of unaged whiskey). The foursome then added an amber-hued rum that evokes banana bread and pineapple, and grappa made with petite sirah or albariño winepress remnants from area vineyards. Jeff says the family is eager to release its rye whiskey and bourbon—which have been aging in white oak barrels at the Winters distillery for nearly a year—in time for Christmas.
Meanwhile, the company's current roster also includes a line of flavored whiskeys called Harmon's Hot Pix, named after a brand of novelty candied toothpicks Jeff's maternal grandparents devised and sold in the 1950s. These are not your overly sweet college-shot concoctions. Inspired by tipples like the mint julep and Old Fashioned, they are spirit-forward, pre-mixed cocktails ready to pour over ice, sip and savor—preferably on a patio of your own, where apparently great minds drink alike. patio29.com—Jessica Rine
Dry Diggins Distillery
Cris Stellar harbors no illusions about the creative licenses left to take in distilling, which has been around for thousands of years. "What we can do is make the most of our terroir, which is different than anywhere else," says the Dry Digging Distillery proprietor. "There's something to be said for the grains and fruits grown here, and the barrels that are aged here."
That means head distiller Casey Newman's main job is to bottle the region. The distillery's signature spirit, Diamond Springs Vodka, leverages the agriculture of the nearby wine country by using a ferment of mostly locally grown grapes rather than traditional potatoes or grains. The two-time winner at the American Distilling Institute's Judging of Craft Spirits in 2015, including best in class, has a clean finish and the unexpected quality, according to Steller, of being straight-up sippable even though it's 80 proof. Harnessing the fruits of another neighboring growing region, the AppleJack brandy is crafted from 30 varietals of apples from the Barsotti family orchard in Apple Hill. The spirit, which Steller says "tastes true to a real apple, but in alcohol form," is made and sold at Dry Diggings' El Dorado Hills facility under one of his other labels, Amador Distillery. (The two brands, which were launched in 2012 by separate groups, were brought together under one umbrella three years later.) Meanwhile, Dry Diggings' Rubicon Rye manifests terroir most significantly through the thermal expansion—a phenomenon of El Dorado County's hot days and cool nights during the spring-to-fall growing season—that occurs during the barrel-aging process, in which the spirit flows in and out of the pores of charred oak barrels for an indulgent four to six years, resulting in notes of caramels and vanillas, not to mention a "big rye spiciness," says Steller.
Also the head of the California Artisanal Distillers Guild, Steller is a natural north star in the industry: Not only does he consult for emerging local brands like Midtown Spirits and Liquid Seduction, he was among the first to pivot his distillery to hand sanitizer production at the onset of the pandemic here. And he is currently working on a couple more Covid-era game changers: making permanent a temporary measure that allows distilleries to ship bottles directly to consumers and reopening distillery tasting rooms—under current mandates, only establishments serving food are greenlit for service. (In any case, Dry Diggings' new elevated smokehouse is slated for a late 2021 opening.) "You can only hope that experiences in life are building blocks," says Steller. "It's nice to do things that help you and your friends." drydiggings.com—L.M.L.
Midtown Spirits
In 2012 Jason Poole, then the bar manager at Pour House, entered Absolut Vodka's Best Bloody Mary in America contest and walked away with the silver medal. "It was a springboard for me to break off on my own," says Poole, who had been crafting and selling cocktail mixes as a side gig. That hustle would soon develop into a full-fledged business known as Preservation & Co., a line of pickles, barbecue sauces and said drink mixes. The celebrated Bloody Mary mix, with its uncommon combination of capers, Dijon mustard and house-made balsamic reduction, remains the company's best-selling product.
The truth is, artisan pantry items—save for the cocktail mixes, the line is currently on hiatus—were just a springboard into Poole's next venture. "I've made the mixes for so long that I want to be able to make the vodka to go with them," says Poole, 36. "I call it 'completing the cocktail.' " On Nov. 11, Poole and his business partner David Abrahamsen, 38, opened their distillery label, Midtown Spirits, at the space formerly occupied by Preservation & Co. near 19th and Q streets. Under the guidance of Cris Steller and Casey Newman from EDH's Dry Diggings Distillery, Poole and Abrahamsen have been running practice batches of their debut vodka and gin through their shiny new stills since early September.
The vodka has a "balanced mouthfeel with subtle sweet undertones," according to Poole, thanks to an unusual ferment of rice. Poole and Abrahamsen source otherwise unusable broken grains from Rue & Forsman Ranch in Yuba County, giving their vodka a sustainability shine. The flagship gin, The Not So Dry, is citrus-forward with botanicals of lemon and grapefruit held in a muslin bag that steeps in the distillation kettle. For another variety of gin, this one quite savory and especially good for a Bloody Mary, the two are working with Woodland-based tomato processor Morning Star for its tomato water, a byproduct of the canning process that's naturally brimming with distillable sugars.
Picking up where Preservation's abandoned 2019 plans for a downtown eatery inside The Bank food hall left off, an on-site restaurant and bar is expected to open with the distillery this winter. The gastropub fare, from deviled eggs to Devil Dogs (a beef frank loaded with bacon, cheese sauce, tomatoes, jalapeños and onions), provides a cushioned landing for the high ABV offerings. Two dozen house vodka infusions (think caramelized pineapple, horseradish and even roasted s'mores) will be available by the shot or carafe-size mixer. Cocktails on draft will include a tarragon gin lemonade, as well as a Bloody Mary that uses Midtown Spirits' peppercorn-citrus vodka. But the swig of choice for Poole—a vodka soda—is much less fanciful. "In my career, I have made, and enjoyed, every crazy cocktail you can think of," he says. "But now I find a simple, spirit-forward drink to be a thing of beauty." midtown-spirits.com—L.M.L.
J.J. Pfister Distilling Company
Brian Kack was going for a Ph.D. in chemistry—and brewing saisons and red ales in his kitchen—when he had an epiphany. "My home-brew notebook was a lot better organized than my lab notebook," he says. "I realized I was a lot more passionate about that."
His experimental suds quickly became a hit at family gatherings, but one person wasn't able to join the fun: his dad Kevin, who has celiac disease and can't consume gluten-containing grains like wheat and barley. Wanting to create a drink that was whole-family-friendly, Keck enrolled at UC Davis in 2014 to study viticulture and enology. But yet another pivot came after his father, with a hot tip on a source for organic potatoes to turn into spirits, suggested that they start their own distillery instead.
Thus, in 2017, the J.J. Pfister Distilling Company was born. The name is a tribute to Keck's great-great-grandfather John Jacob Pfister, a Swiss tailor who immigrated to the United States in 1869 and founded a knitwear empire—if you've ever seen a vintage postcard of a bathing beauty whose wool swimsuit scandalously revealed a bit of knee (gasp!), well, Pfister probably dressed her. (The distillery's logo bridges the past and present with silhouettes of a pot still and sewing machine.)
Three years, several massive stainless steel vats and nine craft spirits later, the family business is thriving inside a 16,000-square-foot facility in Rancho Cordova, with Keck in the role of master distiller, where he brings a farm-to-fork chef's sensibility to crafting unique flavor profiles using organic crops. For example, J.J. Pfister boasts a distilled honey spirit called Drakas that sources raw honey from GloryBee in Eugene, Oregon; the popular Capitol Gin, made with local grains and a proprietary blend of nine botanicals; and an eau de vie (fruit brandy) with pears from Greene & Hemly orchard in Courtland—Keck's personal favorite. And in keeping with the company's environmentally conscious sensibility, all of the spent grain (excess malt leftover from the distillation process) is delivered to the Silva Bros. Dairy farm's Elk Grove facility to feed the cows.
Although he never planned to follow in his great-great-grandfather's entrepreneurial footsteps, Keck hopes the new family business—his parents Kevin and Gail serve as president and COO, respectively—honors the original J.J. Pfister's commitment to craftsmanship. "I think he'd be proud of what we've been able to establish here—that we're continuing his legacy," says Keck. jjpfister.com—Curtis Yee
Liquid Seduction
Brothers Romyane Ragsdale, 31, and Andre Woods, 32, have always dreamed big. Soon after graduating from Luther Burbank High School, the pair started approaching the Sacramento City Council with grand plans—for everything from an amusement park to an NHL team. The ideas came and went so fast and furiously that Ragsdale doesn't remember the first time he came up with the concept to launch a liquor label, but on Nov. 14, 2012, he tweeted: "@FloydMayweather, I have a new liquor concept and I would like for you to be the face of my commercial. Inbox me for more details."
So when Woods himself suggested a spirits line in 2018, the Mayweather tweet long forgotten, Ragsdale wasted no time, calling every distillery in the region. Eventually the pair got a meeting with Cris Steller of Dry Diggings Distillery in El Dorado Hills. What the two South Sacramento electricians lacked in spirit-making experience, they made up for in enthusiasm, showing up in Steller's office carrying a pair of striking, handblown glass vessels with an elegantly etched "LS"—the initials of the would-be brand's name, Liquid Seduction—and a cobalt blue base that they had commissioned from Sacramento glass artist René Steinke. Steller appreciated the brothers' confidence and happily agreed to help. "He would give us homework," says Ragsdale. "Every time we completed something on the checklist, we would call him and say, 'What should we do now?' "
"Projects like this come up all the time and eight out of 10 times nothing ever happens, but these guys made it known that they were in this to win it," says Steller. "I respected their energy and their drive."
The effort paid off, and in August, the brothers released their first batch of vodka, a clean, wheat-based spirit with a light vanilla accent that was distilled at—where else?— Dry Diggings. "It's very smooth. It doesn't have that burn a lot of vodkas have," says Woods. But with the duo's go-big-or-go-home mentality, this may be just the beginning. Sharing a life lesson from their high school days playing football (Liquid Seduction's blue and gold logo serves as an homage to Luther Burbank), Woods adds, "Our coaches always taught us that it's not about the size of the dog, it's the size of the fight that's in the dog." liquidseduction.com—C.Y.
Gold River Distillery
In 2014, a year after launching Rancho Cordova's Gold River Distillery—the first distillery in Sacramento County since Prohibition—Greg Baughman was ready to release his debut spirit, Baughman's Gin. But when he ran the name by an acquaintance in marketing, it didn't exactly go down easy. "He goes, 'That's the stupidest idea I've ever heard. Everyone wants to put their name on a bottle, but that's ridiculous. It doesn't tell a story,' " Baughman recalls.
To find that story, the spirits maker began delving into Sacramento's alcohol-fueled past, immersing himself in chapter after chapter of hijinks from the Gold Rush era onward. Allegedly, the city was "the easiest place to get a drink on the West Coast" during Prohibition, a time when steam-powered river-boats carted contraband moonshine to San Francisco and back via the Sacramento River right under the Feds' noses (although Baughman's own great-grandfather got caught and went to jail for moonshining and bootlegging).
And so it was that the quaffable lineup at Gold River started with a New American-style spirit dubbed Wheel House American Dry Gin, which nods to the titular room on a riverboat and contains subtle hints of juniper and dominating notes of citrus, lemongrass and coriander.
In fact, many of Baughman's distillates are shot through with local ties. For example, his applejack, a brandy thought to be America's first whiskey, uses local fruit from the Barsotti family orchard in Apple Hill, and his absinthe verte, a chartreuse-hued spirit that tastes of black licorice thanks to its mixture of botanicals like wormwood, anise, fennel, lavender and spearmint, is a reboot of the digestif that reigned in popularity during the 1800s, when Mark Twain frequented the local saloons.
But Baughman's pride and joy is the Wheel House Malted Rice Whiskey, which is made entirely from regionally grown varieties of malted rice, a particularly temperamental grain requiring perfectly precise temperatures and Herculean levels of force for pulverization. For the distiller, the result—a signature spirit that, with its caramel notes reminiscent of bourbon up front and a smoky, Scotch-like finish, doesn't taste like a typical rice whiskey—is well worth the extra effort. "There's a lot of swearing that goes on when we're mashing it—but the end product is excellent. And [the flavor] is something new that didn't exist before." And the rest, as they say, is history. goldriverdistillery.com—J.R.
Norstar Spirits
"If life gives you lemons, add vodka." So reads a graphic, fittingly, on Norstar Spirits' Instagram page for its CAS 1854 Vodka. The quote—a humorous, over-21 twist on an old adage—is flanked by two bottles of said liquor, whose sepia-hued label depicts a surveyor's map of California with a star marking the capital city. "When people see the bottle, I want them to know it's from Sacramento," says co-owner Anthony DeCelle. "I'm proud of our town." And as he explains, a sense of place is further encoded in the sly branding: CAS is SAC spelled backwards and 1854 is the year Sacramento became the state capital.
No doubt helped by its pride-inducing design, Norstar's inaugural offering has been making a splash all over the region since its 2018 debut, landing at Raley's and Bel Air supermarkets and more than two dozen area drinkeries, including River City Saloon in Old Sacramento, The Monk's Cellar in Roseville and Sully's Bar & Grill in Rocklin. "I love local," says DeCelle, a Sacramento native who earned his industry chops working at his family's Beach Hut Deli franchises.
DeCelle founded his Roseville-based liquor company with Clint Goodson, an expert in product distribution, and together they tapped Greg Baughman at Gold River Distillery in Rancho Cordova to help craft their CAS 1854 Vodka. (Norstar plans to expand its offerings by adding whiskey and gin—which would also be made at Gold River—next year.) Perfected through multiple tasting sessions, the easy-to-drink, mixable spirit has a slightly sweet back note, the result of a 16-time distilling process. "That just cleaned it up to where you taste more of the wheat coming out of the product," says DeCelle. "The minute I tried it, I said, 'It's a winner.' " norstarspirits.com—C.Y.
Satellite Spirits
Three years ago, after learning that the Grass Valley research lab at which they worked was about to shut down, physicist Jonathan Dorfman and engineer Dan Kennerson decided to take their technological know-how in an entrepreneurial direction. But what product to make? Their work had ranged from energy sequestration, diamond nanoparticle synthesis and nuclear fusion to developing methods for distilling pure fuel-grade ethanol and for deriving oil from algae.
"As much as Dan and I wanted to spin off our own nuclear fusion facility, I don't think that was the lowest-hanging fruit," Dorfman quips. The low-hanging fruit turned out to be an olive, plucked and plunked into the smoothest vodka martini that science can buy. Forming the cheekily named Satellite Spirits, the two tweaked their jet-fuel-purification techniques at their Grass Valley distillery to achieve a completely different form of ethanol—a vodka as pure as mountain spring water named in tribute to a popular swimming hole on the South Fork of the Yuba River, one that they both grew up splashing around in. "It's heaven for hippies," Dorfman says. "It's a meaningful drum beat of the region, something we vibe with."
The main ingredient in the aptly named South Fork Vodka is, in fact, Sierra mountain spring water, along with non-GMO corn. But beyond that, the genius lies in the method—a proprietary approach to purification that outshines more traditional techniques like carbon filtration. Their process greatly reduces the presence of contaminants like acetaldehyde that not only harsh your palate's mellow, but can also contribute to hangovers in the morning and have even been classified as carcinogenic.
The result is a vodka that Dorfman describes as "crisp, refreshing, unambiguously high quality, highly refined—and incredibly inoffensive." The crystal-clear liquid goes down so easy that Dorfman and Kennerson like to host tastings of it neat at room temperature. "This isn't the vodka we grew up with," he says.
With their signature liquor perfected, the two have trained their sights on other potables. They've been experimenting with small-batch specialty spirits infused with herbs like lavender and rosemary or hibiscus and grapefruit. A whiskey is in early-stage development, and two gins may be ready in time for Christmas—a West Coast dry style called Bear River Gin and a California botanical style called Deer Creek Gin, which will feature big floral notes from locally grown aromatics like nutmeg, star anise, angelica root and fennel. But none of these offshoots would be possible without the neutral, odorless vodka, according to Dorfman. "The new spirits are going to be built on this elegant blank canvas," he says. "We are excited to explore." satellitespirits.com—J.R.