The Super Dome
Access to the beautiful Capitol dome and its 360-degree views ended during World War II. But other capital cities like Denver and Topeka, Kansas are raising the roof on their capitols by reopening their domes and allowing for more historical education, increased tourism and stunning views. These days, the State of California is taking a lot from its citizens. Here's an easy way to give something back.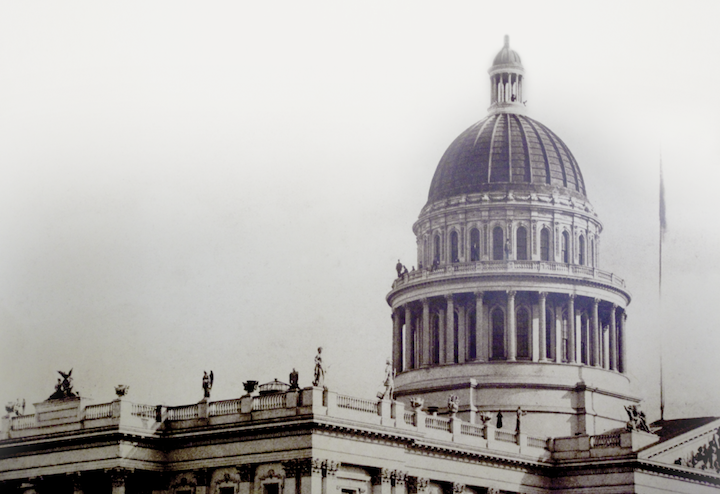 The Idea
The State Capitol is often referred to as the People's House. But the "people" seem to have less and less access to it. Thanks to Osama bin Laden and a crazy truck driver who plowed into the building in 2001, steel bollards now encircle the property and the majestic front doors have been closed as crowds funnel into security checkpoints. But perhaps the single coolest liberty we've lost is access to the building's spectacular dome. Both the interior and exterior of the dome (and even the tiny cupola at the very top, 243 feet above the city) were open to the public from 1872 until 1942 when access was axed during World War II for security reasons. But surely with the millions of dollars in new security measures that we've spent and a massive seismic retrofit that was completed in 1982, it's safe to reopen the dome to the people, at least to the colonnade level at 180 feet where there's a roomy exterior walkway. After Kansas' Capitol dome tour was shuttered for 33 years, it was reopened in 2006 to rave reviews (they sell Dome Tour T-shirts to defray costs). Over 100,000 people have taken the tour since. In 2007, Colorado reopened its Capitol dome tour after five years in the dark (it was closed after 9/11). And the tops of Capitols from Oregon to Louisiana still welcome the masses to their historic perches. Capitol staff here say there are liability and crowd control issues. But both Colorado and Kansas limit groups to 30 at a time, and both have guide supervision at all times. And Colorado requires reservations made at least two weeks in advance. Yes, our dome has three tiers of steep steps to climb (which pales when compared to Kansas' 296 steps) but it does have handrails, and if it's safe enough for VIPs, legislators, Capitol staff and interns who regularly tour the top, then why not for the rest of us?
The Players
The Department of Parks & Recreation operates the Capitol tour office and would likely oversee any legwork needed to make this happen, but this kind of project needs a champion, too. Our candidate is Senate President Pro Tem Darrell Steinberg, who has both the clout and the regional ties to recognize that this would be a boost for the city as well as the state. And Mayor Kevin Johnson has an incentive to help reach out to his state colleagues, too, since this would be the only public observation deck in Sacramento—a sure way to draw tourists and locals alike to downtown.
The Bottom Line
A committee should determine what costs would be associated with reopening the tours. The Colorado State Capitol Building Advisory Committee determined that staffing would cost them only $40,731 (one employee plus college work-study students) to operate the dome tour in the 2007-08 fiscal year. And in Topeka, the Kansas State Historical Society runs the tours, which cost only about $75,000 per year to operate. Finding docents in this historic city shouldn't be a problem. But new civic experiences that capture our imagination and remind us of our past are far harder to come by. Dec. 4, 2010 is the 150th anniversary of the day ground was broken on our Capitol; it's perfect symbolic timing to reopen the dome to the people who paid for it. Let's shout it from the rooftops.