The Thrill Isn't Gone
After his 2020 birthday concert was canceled due to the pandemic, Mick Martin is getting his band back together for take two at The Sofia in August—his first live indoor performance in over a year. At 72, the Sacramento bluesman is readier than ever to reclaim the stage.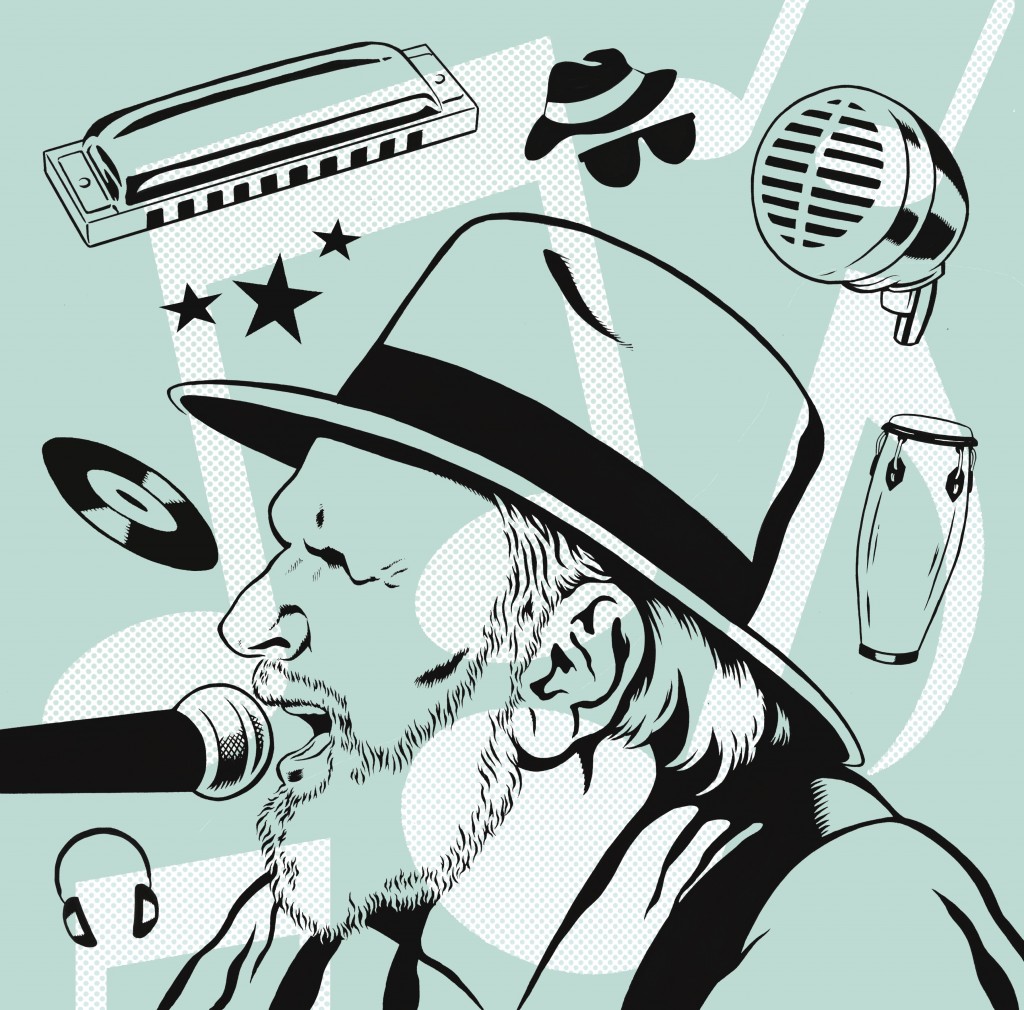 "Is it tough to play the harmonica through a mask?"
Mick Martin doesn't respond. I grimace at the silence on the line as I wait for my joke of an interview question to land, then worry that the 72-year-old Sacramento blues legend thinks I'm crazy, an idiot, or both. Then, thankfully, he laughs—and even answers: "No, you can't. And it's very hard to sing."
Martin's saxophone player, however, does have a slit in his mask so he can slide the reed through without exposing his nose and mouth. It's a strange look, but Martin admits that the first few live outdoor performances with his band in these latter days of the pandemic have all been a little weird. Audience members at his Swabbies on the River birthday show in May stayed socially distanced and didn't dance.
Still, the singer-songwriter and harmonicist added, it's wonderful to be performing in front of people again. And it's definitely a step up from his previous birthday, which he had planned to celebrate with a concert last year at The Sofia in midtown until Covid crashed the party.
Now, with restrictions easing and vaccines widely available, that canceled show has been rescheduled for Aug. 28. The setlist is primarily horn arrangements, all originals cobbled together from Martin's albums over the years. Special guests include other NorCal blues singers like Marcel Smith and Annie Sampson.
Anyone thinking that Martin may be rusty needn't worry. He played several virtual concerts during the lockdowns, and he's been working on two albums to be released this August—one with the big band and one acoustic album produced by Sacramento blues musician Kyle Rowland. But even that level of activity was a step back from his usual pace.
Such a forced slowdown is not familiar to Martin. The man has gone nonstop for decades, rollicking forward like a player in the middle of a 12-bar wail with no rest in sight.
In the mid-'60s, after hearing John Mayall's Blues Breakers with Eric Clapton on repeat at the Tower Records on Broadway, Martin was "gobsmacked." Around that same time, in 1967, he saw Muddy Waters play. Perhaps more important to Martin's future, he saw harmonica great Paul Oscher—then a member of Waters' band—play, and heard what was possible.
Martin soon started a group called Timothy Grass, which performed what he calls "experimental music." After it broke up a short time later, he played in a series of groups, hitting The Fillmore in San Francisco, transitioning to covers ("That was like going to artistic imagination jail. It was horrible. I hated it."), joining a group that auditioned for Columbia Records, releasing an album with another, and finally putting together Mick Martin and the Blues Rockers, which he has led in some form for the past 38 years.
Throughout that time, he shared hotel rooms and backstages with then who's who of music: Janis Joplin. Mick Taylor of the Rolling Stones. The Yardbirds. "Nowadays, you've got to go through 14 bodyguards, a personal manager and a publicist. Back then it was like, 'Hey, how are you?' There was open access to people," Martin says. "Janis was one of the friendliest people I've ever met in my life. She was effervescent, and everybody loved her."
He also shared the spotlight with some of those boldface names. "The first time I ever sat in with a band was with Freddie King," says Martin, of the late famed musician who was considered one of the "Three Kings" of the blues guitar. "B.B. [King] was great, and Albert [King] was incredible, but Freddie was the template for a lot of the people who played blues. There's an iconic instrumental song [of his] called 'Hideaway.' I'm backing him up [on harmonica], and I knew there was this instrumental thing where it was just chording, so I took a solo. And Freddie took his hands off his guitar, held them out, and by the end of the song? I'm 27, maybe, and I'm jamming nose to nose with Freddie King, sweat flying off of my face and his, we're trading fours—in other words he'd play [four bars], I'd play [four bars]. I felt like I was shot through the ceiling."
Along the way, when not jamming with legends, he worked in just about every form of media possible around town: print, radio and television. He wrote about movies and music for The Sacramento Union—interviewing the likes of everyone from Michael Douglas to Michael McDonald—from 1976 until the paper closed in 1994; reviewed films for KTXL (now Fox40); spun vinyl for the legendary rock and blues radio station KZAP; and has spent the last three decades carefully crafting playlists for his Capital Public Radio program, Mick Martin's Blues Party. He also co-founded the Sacramento Blues Society, which now has the Mick Martin Student Fund that raises money for young musicians, and was inducted into the society's Hall of Fame in 2010.
Two years ago, however, all the decades of pouring his energies into newspaper stories, TV segments and radio broadcasts, not to mention his harmonica and the region's blues scene, seemed to finally catch up to him. "I got overwhelmed," he says. But then 2020 happened, and he was able to recharge. Now, he's looking forward to stepping up to the microphone at The Sofia this summer.
"My doctors were telling me, 'Well, you know, you don't have to worry about [working]. You can retire,' " Martin recalls. "I said, 'Why? Now? No, no.' One of the things I've been proudest of is that I've always been able to make a living doing what I loved. This isn't work."
Mick Martin and the Blues Rockers will perform at The Sofia on Aug. 28 at 7 p.m. Tickets are $30. Visit bstreettheatre.org for more info.