The Upside of Underpasses
There's a growing global phenomenon in which community parks and other highly desirable public spaces are popping up beneath freeways and railway lines. It's time for us to take a look under the hood as well.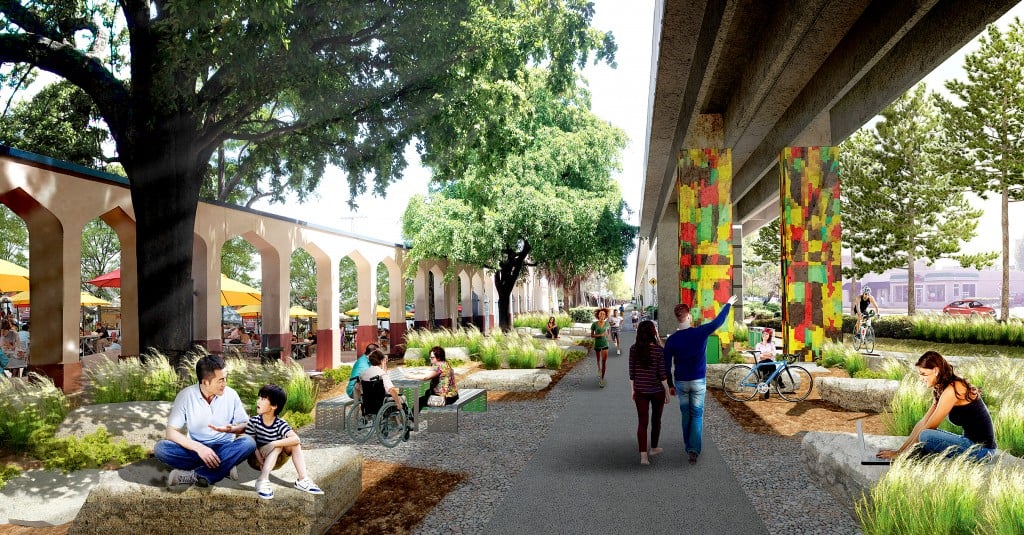 Sometimes opportunity lurks in the unlikeliest places.
In 1999, when New York City residents Joshua David and Robert Hammond proposed the idea of creating a lush urban park atop an abandoned elevated railway in their neighborhood, they couldn't have imagined that the project, now known as the High Line, would change the way that cities around the world look for opportunities to create public spaces.
Since the High Line's opening, city planners everywhere have been conjuring their own versions of the concept, including here in Sacramento, where discussions are afoot to transform the upper level of the old I Street Bridge into a pedestrian-friendly oasis.
Of course, there are limitations to recreating the High Line; decaying elevated railways aren't exactly easy to find. What is easy to find, however, are elevated freeways and the underutilized spaces beneath them. In fact, these largely unnoticed urban spaces are ubiquitous, and typically occupied by dirt or used as surface parking lots. But little by little, cities are finding extraordinarily innovative ways to reimagine these long-overlooked civic assets.
For example, in 2005, Seattle's department of parks and recreation leased 7.5 acres of space under Interstate 5 from the Washington Department of Transportation to make room for a city park called the I-5 Colonnade, complete with the country's first urban mountain bike course.
Meanwhile, groups in Portland, Boston and New Orleans have all built popular skate parks under their cities' roadways. In Melbourne, Australia, colorful climbing walls were installed in an underpass. And in Amsterdam, a large area below a freeway was redesigned to include water features for kayaks and paddleboats.
One of the most recent underpass success stories lies north of our border.
The first phase of Toronto's new mile-long park called The Bentway opened in January under a downtown expressway. During its first winter, the space hosted a community ice skating rink, and warm weather programming includes a series of "rooms" that host art exhibits, classes and performances. In February, The Toronto Star opined, "Already, it seems like the kind of place [that] will feel magical to encounter on a summer evening when there's music playing and lanterns hanging and people sprawled across the grounds. … [It's] a new neighborhood amenity for thousands and a prominent destination for the whole city."
But the most ambitious of these projects is in Miami, where The Underline, a 10-mile bike trail and linear park below county-owned elevated rail lines, is scheduled to break ground later this year. Designed by the same team that created New York's High Line, The Underline will add 120 acres of public space to the region, including basketball courts, performance venues and a butterfly garden. The city of Miami sees this project as such a high priority for its citizens—in terms of health, economic impact and quality of life—that it has already committed $50 million to the effort.
So what about Sacramento? Our city sits at the confluence of some of the nation's largest freeways—Interstates 80 and 5 and Highway 50—yet we haven't scratched the surface when it comes to capitalizing on the land beneath the roadways. Yes, there's the massive farmers' market under Highway 50 on Sundays, and that space features the wonderful Bright Underbelly mural, which was created in 2016 and covers 70,000 square feet of the underside of the freeway. But the majority of our underpasses are home to either surface parking or dirt.
We can do better.
Most of the underpass land in Sacramento is owned by the state and operated by Caltrans. In many cases, developing state-owned property is an insurmountable obstacle for a city, but in this case, for reasons I'll get to in a moment, it might actually represent an opportunity.
But first, where are the opportunities here? The city has no shortage of these types of spaces that could energize their surrounding neighborhoods. Take for example, the resurgent Broadway district downtown, which runs parallel to Highway 50. There are eight city blocks' worth of surface parking underneath the roadway there between 6th and 24th streets (one of these blocks is leased to the DMV and seven are leased to the city for parking). That's nearly as much open space as there is in Capitol Park.
Further east, the state has the potential to repair some of the damage done to Oak Park in the 1960s, when Highway 99 cut the neighborhood off from the central city. Some of those underpasses are mere dirt patches and could make for amazing community park spaces or playgrounds.
But the single most spectacular opportunity for this kind of creative placemaking sits directly below the confluence of Highway 50 and I-5 near the Sacramento River. Drive or bike down Front Street just off Broadway and look up. It's a virtual open-air cathedral, with flying buttresses composed of intersecting roadways overhead. These large concrete ribbons provide ample shade and present a striking example of industrial architecture. And the location is ideal, given its close proximity to the waterfront and the Broadway corridor, which includes the new 1,000-home Mill at Broadway development only two blocks away.
This is where Caltrans comes in. This particular property is currently a 500-space parking lot that, for the most part, Caltrans leases to CalPERS, which operates a shuttle service that ferries commuters to their offices. The current lease runs through 2047.
While that might seem like a roadblock, consider a recent legislative development that might help pave the way to a less paved urban future.
Last October, Gov. Jerry Brown signed Assembly Bill 857, authored by San Francisco Assemblymember Phil Ting. The bill requires Caltrans to give the city and county of San Francisco first right of refusal on land the state controls below freeways when their existing leases expire. It also requires Caltrans to offer those properties to the city at 70 percent below market rate. The one stipulation? The land must be used for public park space. And that's exactly what the city plans to do with it, having already identified at least eight underpass projects as neighborhood catalysts. In fact, last year, San Francisco became the first city in America where 100 percent of its residents live within a 10-minute walk to a park, according to The Trust for Public Land. And in October, the late Mayor Ed Lee, an outspoken proponent of increasing park access for all citizens, called this new legislation a "game changer" for San Francisco.
Which brings us back to Sacramento. Yes, it's true that the CalPERS lease doesn't expire for nearly 30 years, but few, if any, city officials in California have as much state government experience as Mayor Darrell Steinberg, given his time as the president of the Senate. His insider access was one of his biggest selling points when he campaigned for mayor in 2016. This is an opportunity for him to tap into his Capitol connections for the betterment of his city. Hopefully, he can work with Caltrans and CalPERS to secure some or all of this land for public use. Finding a replacement parking lot has got to be easier than finding another highly desirable and potentially catalytic urban oasis like this one.
As it happens, the city recently kicked off an effort, coined the West Broadway Specific Plan, to reimagine and revitalize the district directly across the street from this very site. In fact, the mayor announced his candidacy right there at the Mill at Broadway in 2015, adding that this key residential project "represents the city's future." Breathing life into the underbelly of this freeway confluence has the potential to advance the city's efforts in this area.
And since the city already leases seven blocks' worth of underpass parking spaces from Caltrans between 6th and 23rd streets near Broadway, therein lies a real opportunity to affect positive changes with land it already controls.
I'd encourage Sacramento City Hall (and the civic leadership in all the cities around our region) to engage with groups like the local chapters of the Urban Land Institute, the American Institute of Architects and American Society of Landscape Architects on how best to make the most of these hidden placemaking jewels.
Running a city means working with limited resources. So it's critical that we take advantage of the resources we already have to improve the quality of life in Sacramento. Put simply, freeway underpasses are the next frontier in urban design. Let's tap into the creativity of our community to conjure something truly groundbreaking. Let's trade some lifeless eight-hour parking spaces for some vibrant 24-hour park spaces. It's time to step into the shadows and shine.