Three festive pop-up bars to drink in the holiday season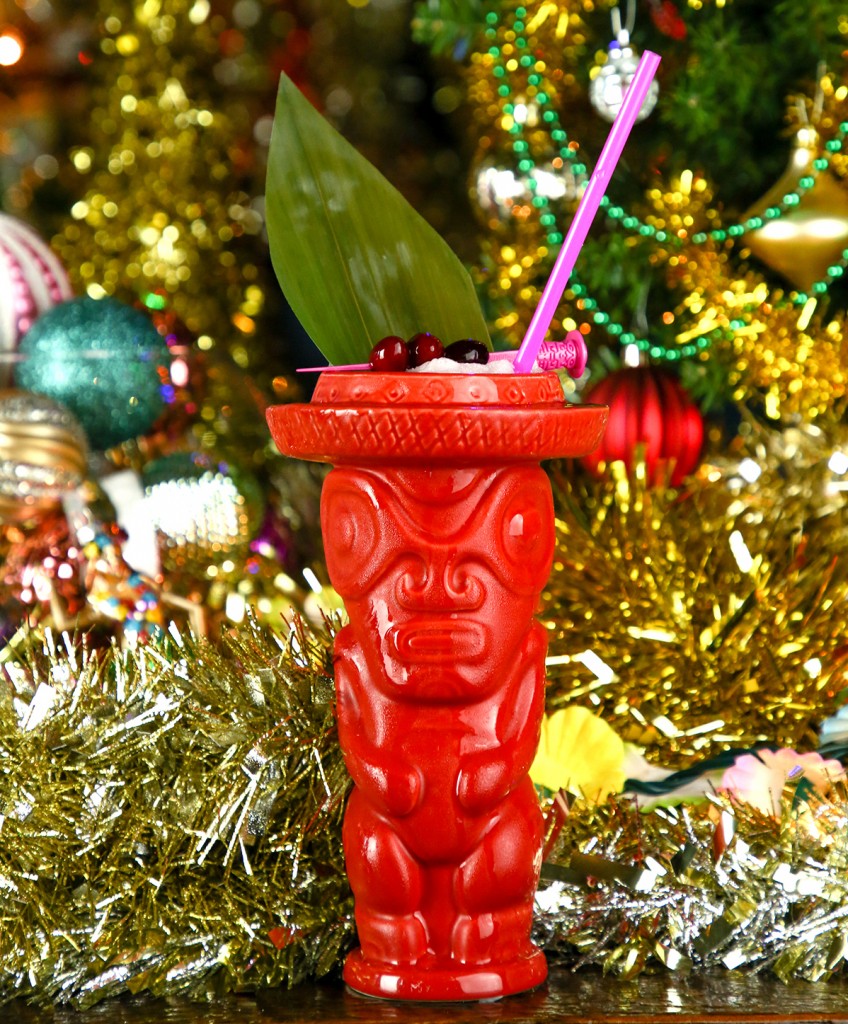 Christmastime is here and so are the global yuletide pop-up bar, Miracle, and its Christmas-slash-tiki-themed sister, Sippin' Santa, which have rolled into three local haunts, offering quirky, holiday-themed cocktails—and a healthy dose of festive cheer—that will be on offer through the end of December.
Midtown's The Red Rabbit Kitchen & Bar and downtown's Tiger have made ultra-festive transformations into Miracle pop-ups—which started in 2014 at the New York bar, Mace, and has since expanded to over 100 locations—that will run through Dec. 31. Red Rabbit's general manager Al Marquez says the J Street bar (which was the first Sacramento location to participate in the pop-up in 2017) is filled to the brim with holiday decorations to create a nostalgic yuletide aesthetic—think tinsel-covered everything, multi-colored lights, glass ornaments and, for a bit of contemporary cheek, a twerking Santa. Guests are encouraged to don their best (read: hokiest) holiday attire, from ugly sweaters to matching onesies, and nab a picture with the wandering Kris Kringle or Buddy the Elf.
"It's essentially like we've let off a Christmas bomb in the restaurant," says Marquez. "Our theme is like a holiday party at an aunt's house—very cozy, very warm, very comfortable."
The K Street bi-level bar Tiger has joined the revelry for the first time this year, and while the two locales are serving up the same Miracle cocktails, Sonny Mayugba, co-owner of both Red Rabbit and Tiger, says the downtown bar has a decidedly different holiday feel than its midtown counterpart, with snowflakes projected onto the bare concrete walls, and the place dripping in cool, modern white and purple decorations.
"Think like, big city, winter wonderland, New York Rockettes kind of vibe—really kind of fun and sexy and dangerous," says Mayugba. "A place where a young Sean Connery and Puff Daddy would hang out together."
Both locations are serving 10 holiday-themed cocktails (and three shots) presented in kitschy-cool, collectible glassware. The menu includes drinks like the SanTaRex, a blend of rye whiskey, sherry, spiced apple cider concentrate, lemon juice, hard cider and baked apple bitters, served in a T-rex tumbler donning a Santa hat; the Christmas Carol Barrel, a barrel blazoned with "Fa La La" filled with a mix of tequila, coffee liqueur and iced hot chocolate; and the fan-favorite Snowball Old Fashioned, made with a house-made caramelized pecan bourbon, spiced molasses syrup and wormwood bitters, which is chilled with an actual snowball made from shaved ice.
Miracle's tiki-themed sister pop-up, Sippin' Santa, is making its second annual appearance at The Jungle Bird this year through Dec. 31. (The midtown tiki mecca was one of the dozen inaugural locations last year and the only West Coast stop on the national tour.) Rum features large on the nine-drink lineup, like in the new Jingle Bowl, a drink for two that boasts two types of rum, apple brandy, Amaro, Angostura bitters, maple and cinnamon syrups, and lemon, orange and pineapple juices, presented in a carved wooden "hot tub," with a relaxing St. Nick and Rudolph; and, for those wanting to warm up, the Don & Victor (a nod to the owners of legendary tiki spots Don the Beachcomber and Trader Vic's), a batter-based beverage with Martinique and Jamaican rums, Italian bitter aperitif, sweet vermouth and nutmeg, served hot in a winking Santa mug. According to Jungle Bird co-owner Buddy Newby, folks can expect the island-inspired interior to be dripping in festive décor, including paper lanterns lining the ceiling, and a life-size, hula-skirt-wearing, dancing Father Christmas.
Jungle Bird also plans to offer a New Year's Eve tasting menu. Details and ticket prices are still in the works, but Jungle Bird co-owner Tyler Williams says the multicourse dinner will include one drink in a collectible Sippin' Santa mug, and the option for a Sippin' Santa cocktail pairing.
But whether you fancy your aunt's yuletide gathering, a sexy downtown Christmas party or a chill island vacation, these three bars are going above and beyond to spread the holly, jolly holiday spirit.
"It's over-the-top, but it evokes the feeling of total joy," says Mayugba. "This is a chance for adults to be kids again."
The Miracle pop-ups run through Dec. 31 at The Red Rabbit Kitchen & Bar (2718 J St. 916-706-2275. theredrabbit.net) and Tiger (722 K St. 916-382-9610. tiger700block.com). The Sippin' Santa pop-up runs from Nov. 29 to Dec. 31 at The Jungle Bird (2516 J St. 916-476-3280. thejunglebird.com). For more information, visit miraclepopup.com
You Might Also Like
Darling Aviary takes roost downtown
Sacramento baker releases new cookbook
The underground Honey & the Trapcat to open in Old Sacramento