Toasty Toasts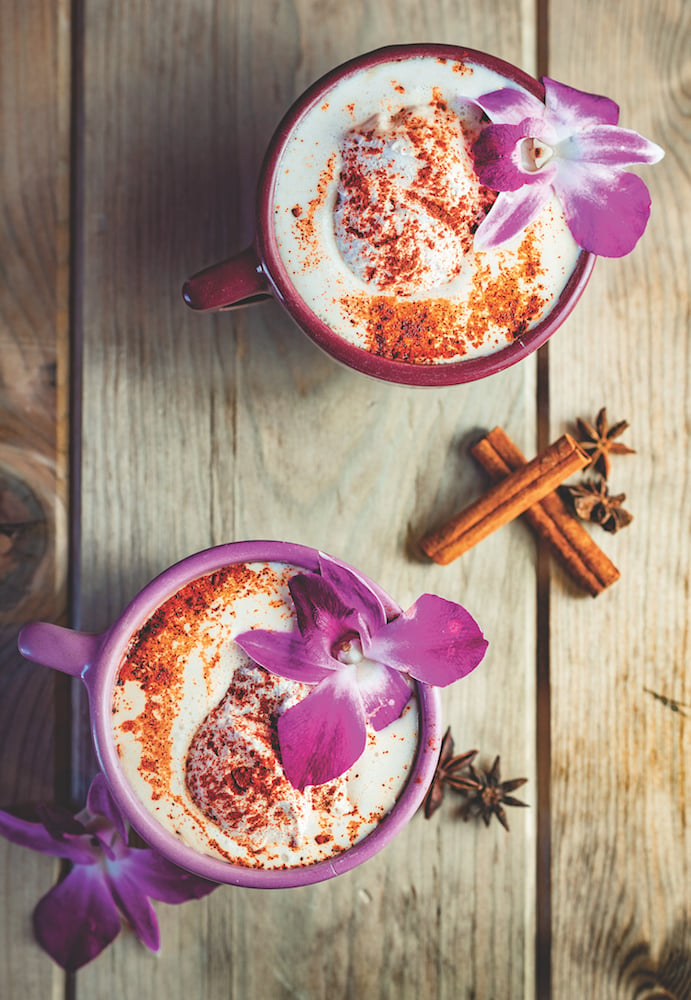 Got the winter blues? We've got the winter booze to chase them away. From a spiked Mexican hot chocolate to a warm apple pie elixir and a rum-based butterbeer, here are 10 soul-lifting cold-weather cocktails around the region that bring the heat and pack a punch. Get ready to zip up and sip up.
Photographs by Marc Thomas Kallweit, Jeremy Sykes and Anna Wick
The Southerner's Coffee
Southern hospitality and slow food go hand in hand, and the decadent Southerner's Coffee at Berkley Bar (named for local wine legend David Berkley, who once had a gourmet market in the same space at the upscale Pavilions shopping center) takes a full two weeks to steep and mellow before making its way to your glass on a lazy winter evening. Once there, this sweet, luxurious tipple goes down easy; as lips meet glass, the taste of cool, house-made whipped cream is followed by a swell of toasty coffee from Vaneli's in Rocklin and the nutty, golden afterglow of Old Forester's classic 86-proof bourbon that's been infused with walnut and caramel.
"We take our infusion program seriously," says bar manager Eli Bob, who enlists fresh walnuts from Napa Nuts and scratch-made salted caramel, and takes his time producing the perfect amber liquid—the recipe took several iterations before Bob considered the flavor and texture just right—but what's the hurry?
In keeping with the Arden-Arcade bar's farm-to-fork and no-waste ethos, the nuts used to flavor the bourbon are saved, candied with excess caramel drippings and served alongside the drink as a side snack. "We'd milk the cow if we could!" Bob says. And with the results he gets, we'd happily wait around for him to do it. $12. 515 Pavilions Ln. 916-922-2870. paragarys.com —Curtis Yee
Not Your Mom's Apple Pie
No, this may not be your mom's apple pie, but Bacon & Butter's liquid take on the all-American classic will leave you feeling homesick, no matter how many candles were on your last birthday cake. Bar manager Steve Nichols dreamed up the drink when he was asked, very last minute, to participate in a hot buttered rum contest at B-Side in 2017. "I happened to be at the grocery store when they called me to do it about an hour before the competition, and I literally had apple cider in my hand," he says. (Nichols took second place, not bad considering he had created it on the fly.) The now-perfected version—which is served all winter long and pairs impeccably with any of the Tahoe Park restaurant's legendary brunch items like the grilled cheese Benedict—is made with unprocessed apple cider from Barsotti in Apple Hill, Plantation 3 Stars rum and a house brown butter compound. To capture that fresh-out-of-the-oven feel and add a savory note Wisconsin-style, the glass is garnished with a sprig of thyme and an apple wheel topped with brûléed cheddar cheese. One sip, and you'll find yourself at the restaurant breaking your no-phones rule to call your mother. $9. 5913 Broadway. 916-346-4445. baconandbuttersac.com —C.Y.
Ponche Navideño
Nostalgia knows no borders, but still Midtown's Cantina Alley's bar director Oscar Escobar was surprised when a convoy of four Mexican-American couples drove all the way from Galt to sample his authentic Ponche Navideño (Christmas punch) after reading about it on Facebook. The group swooned over the mulled fruit concoction, traditionally served during the holidays in Mexico—virgin for the kids, with a dash of the hard stuff on the side for Santa. "They said, 'Oh, it's just how my mom used to make it,' " says Escobar. "That's what we do—we try to serve not just drinks, but journeys."
The ponche is made by boiling down guavas, apples and crabapple-like tejocotes with dried hibiscus, tamarind, cinnamon and sugar for a comforting beverage with fruit-forward complexity. At the cantina, the spike-able libation is ladled into a clay mug and served with sticks of sugar cane for stirring (and chewing on). Despite its Christmas connection, Escobar plans to keep a 10-gallon pot brewing on the stove through the end of February. "The bigger the pot, the better the flavor," he says, recommending a shot of tequila or smoky mescal on the side if you want the drink to pack a real, um, ponche. $4-$10 based on choice of alcohol. 2320 Jazz Alley. 916-970-5588. cantinaalley.com —Jessica Rine
Sweet Potato Pie
Avant-garde comfort food… as a cocktail? The idea may seem like a different kind of multivalent tongue twister, but that's exactly what Woodlake Tavern's bar manager Brett Walker was going for with the North Sacramento restaurant's new Sweet Potato Pie liquid dessert. "It's rich and warming, something you just want to sit with and maybe not even with a meal," Walker says. The colorful drink is a little bit sweet, a little bit savory, a little bit Southern and—topped with vibrant magenta beet-infused whipped cream—a little bit out there.
Walker starts by melting creamy butter batter—made in-house with roasted sweet potatoes and spices like cinnamon and chili powder—in hot water, and adds Corbin Cash rye whiskey (distilled from, wait for it, sweet potatoes) and Zaya aged rum. A leaf of fried sage and from-scratch whipped cream enlivened with pink peppercorns, beets, sage, orange zest and ground ginger crown the wintry adult beverage.
For Walker, it's all about creating flavor profiles that are familiar, but in an unfamiliar way. "I'm trying to break the mold by putting things together that you wouldn't normally think would go together [in a cocktail]," he says. "You might see root vegetables roasted with sage and you eat them—but how do you drink them?" Take it from us—it's easy as pie. $11. 1431 Del Paso Blvd. 916-514-0405. woodlaketavern.com —J.R.
Hot Minty Chai
Not many cocktails put you in the mood to bust a yoga move or assume the lotus position, but that's the kind of feel-good vibe you'll get from the Veg Cafe & Bar's Hot Minty Chai, a drink that's deceptively warm yet cool, yin yet yang, and perfect for pairing with your favorite brunch item—we like it in lieu of dessert after the warm winter salad with Brussels sprouts, arugula and delicata squash. Owner Suleka Sun-Lindley, who opened the midtown establishment above her family's popular Thai Basil restaurant in 2016, modeled the cocktail after her favorite ski lodge beverage, Tea & Sympathy, a blend of hot tea and Grand Marnier. "I wanted a creamy [version]," Sun-Lindley says. Her variation, like the cafe's menu, blends international flavors, pairing hot chai tea with mint-infused steamed almond milk, along with a jigger of spiced Kraken rum and a splash of Rumple Minze, a German peppermint liqueur that goes down easy but packs a 100-proof punch. Lightweights need not worry: The potent potable is served with a pot of plain tea so you can adjust the drink's intensity. Just say when and "om." $10.50. 2431 J St. 916-448-8768. vegmidtown.com —Hillary Louise Johnson
Sweater Weather
Let's be clear, Sweater Weather is not an ironic, ugly-hip Christmas jumper of a drink. There is nothing faux-tacky happening in this glass of caramel-colored liquid topped with a sexy swirl of whipped cream and an aromatic dusting of nutmeg. No, the brand-new, aptly named cocktail at R Street's Bottle & Barlow is a class act that's as luxe and smooth as cashmere. Bar manager Jenna Roberts came up with it a little over a year ago when someone challenged her to create a concoction based on the popular Fireball cinnamon whiskey, Sazerac's spicy yet awfully sweet offering. "When we decided to put it on the menu, we took the Fireball element out and [replaced it with] a house-spiced whiskey," Roberts says. The only sweetness now comes from a hint of apple juice. With additional whiffs of allspice, cinnamon and rooibos tea, the tipple tastes a bit like a caramel apple, but with a surprising, sophisticated grace note: that whipped cream topping is spiked with sea salt, for an unexpected savory nip. Pro tip: You'll be tempted to stir, but resist, as the sweet-hot/salty-cool contrast is more playful and delightful. "It has a layered effect," Roberts agrees. $10. 1120 R St. 916-379-7719. bottleandbarlow.com —H.L.J.
Netflix and Chill
Sometimes the best way to beat the winter blues is to head for the great indoors—so go ahead, put on your fuzzy socks, grab a blanket and curl up in front of an episode or 10 of Stranger Things. "When I first tasted [this cocktail], that's what I imagined myself doing," says Vincent LaForm, general manager at The Shady Lady Saloon, about how he came to name the R Street bar's cult favorite Netflix and Chill. And just like that binge-worthy Danish thriller your hipster friend won't shut up about, this quaff is a cherished secret among the watering hole's devotees. Although the nightcap, which debuted on the winter menu in 2015, was taken out of the official lineup this season, it's still on offer (and all year round too)—if you know to ask for it.
A variation on Irish coffee, the cocktail is a more refined riff on LaForm's guilty-pleasure drink of choice: Starbucks' sugar-shocked caramel macchiato. A simple yet precise (and classified) blend of 79 Gold caramel vodka and Vaneli's coffee with a sprinkle of sea salt atop house whipped cream, the soul-warming, salty-sweet emulation is as comforting as a rerun of Friends. Take a nippy-weather sip—it'll be there for you when the rain starts to pour. $11. 1409 R St. 916-231-9121. shadyladybar.com —C.Y.
Fireside Hot Chocolate
Tower Cafe is a Land Park landmark known for its dizzying global tour of cuisine styles, as well as its knack for elevating staples—what kidult doesn't love the restaurant's signature custard-soaked French toast?—to cult status. With that in mind, cast aside your fondest memories of Nestlé Quik when you sample the Fireside Hot Chocolate, because this smoldering cup of sultry, spicy, velvety liquid is as exotic and elegant an interpretation of the classic beverage as you are likely to encounter this side of 30 going on 13.
Assistant GM Ruben Reveles, whose family hails from Mexico, looked to his own childhood for inspiration, stirring pieces of cinnamon-tinged Ibarra chocolate from Guadalajara into warm milk to give the beverage its distinctly south-of-the-border taste profile. "[In our culture], our moms and grandmas would make Mexican hot chocolate for us in the wintertime," he says. "We remember that flavor." But then the recipe takes a turn toward Europe, adding a shot of Salizá amaretto, a uniquely Italian almond liqueur. Afterward, it's back to Latin America for a thick whipped topping of cinnamon cream and a delicate dusting of scratch-made chili powder. Needless to say, we're diehard fans of this world cup. $9. 1518 Broadway. 916-441-0222. towercafe.com —C.Y.
Butterbeer
Whether you claim allegiance to Gryffindor or Slytherin, or can't tell a grindylow from a hippogriff, you'll be enchanted by Milestone's butterbeer—a drink that's long been on the menu at Harry Potter's Hogwarts, but is new to the El Dorado Hills restaurant. Served up in a theatrical horn mug frothing over with champagne-colored foam, the beverage is as delicious as it is delightful.
"Every drink that gets put out there is so damn serious," says Milestone owner Nick Dedier. "We were looking for something that everyone could have a serious amount of fun with."
A self-proclaimed Harry Potter nerd, Dedier looked to the popular series for whimsical inspiration and collaborated with lead bartender Aaron Blitvich to concoct their version of the mysterious potion. "All we have is a reference point for a name and a level of enjoyment that everyone seems to get out of it," he says. "So it left the door wide open for "What do you think this should be?" Milestone's answer to that question is a sweet, fizzy blend of house-made butterscotch (the recipe uses real scotch), spiced rum and Henry Weinhard's vanilla cream soda. In fine English pub tradition, the butterbeer is served just above room temperature to warm your insides as it bubbles over the tongue. Tip: Don't be a muggle and wait for the foam—infused with the rum's vanilla and orange undertones and the smoky butterscotch—to die down before taking a gulp and falling under the elixir's spell. $11. 4359 Town Center Blvd. El Dorado Hills. 916-934-0790. milestonerestaurantedh.com —J.R.
Cafe Portofino
Back in the decades when Fitzgerald and Hemingway (and Mailer and Capote) wrote for Esquire magazine, the publication defined an idealized version of manliness—the Esquire gentleman was a fellow prone to the appreciation of finer things, like Havana cigars, boar-bristle shaving brushes, jazz and port wine. Port, like cigars and shaving brushes, is almost an anachronism these days, but gentlefolk in Sacramento—both male and female—can experience its refined pleasures by ducking into Karma Brew, a little jewel box of a bar facing Fremont Park in midtown, and ordering up a Cafe Portofino. Owner Anthony Sadeghi, a former London fashion photographer, starts with a basic mocha made with espresso, chocolate, vanilla and nondairy milk—ask for the exact ingredients and he winks coyly and shakes a finger, saying, "I have to have some secrets." The drink is finished tableside when Sadeghi pours in a shot of tawny Portuguese port upon serving. The rich, plummy wine smooths the edges off of the coffee drink to create a decadent, not-too-sweet beverage that tastes like jewel tones look. Suddenly you'll want to listen to Edith Piaf or Duke Ellington, and maybe wear an ascot or a cloche hat and start a serious conversation about Dadaism—hold the Gauloises. $8. 1530 16th St. 916-917-5555. karmabrews.com —H.L.J.